This is my best friend Sarah's go-to salad recipe! Ya, that Sarah… 🙂
Being the co-founder of HappiHomemade, she had intended to post this Grilled Chicken Greek Salad years ago.
But you know how that goes…almost 3 years later and she has now moved on to her own blog and I am just now sharing this delicious and simple recipe with you.
Oh well, better late than never!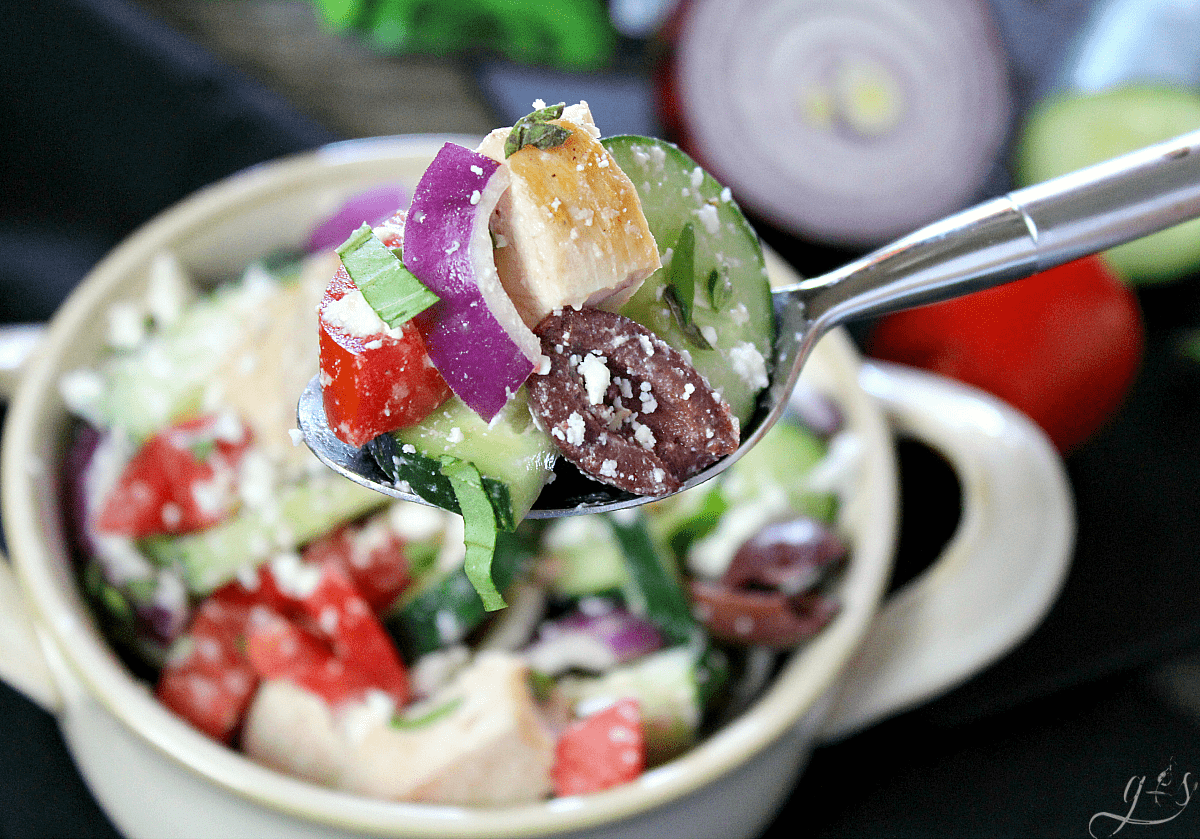 This salad can be eaten several different ways; with chicken, quinoa, avocado, or with or without all three. It just depends on your mood and what you have on hand.
Want to know a little secret…You literally CANNOT mess up this Grilled Chicken Greek Salad.
Isn't that comforting? NO matter how you prepare it, what ingredients you do or don't use, it will be ahhhhmazing. Promise!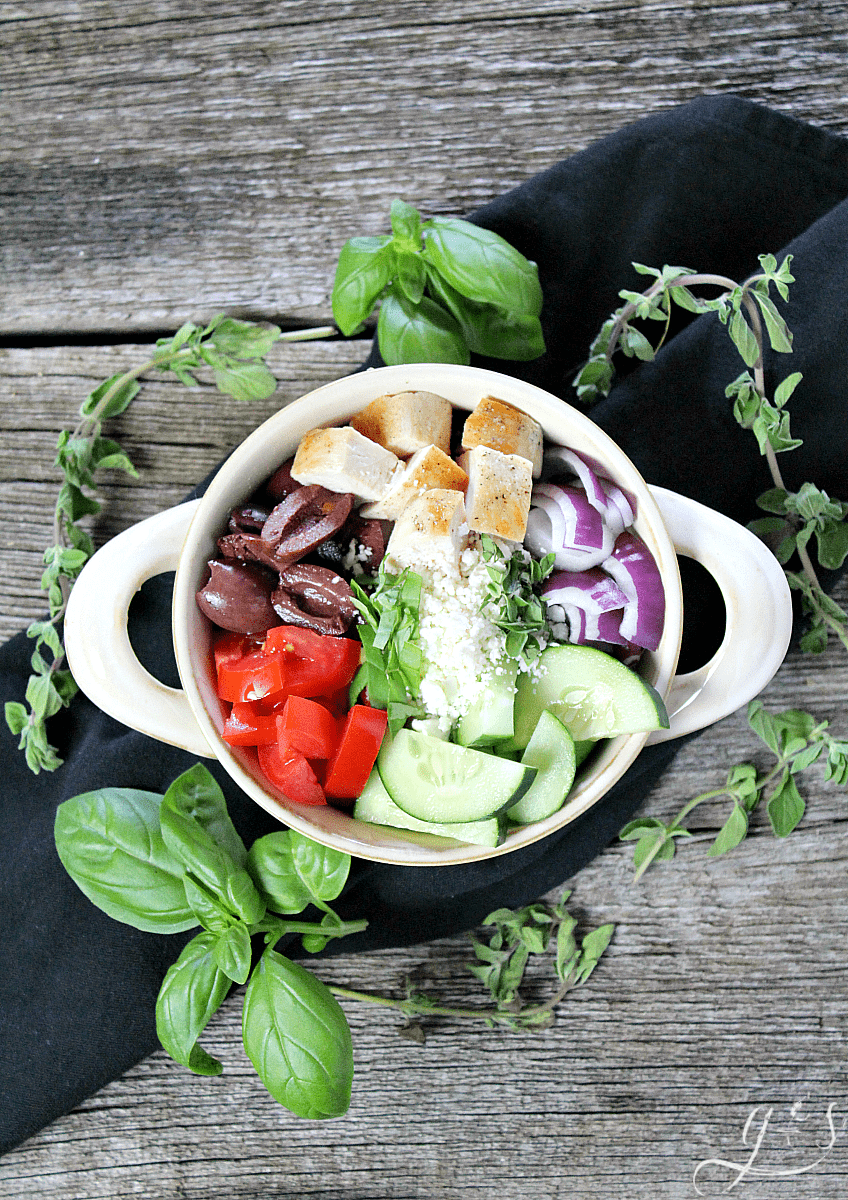 It's the perfect BBQ side dish or complete meal for lunch of dinner. If you don't have Kalamata olives use manzanilla (the green ones with pimentos…YUM!) or skip the feta and use my all-time favorite, crumbled goat cheese.
Related Recipe: Mediterranean Tri-Bean Salad
As you can see, this salad is forgiving. And don't be afraid to add in additional veggies. I have thrown in leftover cauliflower and broccoli florets with much success.
The more veggies the merrier, I always say.
Okay, I haven't actually said that before, but hey, it seems to fit.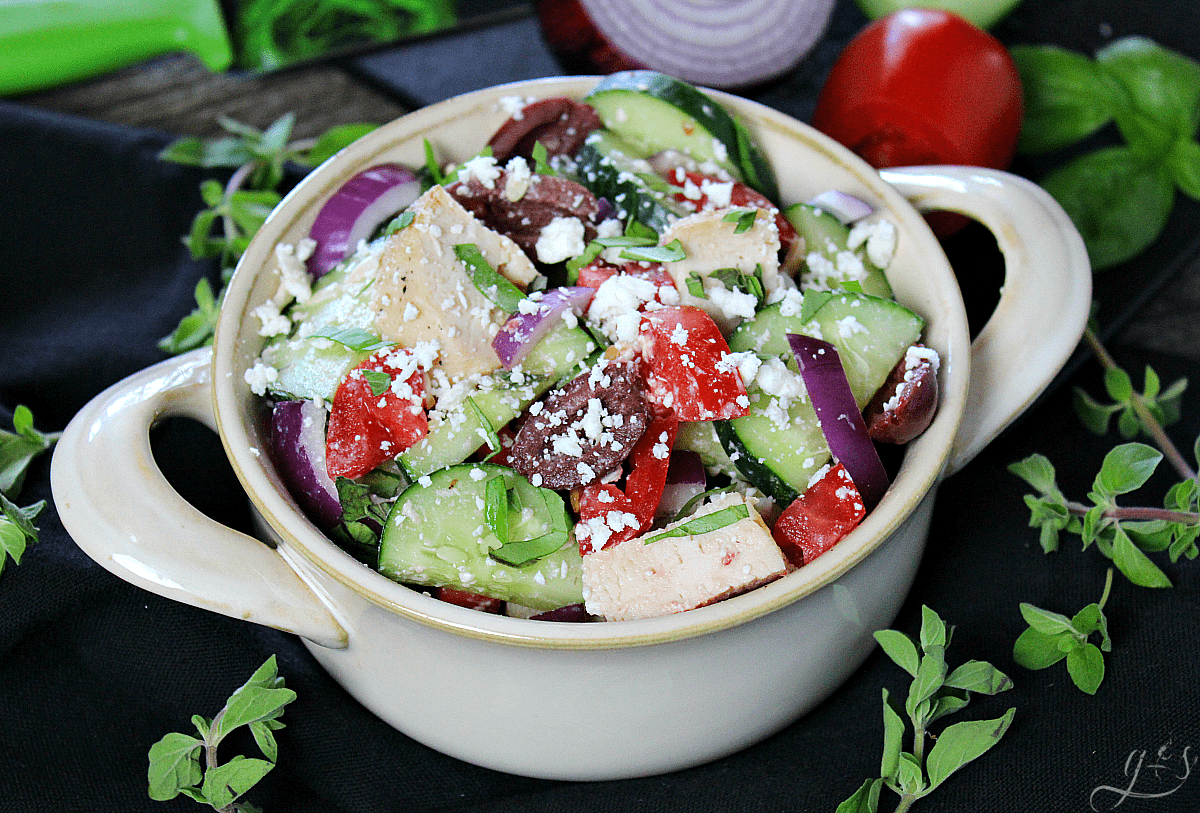 Sarah and I choose to "dress & season" this Grilled Chicken Greek Salad once it is plated. As you will see, once the salad sits in the fridge for a day or two (psstttt…this recipe keeps for DAAYYYSSS woot woot!) there is excess liquid in the bottom of the bowl from the delicious cucumbers and tomatoes.
For that reason, we drizzle the olive oil, balsamic vinegar, and salt and pepper once we have it arranged on our plates.
Skinny Greek Salad with Grilled Chicken #easy #glutenfree #cleaneating #lunch #dinner
Click To Tweet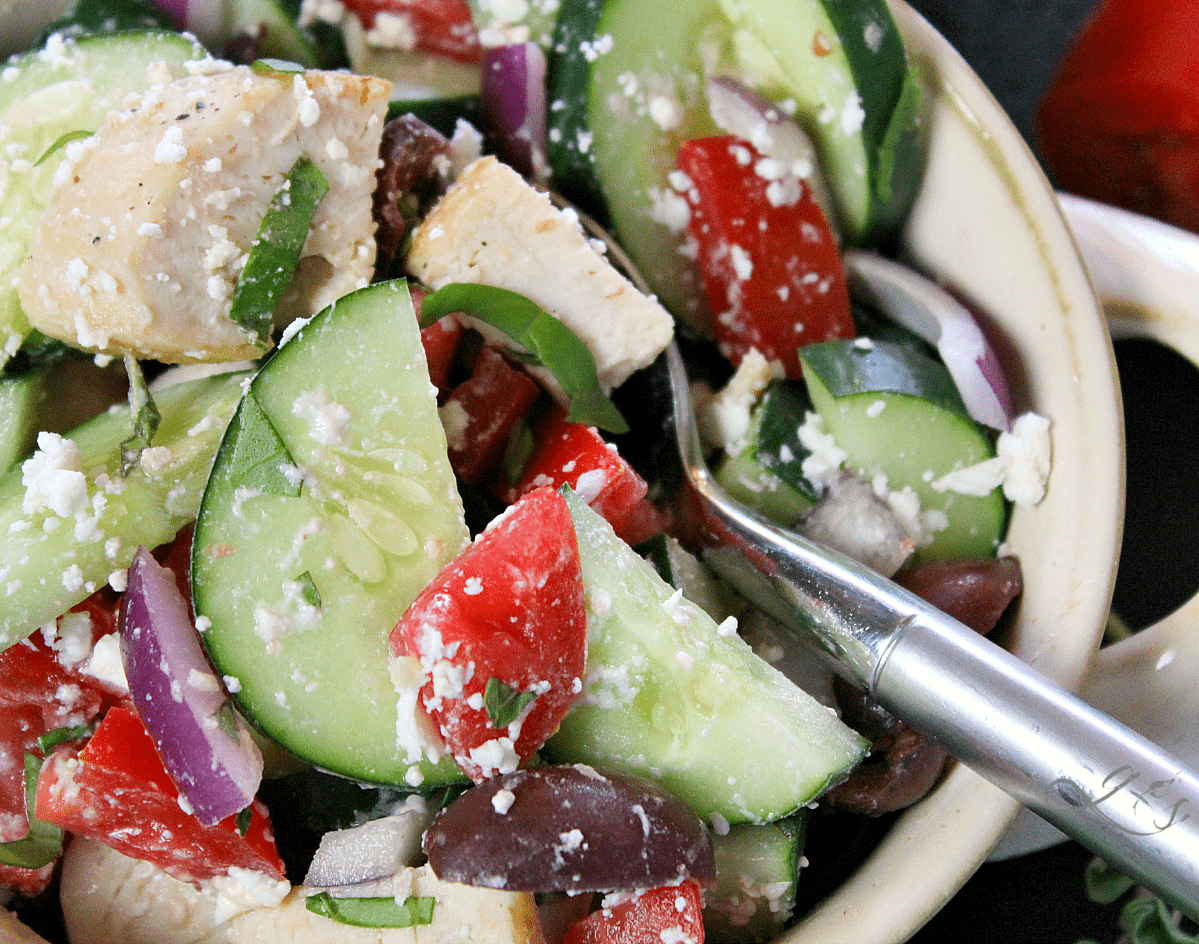 Related Recipe: Clean Eating Pizza Salad
If you are wanting a little more protein, carbs, and fat in this dish, spread 1/2 cup cooked quinoa on the bottom of your plate followed by a healthy portion of this Skinny Greek Salad, top with a few slices of avocado, and drizzle and season appropriately to complete. Voila! You will be amazed at how full you are by the time your plate is empty.
Not to mention how happy your tummy is. 😉
Related Recipe: Red, White & Blue Slaw Salad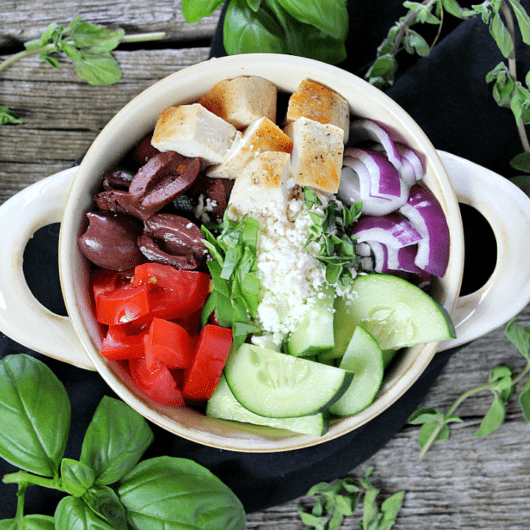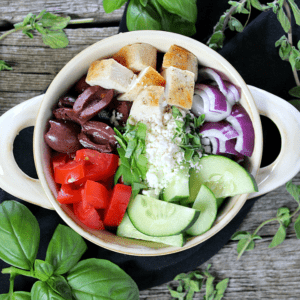 Print Recipe
Grilled Chicken Greek Salad
This healthy and clean eating salad is easy, authentic, and ahhhhmazing! Throw together all the veggies, grilled chicken, herbs, cheese, and olives then go crazy with the dressing. Use balsamic vinegar, extra virgin olive, olive, and salt and pepper to make this a truly delicous dinner or gluten-free lunch. Add cooked quinoa to make it vegetarian or omit the chicken and quinoa and serve as a chopped salad side dish. Find more healthy recipes at GroundedandSurrounded.com!
Ingredients
2

cucumbers

4

Roma tomatoes

1/2

red onion, sliced

1

cup

Kalamata olives, halved

(4 oz jar)

1/2

cup

crumbled feta cheese

2

large sprigs fresh fresh oregano, chopped

(or 1 tsp dried)

6

large leaves basil, julienned

(or 1 tsp dried)

2

chicken breasts, cooked and chopped into 1/2 inch cubes

balsamic vinegar

extra virgin olive oil

salt & pepper
Instructions
Cut cucumbers and tomatoes in half lengthwise, then quarter and slice.

Toss cucumber, tomato, onion, feta, olives, chicken, basil and oregano in a medium sized bowl. Gently mix.

Once plated, drizzle with oil and vinegar. Sprinkle with salt and pepper to taste.

Refrigerate leftovers in an air-tight container.
Notes
To make this meal vegetarian, omit the chicken and add 2 cups cooked quinoa to the salad or add separately to your plate and top with prepared salad. Omit chicken and quinoa all together if you want to serve as a side dish.
Top salad with avocado for added healthy fats!