I had the privilege of making The Best Guacamole E.V.E.R. for the Super Bowl this past year. Now I want to show you how to make guacamole too…THE BEST guacamole!
I say privilege because my husband's grandfather special requested it.
You see, Ryan's grandfather has a very discerning palate. I would not say he is picky, he just knows EXACTLY what he likes and what he doesn't like.
So to know that he prefers my guacamole over anyone else's is quite a compliment.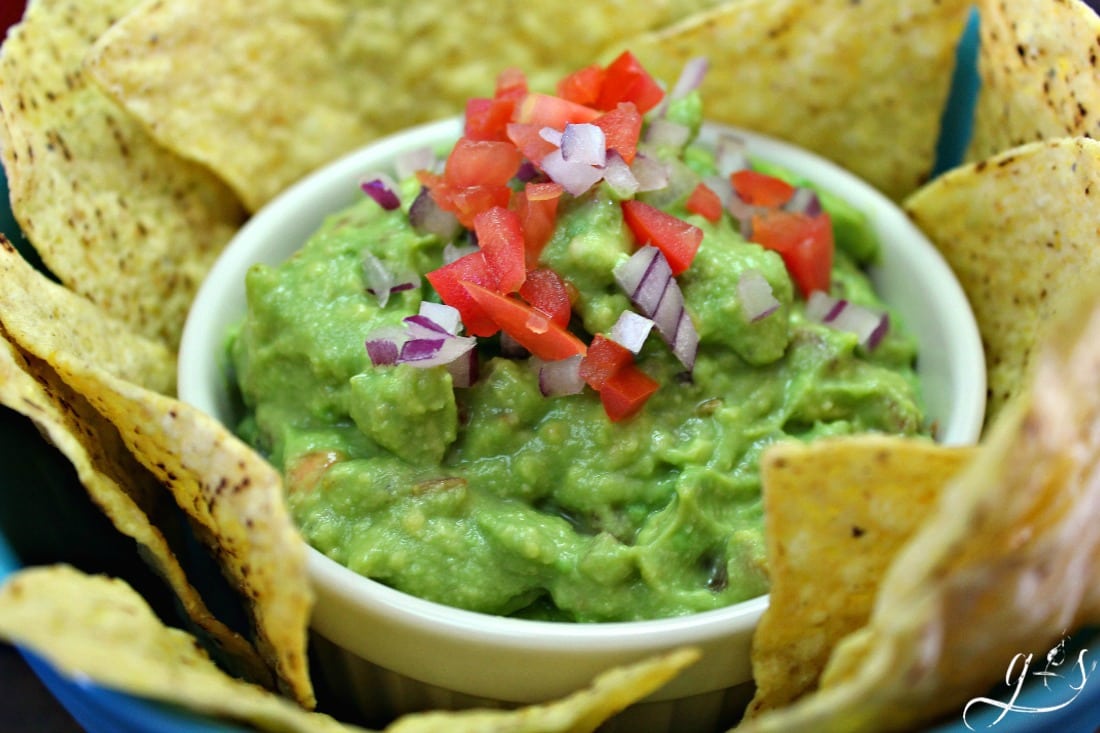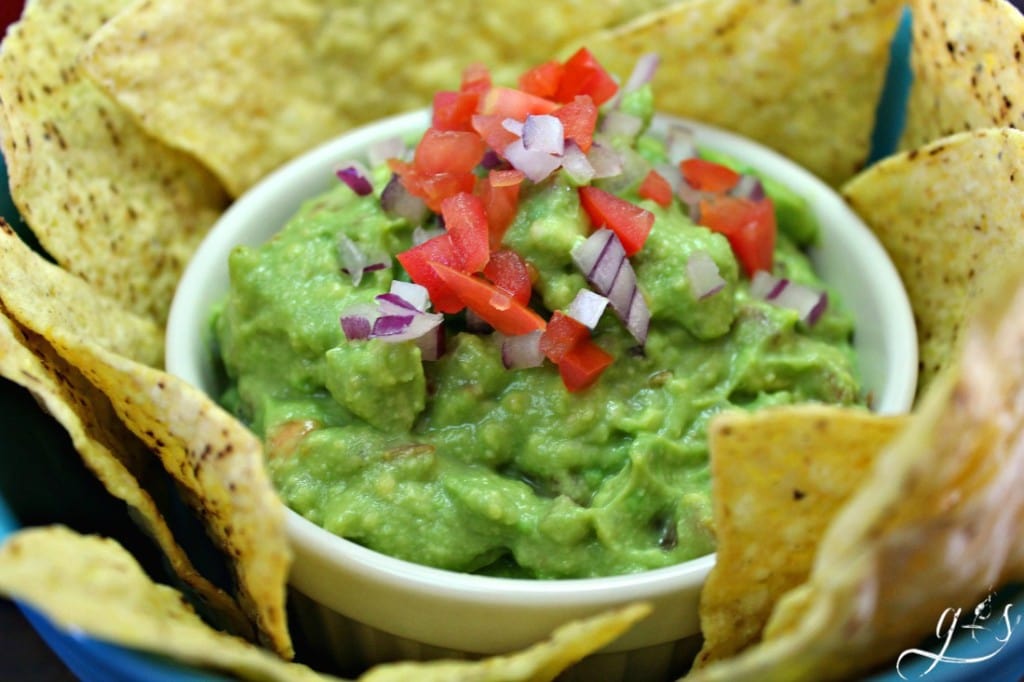 Another thing…Ryan's grandfather has never requested I bring anything over. In 15 years. Never. Now you can see why I was dumbfounded when he said I better not show up without my guacamole.
I am sure he had no idea how honored I was, which may seem kind of silly, but our family takes food seriously. Very seriously.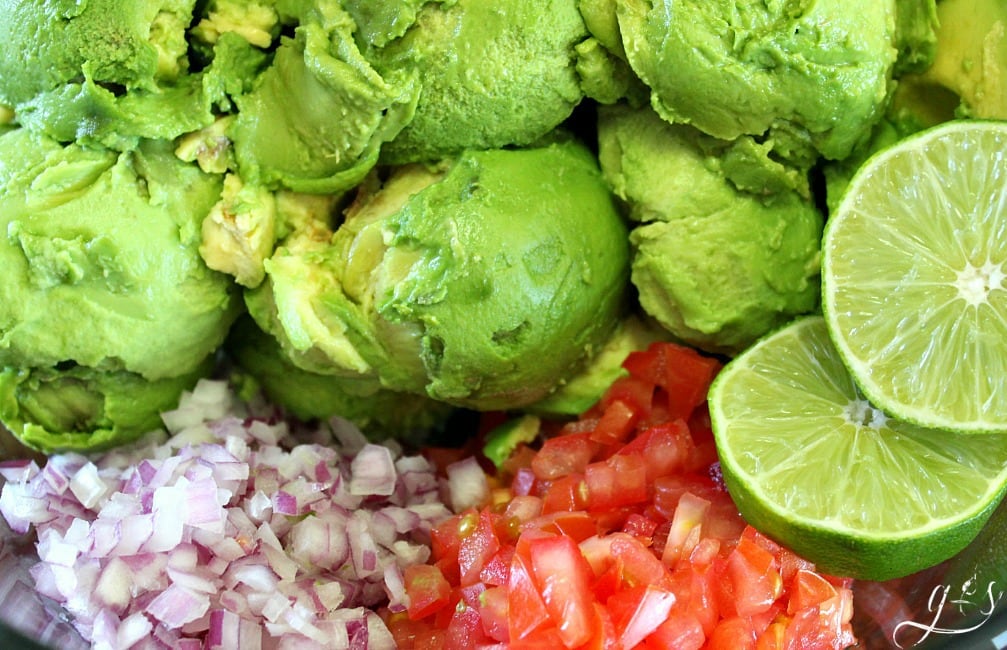 The week leading up to the big game, the thought of not messing up the The Best Guacamole E.V.E.R. was a constant. I was nervous about actually measuring out my ingredients, instead of throwing everything together and adding a little more of this and a little more of that as I go.
I am happy to report that not only did Ryan's grandpa give me his seal of approval, but so did the entire party!
Aunt Judy will be especially excited to have this recipe as well as my sweet sister-in-laws. One of whom, did a guacamole countdown at work the day of the Super Bowl. She said everyone else was doing a countdown to kick-off, but hers was all about my guac! haha
This recipe is so simple to prepare and feeds a crowd. It makes 6 cups! And can you believe, I didn't come home with any!
Feel free to cut the recipe in half if you aren't feeding a crowd.
But whatever you do don't leave out the Frank's Hot Sauce- my secret ingredient!
Now onto the amazing recipe AKA How To Make Guacamole…THE BEST Guacamole!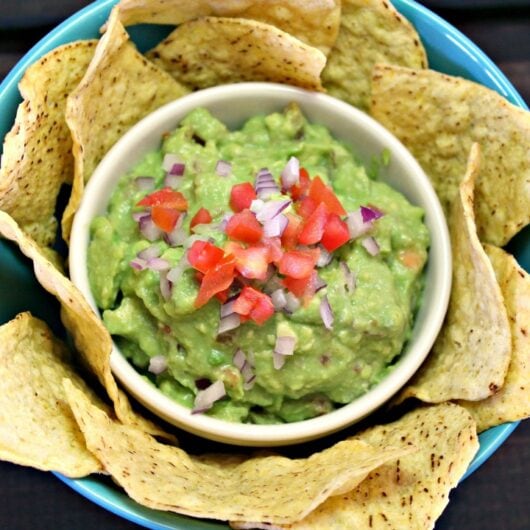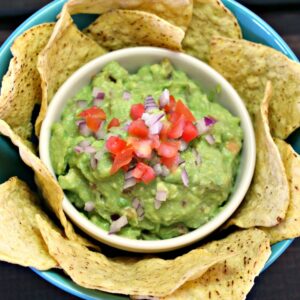 Print Recipe
How To Make Guacamole
This is surprisingly easy to make and super healthy! I am always asked to bring this simple and creamy recipe to parties- it is famous! I prefer this homemade recipe a little chunky and a little spicy- that's where the Frank's Hot Sauce comes in. You can eat this avocado dip with tortilla chips or veggies, on a salad, or right off the spoon! It is the perfect appetizer to bring for Super Bowl or Cinco de Mayo!
Equipment
cutting board

knife

large bowl

avocado masher

spoon
Ingredients
10

avocados, small to medium in size

2

Roma tomatoes or 1 cup finely diced

1/2

red onion or 1/2 cup finely diced

1 1/2

Tbsp

lime juice or 1 lime juiced

1

tsp

Frank's Hot Sauce

3/4

tsp

sea salt

1/2

tsp

garlic powder
Instructions
In a large bowl, add the avocados, pits and outer skin removed, and roughly mash. I leave large chunks because I can always smooth out the consistency later if I need to, but I can't add in more chunks if I mash it too much.

Next, gently mix in the remaining ingredients. Taste to see if you need to add in more salt, lime juice or garlic. Depending on the size of your avocados, you may need to add in more spice! If you don't instantly love this guac the moment it hits your tongue, you need to add in a little more pizzazz!

You can eat this guac: 1. Straight up with a spoon! 2. Use it as a dip for chips, carrots, or sweet bell pepper strips 3. Spread on your favorite sandwich or burger 4. Add to a taco salad. 5. Anything really! Just eat it 😉