This Sweet & Spicy Turkey Curry is just what your holiday season needs.
Leftovers are boring?
Not here!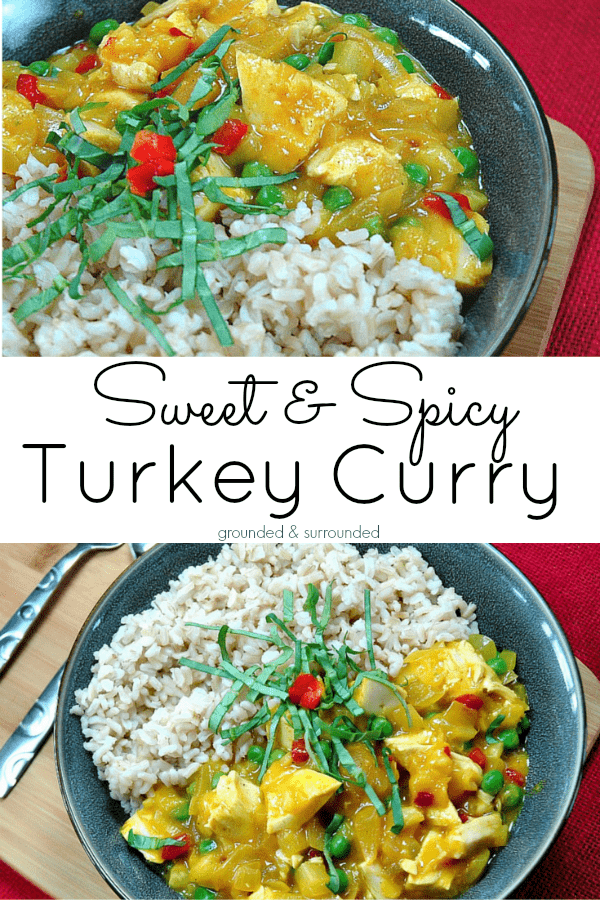 A few years back, my family went on a no-frills budget. If I could find a place to pinch a penny, I did it. This season of life lasted a little more than 18 months, and I learned so much about creativity and food budgeting during that time.
There's no denying that I'm raising a house full of carnivores, so rice and beans simply weren't a viable cost-cutting option for us. And finding ways to save money on protein is no easy task.
Somewhere along the way, I discovered the value of buying and cooking whole chickens and whole turkeys for my family.
Not only could I get multiple meals from the meat, but I also learned how to make the most amazing homemade stock from the carcass.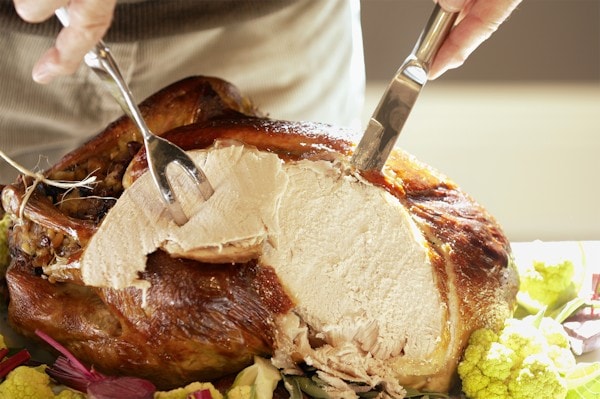 I remember the first time I convinced Sammi to cook a whole bird…you guys should have seen her face!
"Eek! Sarah, how could you possibly? I only cook meat that doesn't look anything like an animal, and that is far too 'realistic looking' to me!!!"
Bless her heart, she has come a long ways since then! I proceeded to make a convincing argument about how easy it was…and how much money it could save her. She is powerless when I put my lawyer hat on, and quickly succumbed to my positive peer pressure!
That was a few years back, and although she has cooked a turkey or two in the oven and boiled a few chickens on the stovetop, she and her husband were given a smoker and now she prefers to let her hubby smoke the "realistic" meat.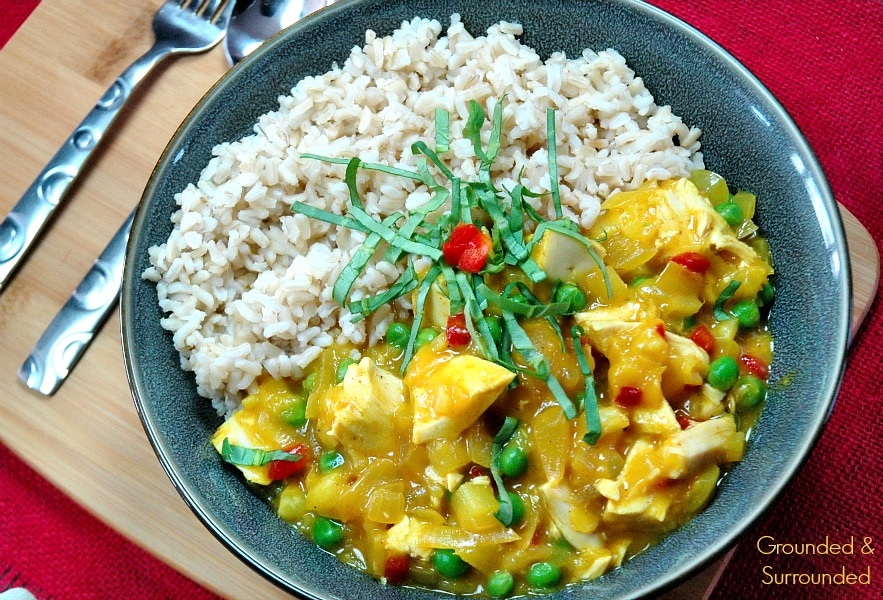 I found an amazing recipe for Sweet & Spicy Turkey Curry a few years ago when I went a little crazy stocking up on frozen turkeys around Thanksgiving.
We grew tired of the plain old run-of-the-mill turkey recipes very quickly, and the idea of a turkey curry fascinated me.
If you have never cooked one before, here's an excellent tutorial to get you started. I can usually get 4-5 full meals out of a medium bird, and it's really not all that difficult once you get the hang of it.
Sweet & Spicy Turkey Curry for the holidays + a secret ingredient! #leftovers #healthy #recipe
Click To Tweet
First we eat sliced turkey with homemade gluten-free gravy, mashed potatoes, and frozen corn. I take the carcass and make homemade broth, which is the perfect base for a simple turkey and rice soup. I save the rest of the broth and use it in this amazing Turkey Curry recipe.
For lunches, we enjoy hot open faced turkey sandwiches, Autumn Spiced Turkey Salad, or cold turkey sandwiches with cream cheese and cranberry sauce.
Each of these options changes up the flavor of the bird just enough to keep my family coming back for more.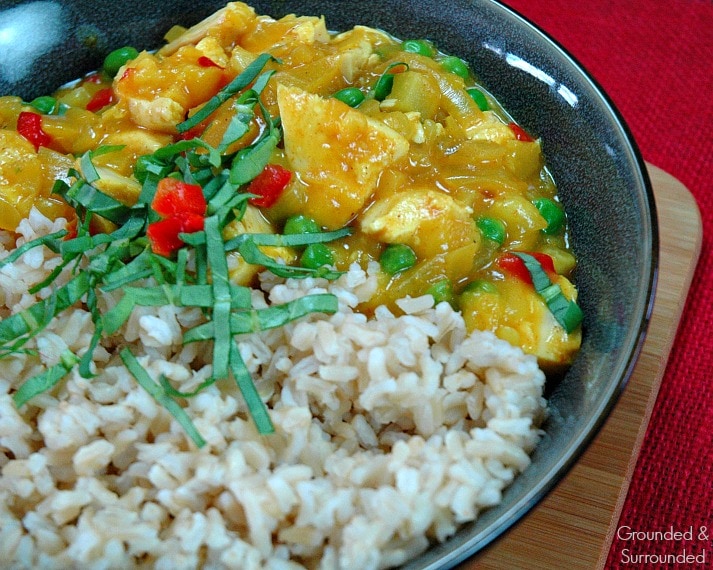 This Sweet and Spicy Turkey Curry is warm, comforting, and just different enough from your holiday turkey that you won't dread eating the leftovers…again. And you will not believe how fast this meal comes together.
I love the vibrant flavors, gorgeous bright color, and contrasting textures of this dish. This meal is hearty and satisfying despite how healthy it is! Don't even get me started on the festive red pimentos and bright green sweet peas. Can you tell that Sammi and I are already gearing up for Christmas?!?
If the crushed pineapple throws you for a loop, trust us. Just trust us. It is what makes the dish. Your family will not even know it's there, ours didn't.
For Sammi and I, learning how to cook a turkey was about so much more than finding a frugal way to feed our families. It was a right of passage, and in an odd way, it made us feel like we were capable of doing anything we set our minds to.
Happy Eating!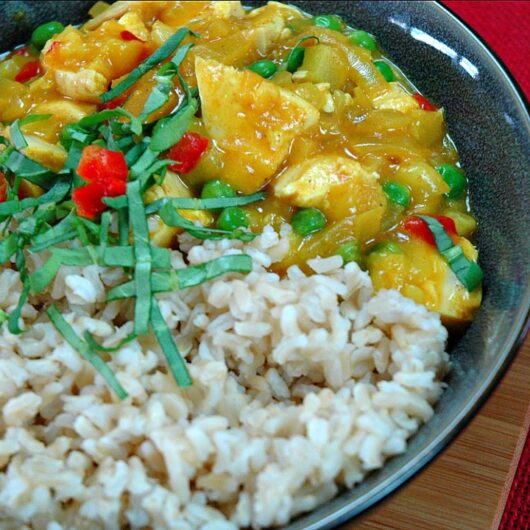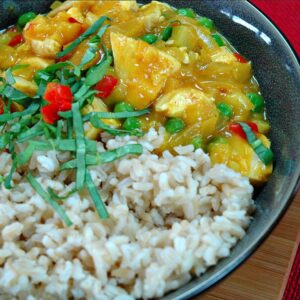 Print Recipe
Sweet & Spicy Turkey Curry
This Sweet and Spicy Turkey Curry is a simple, flavorful, and gluten-free way to use up those holiday leftovers. You won't believe how fast this meal comes together and how hearty and satisfying it is! Clean eating never tasted so good! We know cooking a turkey can be intimidating, but once you see all the healthy and delicious ways to use the entire bird, you will never look back! Find more recipes at happihomemade.com
Equipment
cutting board

knife

large skillet
Ingredients
11/2

Tbsp

curry powder

3

Tbsp

butter

1 1/2

cups

onion, finely diced

(1 small onion)

1 1/2

Tbsp

cornstarch

or 1Tbsp arrowroot starch

1/2

tsp

ground ginger

1 1/2

cups

cooked leftover turkey (or chicken) broth

1

cup

crushed pineapple, undrained

3

cups

turkey, cubed

1

cup

frozen peas

1

4 oz can

diced pimentos

cooked brown rice or quinoa

salt and pepper
Instructions
In a large skillet, heat curry powder in butter for a couple of minutes to release the flavor. Stir in onions; continue cooking, stirring frequently, until onions are softened.

Add ginger powder, 1 cup chicken broth and crushed pineapple. Heat to boiling, then simmer uncovered for 5 minutes.

Mix cornstarch with remaining ½ cup cold broth in a small bowl or mug. Add broth/cornstarch mixture to skillet and whisk to incorporate. Gently simmer a few minutes until thickened.

Add cubed leftover turkey, peas and pimento. Cook on low another 5-10 minutes or until warmed through. Season with a few dashes of salt and pepper to taste.

Serve over cooked brown rice or quinoa. Enjoy!
Notes
Calorie count does not include rice or quinoa.