These vegan Apple Nachos with Peanut Butter Sauce will change your life. Trust me.
Drooling yet? Well you will be after I tell you the AMAZING ingredients in this fun treat. So how do you feel about crunchy sliced apples drizzled with a unique and healthy salted caramel peanut butter sauce topped off with a generous sprinkle of mini chocolate chips?
See, I told you. You are drooling!
These gluten free Apple Nachos with Peanut Butter Sauce are the next big thing!
Watch out world apple nachos will never be the same!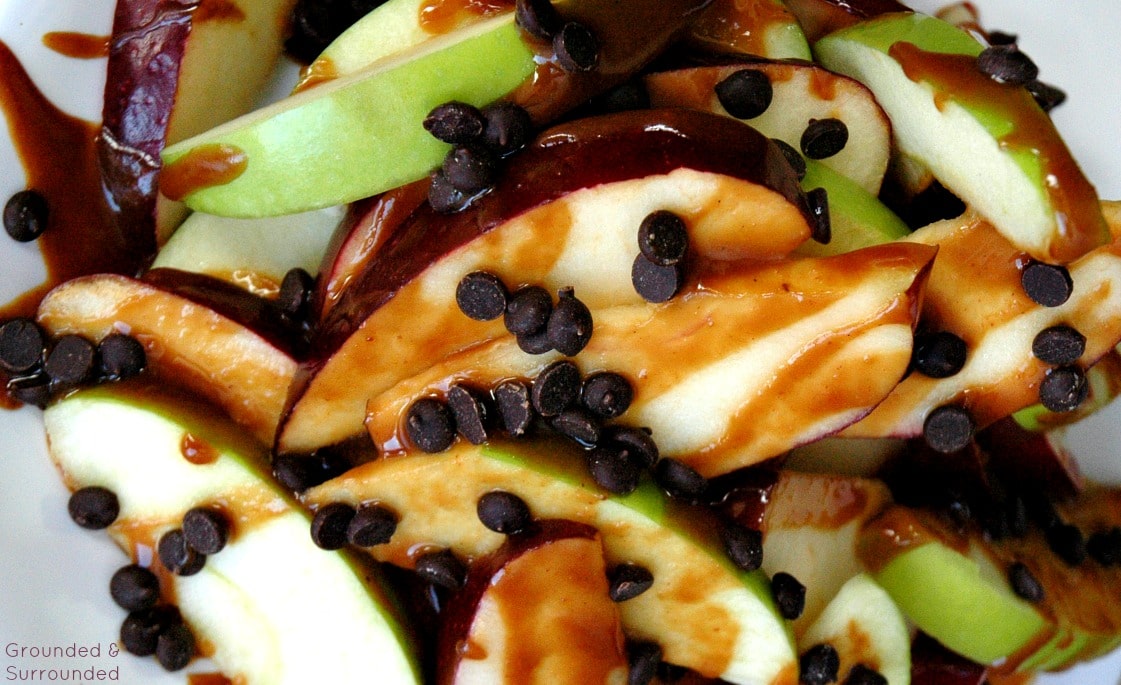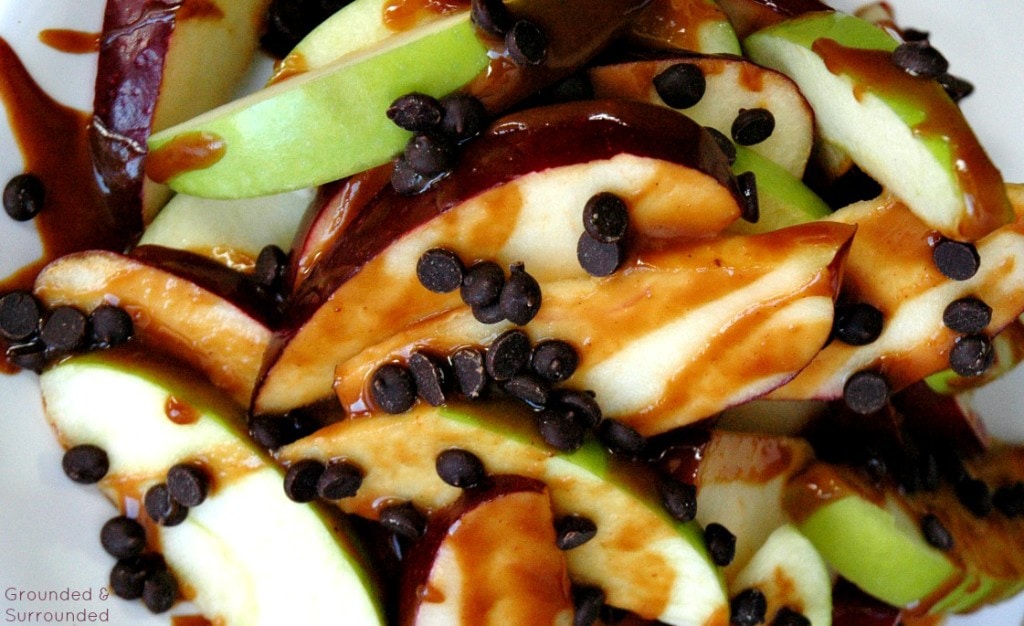 Let me tell you about the sauce. I mean c'mon, peanut butter and salted caramel coming together in a healthy way….nailed it! As you have come to expect, I used

I started using powdered peanut butter about a year ago and it has become a staple ingredient in so many of my snacks and desserts. It is a nice option to have if you are currently on a weight loss journey and need to watch your calorie intake.
Apple Nachos w/ Salted Caramel Peanut Butter Sauce #healthy #snack #PB2 #sammisrecipes
Click To Tweet
We all know too much peanut butter and our jeans tend to get a little too snug. But by all means if you are not concerned with calories use the real stuff in this sauce!
My favorite nut butter to use in place of powder is none other than She's Nuts! Cinnamon Cashew Butter.
Wowza, the smooth texture and creaminess of the cashew butter in this caramel sauce is ridiculous! Yum!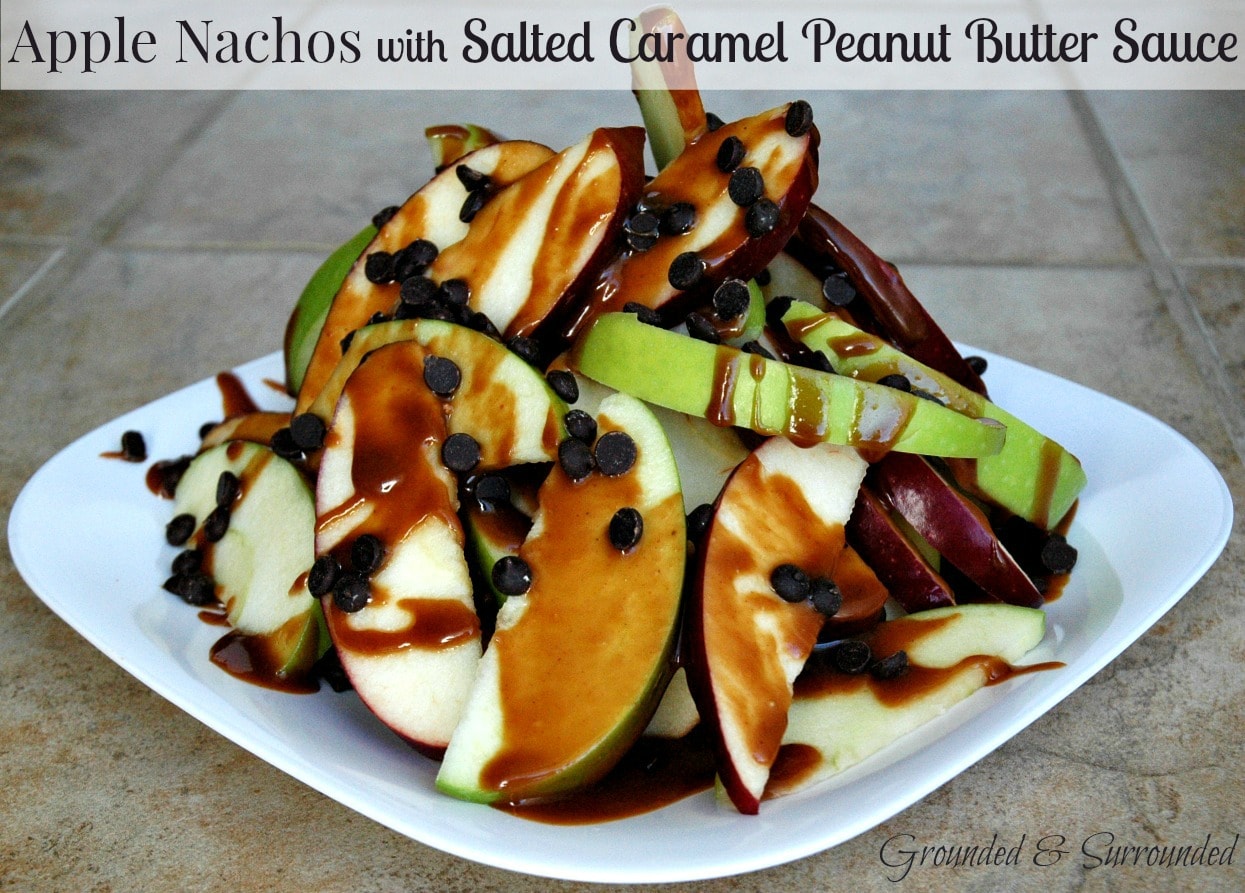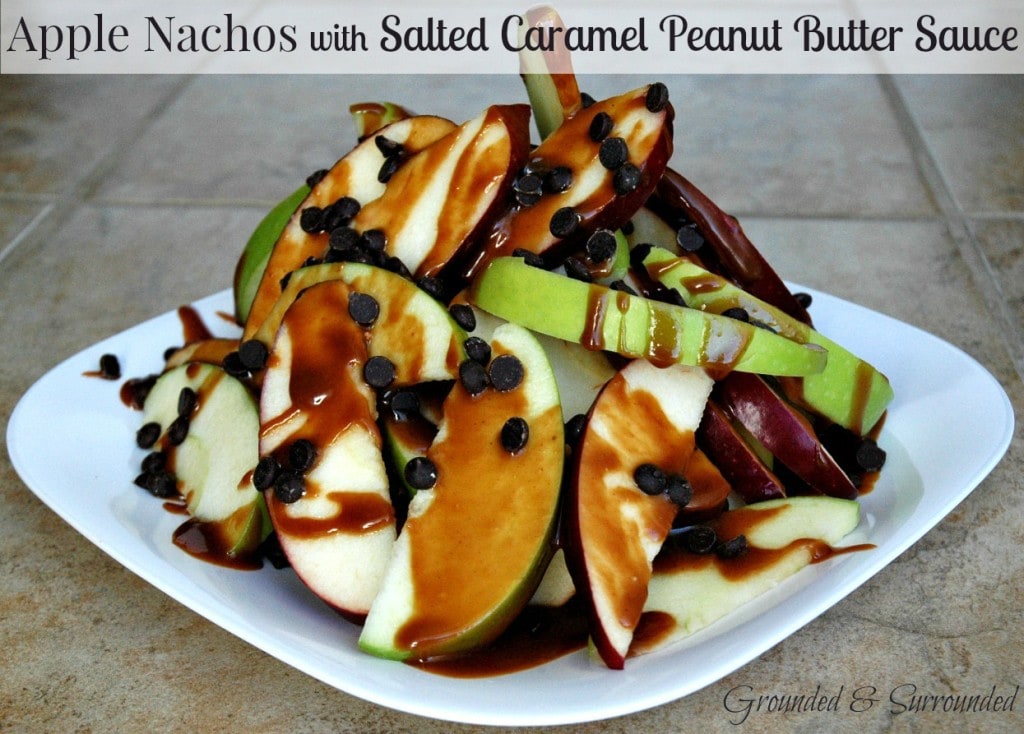 I love making this snack for my kids after school, but the original idea come from our friend, Jacey. She served a version of this at a party on a huge platter and everybody went crazy over it!
I think any event, big or small, needs to serve these!
I stack the apples up high like typical nachos for my kid's snack, but choose to layer them on a platter for guests like the photo below.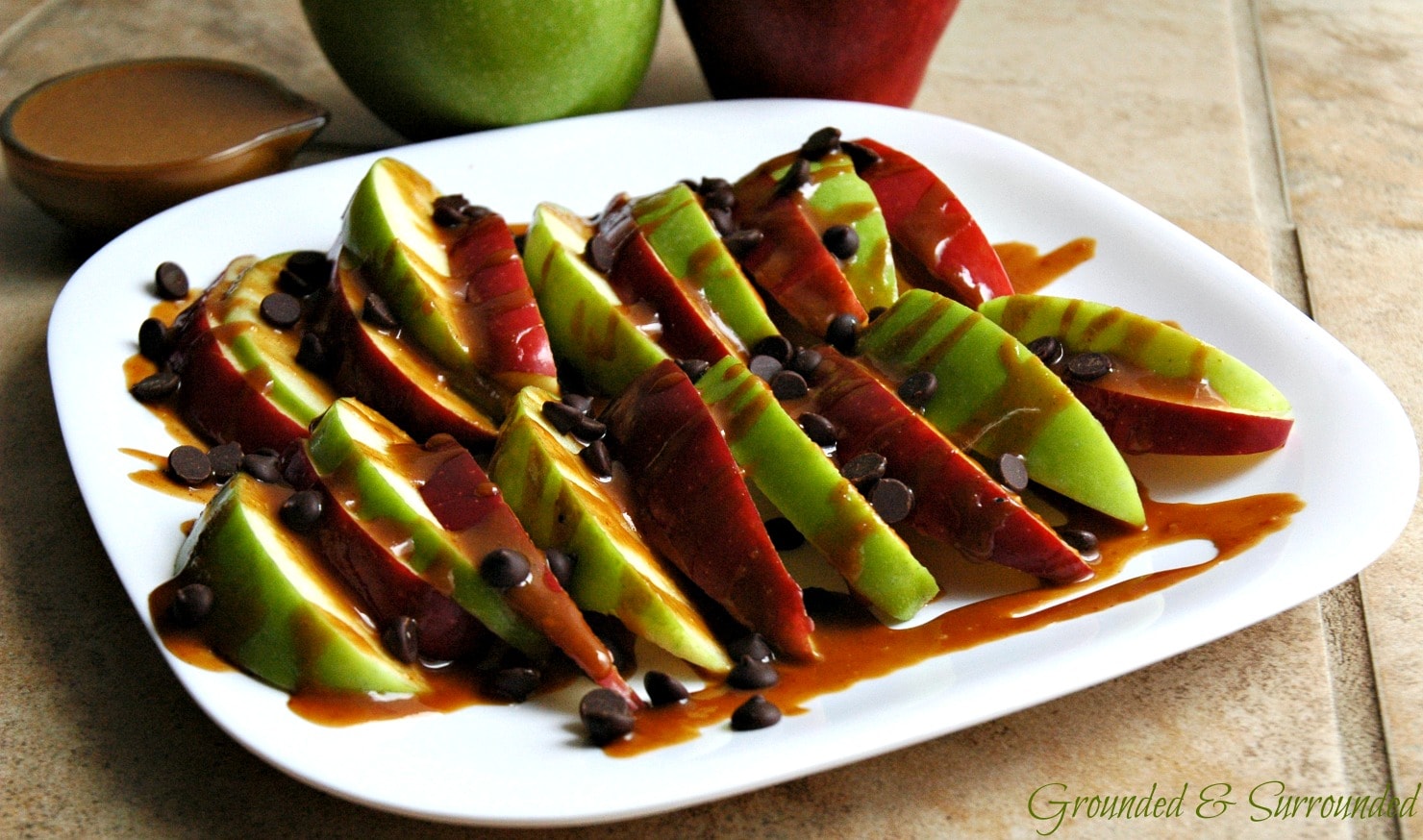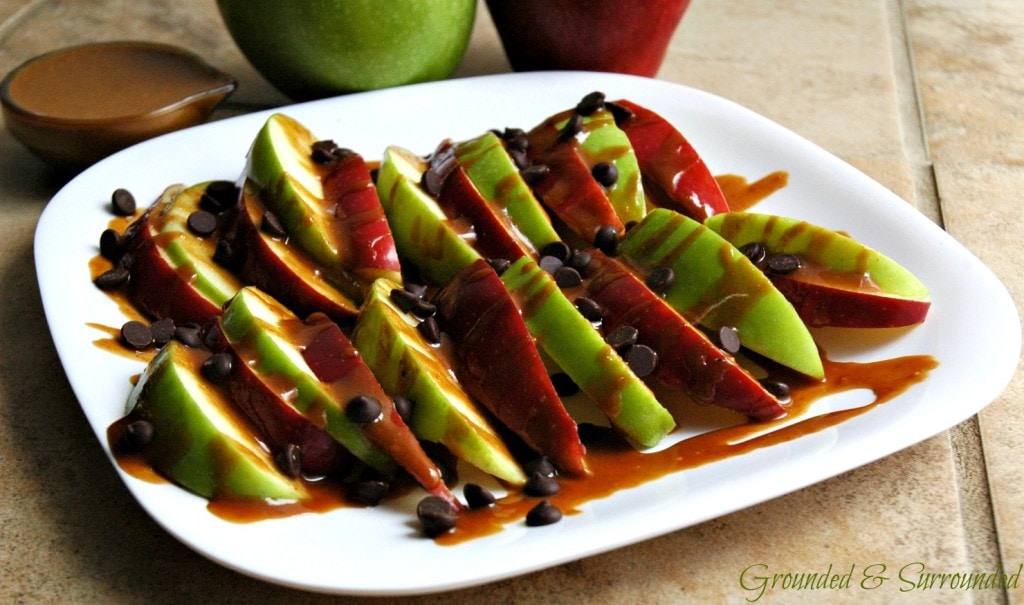 This gluten-free snack/dessert can easily be made for one or to feed a crowd! All of our recipes can easily be adjusted by changing the number of servings at the bottom of our ingredient's list. Well, I'm off to conquer another recipe! Toodles!
Will these Apple Nachos with Peanut Butter Sauce be at your next party?
I almost forgot, for more healthy snack ideas be sure to check out this guide, 121 Delicious Healthy Snacks For Every Type of Snacker! You can search for healthy snacks depending on the amount of calories, fat, sugar, or allergens that you are concerned about. You have to check out their simple Cucumber Hummus Boats snack recipe. YUMMO!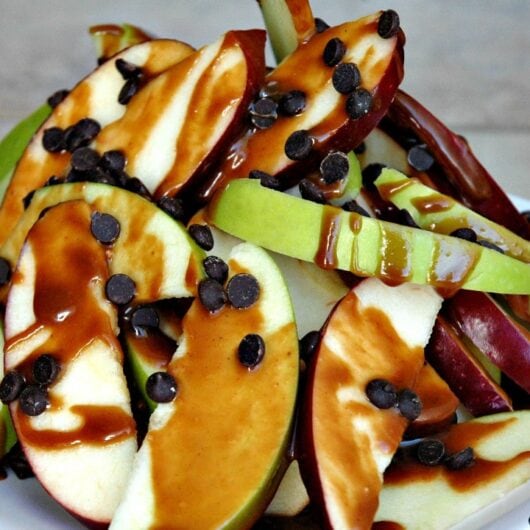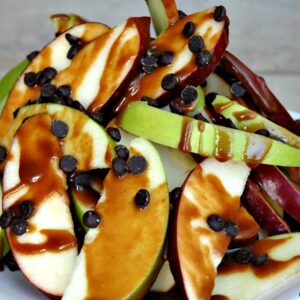 Print Recipe
Apple Nachos with Salted Caramel Peanut Butter Sauce
I love making this healthy sweet and salty snack for my kids after school but this gluten-free snack can easily be made into a simple dessert to feed a crowd too! Any event, big or small, needs to serve these! They will be the shining star on any table! See the recipe below to make these with either PB2 or a nut butter!
Ingredients
2

apples

1/4

cup

coconut sugar

2

Tbsp

water

1/4

tsp

salt

1/4

cup

PB2 (peanut butter alternative)

1/2

tsp

vanilla extract

2

Tbsp

Enjoy Life mini chocolate chips
Instructions
In a small sauce pan, add the coconut sugar, water, and salt. Heat over medium-high heat until sugar dissolves.

Turn off the burner or remove pan from heat and mix in the PB2 and vanilla extract.

Allow the sauce to cool. It will thicken.

Slice apples and pile them high on a plate or layer them on a platter. Drizzle the sauce over the apples and sprinkle with chocolate chips.
Notes
To make this recipe using She's Nuts Nut Butter or regular peanut butter simply add 2 Tbsp of your favorite nut butter in place of the powdered peanut butter. Depending on the brand of nut butter you use, you may want to start with 1/8 tsp of sea salt and add the other 1/8 if you need more "salted" flavor.
Experiment with sprinkling some extra sea salt on top of your nachos if you would like an even greater salty and sweet combination!