Our household loves eating fish so I am not sure why we don't eat more of it! It may be that I am a little intimidated by it.
This Blackened Cod with Mango Salsa is SO easy to make though and SO delicious!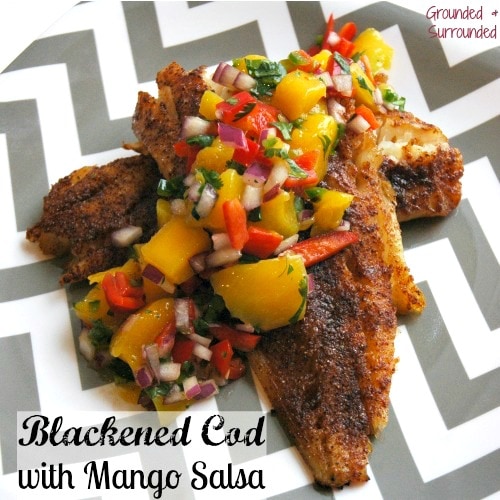 Chicken, that's easy. Ground beef, simple. But fish for some reason typically throws me for a loop unless my husband is home and can put it in the smoker.
So I was pleasantly surprised when this Blackened Cod with Mango Salsa came together faster than I had anticipated.
Who else loves easy weeknight meals?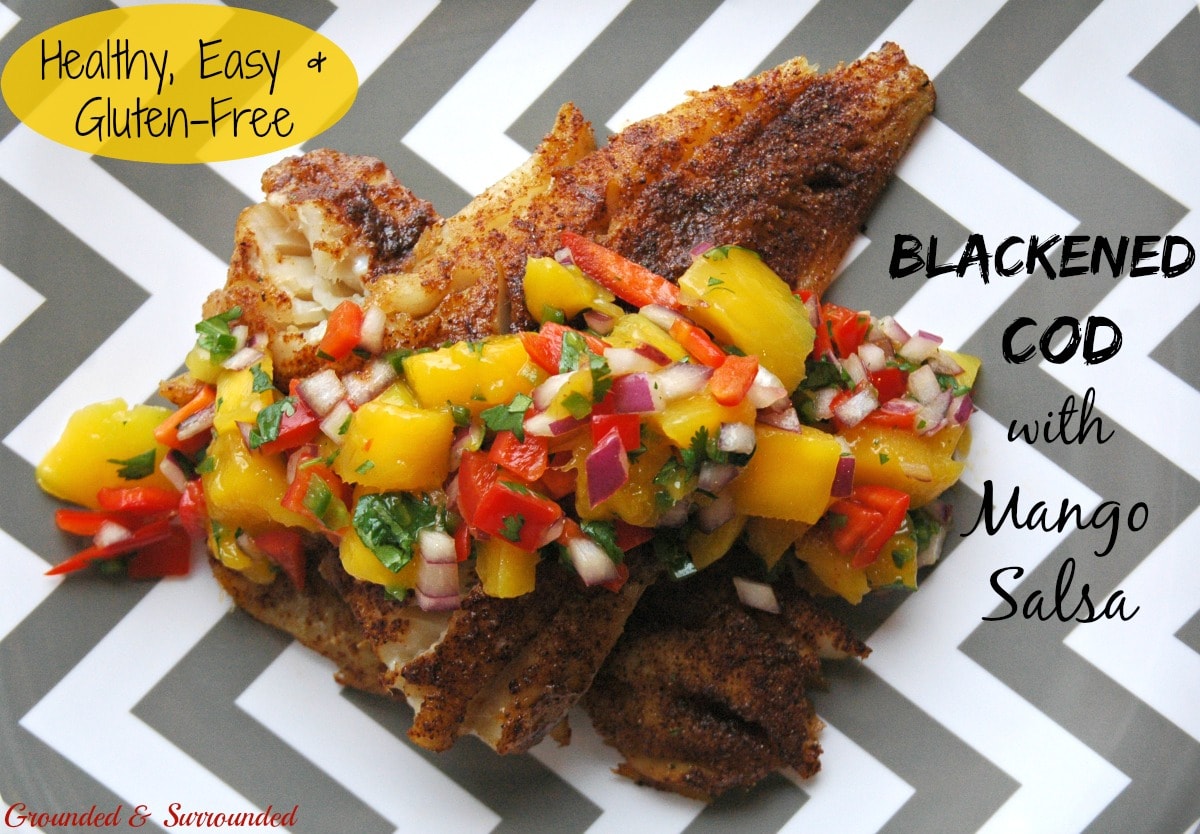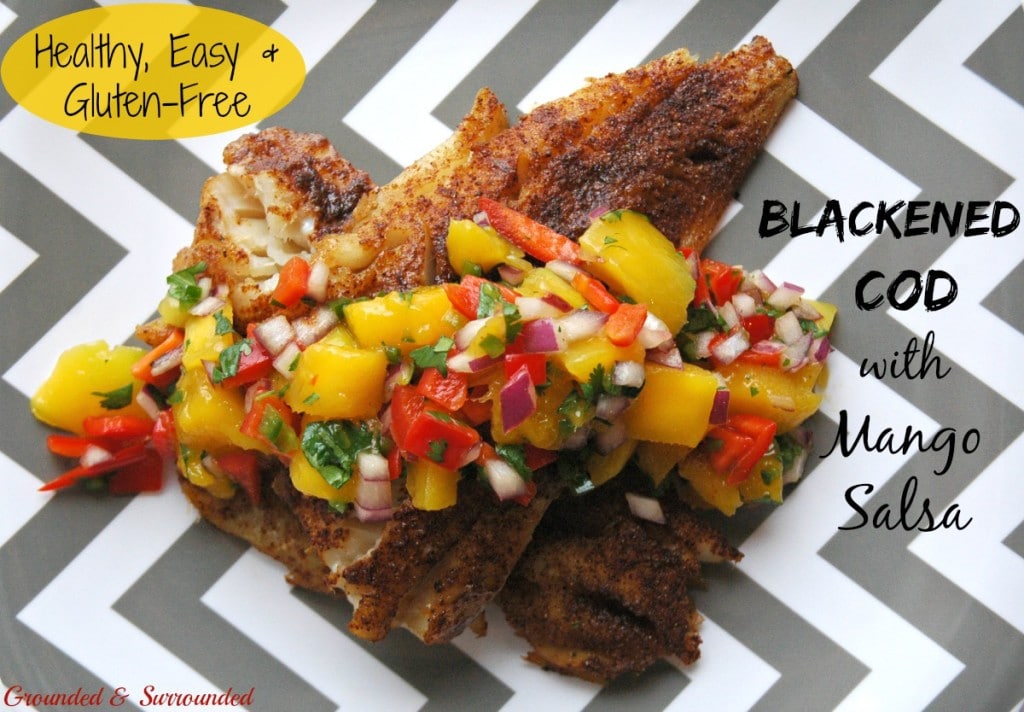 I feel like I need to brag about my handsome husband for a minute. Let me just say, he is the man when it comes to grilling or smoking meat.
The guy takes "smoking" very seriously!
He carefully prepares his meats the day or days ahead of time and sits out there with his smoker (click HERE to see the one he uses) and keeps watch until that protein is cooked to perfection.
My favorite part of his love for smoking meat…I don't have to help or do anything! I happily pretend to be the silly housewife who can't possibly understand such complex matters and watch my favorite show on Netflix while he slaves away. Ha!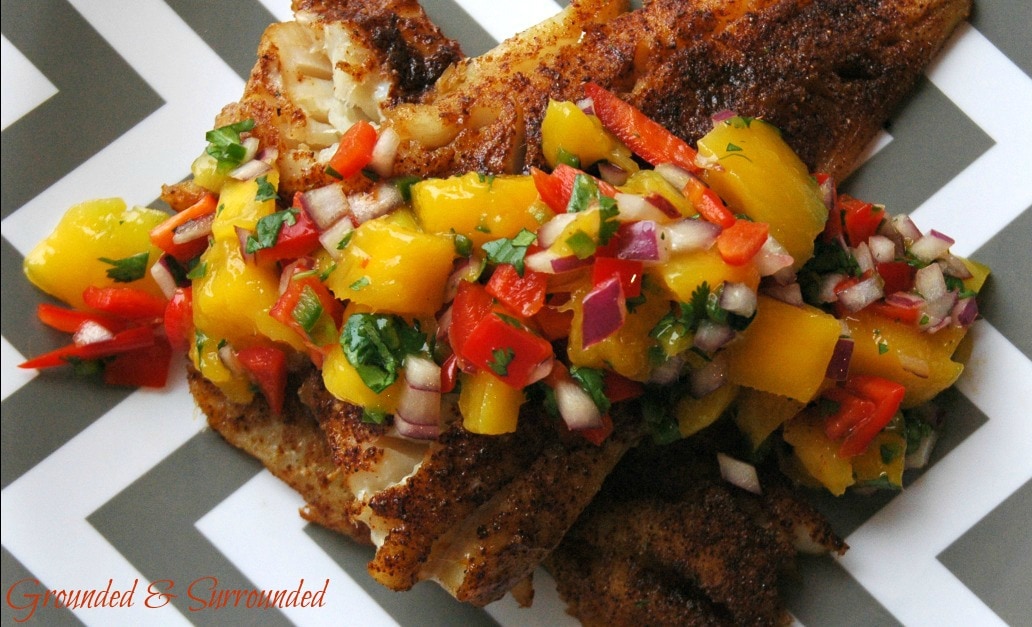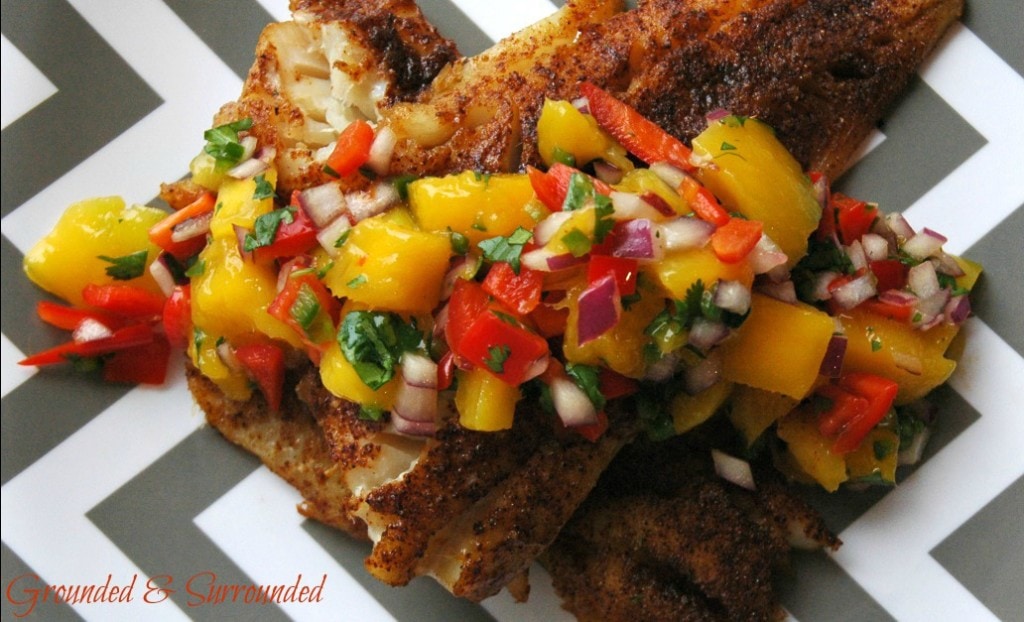 Okay, back to the recipe!
If you are wondering what "blackened" means in regard to grilled meat it is simply a blend of several spices such as chili powder, paprika, and typically a sugar, along with salt.
The spice blend adds a delicious spicy and smoky flavor to fish, chicken, and beef. There are tons of different "rubs" that you can use to "blacken" your proteins. I think this seasoning rub would pair well with other varieties of fish as well.


The amazingly simply mango salsa came about because I had a ripe mango and red onion sitting on the counter along with some cilantro in the fridge.
Naturally, I knew some sort of a salsa had to be made!
I resisted adding more ingredients to the salsa even though I wanted to. However, I knew the simpler the better, right? When you are making this at home, try adding some cumin or dare I say, diced pineapple to your salsa! Yum!
PS…If you are a foodie like me be sure to check out my amazing Pinterest food boards HERE. Until next time…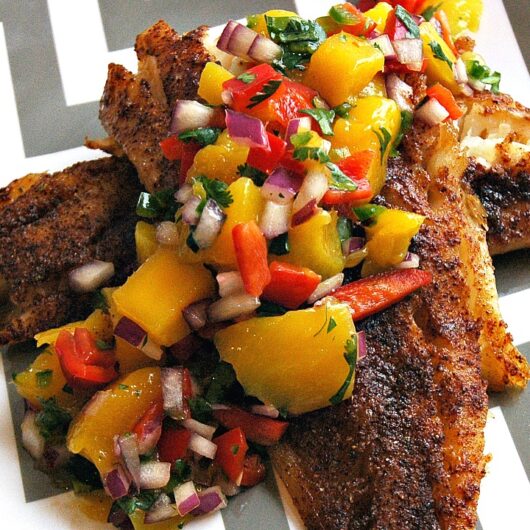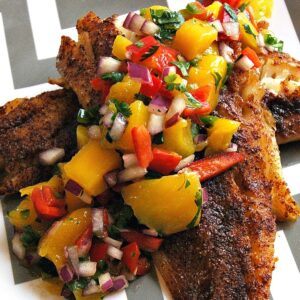 Print Recipe
Blackened Cod with Mango Salsa
This healthy grilled cod with colorful mango salsa comes together SO quickly! Aren't easy weeknight meals the best? The smoky spiciness of the fish paired with the sweet yet tangy salsa is a flavor explosion! This simple, gluten-free, dairy free, and clean eating recipe is sure to impress. Who says healthy food is boring?! Not me!
Ingredients
Fish and Rub Ingredients
2

cod fillets, boneless and skinless

2

Tbsp

brown sugar

3/4

tsp

garlic salt

1/8

tsp

black pepper

1

tsp

chili powder

1/2

tsp

ground coriander

1/2

tsp

ground mustard
Mango Salsa
1

small mango, peeled and diced

1/2

small red bell pepper, diced

1/4

cup

red onion, diced

2

Tbsp

jalapeno, finely chopped

1/4

cup

fresh cilantro, roughly chopped

2

tsp

lime juice

dash of salt
Instructions
Preheat your outdoor grill to medium-high heat or roughly 350 degrees Fahrenheit.

Next, start preparing your salsa by adding all ingredients to a small bowl. Gently stir to combine and let the mixture rest while you prepare the fish.

Place two pieces of aluminum foil on top of each other and fold the sides together as if to form one piece of foil. Do this for each piece of fish you are preparing. Lightly spray the foil with nonstick cooking spray. Gently pat your pieces of fish dry with a paper towel and place them on the oiled foil.

Mix all the "rub" ingredients together in a small boil.

After the ingredients are combined pour the rub over the fish and distribute evenly. Pat the rub into the fish with your fingers.

Place your foil of fish on the grilling rack. The fish should take 12-15 minutes to cook. Do not turn your fish while grilling. It is finished when you can "flake" the fish apart with a fork. Be careful to not overcook!

Gently remove fish from foil with a large spatula and place each portion on a plate. Top with salsa. Enjoy!