"This tastes like chocolate frosting!" exclaimed my mother-in-law.
"I know you haven't released this recipe yet, but can I have it?" asked my sister-in-law.
I think it's safe to say, you'll want this Clean Eating Brownie Batter Hummus recipe too!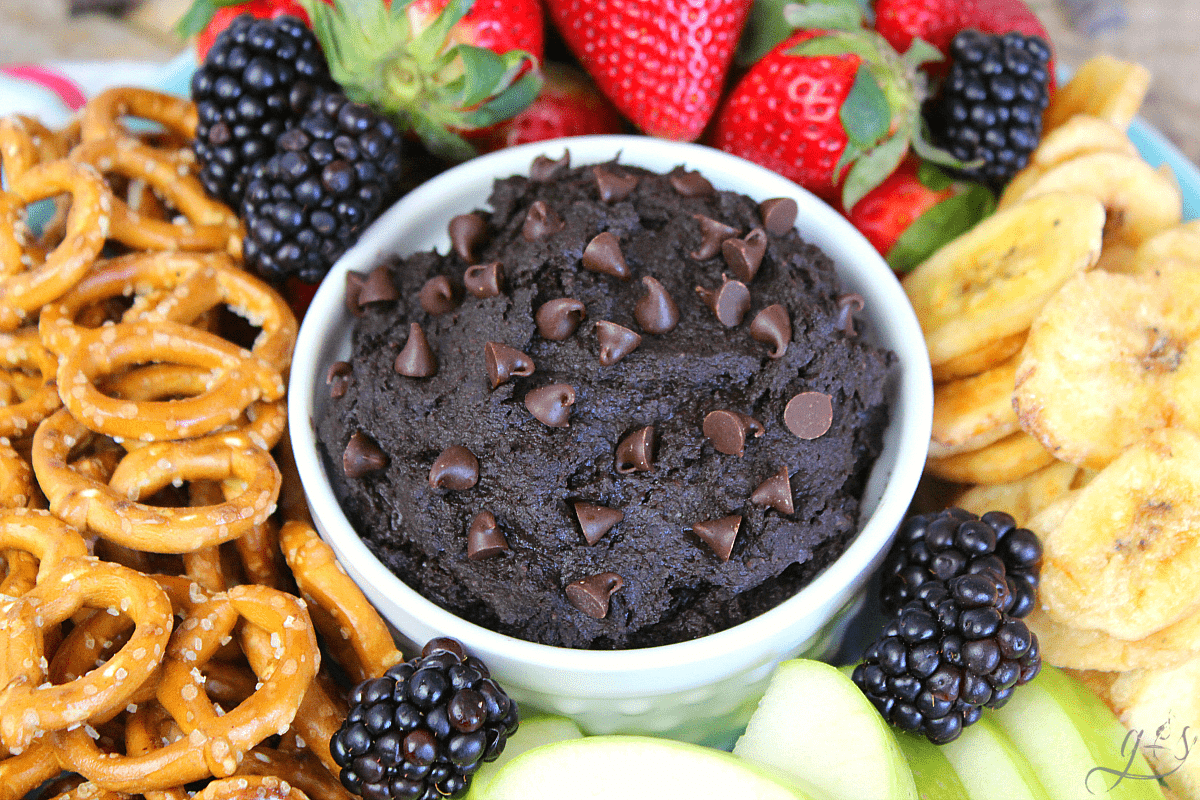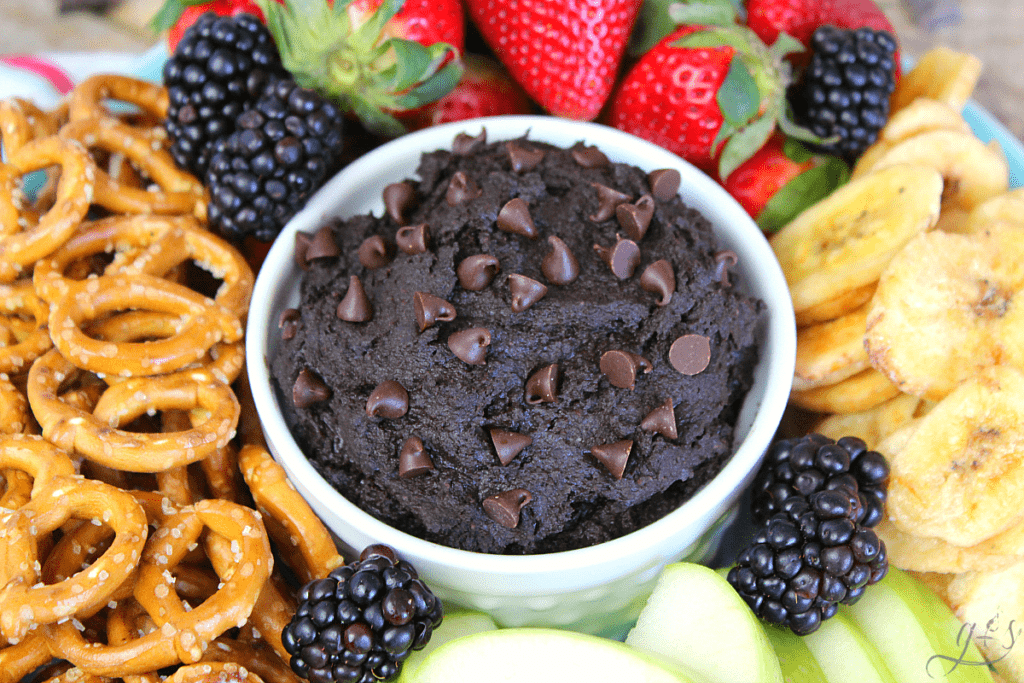 The thought of hummus being sweet can be a little off-putting. I get it. Thinking about it myself before I actually made it did not make my mouth water either.
BUT…SERIOUSLY…
Dessert hummus is AMAZING!
This hummus is perfect all by itself, by the spoonful, big big spoonfuls or pair it with fresh fruit, pretzels, vanilla wafers, or banana chips.
Delightful, absolutely delightful.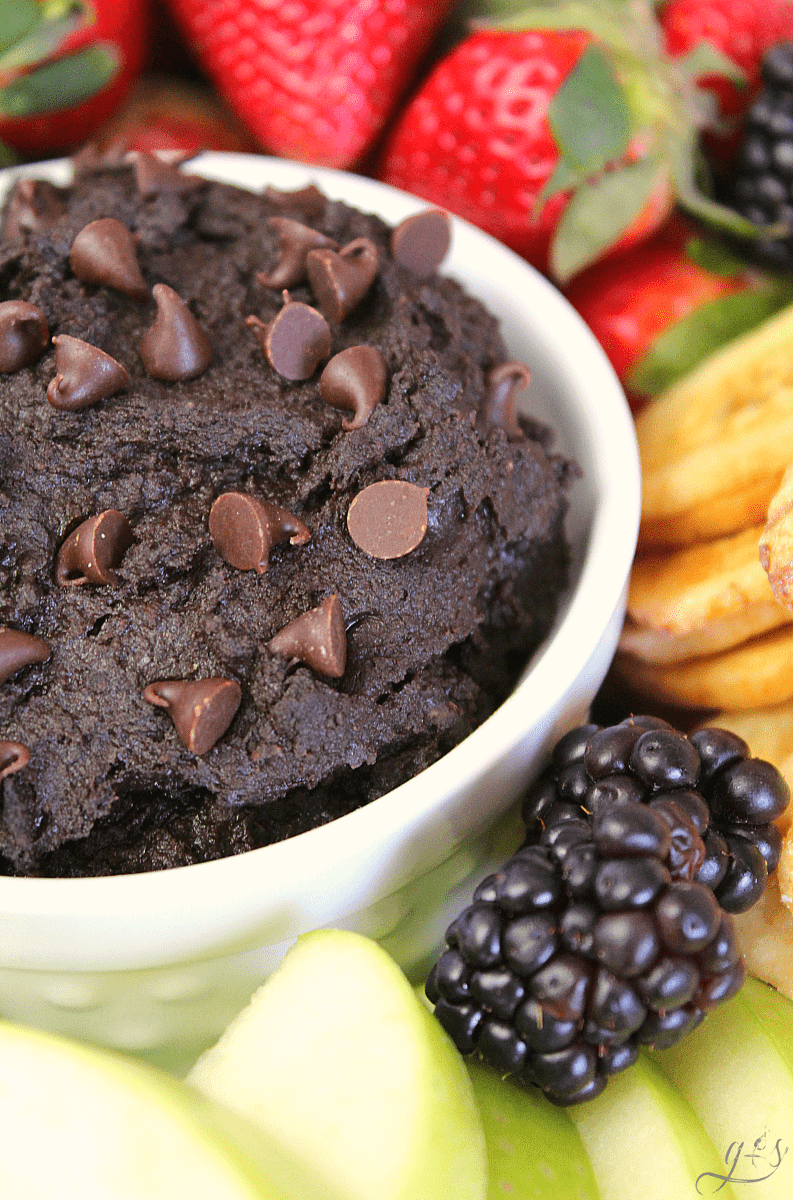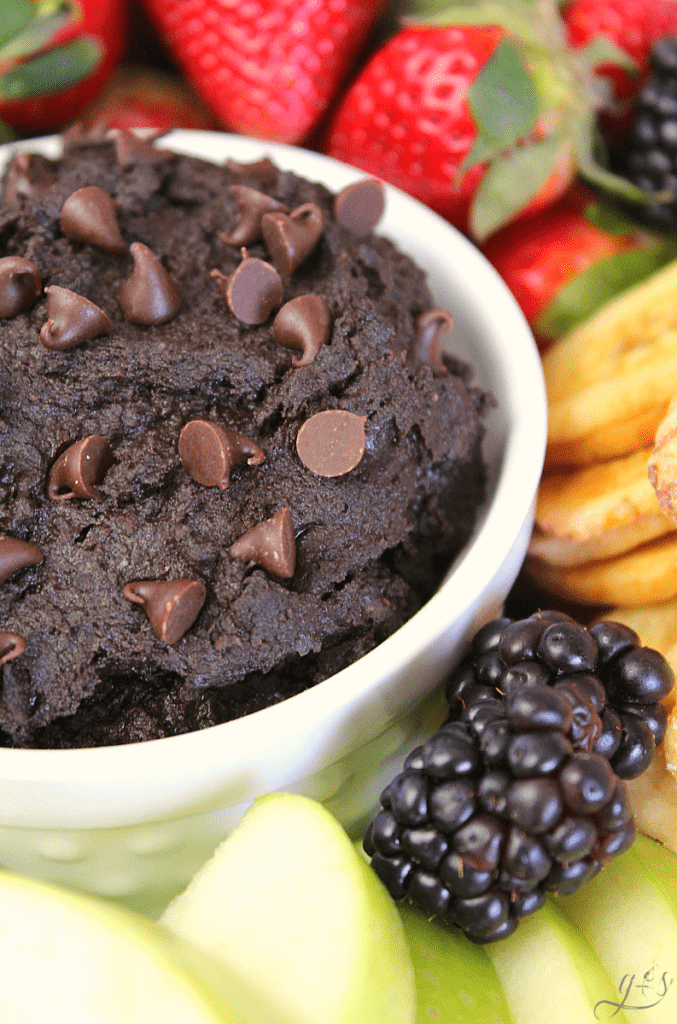 My sister-in-law mentioned this would be perfect to send in her son's lunchbox. I totally agree with her and also think this Clean Eating Brownie Batter Hummus makes a nice dish for picnics or potlucks.
My friend, Nikol with Pampered Chef, lent me the best container to take this hummus on-the-go! This Small Square Cool & Serve container comes with a gel insert to keep the hummus and fruits cool. Don't even get me started on the Mini Spoons and Tongs set. So cute and handy!!As you can see, I have a soft spot for Pampered Chef. I have been adding their amazing products to my kitchen for years and have found them to always be of the highest quality and so easy to use! Be sure to check out all the amazing products HERE and say hello to Nikol too!
If chocolate isn't your thing (if it isn't, who are you?! ha!), you may really like this Clean Eating Snickerdoodle Hummus. It's sweet, packed with cinnamon, and perfect with vanilla wafers and apples.
I have a few other dessert hummus recipes in mind too! So don't worry, my pretties, you haven't heard the last of me in regards to sweet and healthy dip recipes.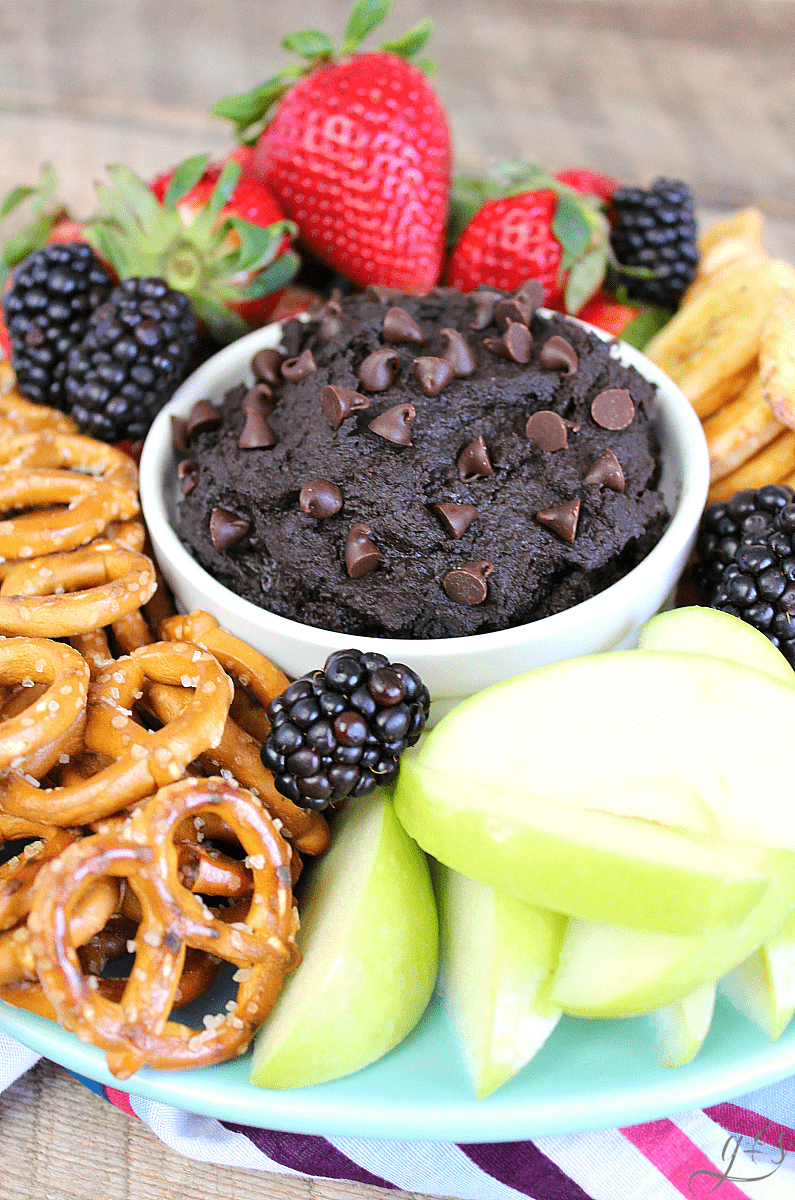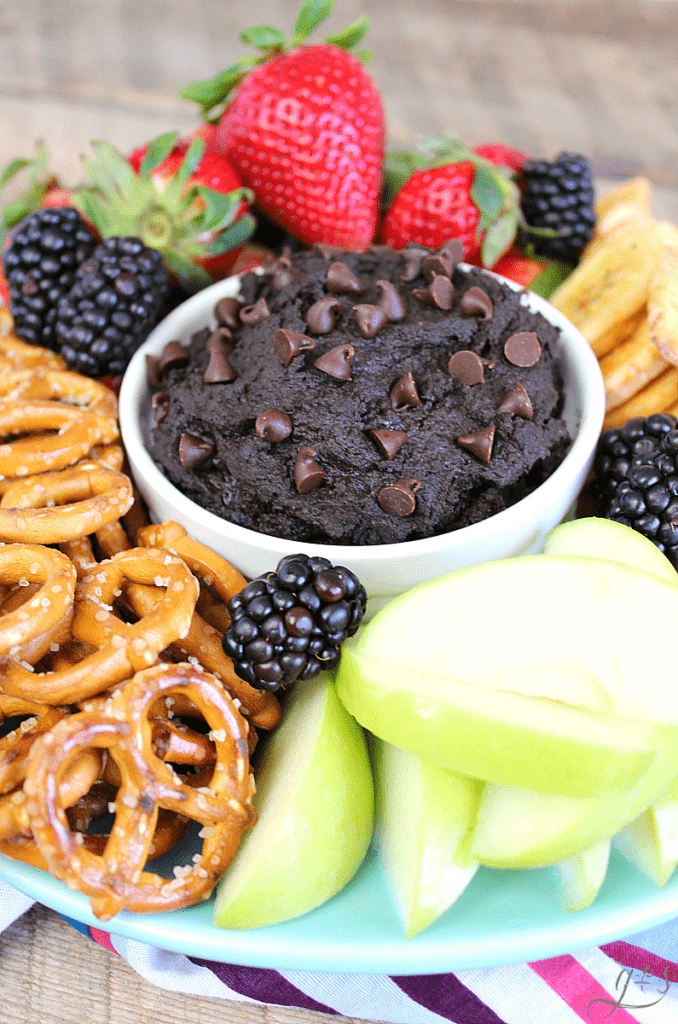 When making any hummus, especially dessert hummus, consistency is key.
This chocolate hummus takes a little more liquid to achieve a creamy texture. I think the cocoa powder has a tendency to dry it out a bit. Add the water in small increments until you have a smooth and creamy "batter".
Okay, now it's your turn! Enjoy this delicious recipe and let me know in the comments how you eat it, straight up with a spoon or with fruit or pretzels. 🙂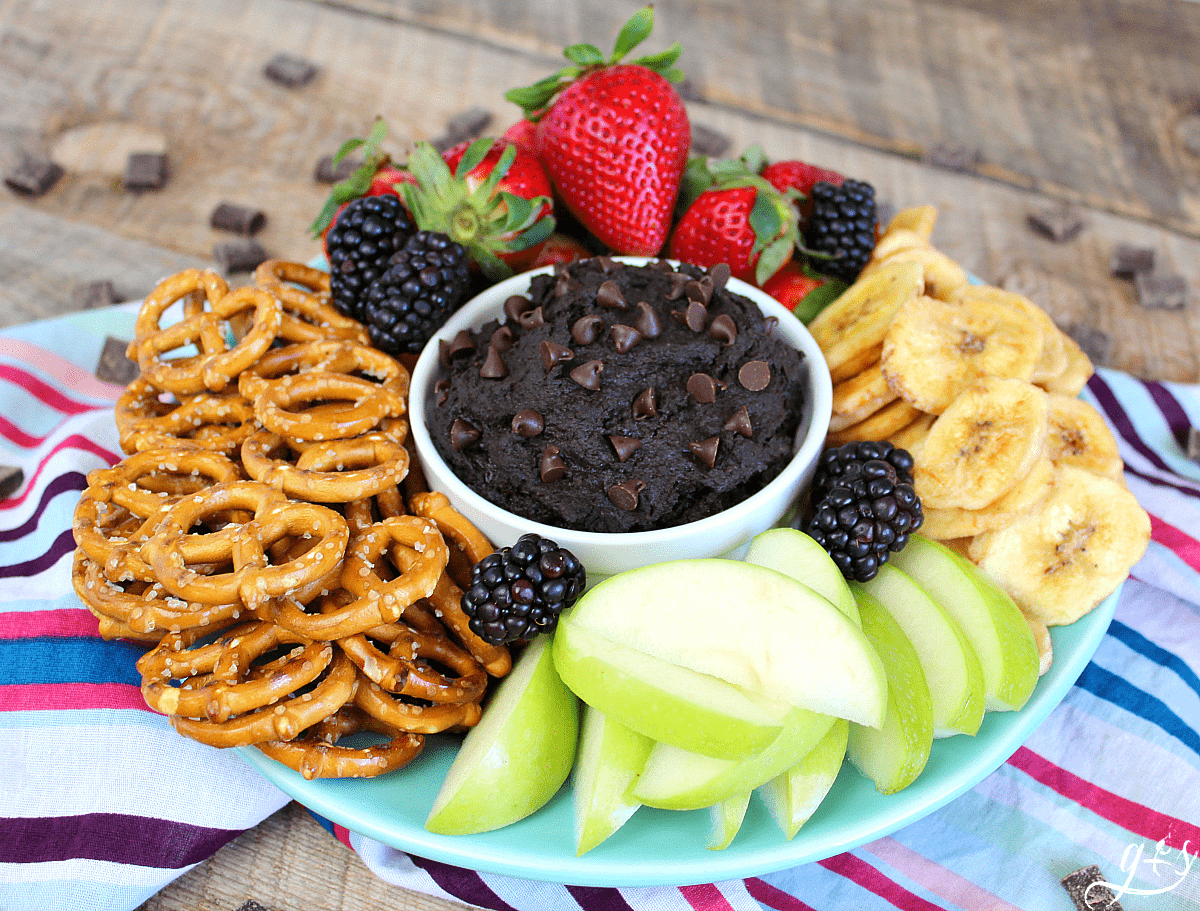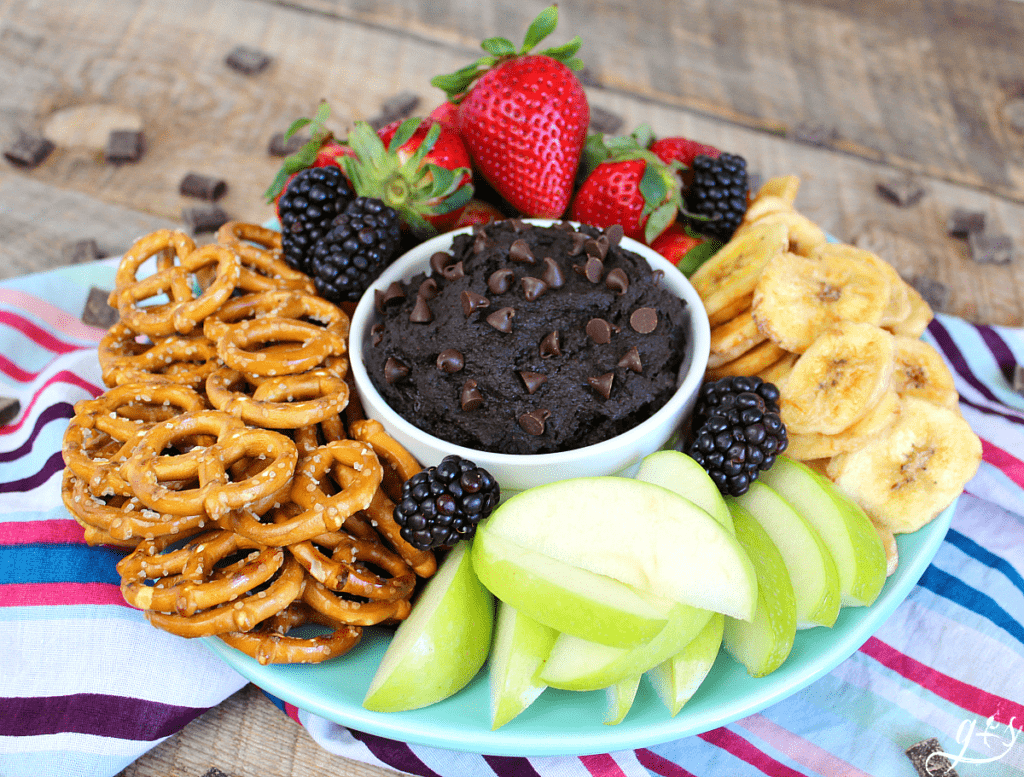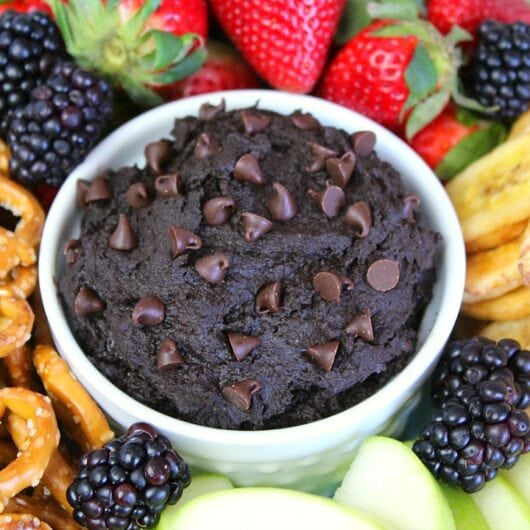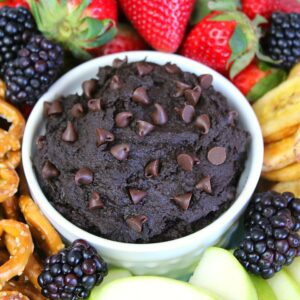 Print Recipe
Clean Eating Brownie Batter Hummus
This clean eating homemade recipe makes the perfect snack or dessert. Healthy, gluten free, and chocolate- what more could you want?! It tastes like frosting or dark chocolate cookie dough! Chickpeas (garbanzo beans), honey, peanut butter (nut butter), and cocoa powder make the most indulgent and easy fruit dip EVER. Dippers to use: berries, apples, Nilla wafers, pretzels, banana chips! For more recipes like this check out www.happihomemade.com.
Equipment
food processor

rubber spatula
Ingredients
1

can

canned garbanzo beans (chickpeas), drained and rinsed well

1/2

cup

honey

1/2

cup

cocoa powder

1/3

cup

creamy peanut butter (or nut butter)

2

tsp

vanilla extract

1/8

tsp

almond extract

1/8

tsp

sea salt

1/4

cup

water, add in small increments

1/4

cup

mini chocolate chips (optional)
Instructions
Place all ingredients in food processor EXCEPT the water and blend until mixture is smooth. Add the water slowly, until the consistency is creamy and smooth with no chunks or bits of chickpea are detectable. If the "batter" is not creamy enough it will be hard to dip your fruit in.

(Optional) If you are wanting to add mini chocolate chips to your brownie batter you can do this 2 ways: add them to your food processor and pulse until they are just mixed in OR after you scoop the hummus into a container, top with the mini chocolate chips.

Store in an air-tight container for up to a a week. Serve with berries, sliced apples, crackers, pretzels, Nilla wafers, dried banana chips, etc or eat it plain with a spoon! ...A big, big spoon!
Notes
Calories include optional chocolate chips...because are chocolate chips ever really optional?! 😉