This shop has been compensated by Collective Bias, Inc. and its advertiser. All opinions are mine alone. #ProgressIsPerfection #CBias #CollectiveBias
The weekend.
How we all look forward to those two glorious days!
Nothing beats a relaxing weekend morning, especially when there is a delicious stack of Coconut Cake Pancakes to enjoy.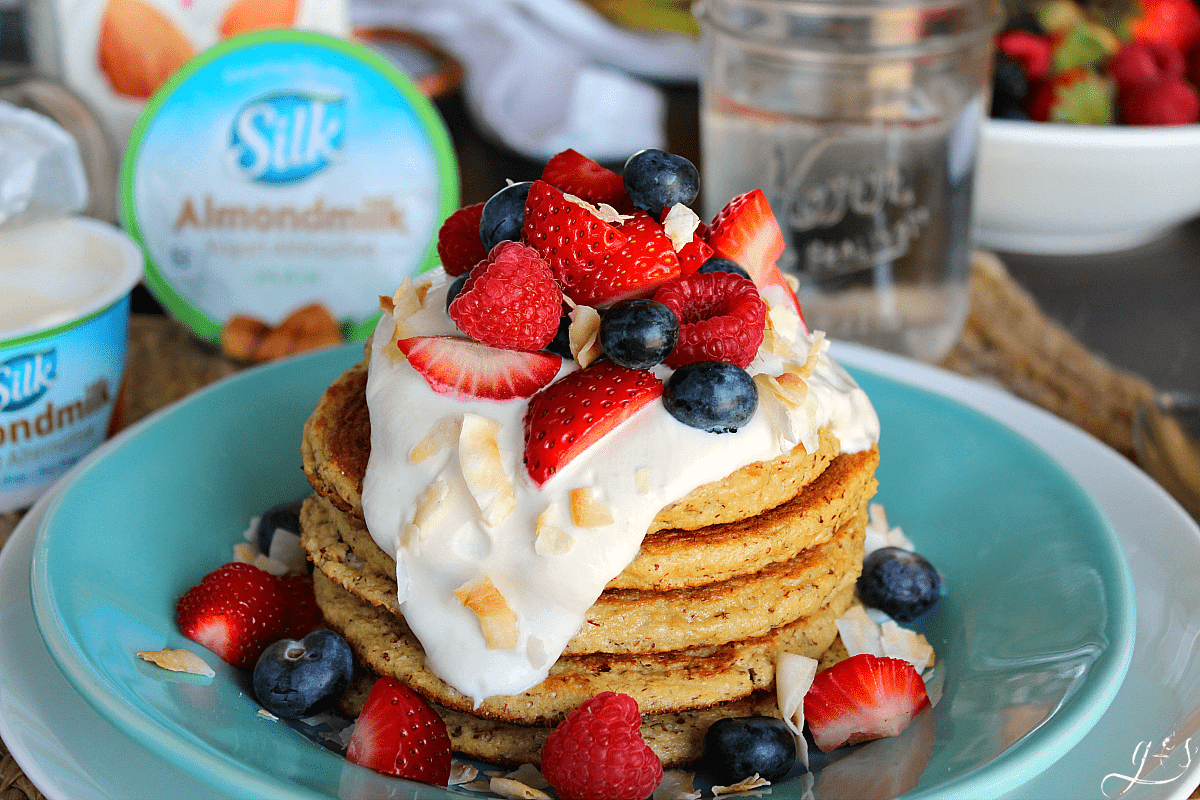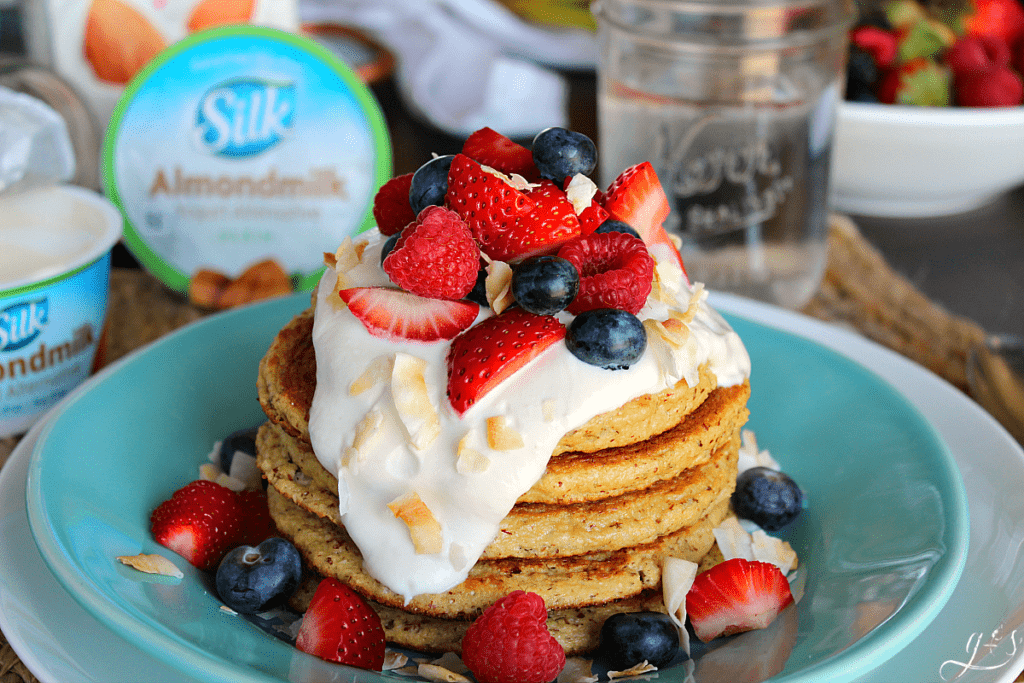 Pssttt….Do you see that delicious yogurt topping those stacks? Yaaahhhh, amazingly delicious! Click on the Ibotta coupon below to take advantage of the money-saving deal with Wal-Mart (I purchased all my ingredients here!) to make this Silk Almondmilk and Silk Almond Dairy-Free yogurt recipe!


But first…
---
Are you ready to learn the 6 secrets to take your weekend mornings to the next level? Step 1:
Wake up without an alarm. Let your body wake up when it pleases and lie in bed, relax, and enjoy a chapter in a lovely weekend read or your favorite magazine.
Step 2:
Then get out of bed rested and refreshed. Stretch. But most importantly, you must stay in your pajamas or comfy clothes!
Step 3:
Make your way to the kitchen and drink a glass of water. This will get your metabolism going and shake away the grogginess. Plus, water is so good for you for SO many reasons!
Step 4:
Next, whether using your phone, IPad, or TV, turn on some music. Depending on your mood, choose a station with either soothing Norah Jones or dance-happy Megan Trainor.

Step 5:
Next, bring a kettle of water to a boil to enjoy fancy French press coffee or turn on your Keurig to quickly enjoy a cup of joe as you prepare breakfast.
Step 6:
Finally, let's make breakfast! Get a pan warming on the stove-top or heat your griddle. (Recipe below!)
While the dairy free Coconut Cake Pancakes cook low and slow, don't forget to grab your coffee and dance a little in your kitchen!

Step 7:
ENJOY, TRULY ENJOY, this delightful breakfast, lovely music, and your best morning ever! Weekend bliss, we have arrived!
---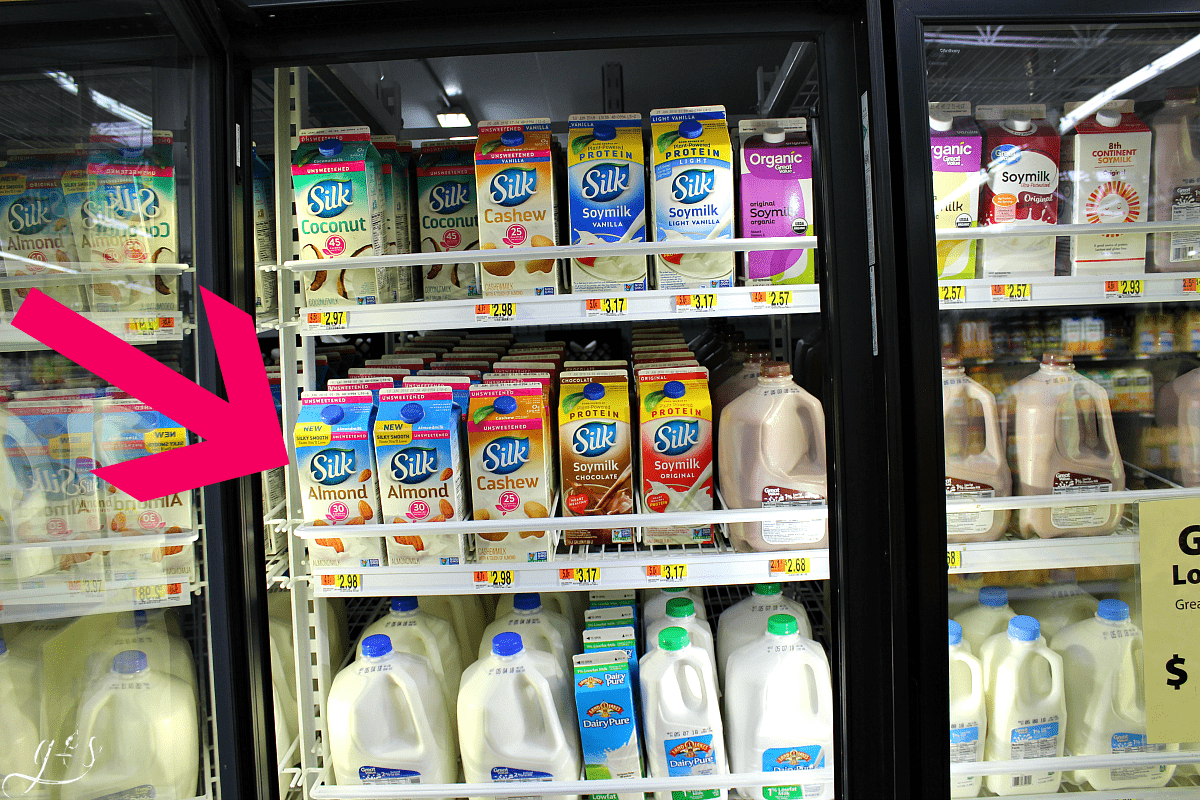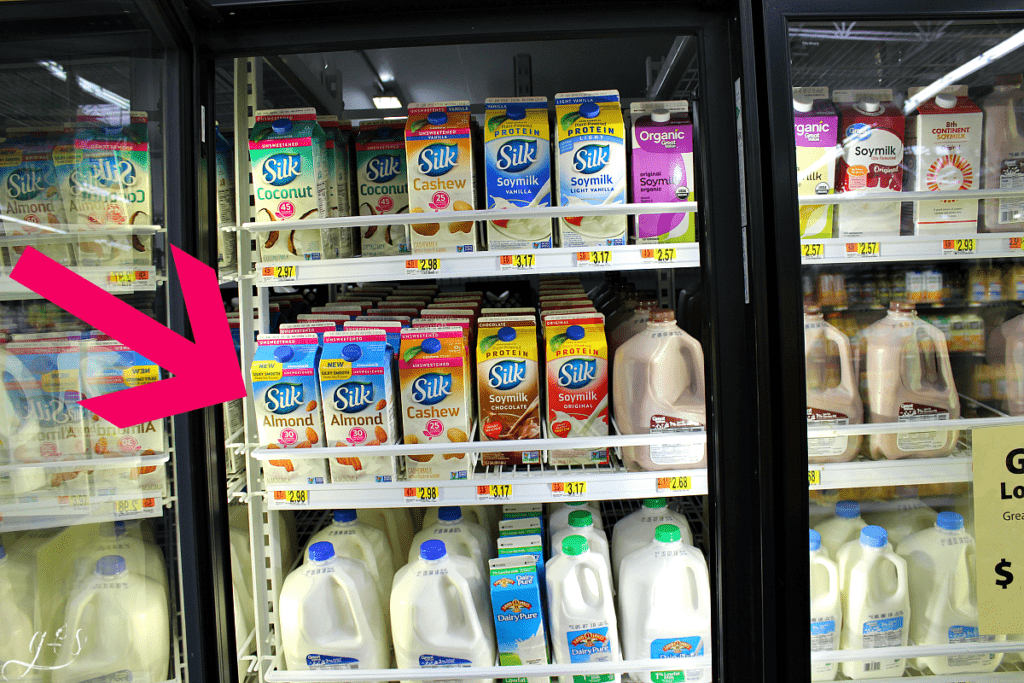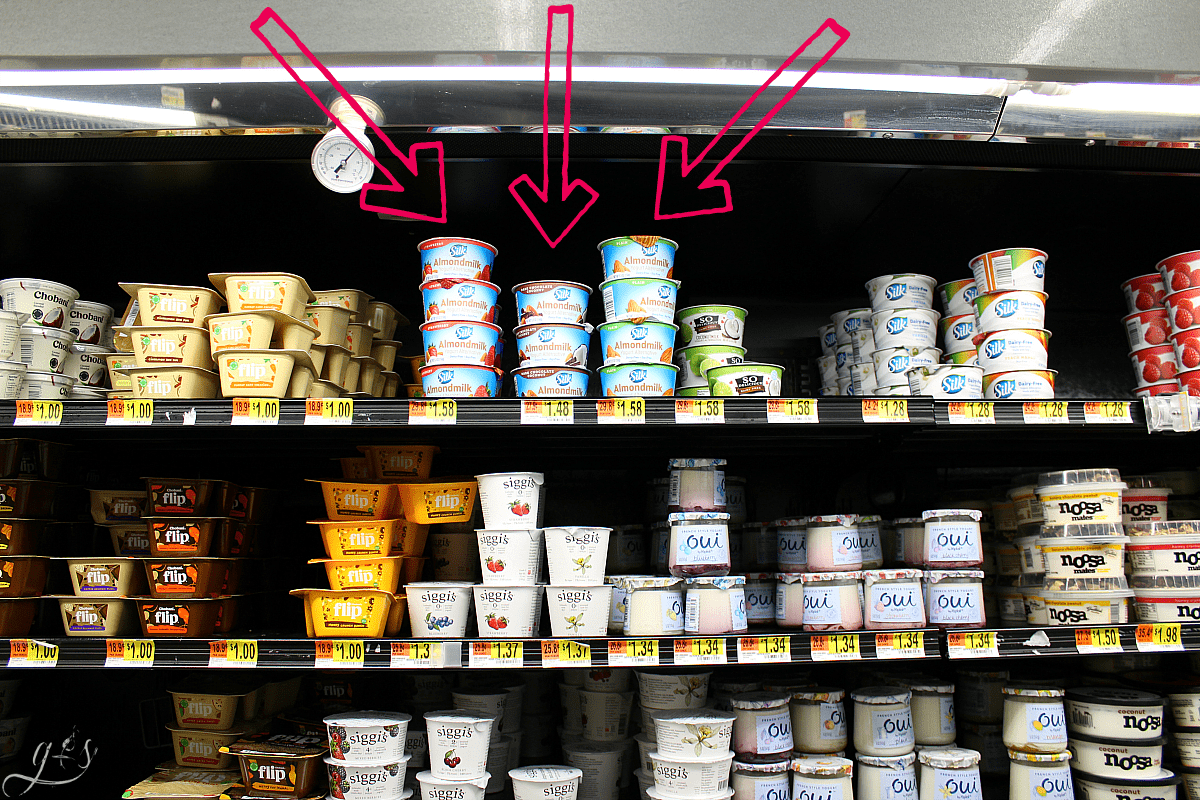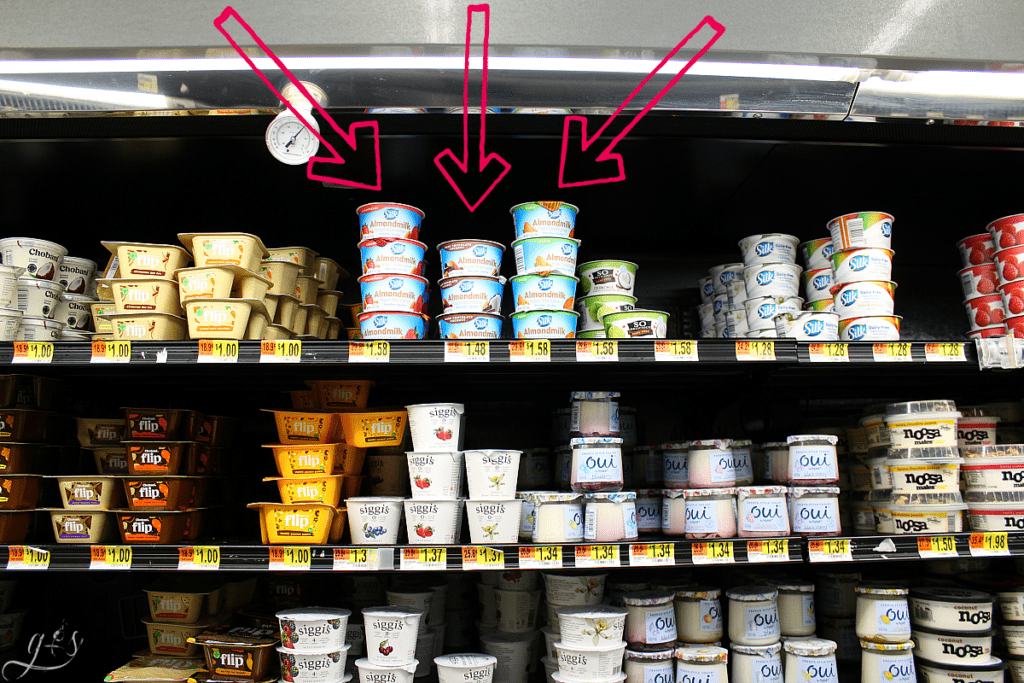 Teaming up with Silk Almondmilk and Silk Almond Dairy-Free yogurt is LITERALLY a dream come true. I drink their Unsweetened Almondmilk every day. Hello 0 grams of sugar! So to be able to partner with them for a recipe is truly a highlight of my blogging career.
For years, Silk products have helped me create "lightened up" versions of recipes without sacrificing flavor.
These Coconut Cake Pancakes and Silk Plain Almond Dairy-Free Yogurt Alternative glaze are dairy-free and soy-free thanks to Silk.
How great is it to know that Silk's #ProgressIsPerfection campaign is all about small victories in our journey towards healthier living and eating less dairy? I can get on board with that! #smallvictoriesROCK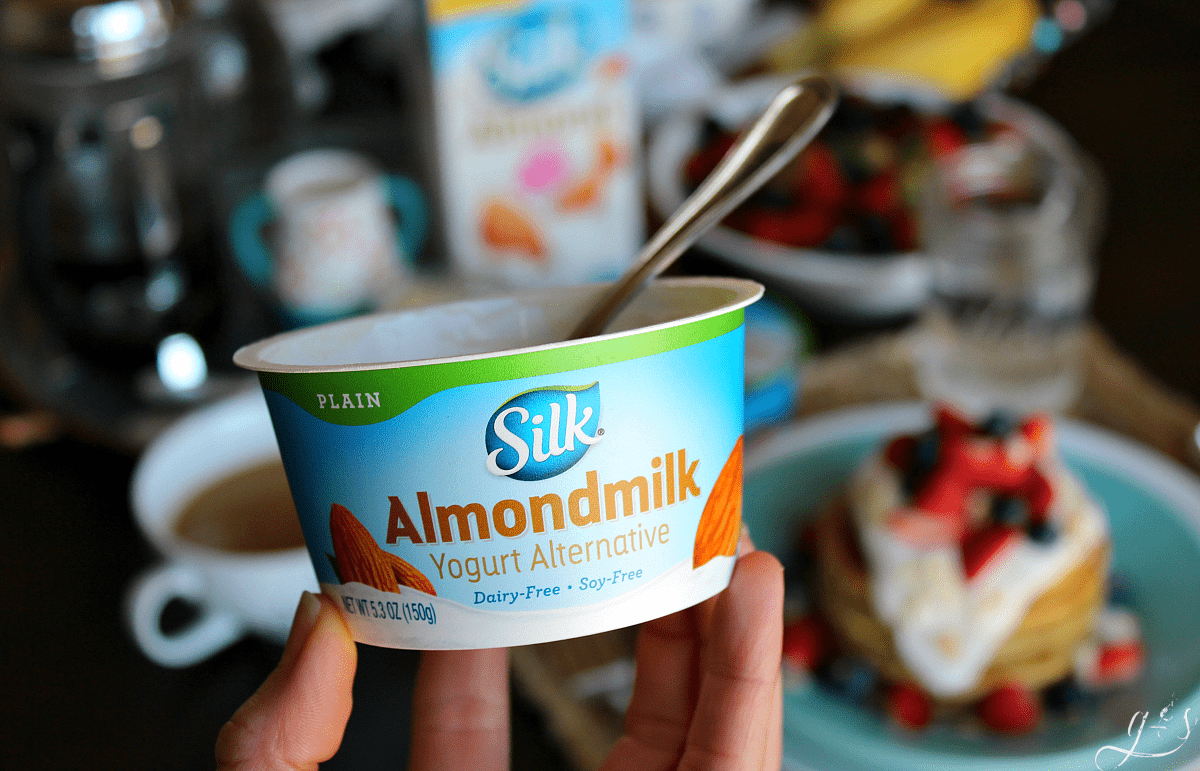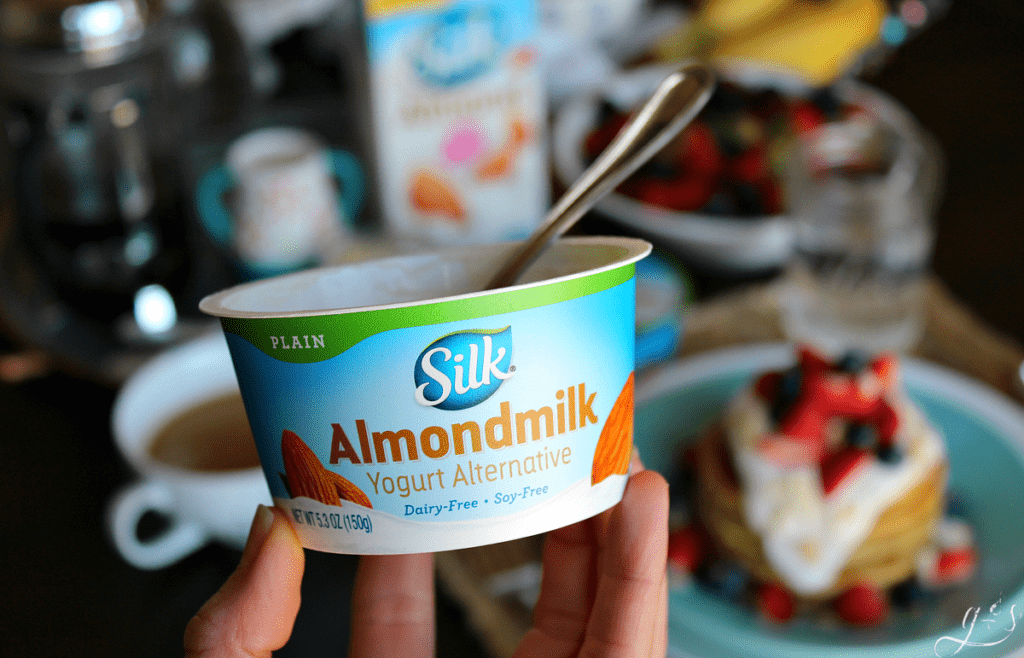 Can we just take a second to talk about that creamy "syrup"?
Ya, no need for maple syrup or honey to top these pancakes! The Silk Plain Almond Dairy-Free Yogurt Alternative glaze is literally all you need. Unlike plain dairy varieties of yogurt, Silk's Almond Dairy-Free yogurt has a slight sweetness and natural flavoring from the almonds.
Honestly, you don't need to add any flavoring or sweetener to it! It's perfect all on it's own and only has 6 grams of sugar and 6 grams of protein. Woot woot!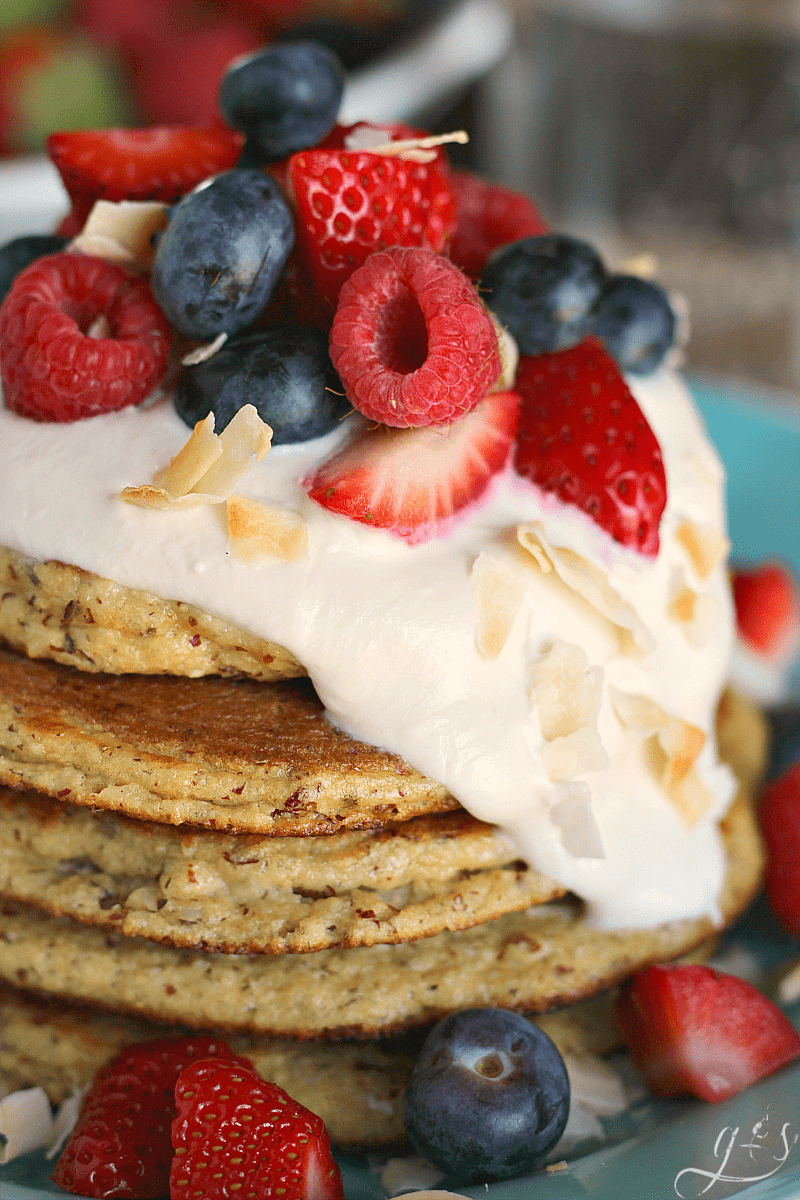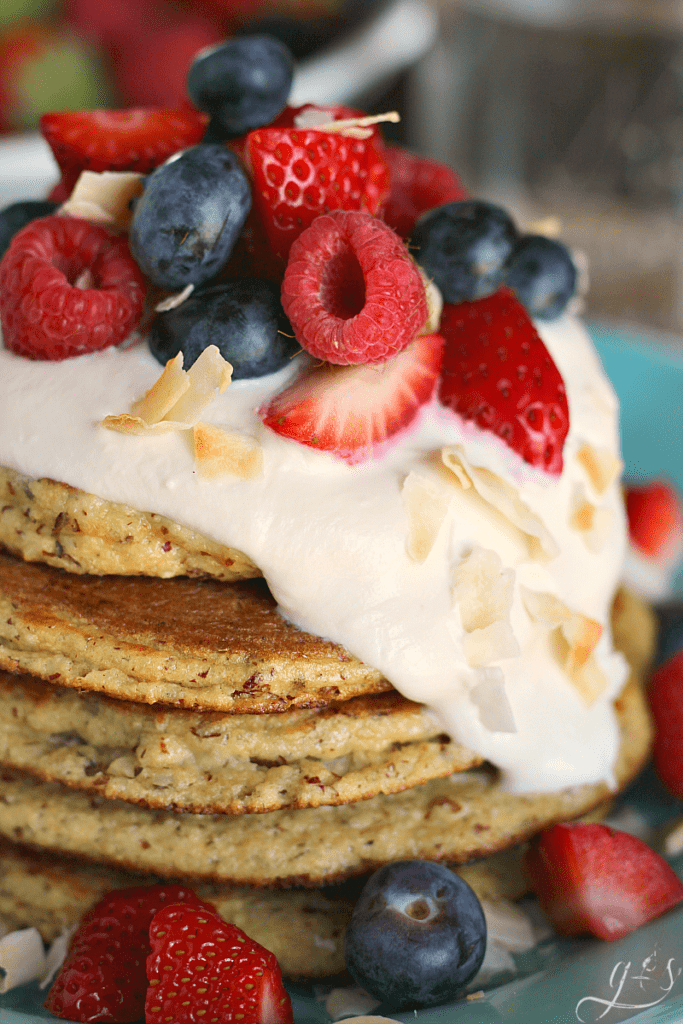 PS…Silk also has a Dark Chocolate Coconut variety.
I know. I'm drooling already!
In closing, if you are trying to transition to a more plant-based diet be sure to give Silk Almondmilk and Almond Dairy-Free yogurts a try!
Okay? Okay. 😉
I totally get it, achieving health can be hard, but feeling healthier doesn't have to be! This tutorial and recipe are proof of that.
Now go enjoy those gluten free pancakes! Happy Eating!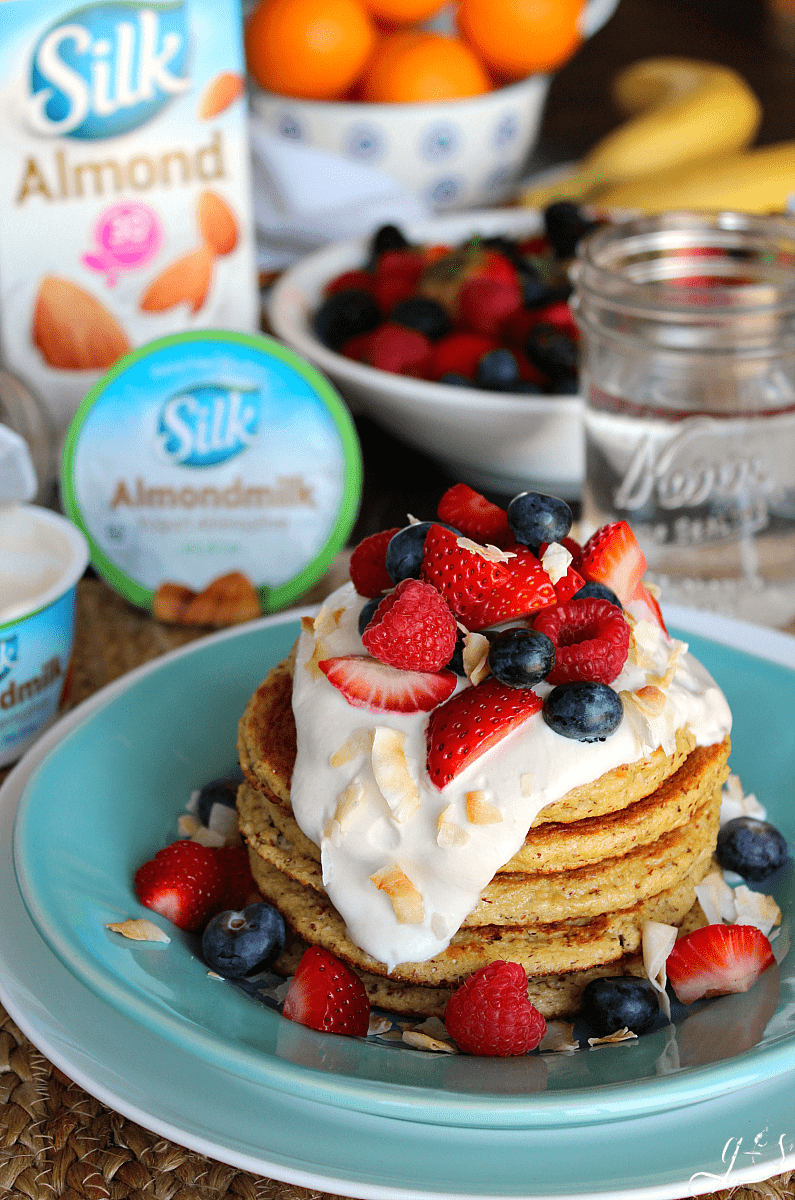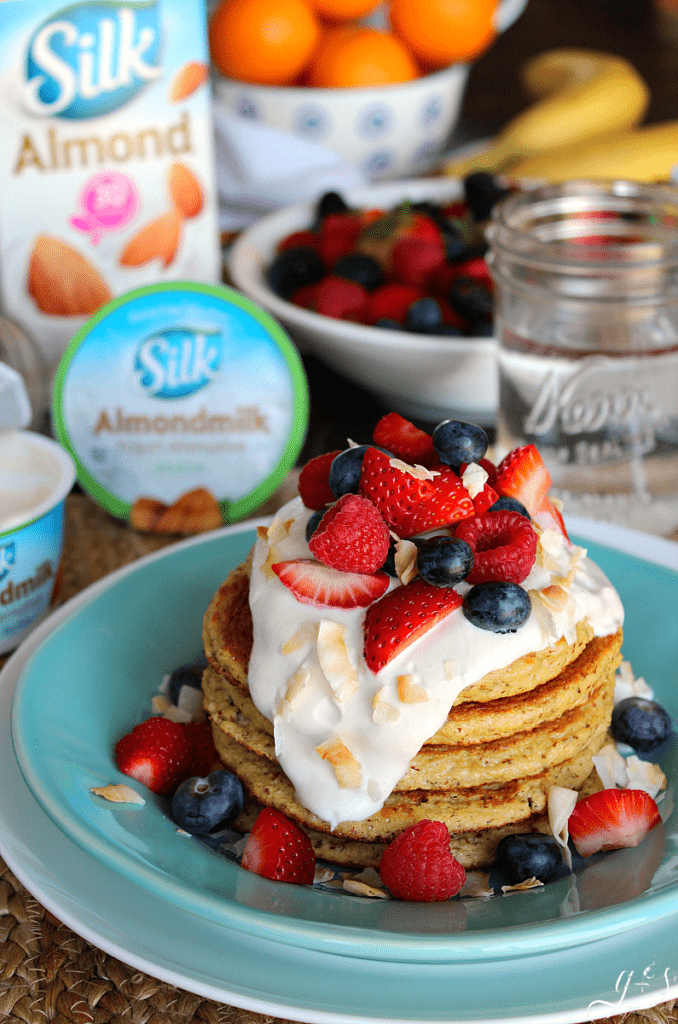 Who's hungry for these clean eating Coconut Cake Pancakes?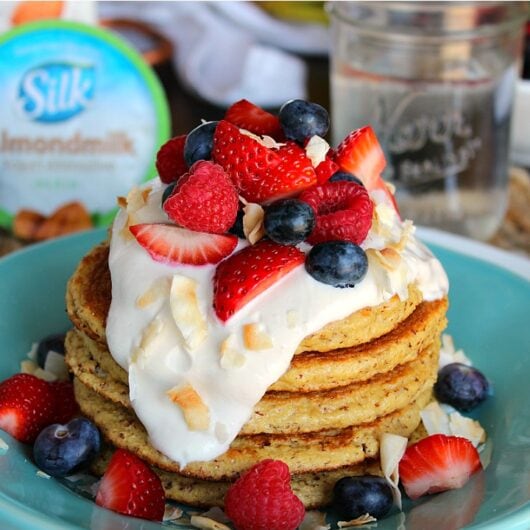 Print Recipe
Coconut Cake Pancakes
This clean eating homemade recipe makes the perfect breakfast that tastes like your favorite cake. These easy Paleo flapjacks and creamy syrup are dairy-free, soy-free, healthy, and gluten free! #ProgressIsPerfection with Silk Almondmilk and yogurts. Transition to a more plant-based diet and away from dairy with these coconut and almond flour pancakes. Plus the only sweetener used is 1 Tbsp of coconut sugar in the ENTIRE recipe!
Equipment
1 large bowl

1 whisk

1 large pan
Ingredients
Pancake Ingredients
1

cup

almond flour

1/4

cup

coconut flour

1/2

cup

finely grated unsweetened coconut

1

Tbsp

baking powder

1

Tbsp

coconut sugar

1/4

tsp

sea salt

1

cup

Silk Unsweetened Almondmilk

4

eggs

1

tsp

vanilla extract

1/2

tsp

almond extract
Pancake Toppings
2

5.3oz containers

Silk Plain Almond Dairy-Free Yogurt Alternative

2

cups

fresh berries (strawberries, blueberries, raspberries, blackberries)

1/2

cup

finely grated unsweetened coconut
Instructions
Stir the dry ingredients together (flours, baking powder, salt, sugar, and coconut) in a medium bowl.

Whisk the wet ingredients (milk, eggs, vanilla extract, and almond extract) in a separate small bowl.

Pour the wet ingredients into the dry ingredients and mix until combined. Allow the batter to sit for 10 minutes before making the pancakes. This allows the coconut flour to soak up the liquid and the batter to thicken.

Begin heating a pan over low-medium heat and spray the pan with non-stick cooking spray.

Once you see tiny bubbles form on the hot pan, pour ¼ cup batter onto the pan. The pancakes will spread slightly, so depending on the size of your pan, you may be able to cook 4 pancakes at a time.

Let the pancakes cook until the sides begin to look cooked, the bottom of the pancake is browned, and you can get a spatula under it (5-7 minutes).

Flip and cook the other side (2-4 minutes).

Repeat above steps with the remaining batter.

When serving, spread Silk Plain Almond Dairy-Free Yogurt Alternative between each pancake with a large dollop on top. Then place a handful of fresh berries on top and sprinkle with additional shredded coconut!
Notes
Each pancake is 134 calories if you divide the recipe into 10 pancakes. Calorie count doesn't include toppings.