Salt? …On brownies? …Whaaaaattt?
I know it's a little different, but trust me. It totally works!
These Skinny Salted Brownies are everything I am hoping for in a clean eating brownie.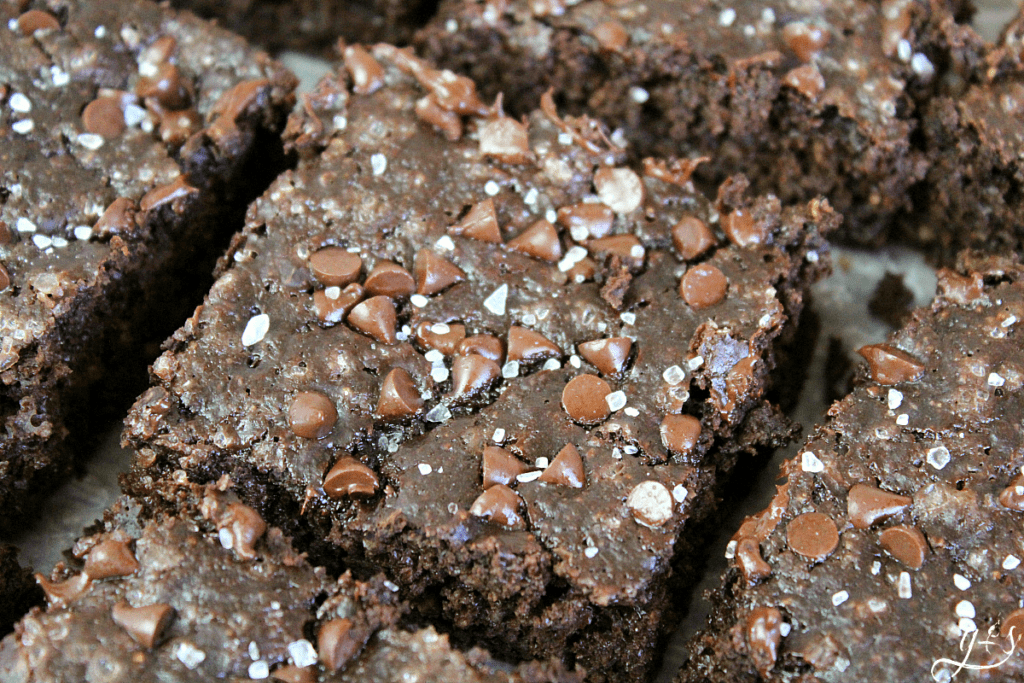 These rich flourless Greek yogurt brownies topped with flaked sea salt are my new favorite flavor combination. I have been experimenting with this recipe for close to a year now.
Before I forget to tell you, these brownies are only 125 calories per normal-sized brownie. No skimping here, these are real portions that happen to have low calories too. 😉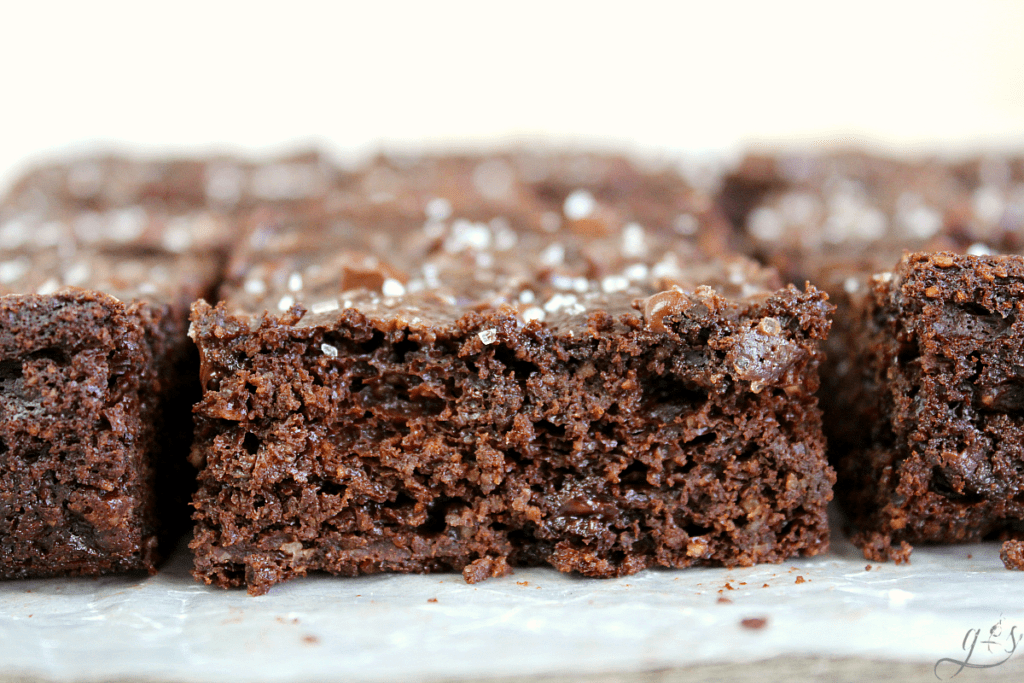 The original recipe, Secretly Skinny Double Chocolate Brownies, was a favorite of mine years ago, but I don't fancy stevia anymore. Don't get me wrong, the original recipe is delicious and very health conscious. I just wanted to create a recipe that was still just as healthy, but used a "real sugar".
Stevia was my preferred sweetener years ago, however, I have come to like coconut sugar, honey, and maple syrup best.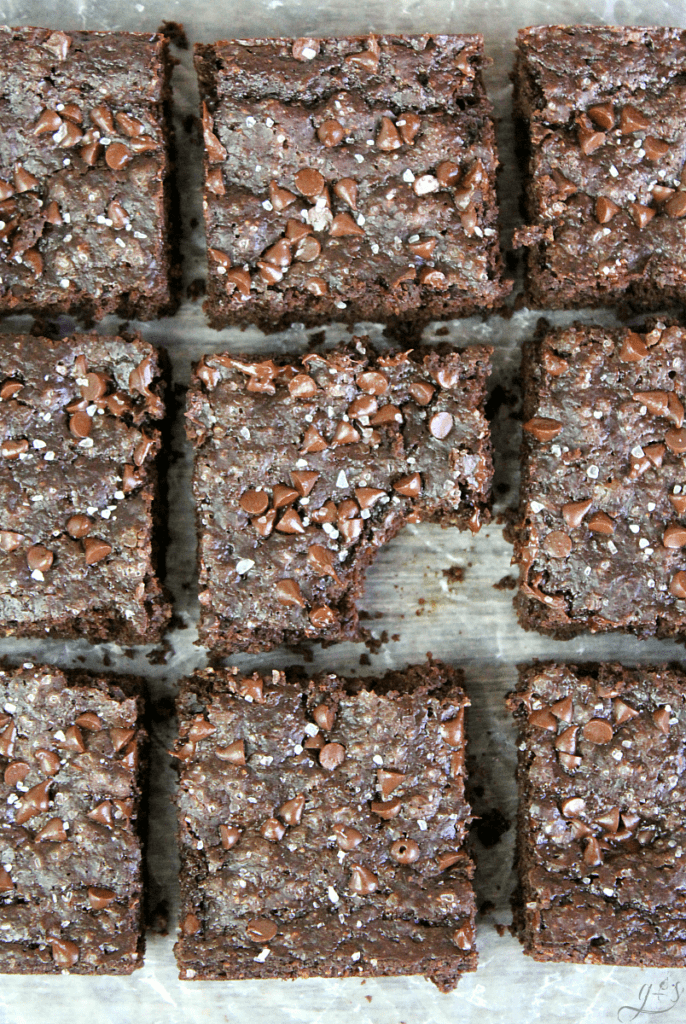 With only 1/2 cup of coconut sugar and 4 Tbsp mini chocolate chips, the Skinny Salted Brownies are certainly sweet enough without giving you a cavity! I adore the richness of these brownies and hint of savory thanks to the flaked sea salt.
Did you know most brownie recipes contain 2 cups of sugar and 1 1/2 cups of butter! Wowza!
Skinny Salted Brownies Ingredients
1/2 cup oat flour
1/2 cup cocoa powder
1/2 cup coconut sugar
1/2 cup plain Greek yogurt
1/4 cup applesauce
2 eggs
1 tsp vanilla extract
1 tsp baking powder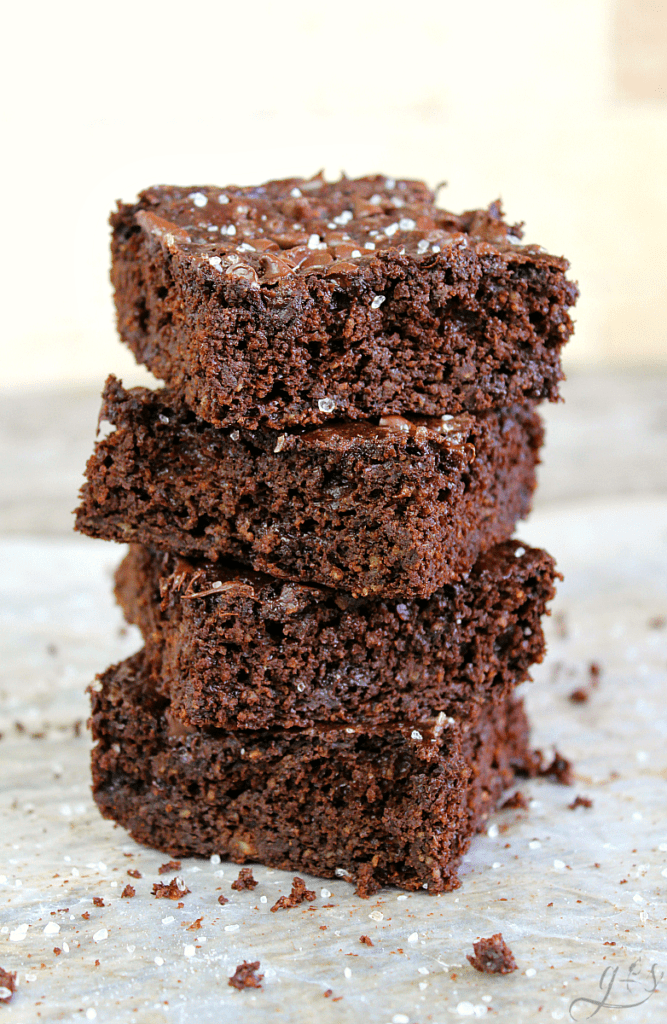 I will admit, the bigger the flake of salt the prettier the brownies. You can sprinkle regular sea salt on top of the brownies before or after baking, but you will not be able to see it.
I like to sprinkle a little salt on the batter before baking and add a little more before serving for visual appeal.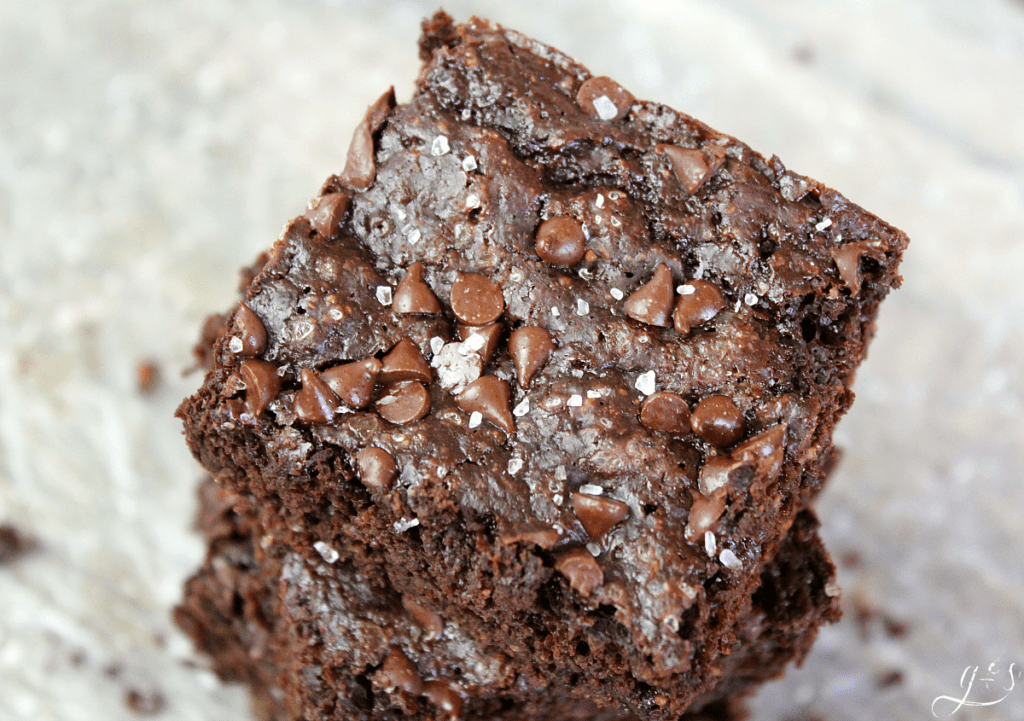 This Skinny Salted Brownie recipe uses oat flour, plain Greek yogurt, and applesauce in place of white flour and oil.
The brownies are simple to make and truly decadent even though they are lacking the typical oil and melted chocolate in the batter.
Though, there is plenty of chocolate to go around with 1/2 cup of cocoa powder and 2 Tbsp mini chocolate chips throughout the batter and 2 Tbsp sprinkled on top.
Chocolatey goodness at it's best!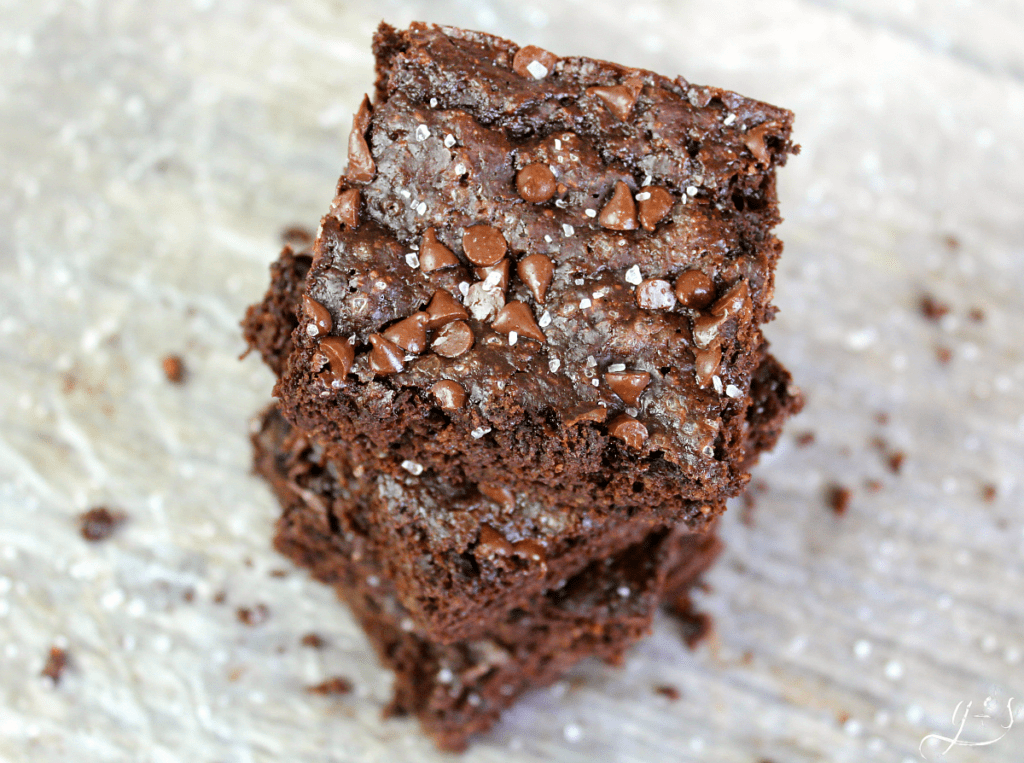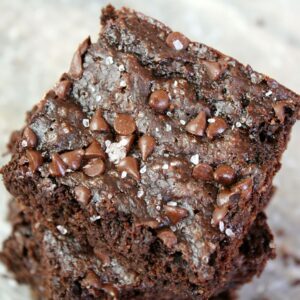 Print Recipe
Skinny Salted Brownies
The BEST Skinny Salted Fudge Brownies | This easy from scratch recipe is gluten free and delicious. It is low calorie too at only 125 calories/brownie. Homemade is always best and these chewy brownies are everything you want in a sweet clean eating treat! Fudgy goodness along with a slightly savory element from the flaked sea salt will tantalize your taste buds. There is no refined sugar (coconut sugar) and Greek yogurt, applesauce, cocoa powder, and oat flour comprise these beauties! Use plant based yogurt if dairy free.
Ingredients
1/2

cup

oat flour

1/2

cup

cocoa powder

1/2

cup

coconut sugar

1/2

cup

plain Greek yogurt

1/4

cup

applesauce

2

eggs

1

tsp

vanilla extract

1

tsp

baking powder

1/2

tsp

baking soda

4

Tbsp

mini chocolate chips, divided

1/2

tsp

flaked sea salt, divided
Instructions
Preheat your oven to 400 degrees Fahrenheit. Lightly spray an 8x8 glass pan with non-stick cooking spray. Set pan aside.

Add all ingredients, EXCEPT 2 Tbsp chocolate chips and the 1/2 tsp salt, to a medium-sized bowl and mix until combined.

Pour batter into the greased glass pan. Smooth out the batter and top with the remaining 2 Tbsp of mini chocolate chips. Then sprinkle with 1/4 tsp sea salt. (You will use the other 1/4 tsp salt after the brownies are baked!)

Bake for 18-20 minutes or until top is slightly crackled. The brownies should be set, but an inserted toothpick should NOT come out completely clean. If it does they are over-baked.

Before serving, sprinkle brownies with remaining 1/4 tsp flaked sea salt. Store leftovers in a sealed container in the fridge for up to 3 days.
Notes
To make oat flour add oatmeal to food processor or Magic Bullet and blend until consistency of flour.