Buckle up because you will LOVE these Easy BBQ Chicken Tacos!
BBQ chicken what?
Yep, I've gone and done it.
BBQ chicken AND coleslaw in a taco.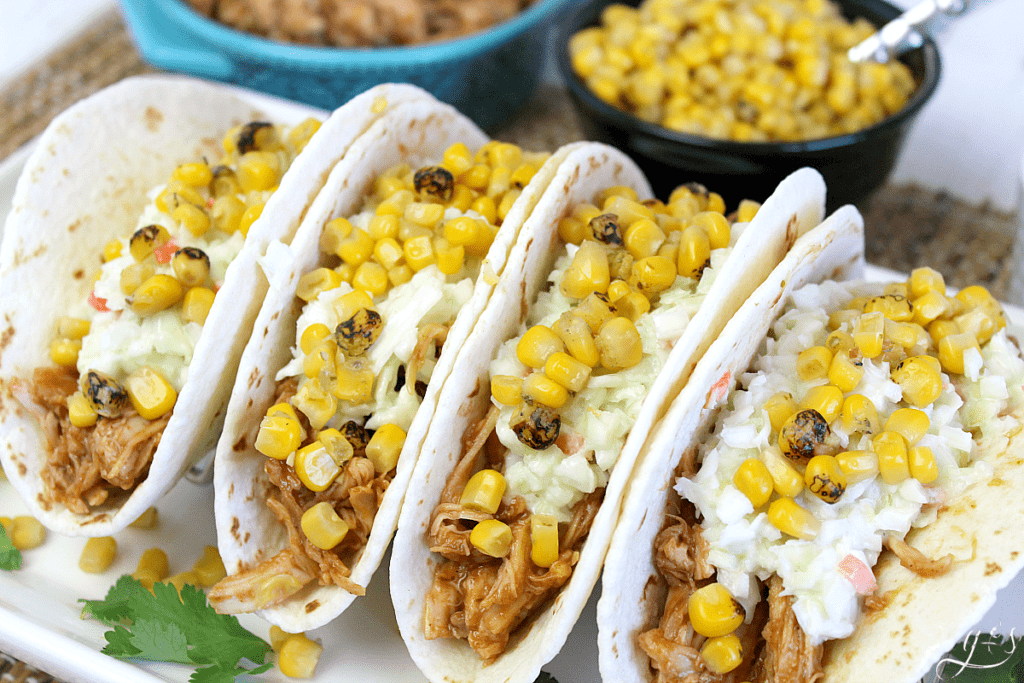 But like many of my crazy-delicious combos, you just have to trust me. Remember the Skinny Salted Brownies, Scrambled Egg Waffles, and Pumpkin Cornbread?
Those recipes are ahhhmazing, right?! 😉
I guarantee these BBQ Chicken Tacos are just as awesome.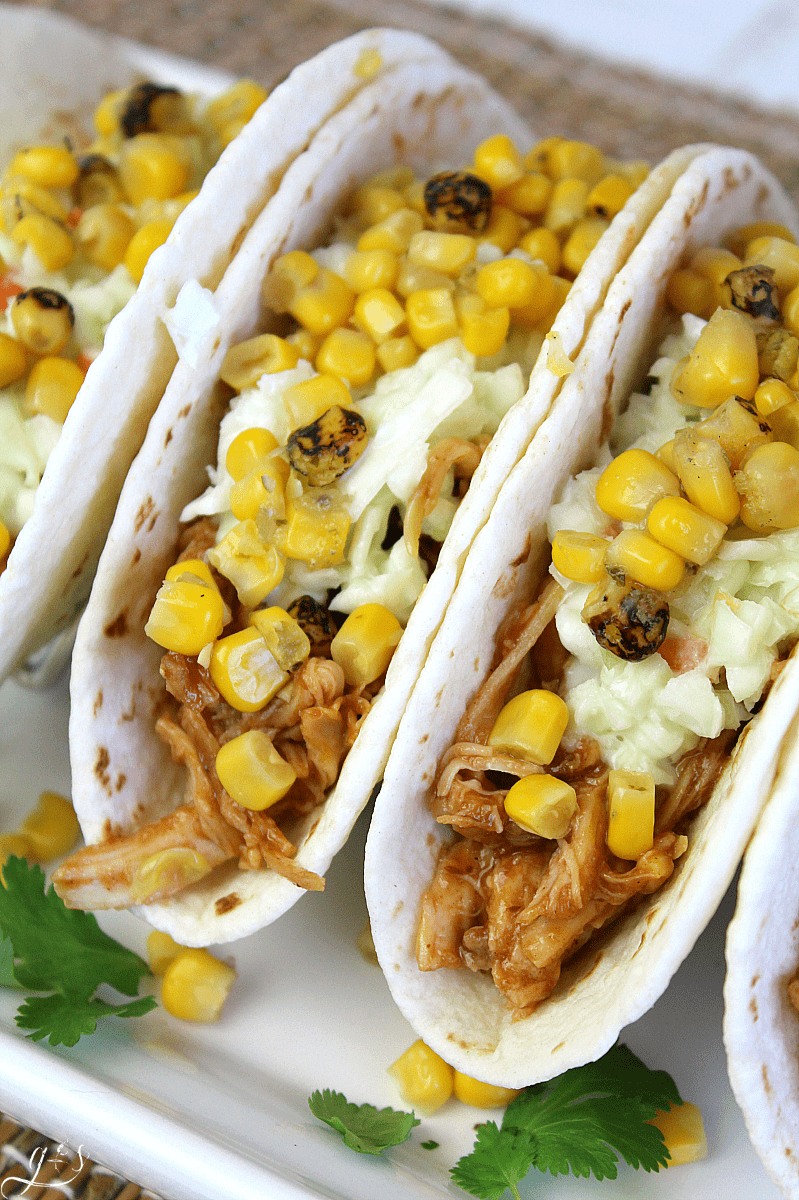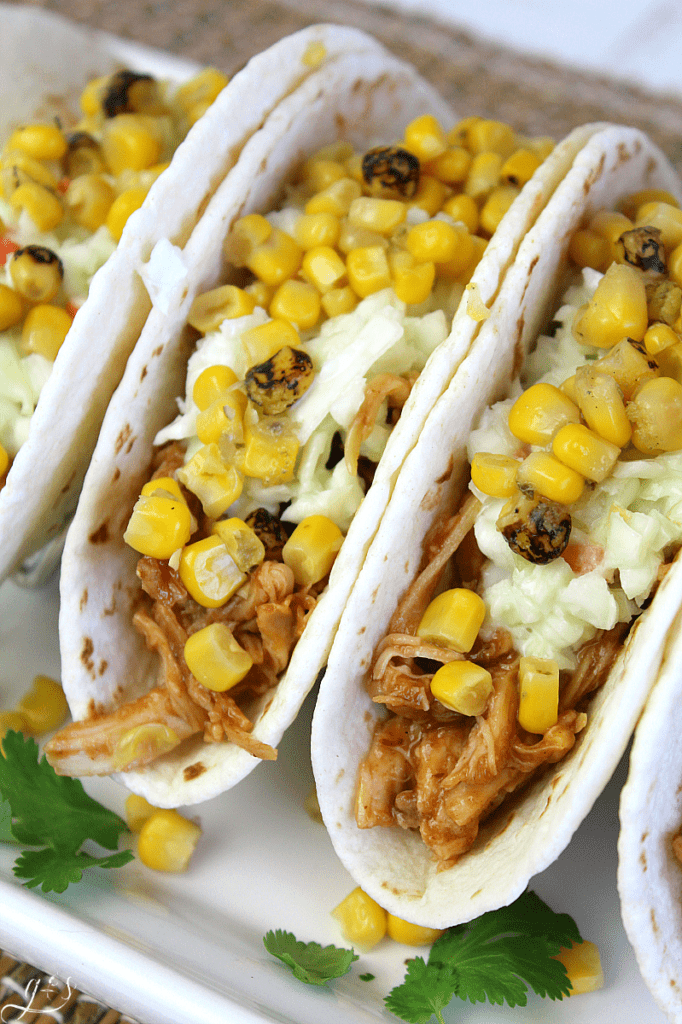 I'm so thankful that Ruth at Living Well Spending Less where all the details for these BBQ Chicken Tacos are located can appreciate my unique flavor combinations.
She has been so kind to me the past two years. She allows me to be creative and trusts that the recipes created are worthy of not only my blog, but her own as well.
BBQ Chicken Tacos Ingredients:
10 fajita-size flour tortillas
1 ready-to-eat rotisserie chicken, 5 cups meat once shredded
1 cup BBQ sauce
15 oz container prepared coleslaw
15 oz can fire roasted corn, drained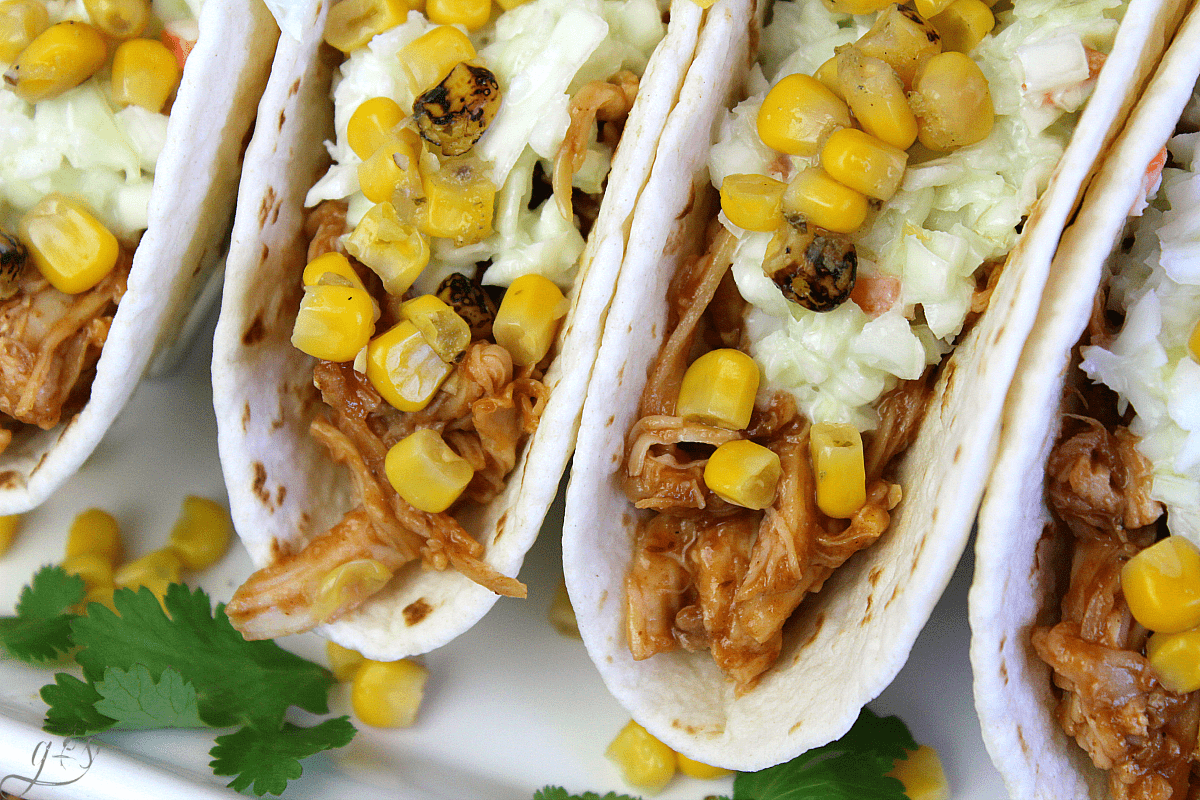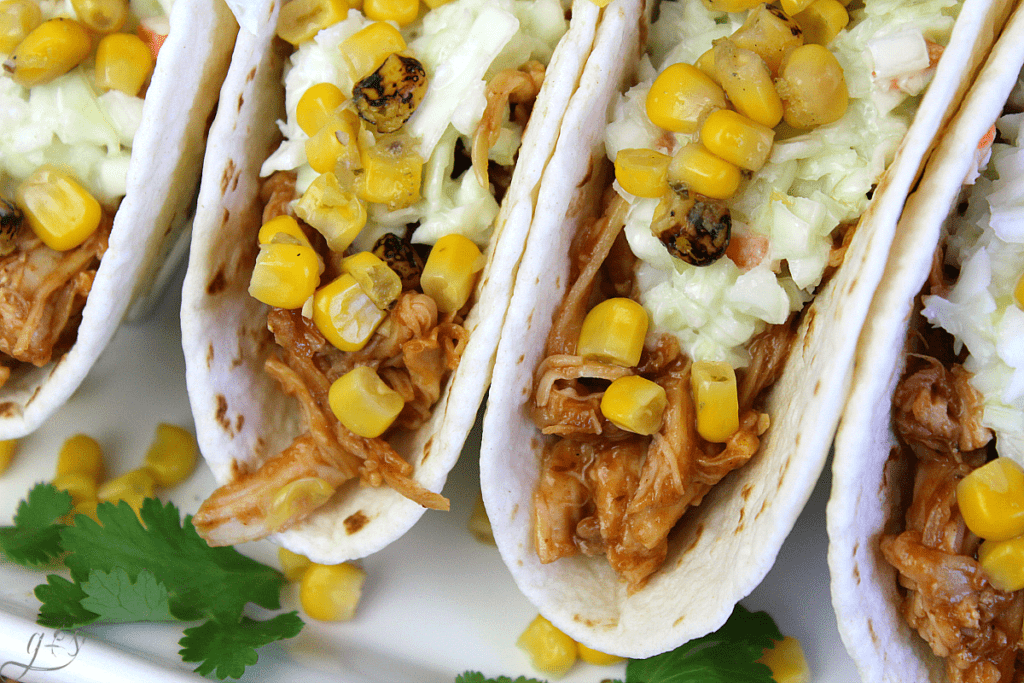 When you get a chance, be sure to check out Ruth's new podcast, Do It Scared. It is awesome and I really enjoy learning from Ruth and her guests! <—And no Ruth has no idea I am fan girling right now, I just genuinely like her and this podcast! So naturally I want to share it with you. 🙂
Do It Scared® with Ruth Soukup is the podcast created to help you face your fears, overcome adversity, and create a life you LOVE. Each week you'll discover actionable strategies for greater productivity, motivation, entrepreneurship, creativity, fulfillment, success, and happiness, along with the motivation and encouragement to actually start making real changes that lead to big results. Each week we'll address topics that delve into those things that we are so afraid of, and how it holds us back in our day to day lives—then focus on easy-to-implement advice for how we can face our fears and overcome adversity in order to create a life we truly love. The podcast will also feature bi-weekly interviews with authors, influencers, and other notable guests who have dared to do it scared in their own lives.
Okay, fan girling is over. Let's get back to this fun recipe!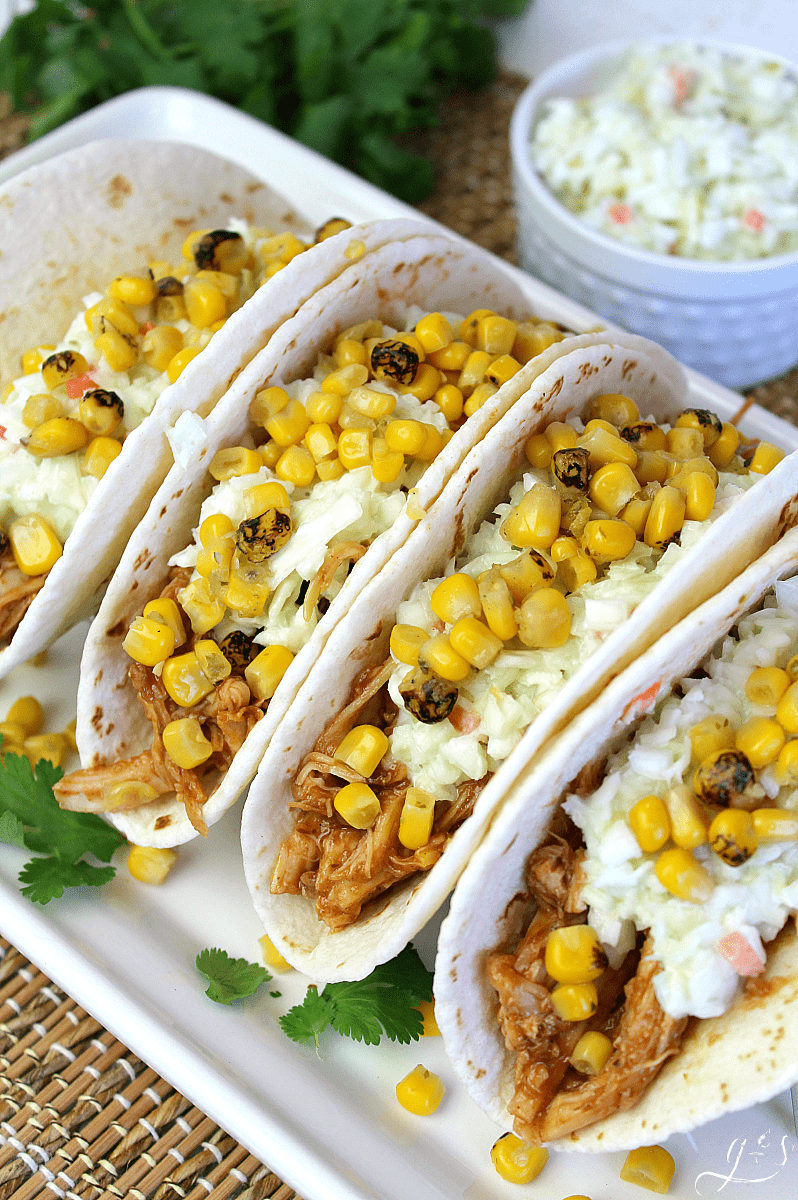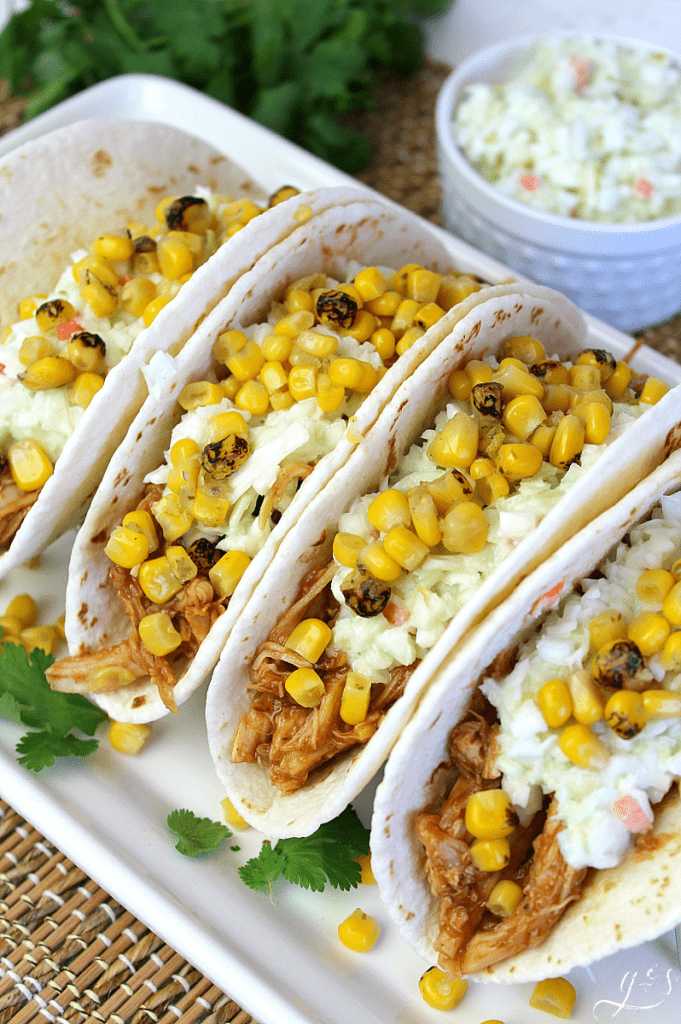 Did I mention there are only 5 ingredients in this entire recipe?
Plus, you can easily pick up these 5 ingredients at the store on your way home from work and have dinner ready in a snap.
Like seriously.
This recipe is SO easy and it is really filling. The kids usually have one taco (they usually eat 10-12, okay I'm exaggerating, but really they eat so.many.tacos. it's cray cray) and Ryan and I are stuffed with two. I think it's obvious. We love this recipe!
Okay, so do me a favor and try it, okay? Okay. 🙂 Happy eating!