Banana bread is so simple to make, but sometimes I just want to jazz it up a bit.
That is just what these gluten free Banana Bread Blondie Bars do!
These healthified treats make the perfect dessert or snack for those that have wheat allergies and those that don't. And if you don't tell anyone they are gluten free or low sugar, no one will even know!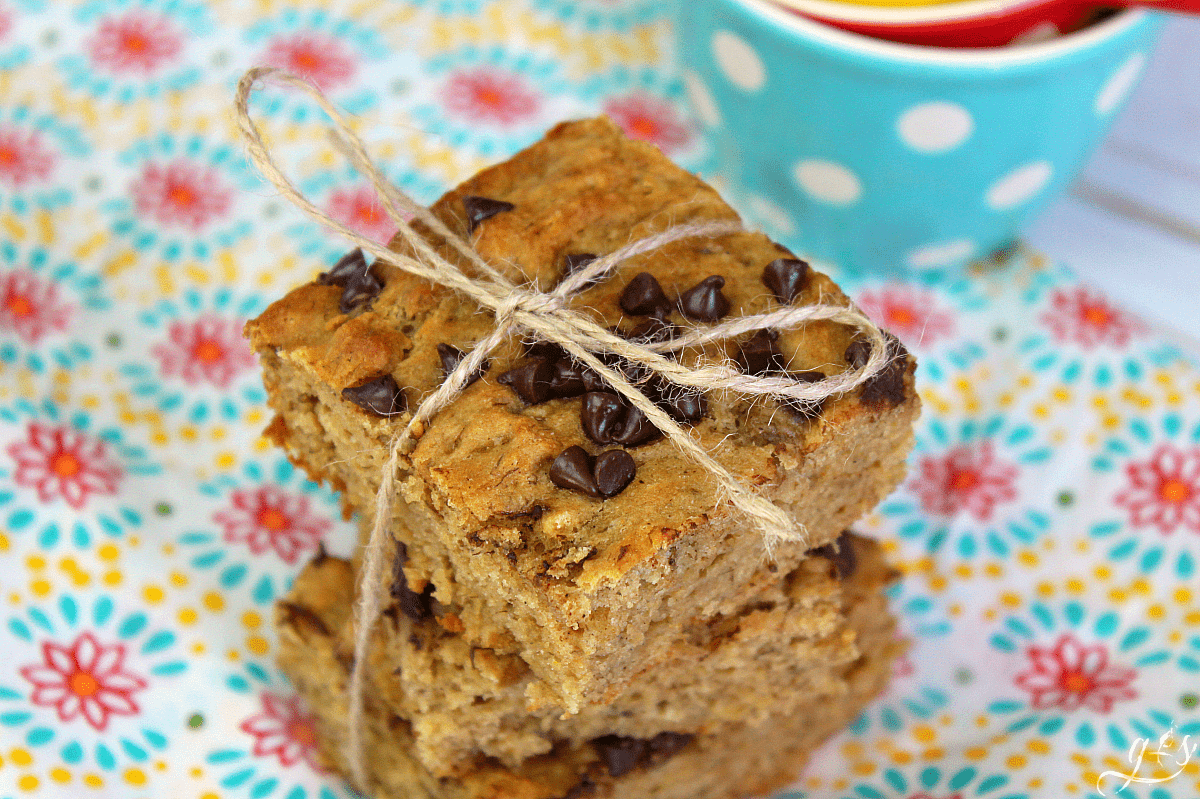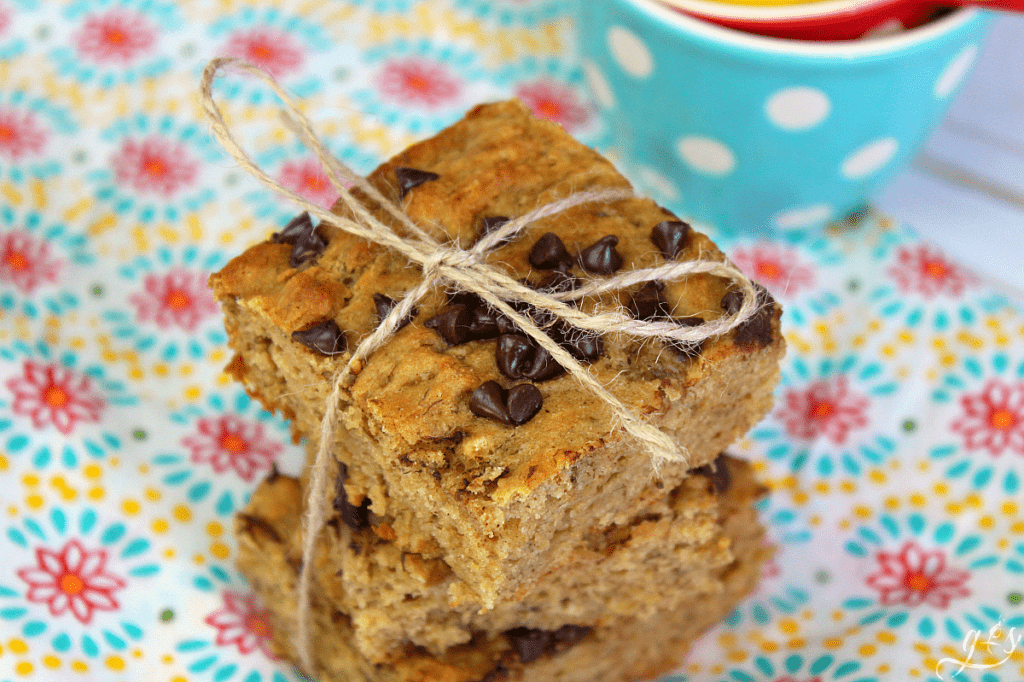 I shared these last summer with my friend, Sarah, and her girls during an outing in the Black Hills. She is gluten free and I knew that if she approved they were ready to be shared with you!
She did approve, but it was the kids who really loved them and even asked for seconds!
There is only 1/2 cup of coconut sugar in this recipe and 1/4 cup of mini chocolate chips on top. Considering the recipe makes a generous 9×13 pan, these are considered a healthy snack in my book!
Banana Bread Blondie Bars Ingredients
3 very ripe bananas
3 eggs
1/2 cup coconut sugar
1/2 cup plain Greek yogurt or dairy free yogurt
1/4 cup plant based butter
1 tsp vanilla extract
2 cups gluten free flour
2 tsp baking powder
3/4 tsp baking soda
1/2 tsp salt
1/2 tsp cinnamon
1/4 cup dairy free mini chocolate chips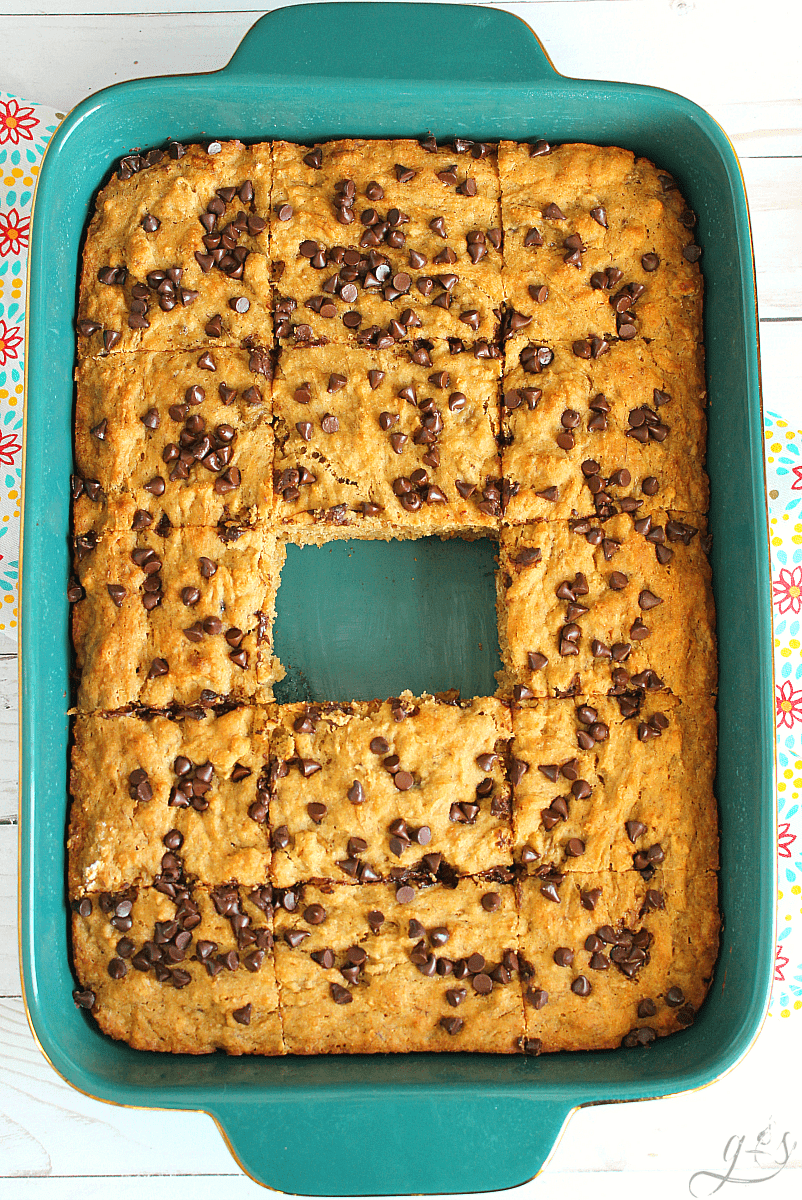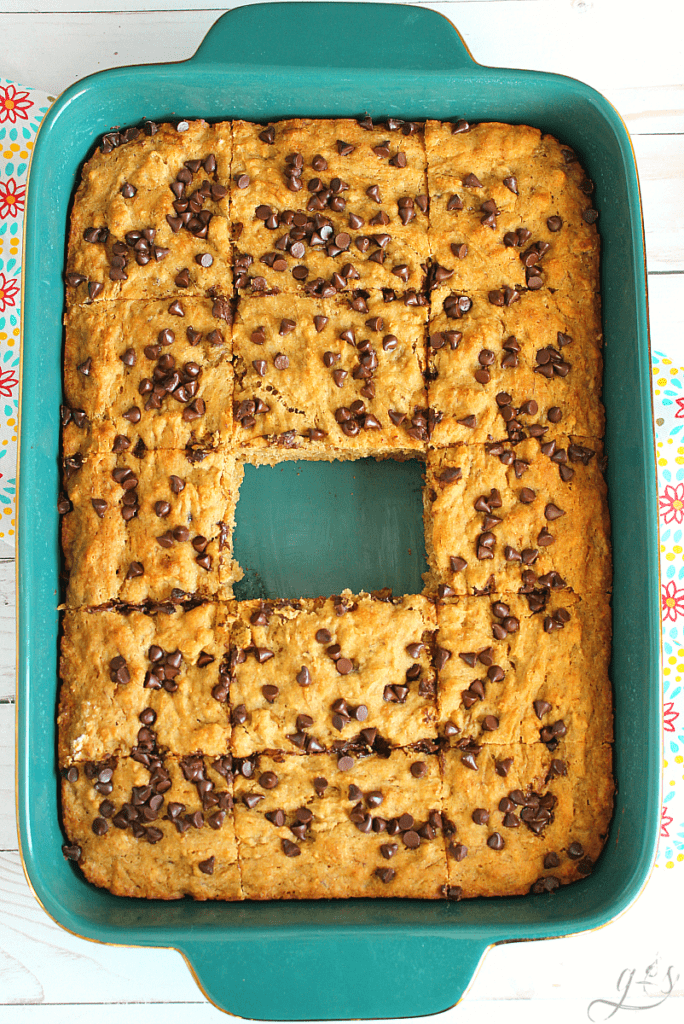 You can use whatever gluten free flour you have on hand, but I have been using Bob's Red Mill 1-1 Gluten-Free Flour Baking Blend lately. In the past, I would make my own and have shared with you that recipe (Homemade Gluten-Free Flour Blend).
However, I haven't taken the time to make it myself lately for no good reason except laziness. 😉
The homemade blend is certainly less expensive and performs just as well. Often times I can find Ibotta rebates for Bob's Red Mill products which helps the pocketbook!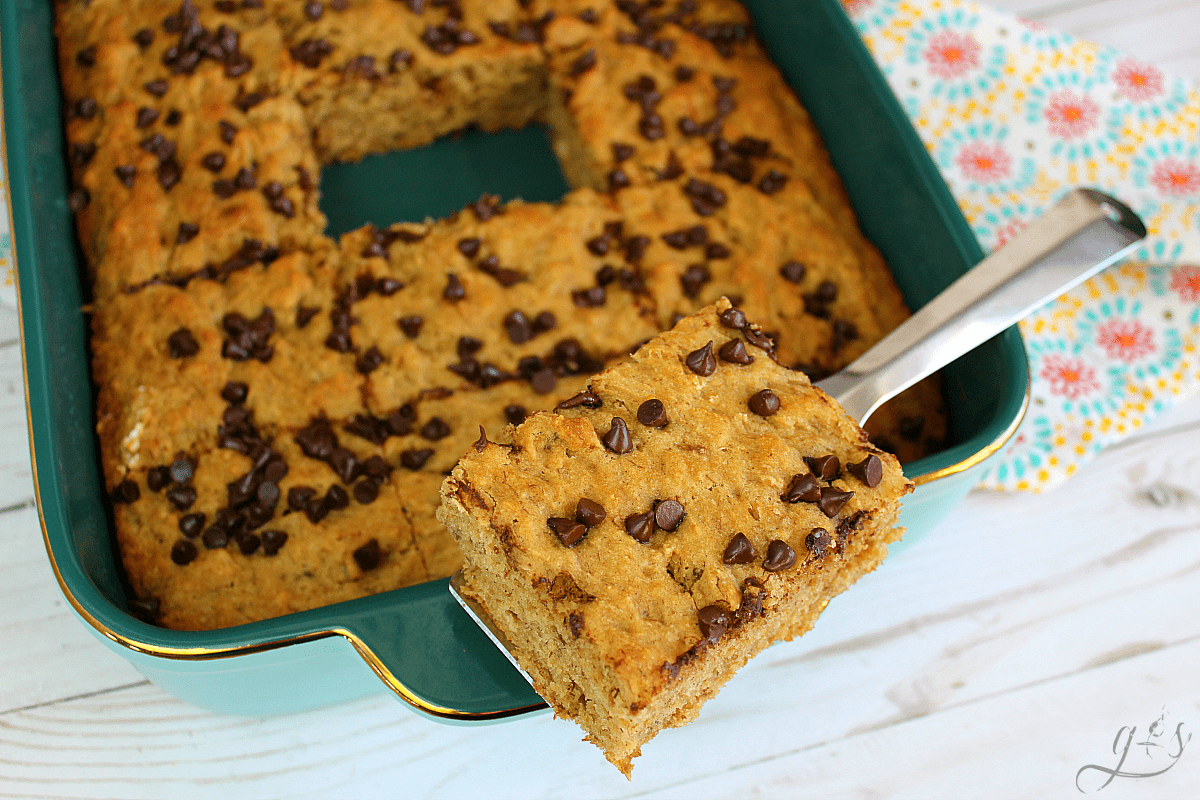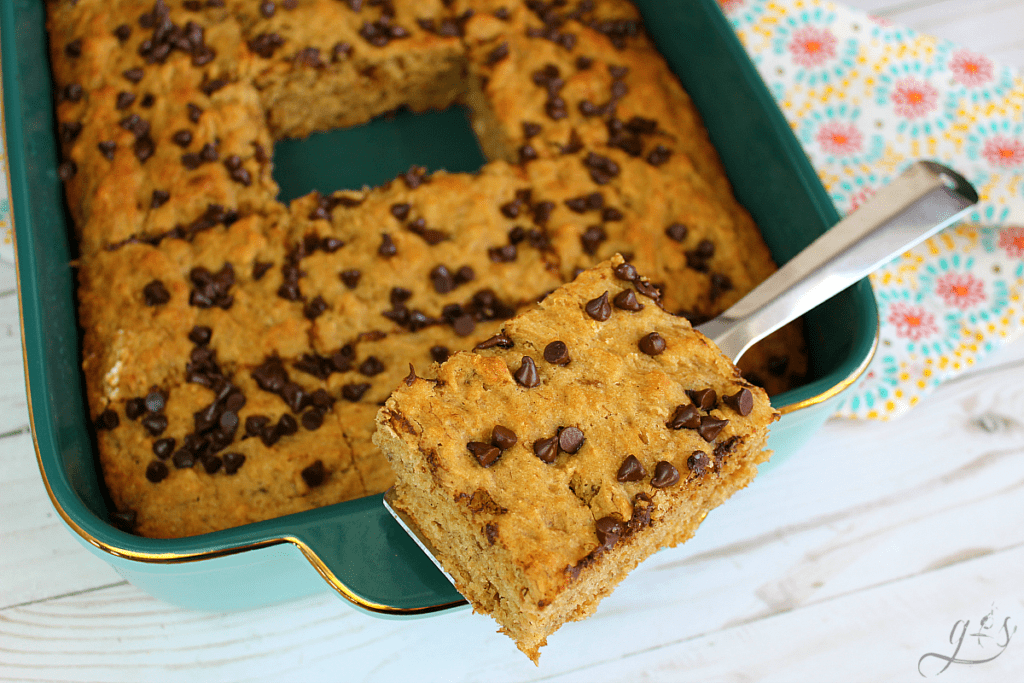 I like to add these Banana Bread Blondie Bars to the kids' lunch boxes during the week and they inevitably find them enjoyable as an afterschool snack.
I can't blame them!
I tend to slice off a little piece here and a little piece there throughout the day. I don't know about you, but my sweet tooth is CRAZY at times. Ha!
With these "healthified" bars, I never feel guilty about enjoying them though.
Along with the low sugar content, there is Greek yogurt and a little butter (or plant based butter) versus unhealthy oils like vegetable or canola.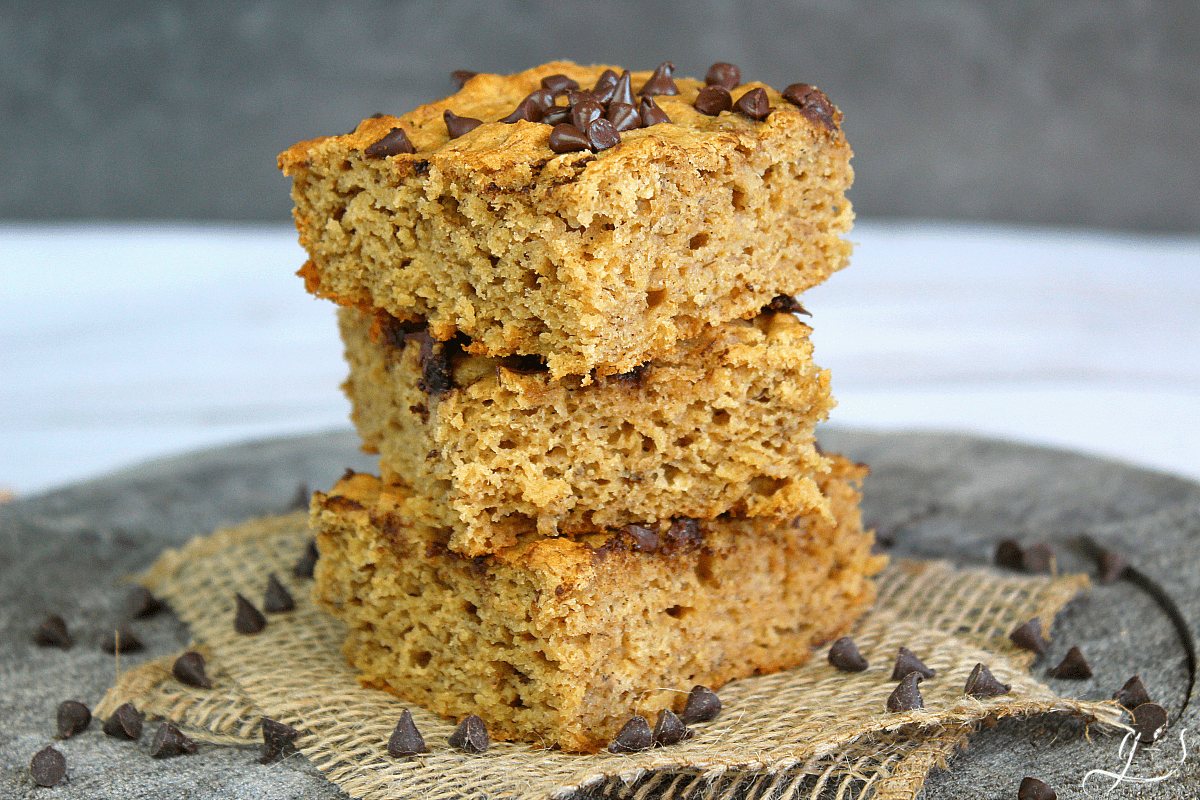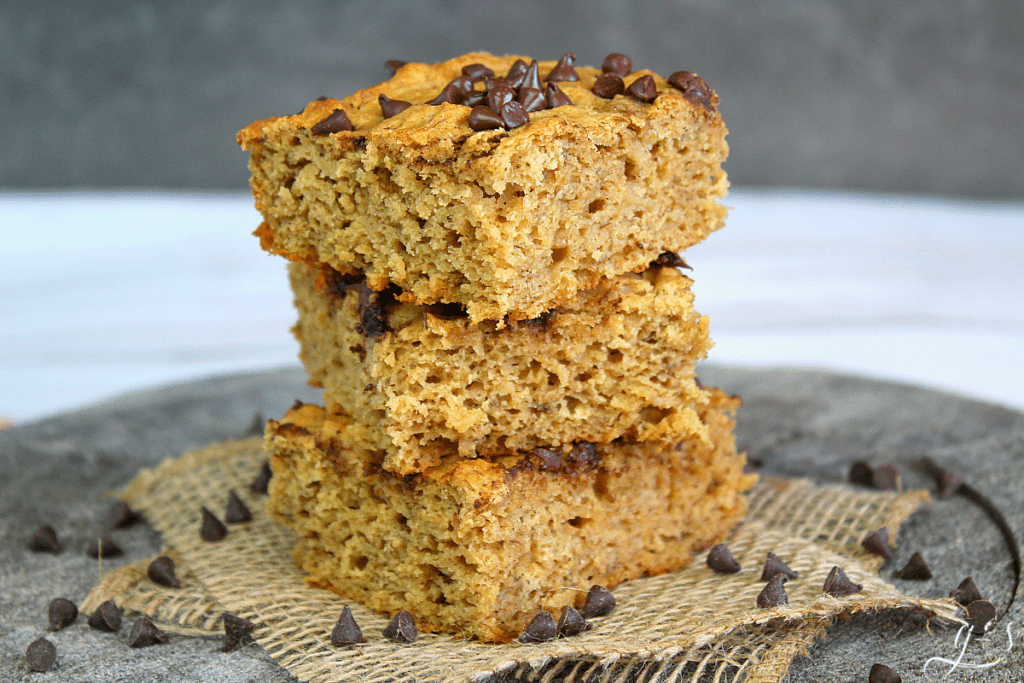 If you are lactose intolerant and dairy free, I have subbed plant based coconut milk yogurt for plain Greek yogurt and plant based butter. This recipe seems to be very adaptable and easy to substitute the allergy friendly ingredients you need.
Now onto the recipe! Until next time, happy eating!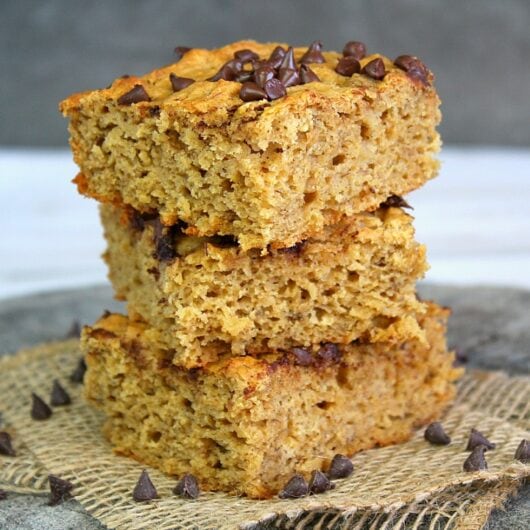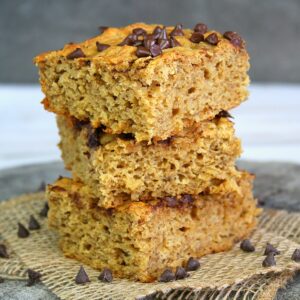 Print Recipe
Gluten-Free Banana Bread Blondies
The BEST Banana Bread Blondies | These cake-like brownies use gluten-free flour, coconut sugar, plain Greek yogurt or plant based yogurt, and dairy free mini chocolate chips to top off this healthy dessert recipe. Easy baking recipes such as these are just what clean eating cooks need in their back pocket. From the box mixes are out the window with this simple option. This vegetarian snack uses vegan butter and is safe for those with food allergies.
Equipment
large bowl

whisk

rubber spatula

9x13 pan
Ingredients
3

very ripe bananas, mashed

3

eggs

1/2

cup

coconut sugar

1/2

cup

plain Greek yogurt or dairy free yogurt

1/4

cup

plant based butter, melted

1

tsp

vanilla extract

2

cups

gluten-free flour

2

tsp

baking powder

3/4

tsp

baking soda

1/2

tsp

salt

1/2

tsp

cinnamon

1/4

cup

dairy free mini chocolate chips
Instructions
Preheat oven to 350F. Grease a 9x13 pan with non-stick cooking spray.

Whisk together bananas, eggs, coconut sugar, yogurt, vanilla, melted butter in large bowl until combined.

Add in flour, baking soda, baking powder, and cinnamon. Gently mix until just combined.

Pour into greased pan. Sprinkle with chocolate chips.

Bake 30 minutes or until golden and toothpick inserted comes out clean.