By: Sarah Koontz
I am always looking for ways to use up all those beautiful eggs I get from my chickens. That is why I created these 5-Ingredient Devilicious Eggs! There is just something about a deviled egg, isn't there?  Whenever I show up to a party with a tray of deviled eggs, I immediately become the belle of the ball.  Men love these little bites, and I get such a kick out of watching them dig in.  (Sammi says she wishes her husband didn't like them so much. Why do boys have to be…well…so stinky sometimes? LOL).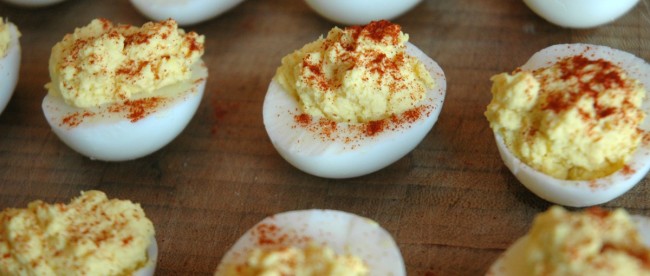 I love how frugal and simple this recipe is, it has truly become a go-to for me when I am asked to bring party food.  It is gluten free, and packed with protein.  Winner-Winner-Chicken-Dinner!
Gone are the days of only making deviled eggs at Easter. I bring them year round! Dare I say, I do believe mine are extra delicious because they are from my own chickens. Yes, my feathery girls really should get the credit, but who are we kidding, I will take it! I'm shameless, I know.
So go ahead friends, make these and be wowed! Enjoy!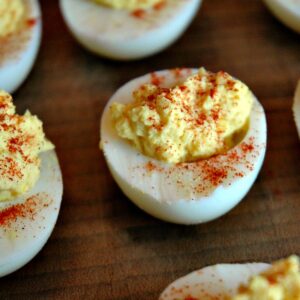 Print Recipe
5- Ingredient Devilicious Eggs
Fabulously simple deviled egg recipe. Make sure to store in the fridge until it is time to serve. One of our family's favorite party foods!
Ingredients
12

eggs, hard-boiled

4

Tbsp

mayonnaise

1

Tbsp

dijon mustard

2

tsp

apple cider vinegar

a few dashes

paprika

salt and pepper
Instructions
Slice in half lengthwise the hard-boiled eggs and remove the yolks.

Mix all ingredients together and stuff the 10 halves of each egg with the filling. You will have 2 egg whites leftover. Darn it, I know 😉

Lightly sprinkle the tops of each finished egg with paprika and salt and pepper if you choose.

www.GroundedAndSurrounded.com

Sammi and Sarah from Grounded & Surrounded are committed to sharing all things Healthy! Heart, Home, & Habits.  Our recipes focus on whole food ingredients and vibrant flavors.
Notes