Ryan and I dated 4 years before he proposed.
I enjoyed this Easy Homemade Lasagna for four glorious years before I learned how to make it myself.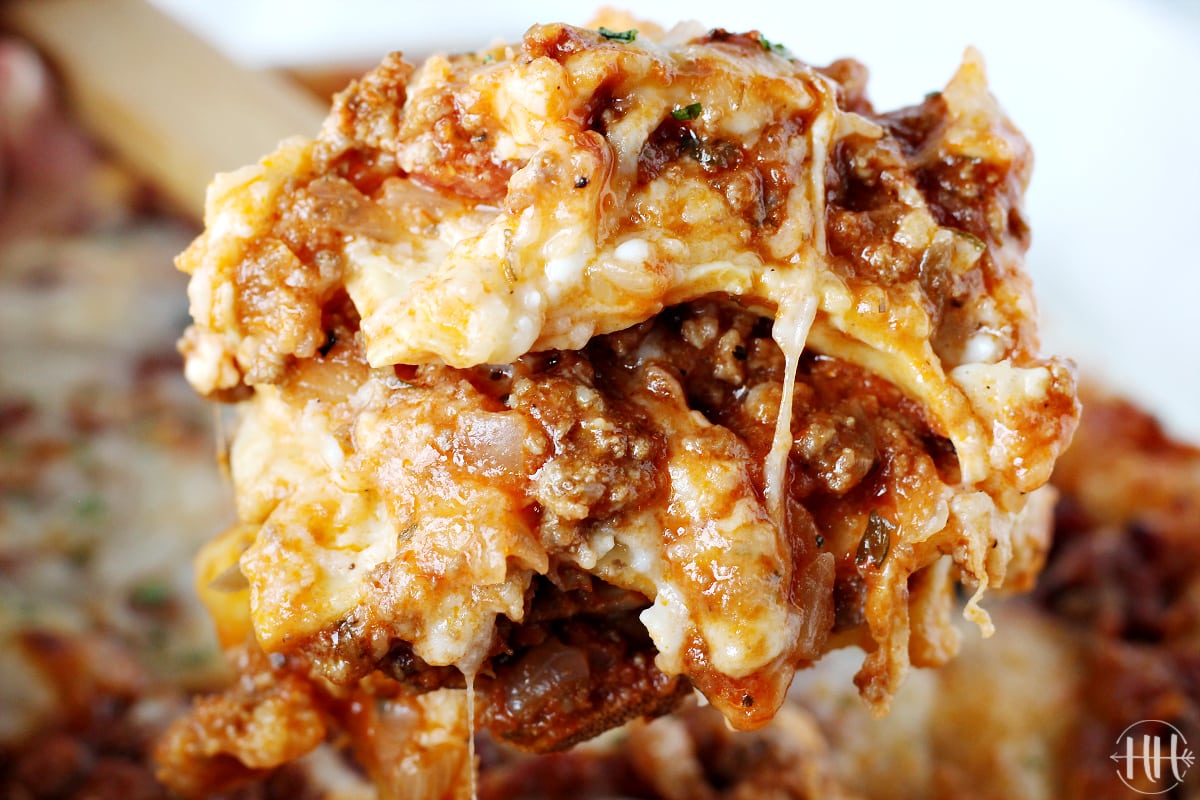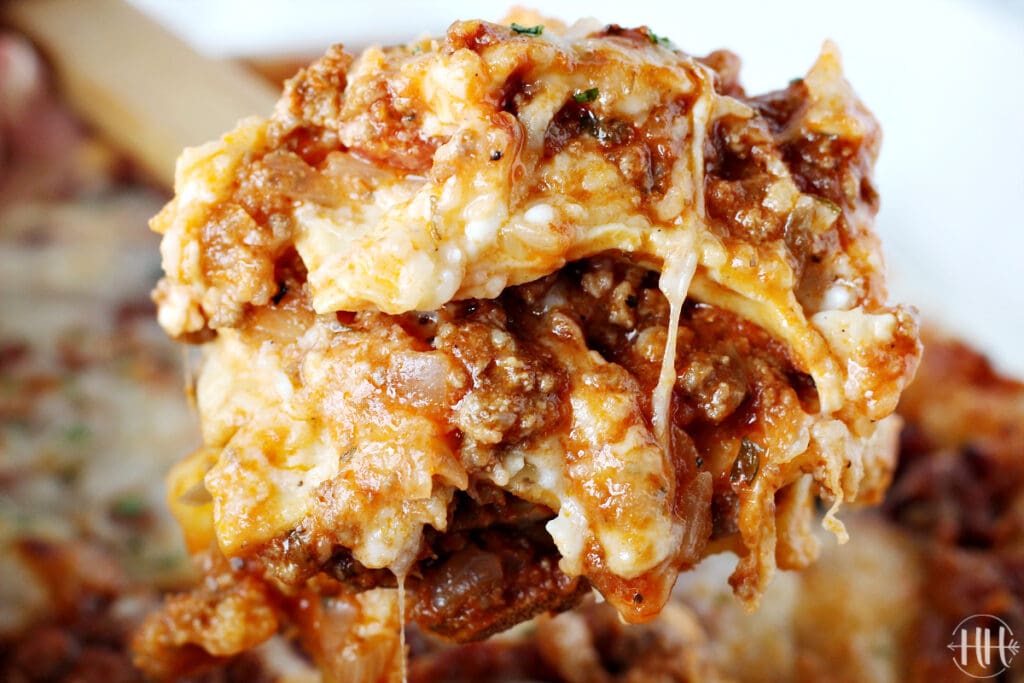 For years, I told my soon to be mother-in-law that if Ryan ever proposed I wanted her to teach me the recipe.
You see, there is not a written recipe passed down from generation to generation.
My mother-in-law, Jolonda, maybe looked at a recipe at some point, but has made it her own over the years.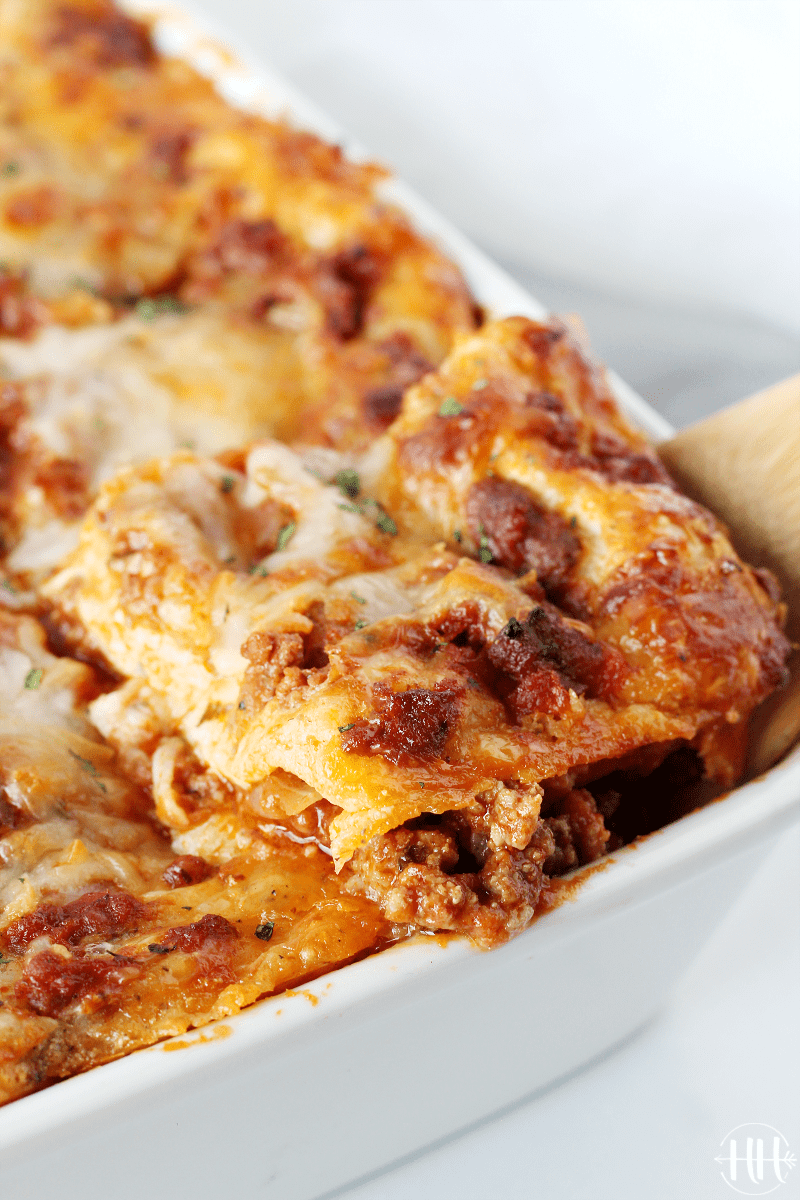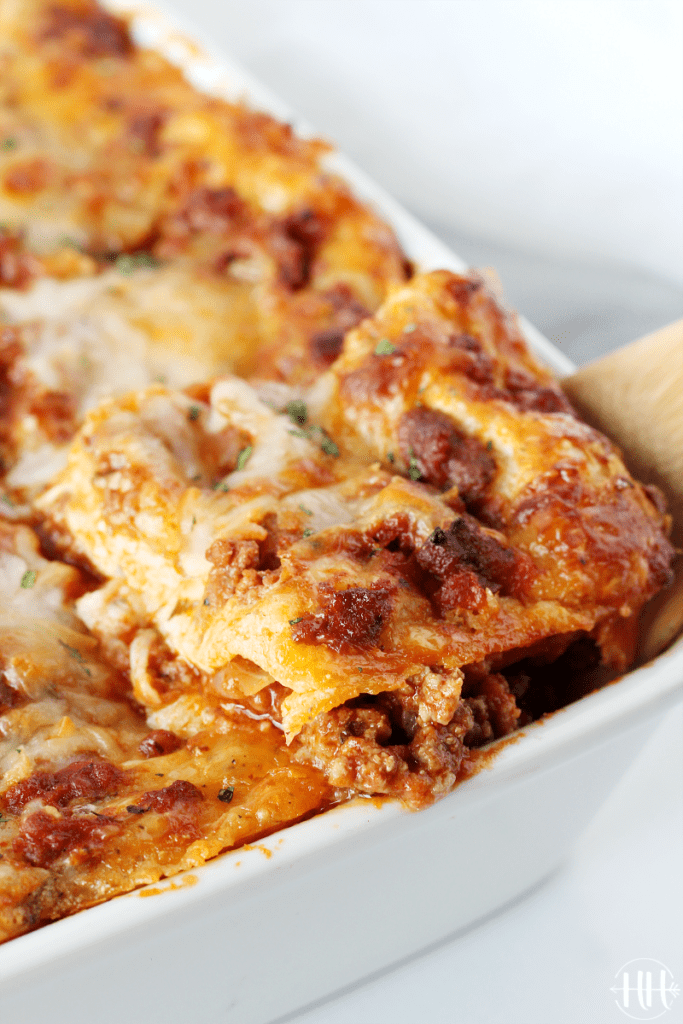 She tells me, "I don't even know measurements. I just throw it all together."
Well she may think she just throws it together, but it is the same recipe each time even if she doesn't use a recipe card.
I have made this Easy Homemade Lasagna many times over the years for family and friends, mamas with new babies, and friends at church who need a meal after surgery or difficult times.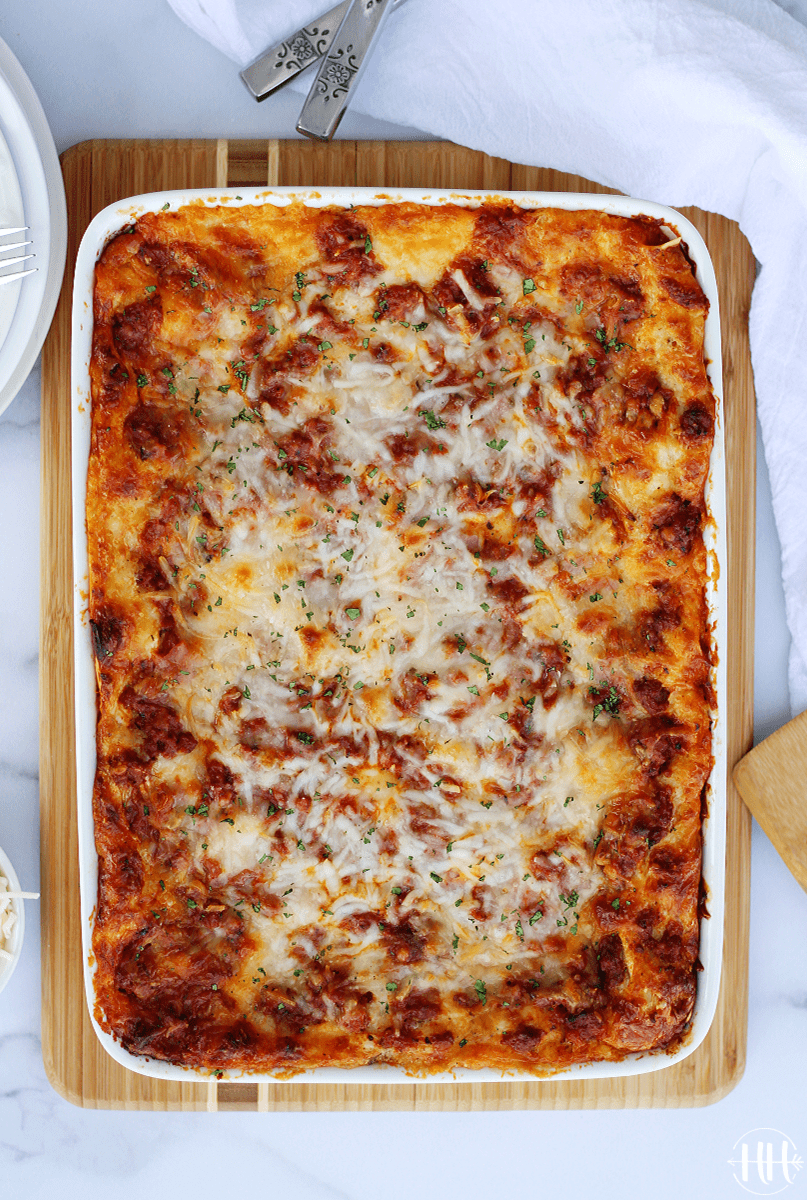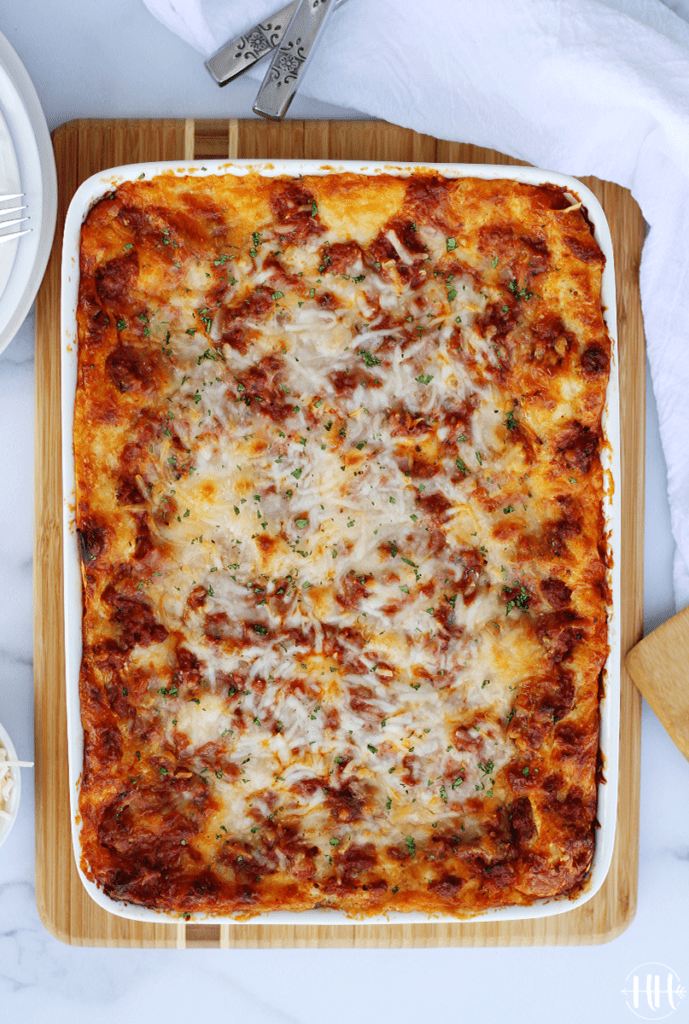 A lot of families have their own lasagna recipe, but many times I am asked for this one, always giving credit to Jolonda. My friends and family including my own mom, love this easy lasagna recipe.
My mom has made this lasagna for Christmas instead of a typical turkey dinner.
Easy Lasagna Recipe Ingredients
2 lbs ground beef
24 oz jar spaghetti sauce
1 onion diced
1 1/2 tsp garlic powder
2 lbs shredded mozzarella cheese reserve 2 cups for topping
22 oz cottage cheese
2 eggs
1/2 tsp ground black pepper
9 oz box oven ready/no boil lasagna noodles (gluten free lasagna noodles can be used too)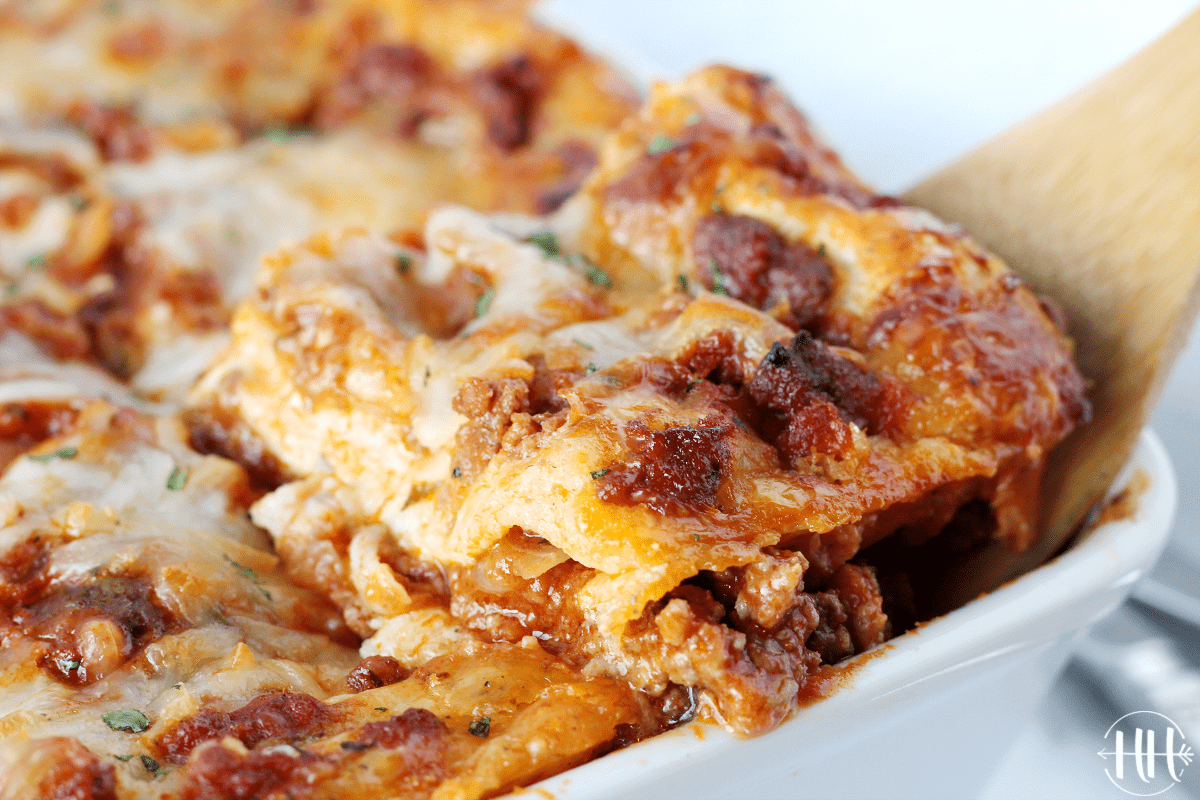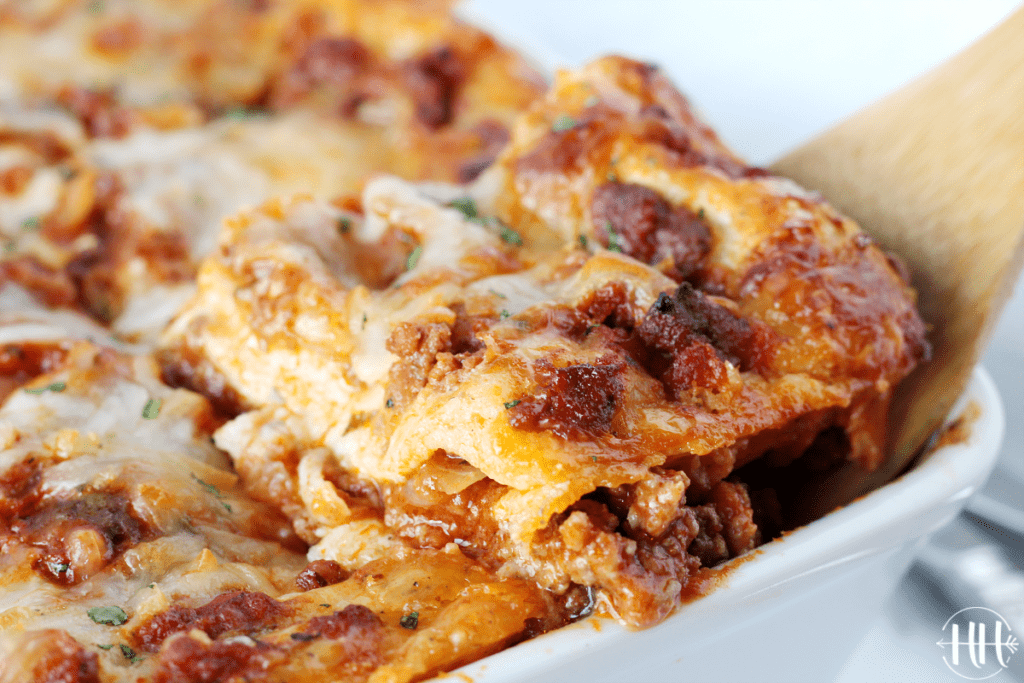 It is a nice option for holiday dinners like Christmas Eve or New Years!
The only change I have made over the years is using "ready to bake" lasagna noodles, versus boiling regular noodles.
Did I mention I am a lazy cook? 😉
I have also substituted ricotta cheese for a portion of the cottage cheese and EVERYONE, and I mean EVERYONE, threw a fit. Sooooo, nevermind.
We stick with the original recipe now! Ha!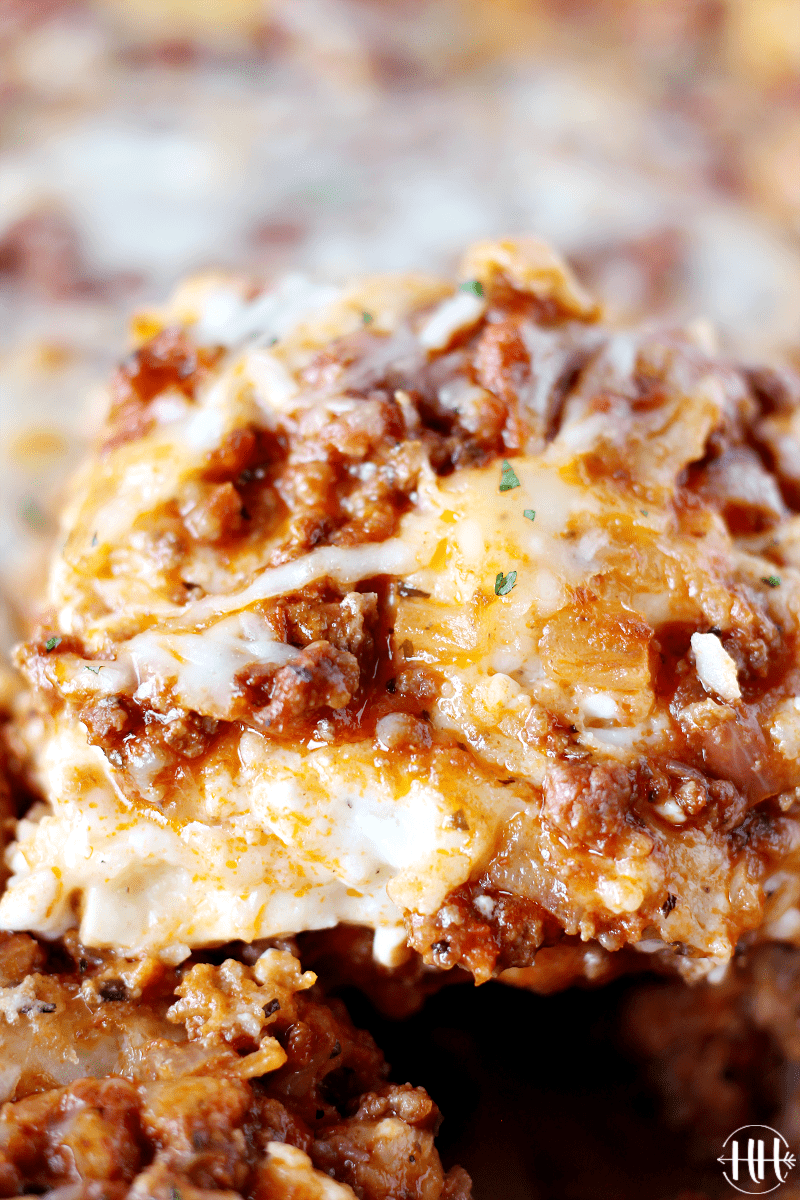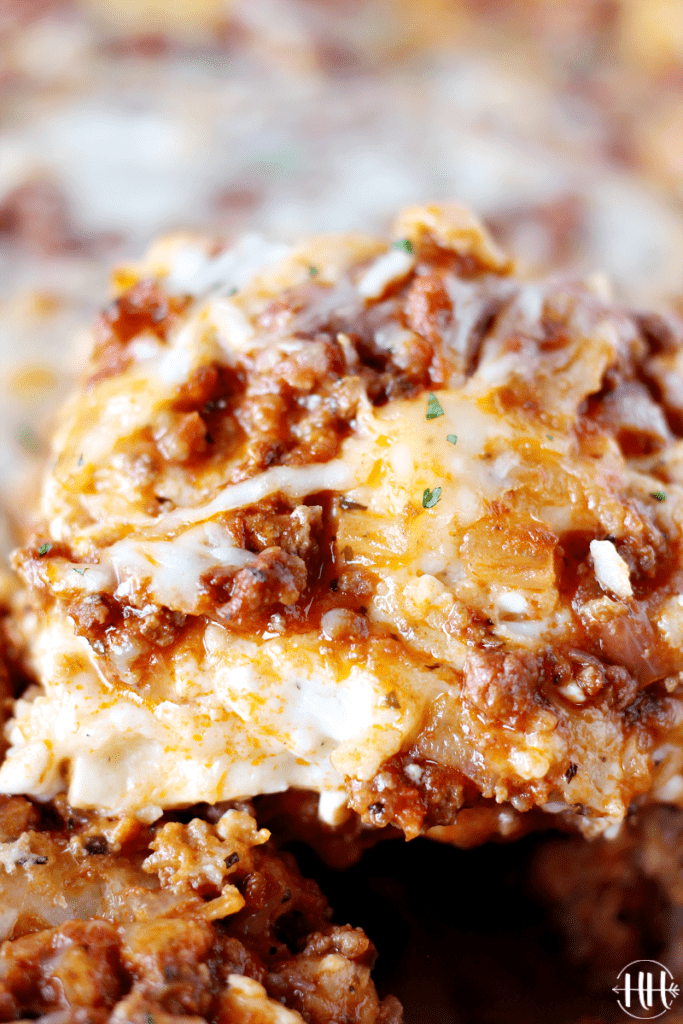 Seeing as this lasagna is pretty heavy on carbs and dairy, adding a nutritious bowl of salad greens is a must!
Let's get you this delicious recipe! Enjoy!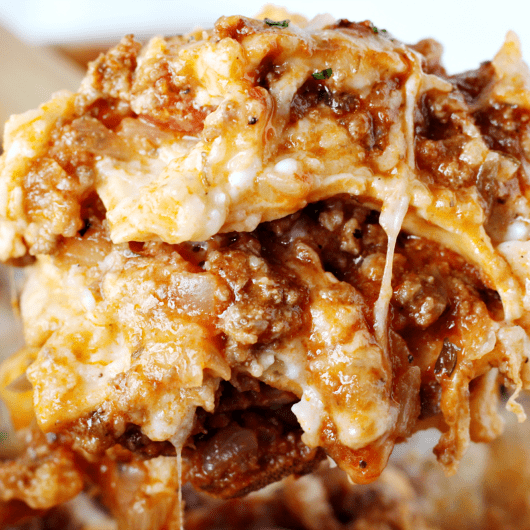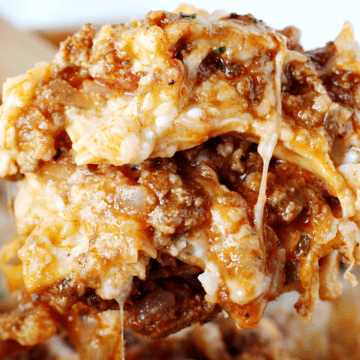 Print Recipe
Easy Homemade Lasagna
The BEST Homemade Lasagna | This traditional recipe is easy to make and feeds the whole family! Ground beef, spaghetti pasta sauce, onion, and garlic, with cottage cheese, mozzarella, eggs, and oven ready lasagna noodles (no boil noodles). Serve this classic main dish with plenty of vegetables like a spinach salad or grilled veggies like zucchini to add a little health to this simple Italian recipe. 😉 You can also use ricotta cheese, but my family prefers cottage cheese.
Equipment
large bowl

9×13 pan

wooden spoon

large sauté pan
Ingredients
2

lbs

ground beef

24

oz

jar spaghetti sauce

1

onion

diced

1 1/2

tsp

garlic powder

2

lbs

shredded mozzarella cheese

reserve 2 cups for topping

22

oz

cottage cheese

2

eggs

1/2

tsp

ground black pepper

9

oz

box oven ready/no boil lasagna noodles*
Instructions
Heat a large stove top pan on med-high heat. Brown ground beef with diced onion and garlic powder. (I use really lean ground meat and do not need to drain any of the fat, but use your discretion. Drain or don't drain, your lasagna will still be amazing!) Then stir in jar of spaghetti sauce and set aside.

In a large bowl, mix mozzarella cheese (save 2 cups to top the lasagna), cottage cheese, eggs, and black pepper.

Preheat oven to 350F and spray an 9×13 pan with non-stick cooking spray.

Let's assemble the lasagna! Here's the order:

1. Spread a little meat mixture on the bottom of the pan, just enough to lightly cover it.

2. Add a layer of noodles. I overlap them slightly.

3. Cover the noodles with half the cheese mixture.

4. Now cover the cheese mixture with 1/2 the meat mixture, now noodles (overlapping slightly), the remainder of the cheese mixture, and the remainder of the meat mixture.

Top the lasagna with the two cups of shredded mozzarella cheese.

Stick 6 toothpicks** in the top of the lasagna (one near each corner) and 2 in the center area. Then carefully place a piece of aluminum foil over the toothpicks and wrap the foil around the edge of the pan.

Bake the lasagna for 1 hour covered. Then remove the aluminum foil and toothpicks and bake uncovered for 15 minutes or until all the cheese is melted in the middle and edges are browned.

Allow the lasagna to cool for at least 20 minutes before serving. This helps the lasagna to hold together better when plating. Enjoy!
Notes
*If you use regular lasagna noodles (16 oz box), you will need to boil them and drain off the excess water before you layer them in the lasagna. Bake the lasagna the same amount of time no matter what type of noodles you use.
**Using the toothpicks is optional if you don't mind some cheese sticking to the aluminum foil.
Use a 1-1 substitution if you use ricotta cheese rather than cottage cheese OR use a combination of both in the recipe.