Disclosure: This shop has been compensated by Collective Bias, Inc. and its advertiser. All opinions are mine alone. #SummertimeTasty #CollectiveBias
This No Bake Pie in a Jar will make all of your pie dreams come true!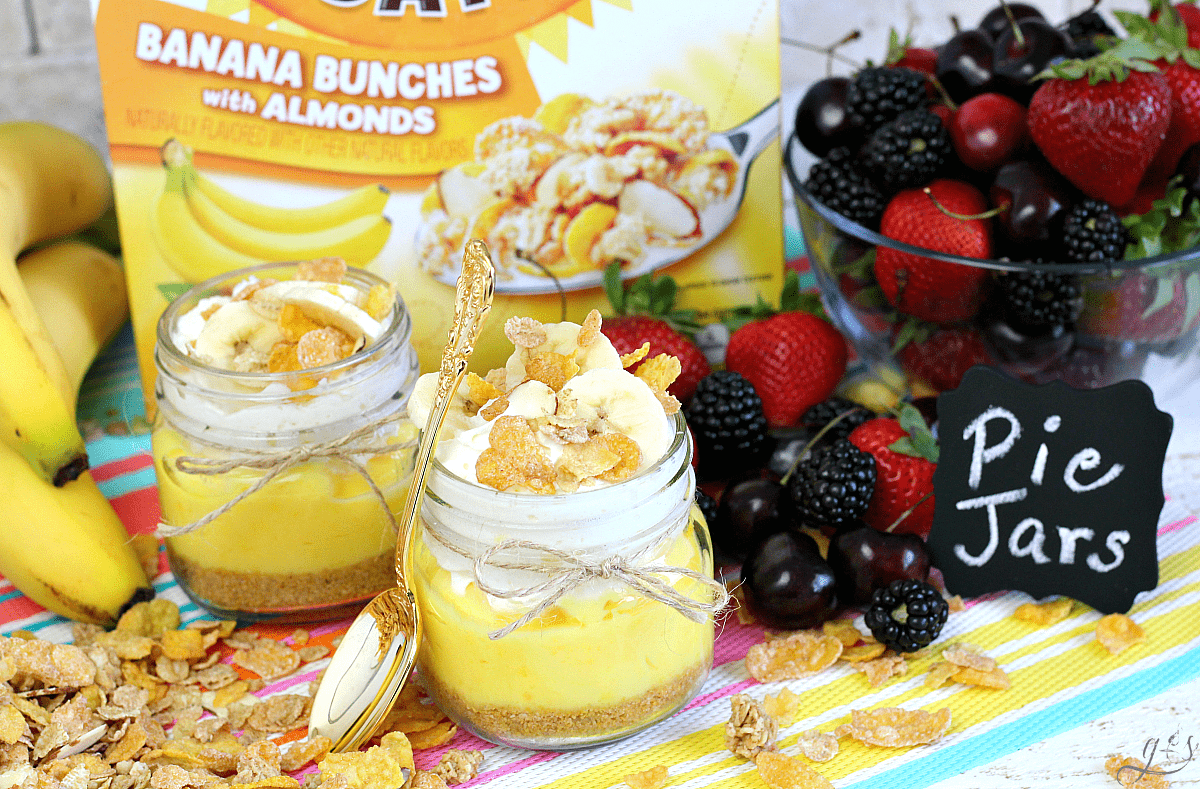 Is it just me or are cold foods, particularly desserts, all you can think about when the weather gets hot?
As much as I love warm baked goods in the winter, I dream of frozen yogurt, iced lattes, and this cool and creamy No-Bake Pie in a Jar as the temps rise.
If you haven't indulged in a decadent No Bake Pie in a Jar yet, you should start with this recipe! It is incredibly simple to make, absolutely delicious, and uses cereal and butter as the pie crust. How cool is that?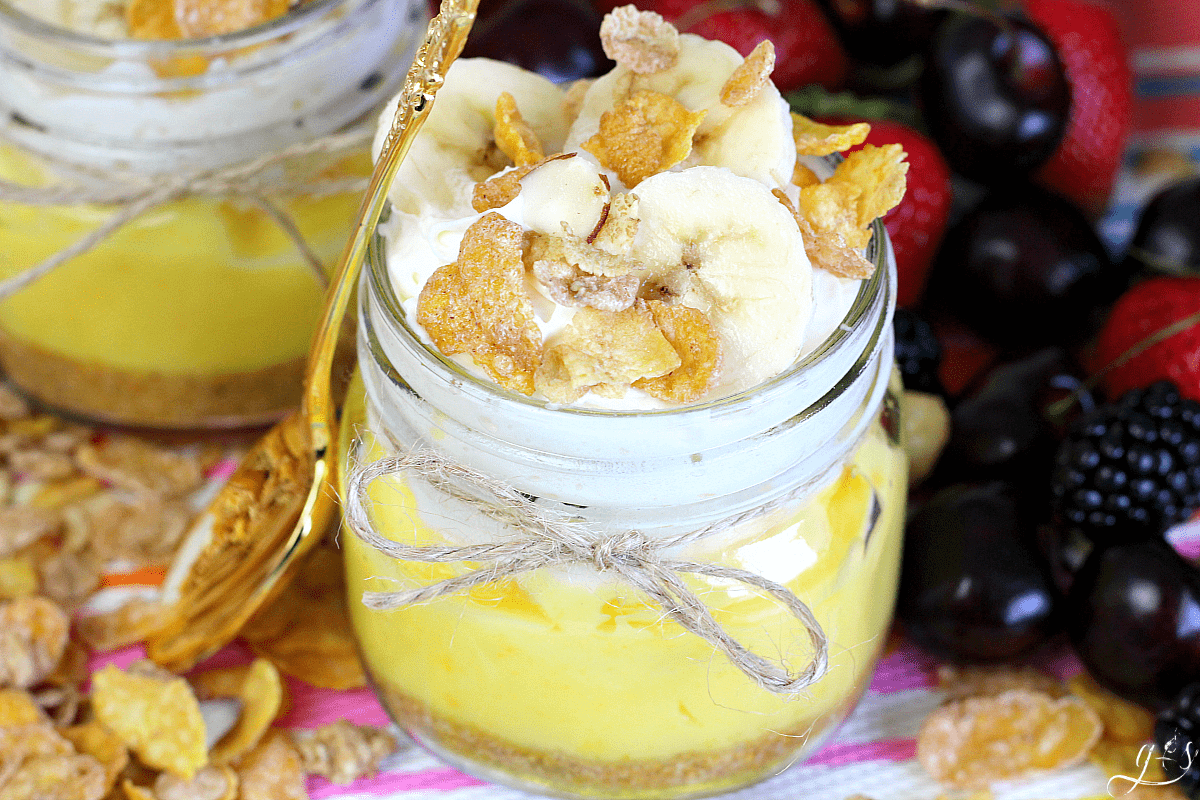 The cereal used in this recipe is none other than Post's Honey Bunches of Oats Banana Bunches with Almonds. It's the newest cereal on the block and even comes with a cash back offer from Ibotta. Does life get any better?!
Just click the cereal image below and you're ready to save some moolah.

Side note…I use Ibotta for every Wal-Mart shopping trip (which feels like 10x/week, ha!) to help our family budget and I love it!
I am humbled to tell you I have earned back $456.64 since May 2015 thanks to Ibotta and Wal-Mart. Woot woot!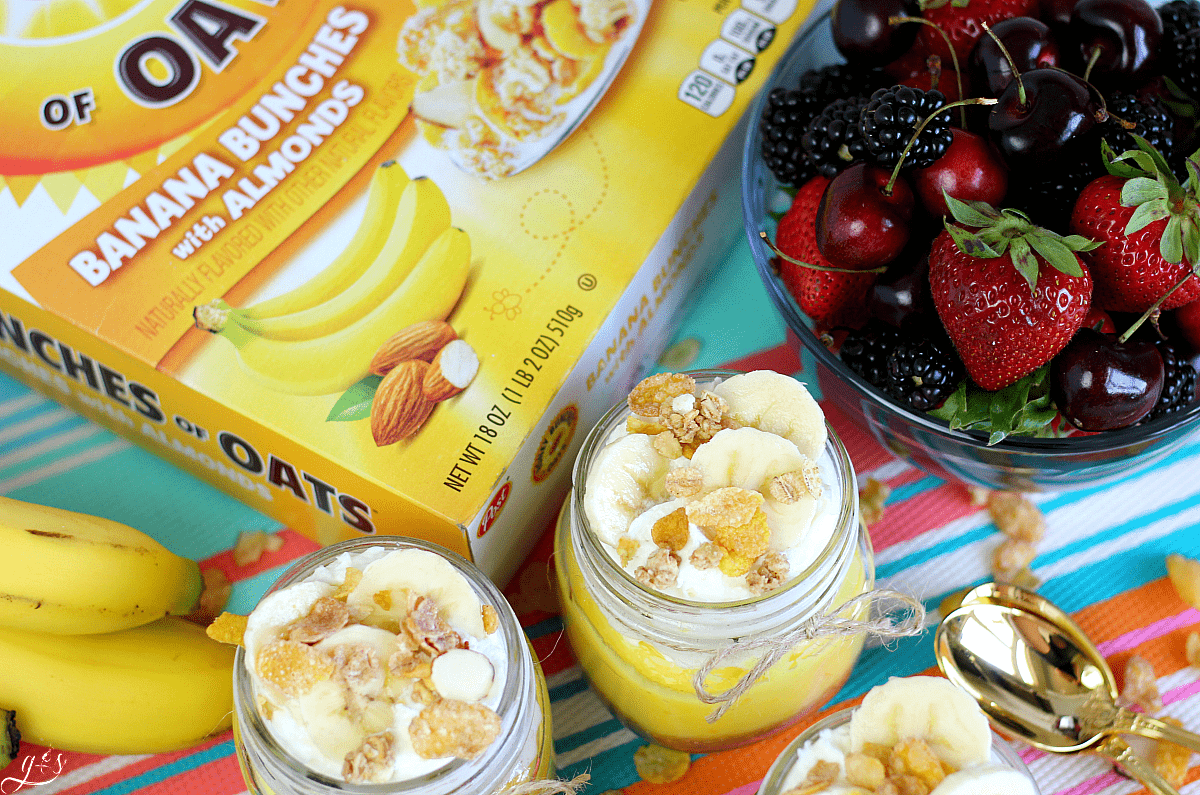 Did the recipe title peak your interest knowing there is barely any prep-work involved and NO BAKING? I thought so! In our home, that's basically a necessity when we want a treat in the afternoon or evening during the summer.
You see, I am a thermostat tyrant. Ha!
We live in the country and the electric company that services us has peak hours and regular hours.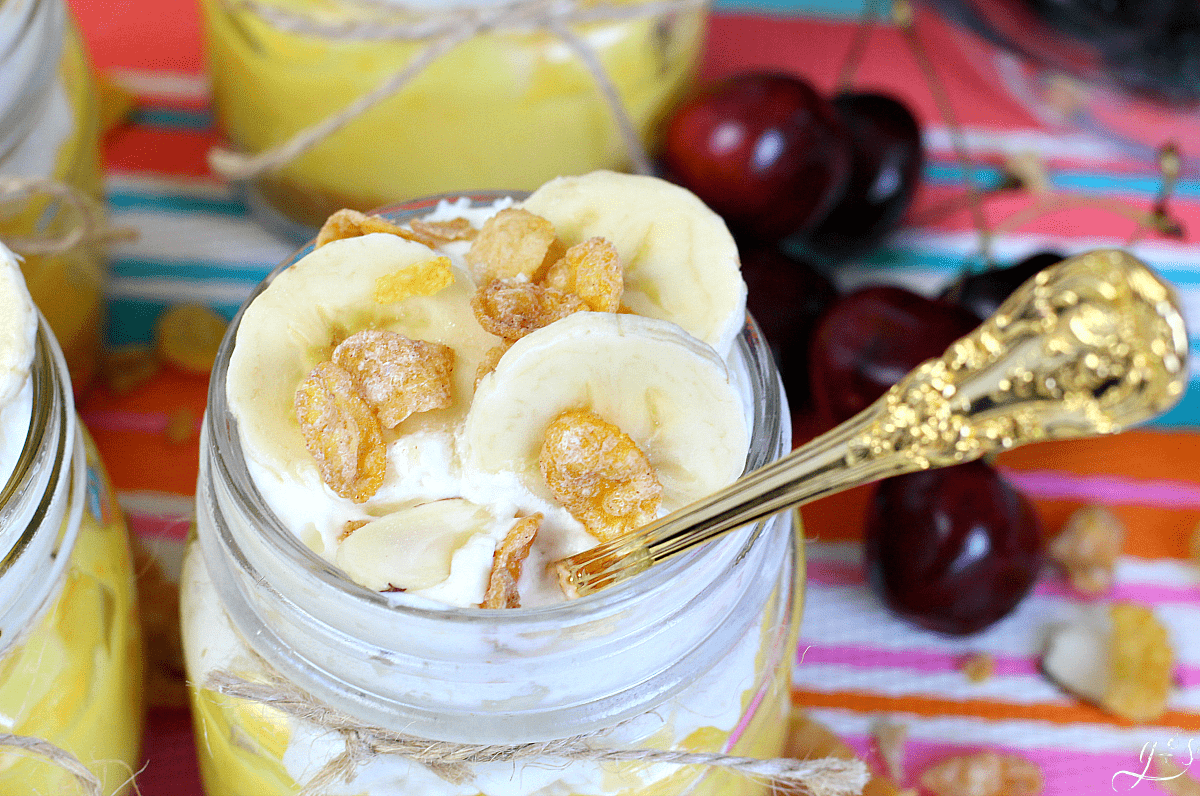 Peak hours in the summer are 2pm-8pm which means the cost to run appliances such as the a/c, dryer, and dishwasher is astronomical. Because of my frugalness, I don't let our air conditioner run during that time. <—-See? Thermostat tyrant. The temp in the house rises a little, but somehow we are able to deal with it. 😉 So needless to say, there is no turning on the oven because our house would get even warmer.
Okay, enough about our silly electric bill. Ha! Let's talk about shopping!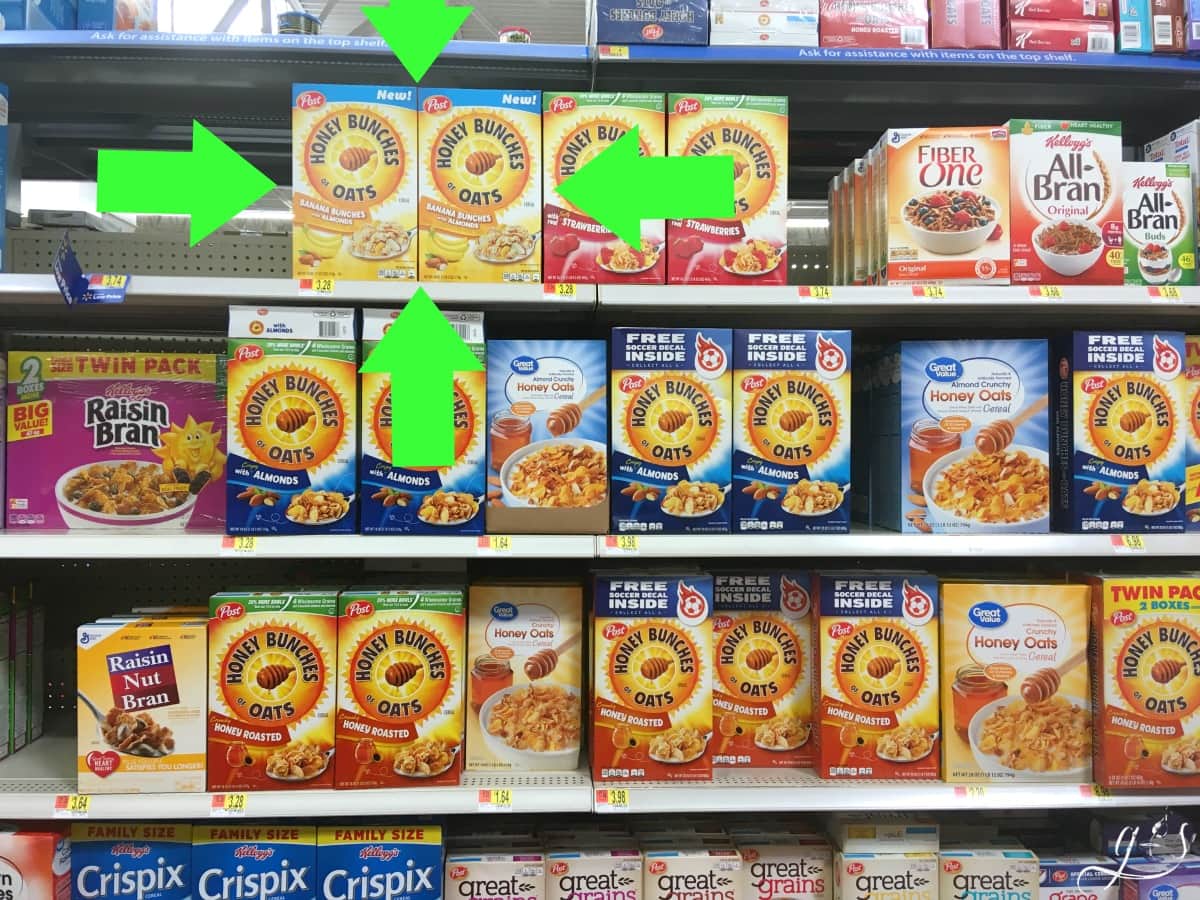 As if it needs to said, Wal-Mart is awesome.
Every single ingredient used in this No-Bake Pie in a Jar recipe I purchased there.
Did you know they even have canning jars? Yep, I would have purchased them too, but I already had some and my sweet neighbor lent me the rest.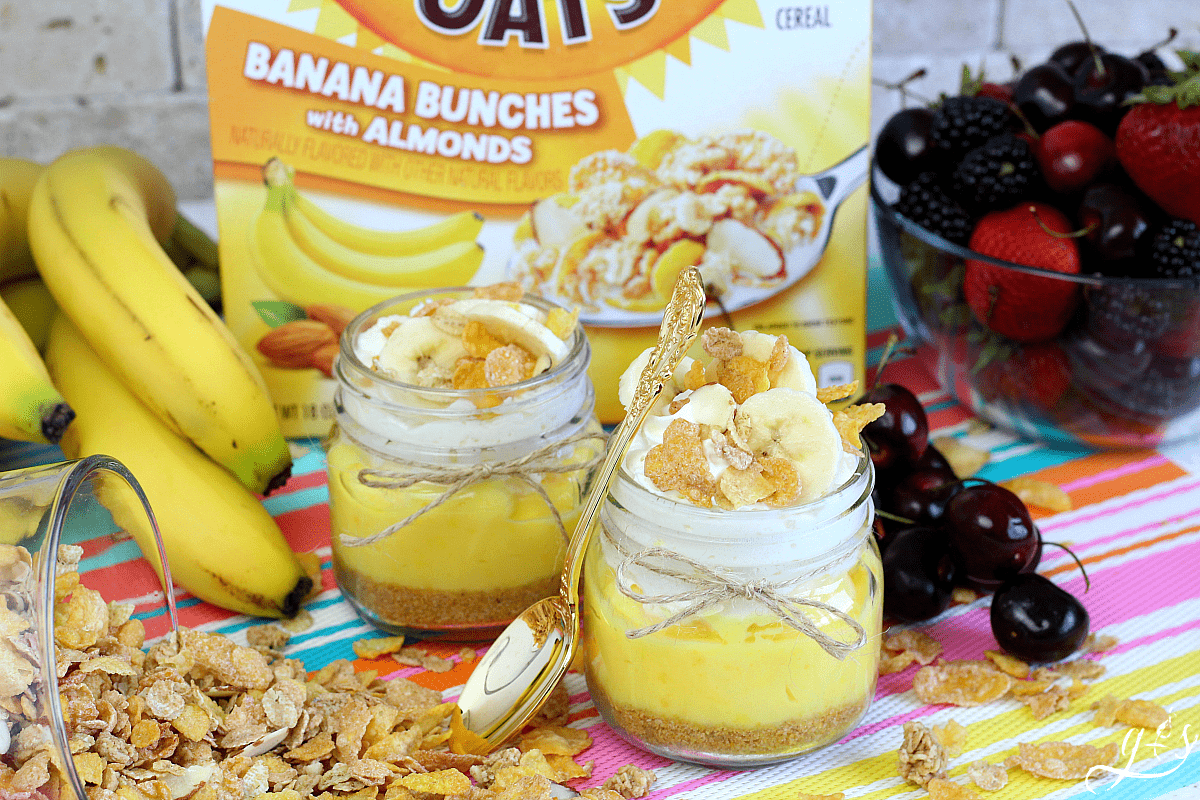 Can we just take a minute to talk about how versatile this cereal is?
As you can see, it's used in both the crust and the topping! The newest Post cereal flavor to "wow" us is a mouthful to say, but really all you will want to do is fill your mouth full of it. 😉
Like everyone, the "bunches" of deliciousness have my heart.
They baked bananas right into the oat clusters. What what?! Believe me, you don't want to miss these flavors!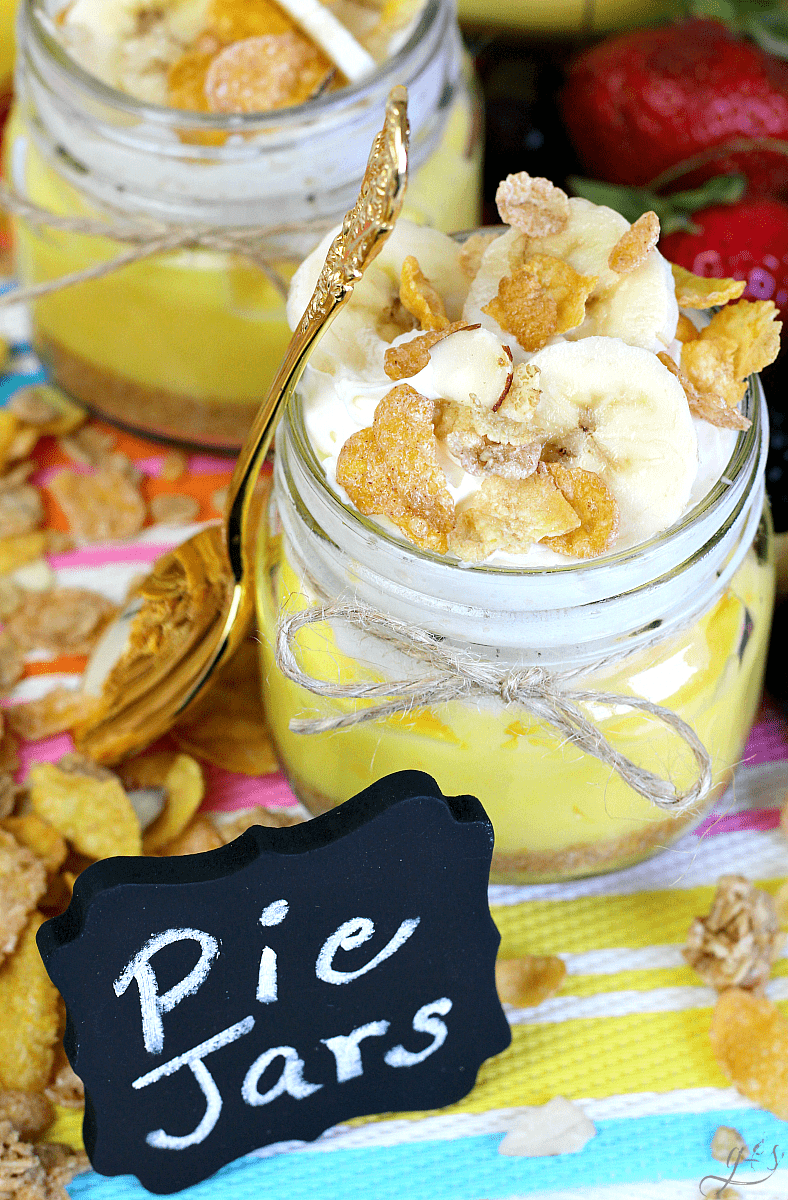 It's as easy as 1-2-3 to make the 2-ingredient no bake pie crust too, you take the bunches along with the crispy flakes and toasty almonds and grind them into a fine crumb and combine with butta, I mean butter. 😉
This is where it's at my friends. The crunchy texture is out of this world. Mmmmm, mmmm, mmmm! I don't know that you will find a more delicious no-bake pie crust.
Top that buttery banana-y goodness with French vanilla pudding, whipped cream, fresh banana slices, and whole cereal pieces and you have the most simple and perfect summer dessert, snack, or breakfast. Promise! Plus, look how pretty it is? It's a showstopper! Let's hear it for summer desserts in mason jars. Hurrah!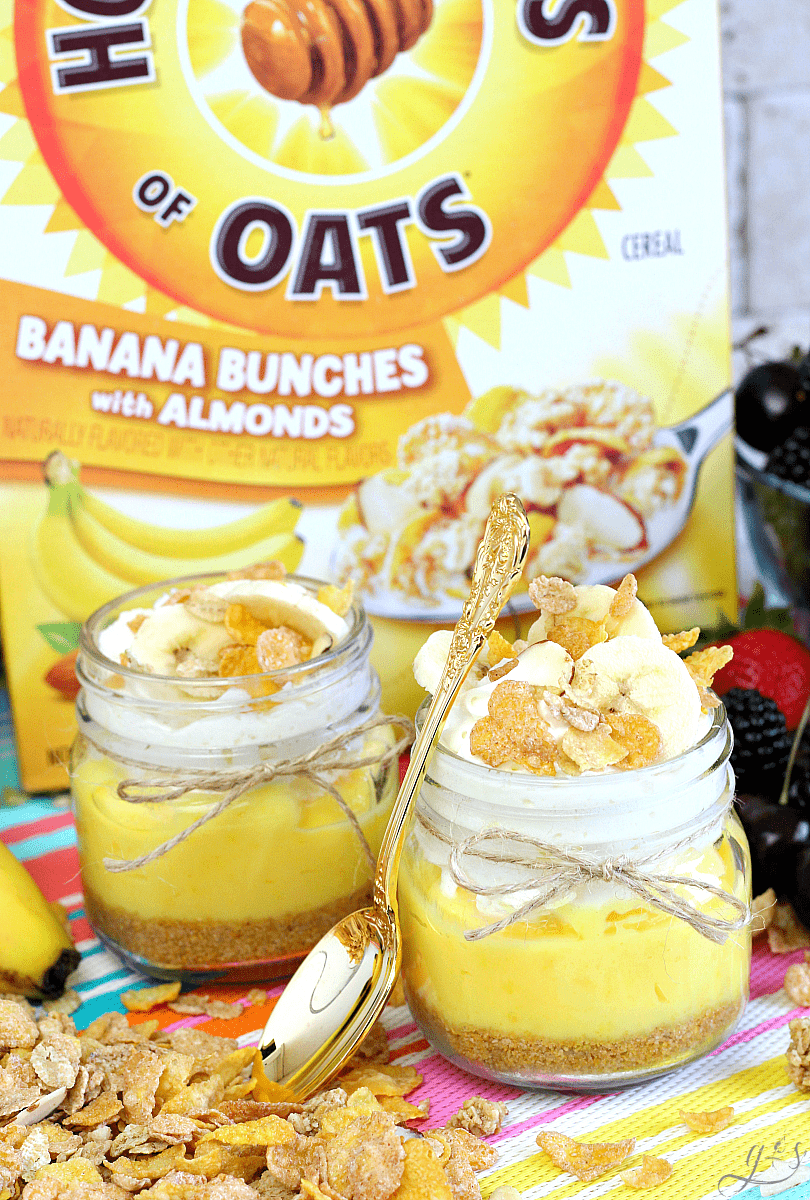 © 2018 Post Consumer Brands, LLC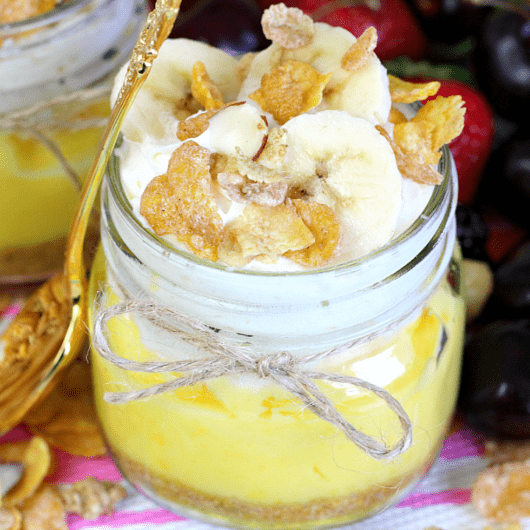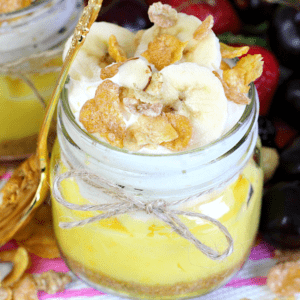 Print Recipe
No-Bake Pie in a Jar with Easy Cereal Crust
You just stepped up your dessert game with this easy cereal crust, french vanilla pudding, whipped cream, fresh healthy bananas, and Honey Bunches of Oats Banana Clusters with Almonds packed into the cutest mini mason jar. Serve these fun jars at parties for a crowd or keep it simple as a fast dessert or snack for kids. This quick and simple 6 ingredient recipe is sure to please the whole family!
Equipment
1 mixing bowl

4 mason jars
Ingredients
2

cups

CEREAL- Honey Bunches of Oats Banana Bunches with Almonds

plus more for garnish

2

Tbsp

butter, melted

1 (3.4 oz)

box

French vanilla instant pudding mix

1 3/4

cups

milk

1 (6.5 oz)

can

whipped cream or 1 cup homemade whipped cream

1

fresh banana, sliced in thin medallions
Instructions
In a food processor, add 2 cups of Honey Bunches of Oats Banana Bunches with Almonds. Pulse until cereal is ground into fine crumbs.

Add cereal crumbs to a small bowl along with the melted butter to form the pie crust. Stir until combined. The pie crust mixture will be slightly sticky.

Distribute the pie crust mixture evenly into 4- 8oz mason jars. With the back of a spoon or your fingers, press the crust firmly into the bottom of the jars. Set jars aside.

In a medium-sized bowl, prepare the pudding mixture. Add the contents of the pudding box and 1 3/4 cups milk. Whisk together until smooth. The pudding will thicken within a few minutes. Once it is slightly thickened, distribute it evenly into each jar.

Next, top the pudding in each jar with whipped cream.

Lastly, add fresh banana slices and sprinkle with as much Honey Bunches of Oats Banana Bunches with Almonds as your heart desires. Serve immediately!
Notes
If you would like to prepare the jars ahead of time, assemble the jars except for the whipped cream, banana slices, and cereal garnish. Place the pie jars (crust and pudding) in the refrigerator, covered, for up to 2 days before serving. When ready to serve, remove from fridge and add remaining ingredients.