Shout out to my friend and neighbor, Holly, who had us over for dinner one night and made gumbo. I told her I had never had it before, to which she said, "and you're a food blogger?". Ummmm, yep. #challengeaccepted Ha! Consequently, I created this recipe the next week and I am so glad I did! We have thoroughly enjoyed eating this skinny gumbo-jambalaya meal for months now!
No matter what you call this one-pot meal it's DELICIOUS!
Is it jambalaya? Is it gumbo? What's the difference between gumbo and jambalaya?
I have no clue. It's my creation and it's a little bit of both so One-Pot Skinny Gumbolaya it is!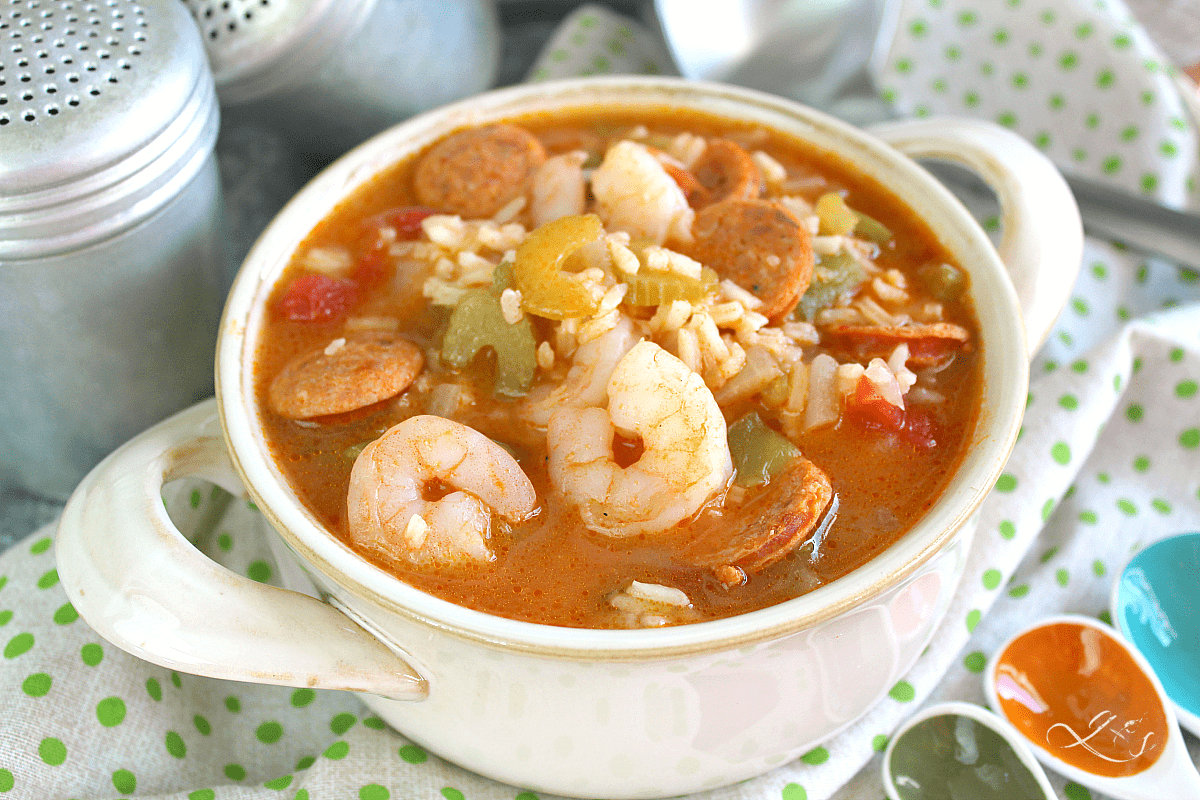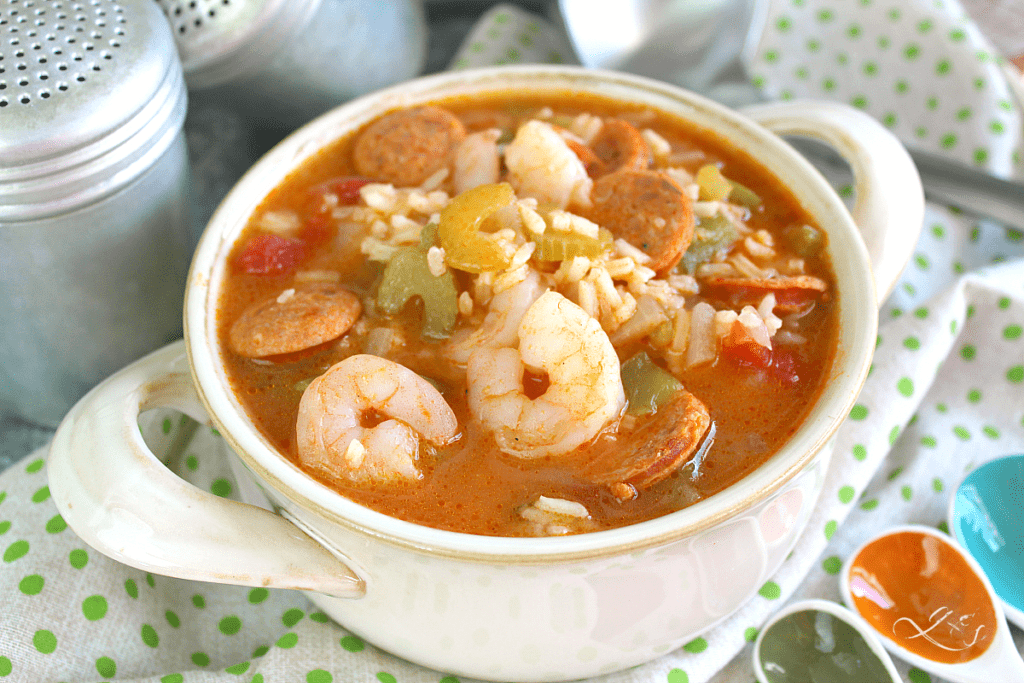 According to Angelina's Louisiana Kitchen,
"Gumbo is a stew or soup that is traditional in Louisiana – it is almost always made with a roux to thicken. Ours is a bit different in that it uses a roux and file to thicken. In Louisiana every family has their own unique gumbo recipe. Jambalaya on the other hand is a rice based dish which is usually made in one pot. Typically there are two types of jambalaya – a Creole jambalaya (also called a 'red jambalaya' due to the tomatoes) and a Cajun jambalaya which contains no tomatoes and typically is a brown color due to the meat used."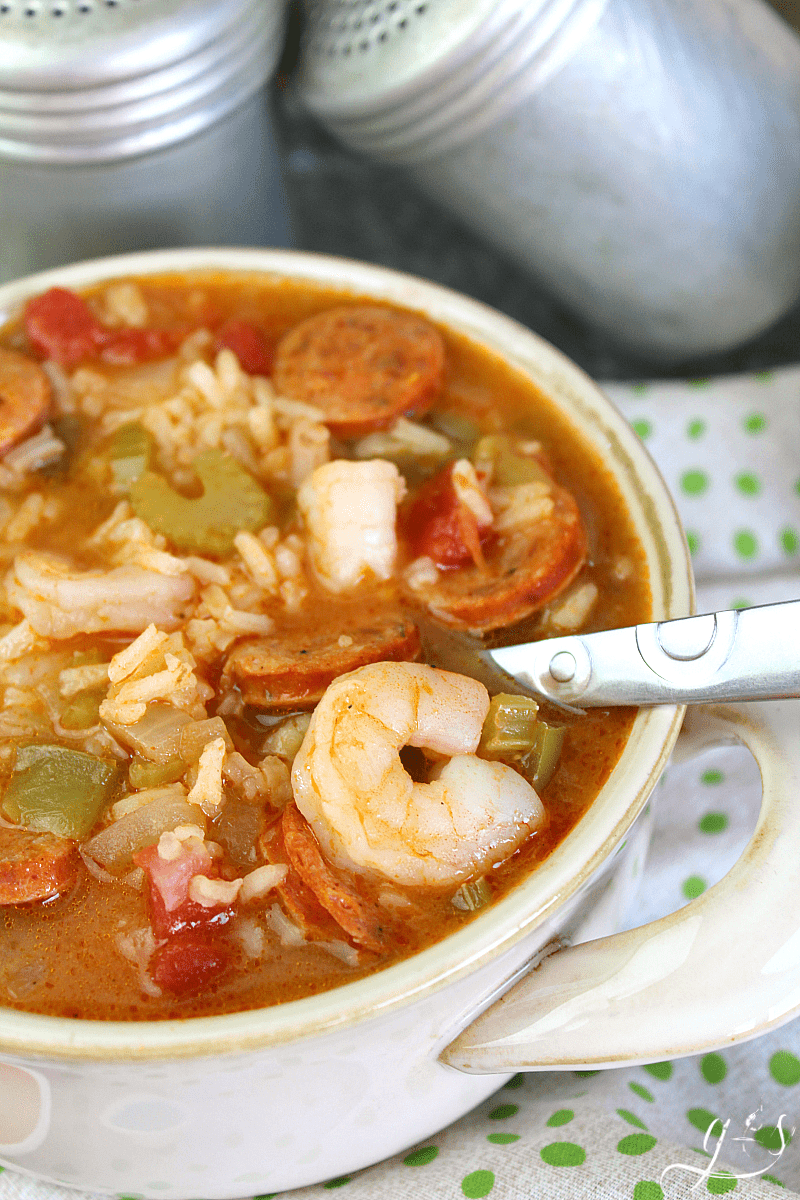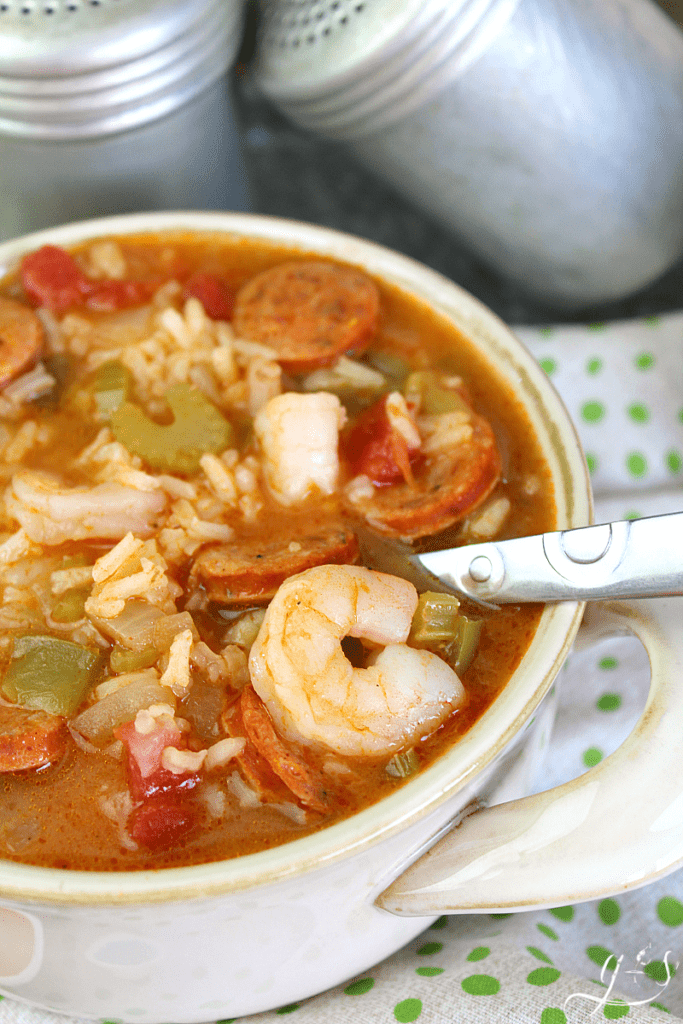 The first time I made this gluten free gumbo jambalaya recipe, I served it to our realtor at our new house for lunch. Needless to say, Sheila knows Creole cooking. Her son lives in New Orleans and she enjoys their authentic cuisine when she visits.
As she was eating, I was making all sorts of excuses as to why this recipe probably wasn't that tasty and I needed to keep tweeking it. Blah blah blah.
Gumbo Jambalaya Recipe Ingredients:
1 onion
2 bell peppers
5 celery stalks
2 Tbsp butter or dairy free plant based butter
2 large bay leaves
1 15 oz can petite diced tomatoes
4 cups chicken stock
2 cups water
12 oz chicken smoked andouille sausage
1 1/2 tsp cajun seasoning
1/2 tsp garlic powder
1 cup long grain white rice
12 oz frozen shrimp, raw, peeled, deveined, tail off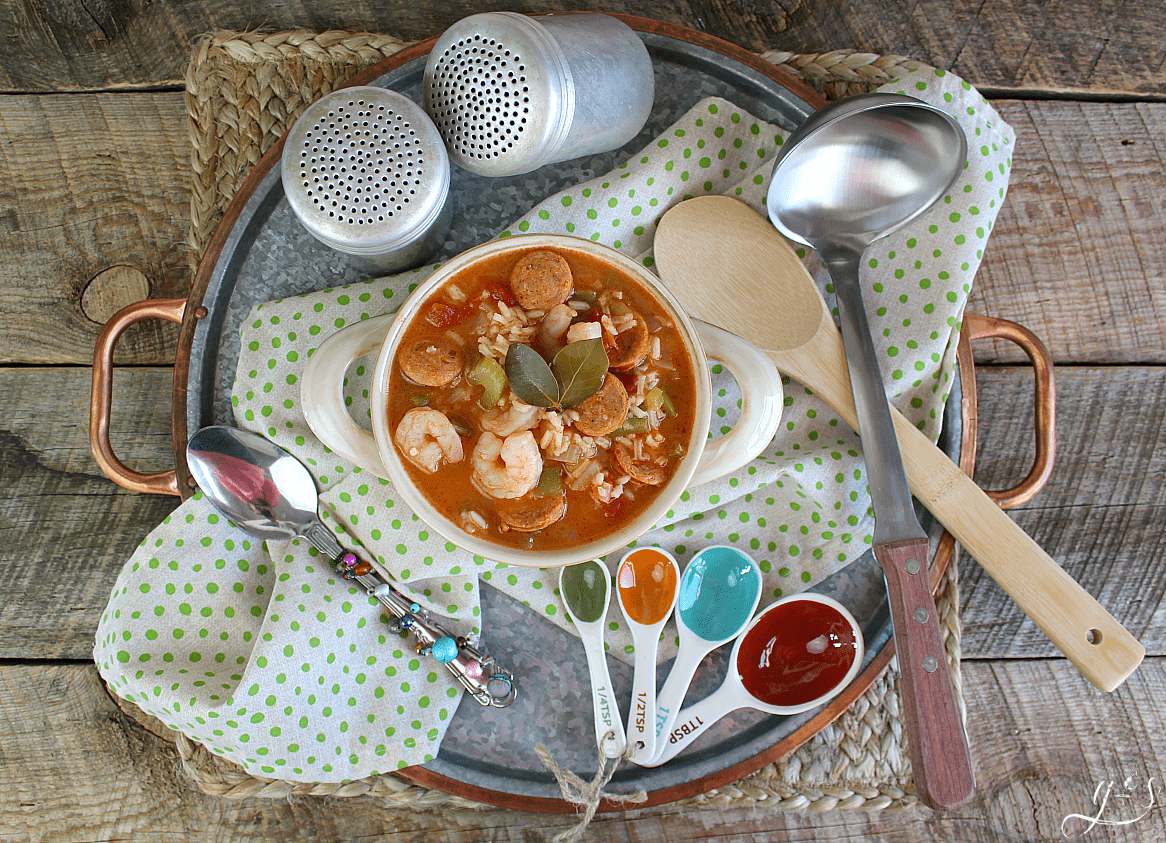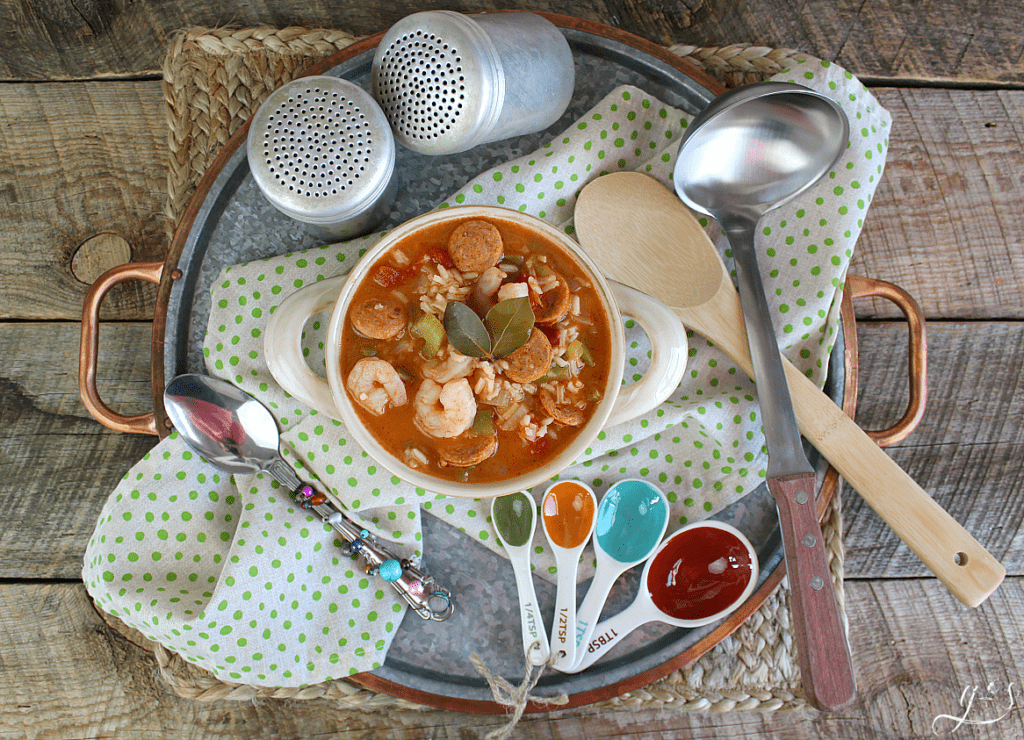 She abruptly, yet kindly stopped me, and said this was just as flavorful, delightful, and appetizing as the meals she has down south. I even gave her some to take home because she went on and on about how amazing this dairy free skinny gumbo jambalaya was!
So I am taking her compliments and running with it!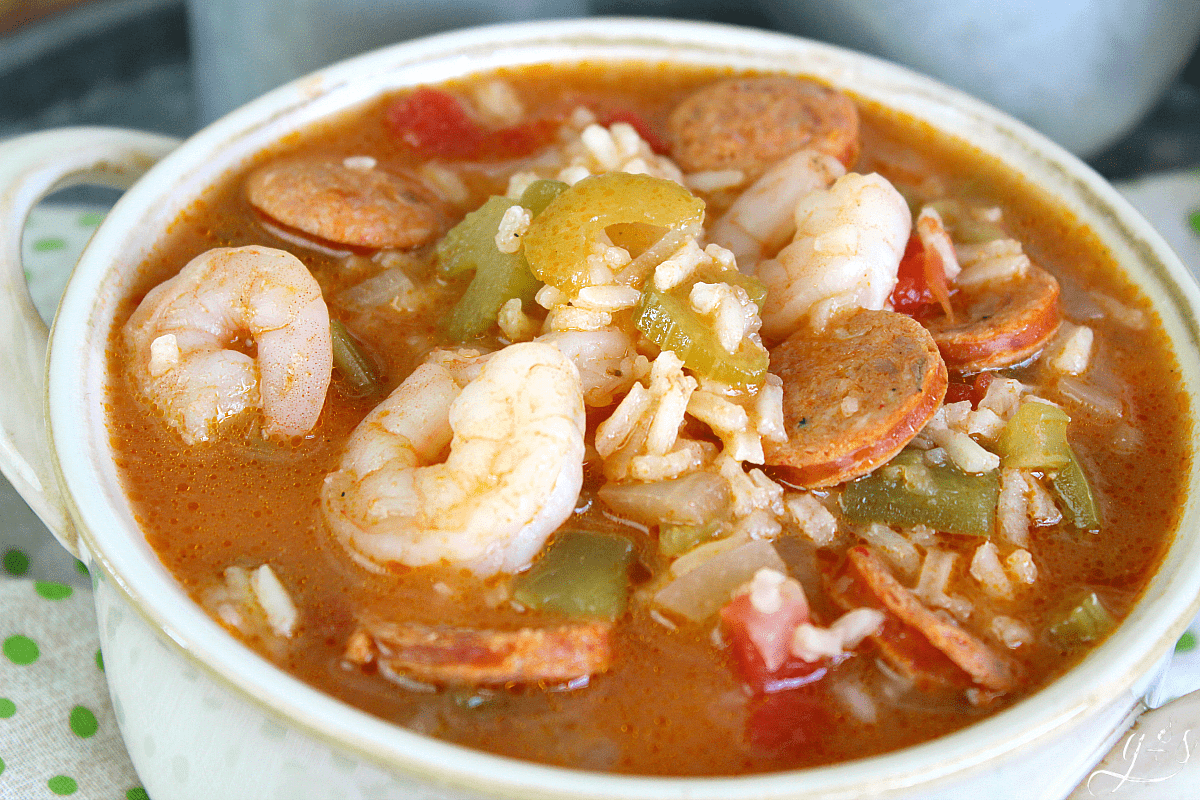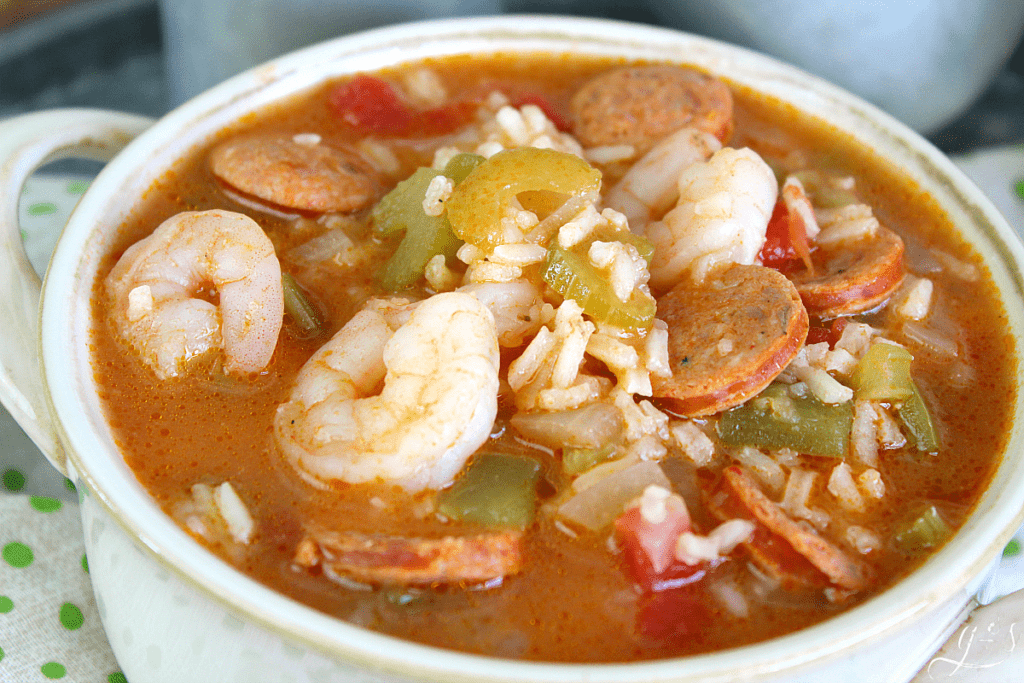 Even though the flavors are plentiful and a little spicy, the kids love it just as much as Ryan and I do. Here's the neat thing, there are only 2 spices added to this dish: cajun seasoning and garlic powder. No salt, no pepper, nothing else! See, easy peasy?
Without further adieu, here is the recipe for my version of a skinny gumbo jambalaya!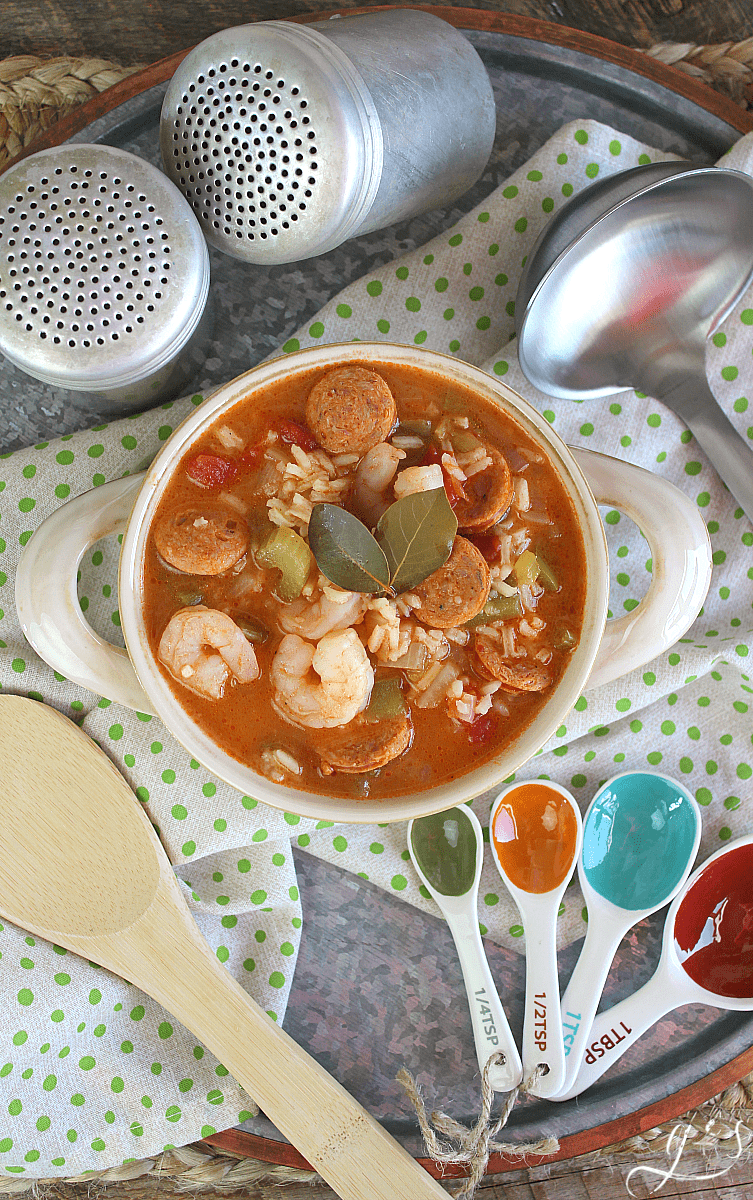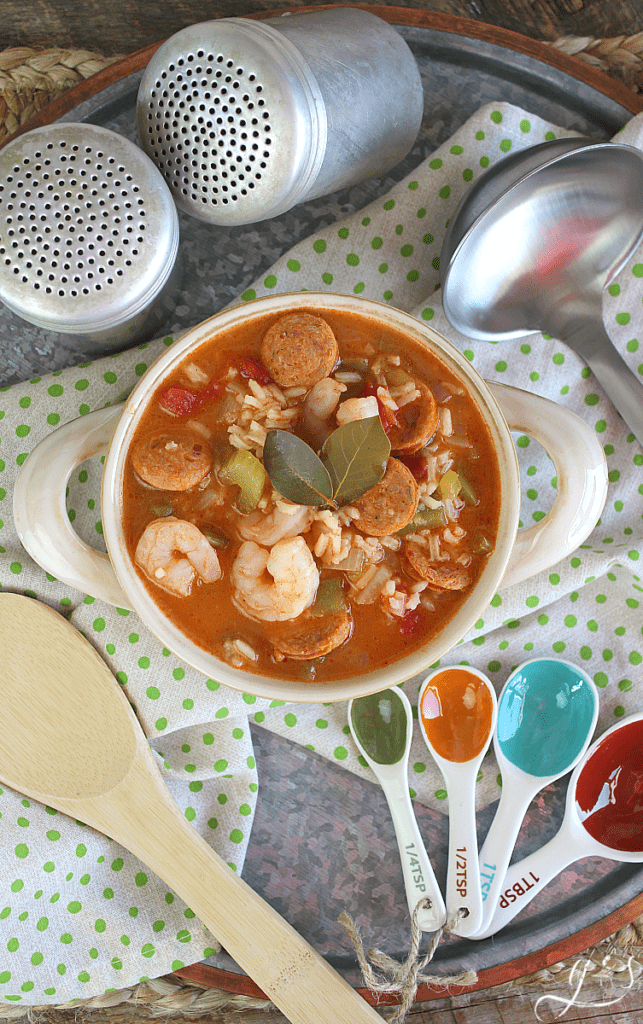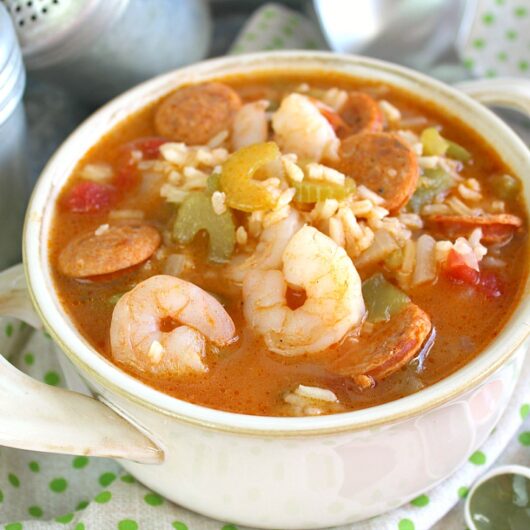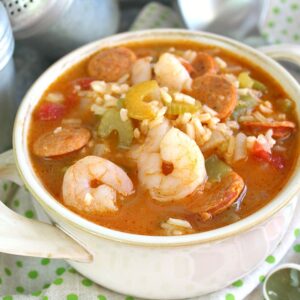 Print Recipe
One Pot Skinny Gumbolaya
This clean eating homemade recipe is easy to prepare and packed with cajun flavor. Healthy, gluten free, one pot- what more could you want?! Use spicy andouille chicken sausage and shrimp in this gumbo jambalaya. This authentic, yet contemporary, recipe is kid-friendly and adult approved.
Equipment
large pot

cutting board

knife
Ingredients
1

onion, diced

2

bell peppers, diced

5

celery stalks, diced

2

Tbsp

butter

or dairy free plant based butter

2

large bay leaves

1

15 oz can

petite diced tomatoes

4

cups

chicken stock

2

cups

water

12

oz

chicken smoked andouille sausage, sliced thinly

1 1/2

tsp

cajun seasoning

1/2

tsp

garlic powder

1

cup

long grain white rice

12

oz

frozen shrimp, raw, peeled, deveined, tail off
Instructions
In a large pot, melt 2 Tbsp butter. Saute diced onion, pepper, and celery for 5 minutes.

Add bay leaves, diced tomatoes, chicken stock, water, chicken sausage, cajun seasoning, and garlic powder to pot and bring to boil.

Once the pot is boiling, pour in white rice. Cover with lid and simmer on low for 20 minutes or until rice is soft.

Turn heat off and add frozen shrimp. Heat shrimp through or until they are pink and cooked about 10 minutes.

Now you are ready to eat. The longer the gumbo-laya sits the thicker it will become. It is rather soup-like, which is indeed tasty, but after cooling a bit it becomes more stew-like. Store leftovers in the refrigerator...if you have any!
Notes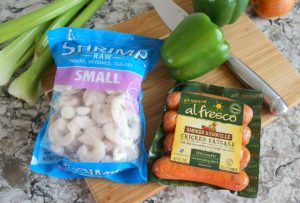 This is the shrimp and sausage I use. You can find both these products at Wal-Mart. 🙂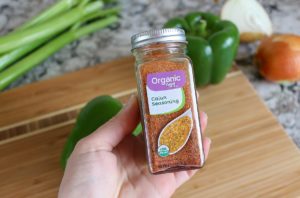 Totally digging this Cajun seasoning. So. Much. Flavor. I believe I also bought this at Wal-Mart.