This Allergy Friendly Reindeer Chow recipe has become a Christmas tradition in our home.
However, you may call it Puppy Chow or Muddy Buddies.
Whatever you call it, it's ADDICTING!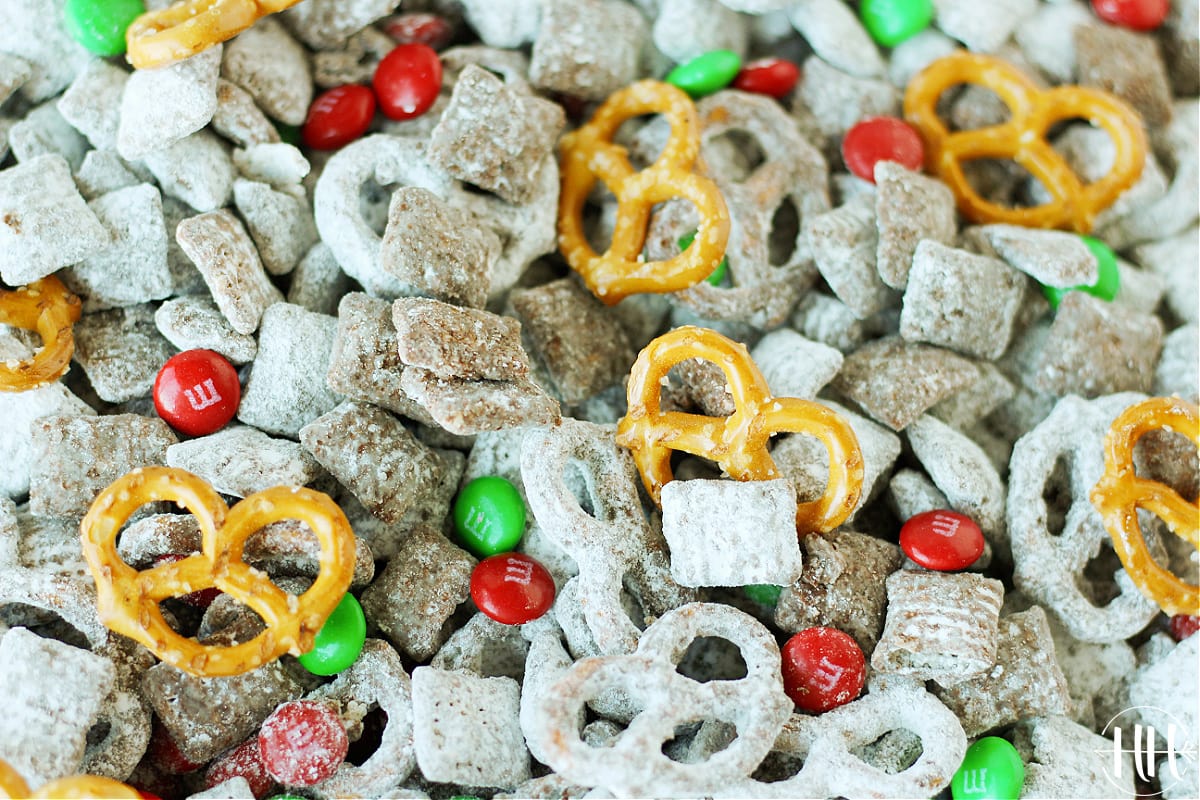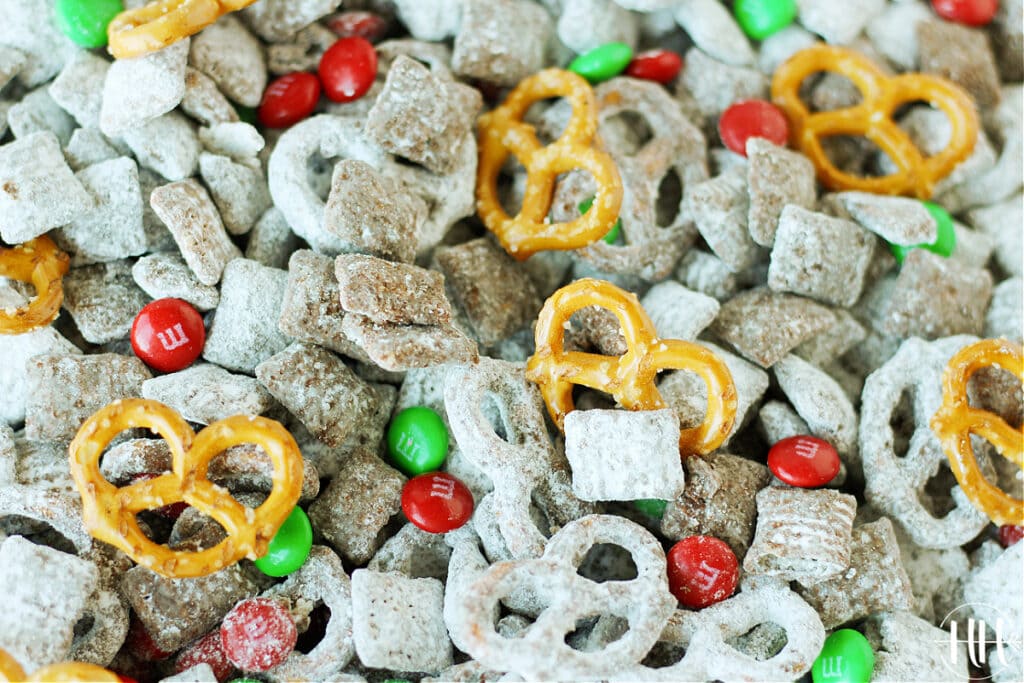 This year, I decided to try my hand at this holiday classic by making it allergen friendly. No soy, no dairy, no nuts, no gluten.
Why? Because, apparently I like a challenge. Ha!
As it turns out, the swaps I made worked perfectly. The "first time's the charm" is rarely my reality in the kitchen. So you better believe I was doing a happy dance.
The good thing is, no one will ever know this is an altered version of the original. #highfive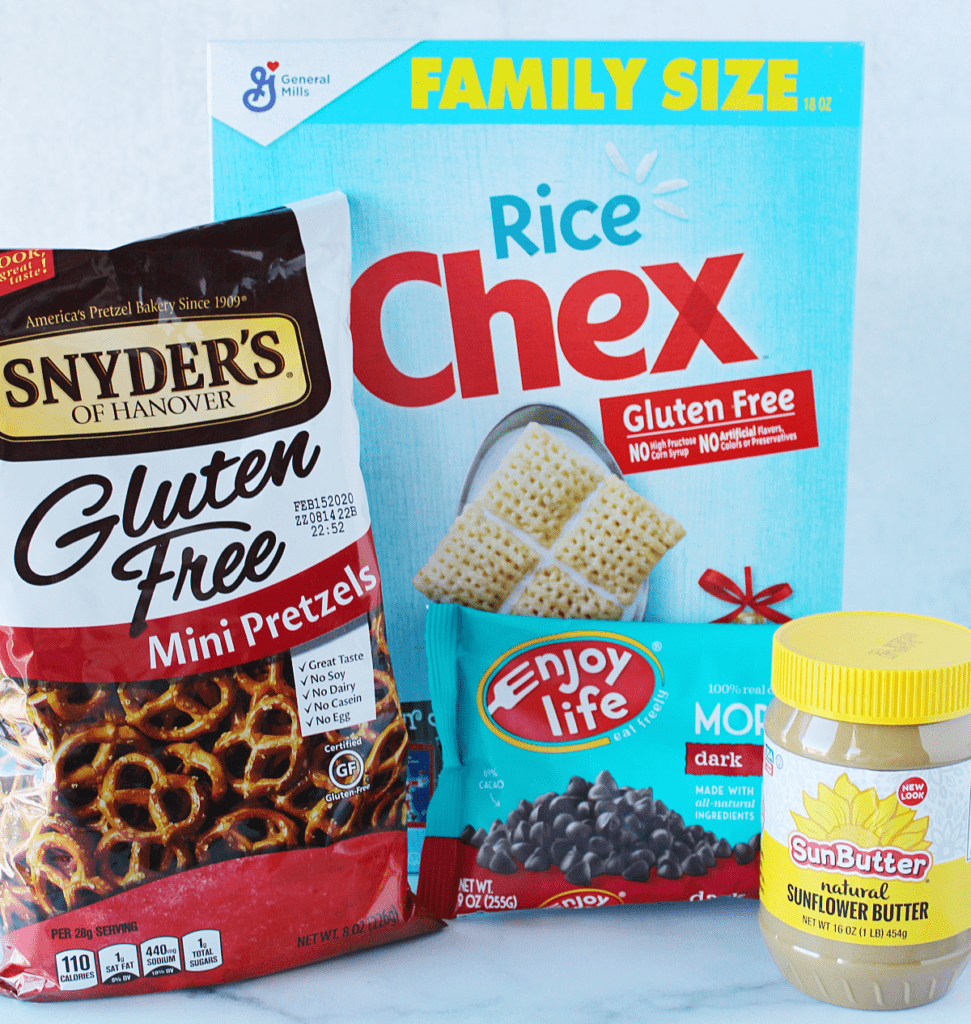 Here are the substitutions I made in this Allergy Friendly Reindeer Chow:
Enjoy Life Dark Chocolate Morsels for the regular dark chocolate chips.
Sunbutter made from sunflower seeds for the almond (peanut) butter.
Rice Chex cereal in place of wheat Chex cereal.
Snyder's gluten free twisty pretzels for regular "gluten-filled" pretzels.
Extra virgin olive oil in place of butter.
Phew! Okay, not too difficult right? Allergy Free Reindeer Chow for the win!
I purchased all of these items from my local grocery store…in South Dakota…if I can find it, you can find it! Ha!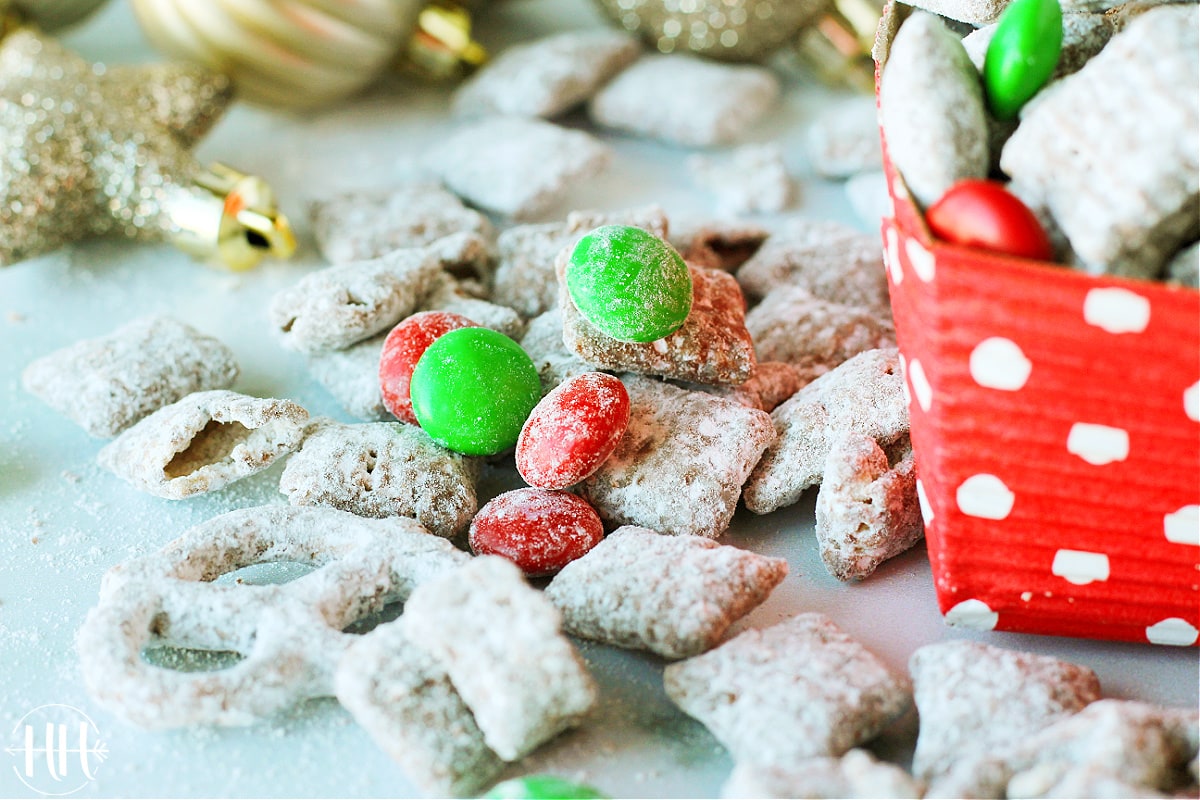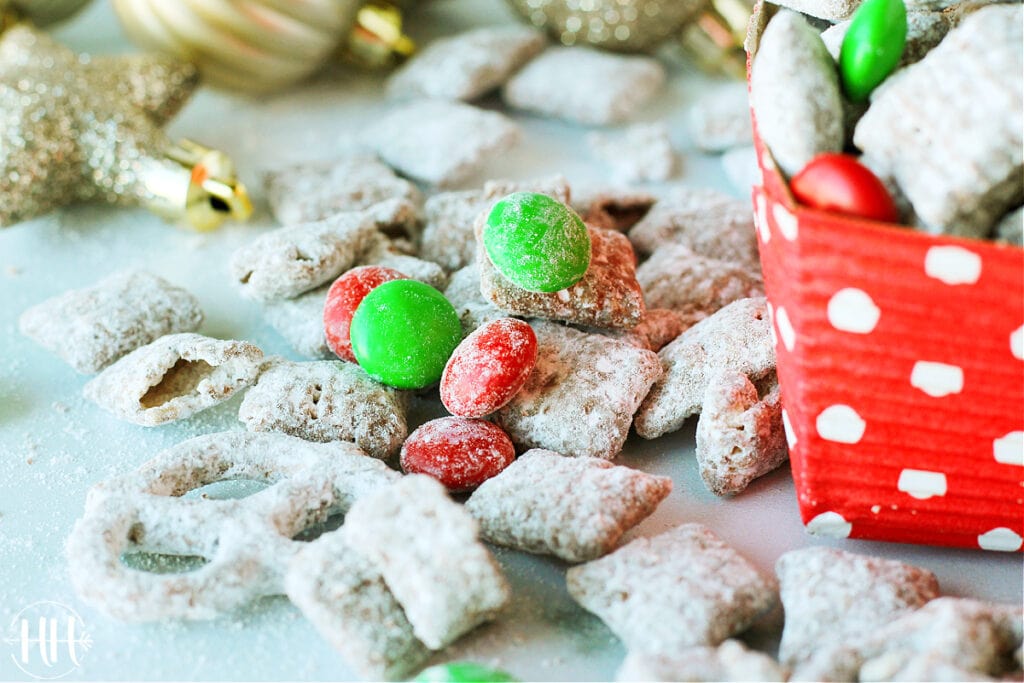 I am happy to report this Allergy Friendly Reindeer Chow can be eaten by my son's friend who is allergic to soy, dairy, and nuts. FINALLY a yummy treat I can serve him!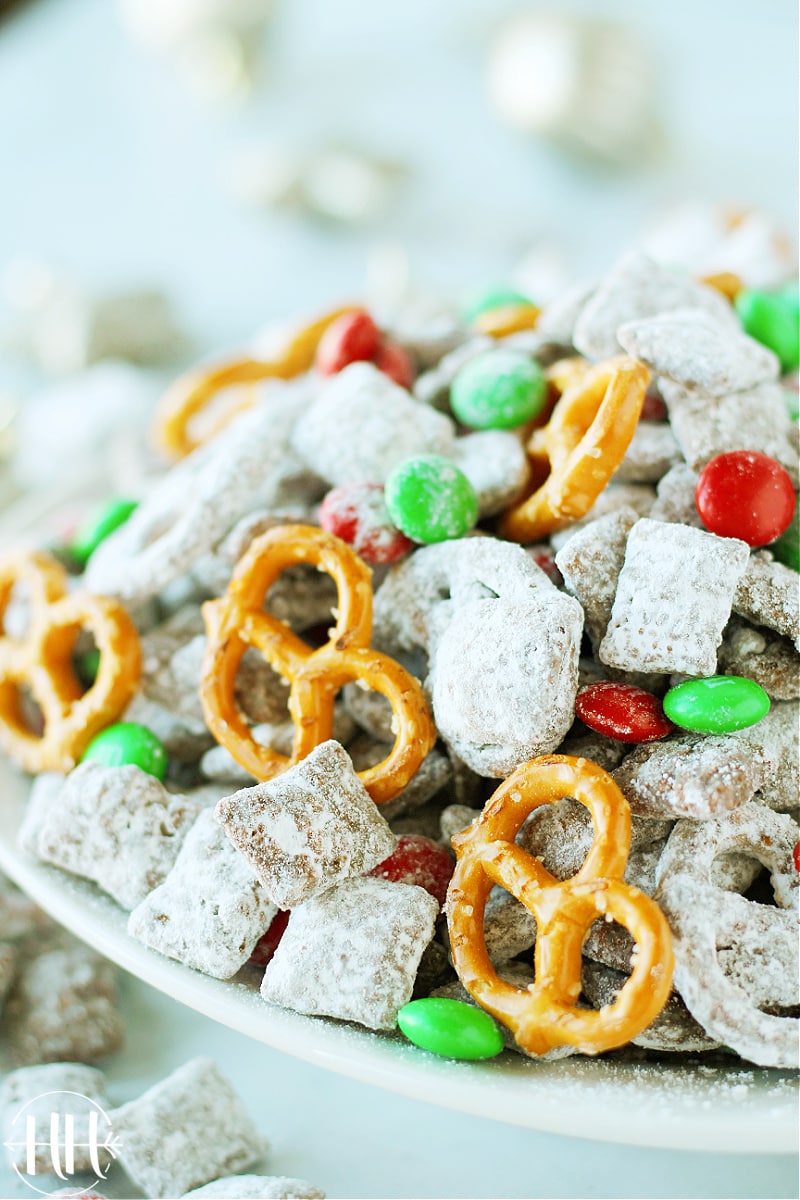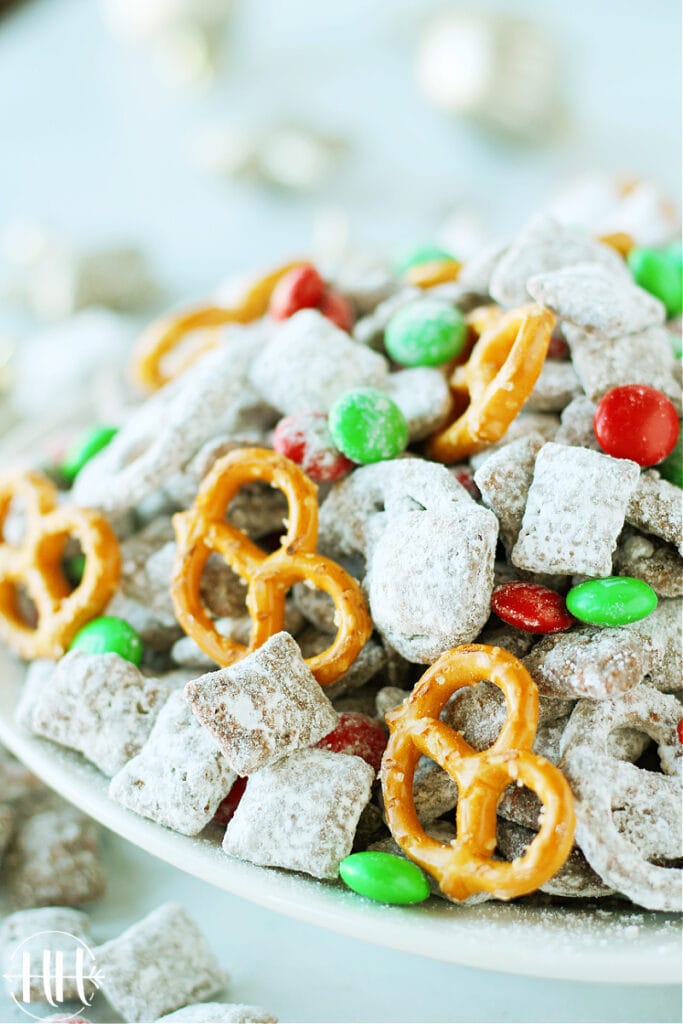 If you have ever tried to find foods that don't contain soy, good luck. SO MANY store bought items, even the "healthy" stuff has soy in it.
Let's get to it! Here is your reindeer chow ingredient shopping list:
8 cups Rice Chex cereal
1/2 cup nut free Sunbutter
2 tbsp extra virgin olive oil
1 tsp vanilla
2 cups powdered sugar
1 cup holiday M&Ms (optional) or a dairy free candy coated chocolate gems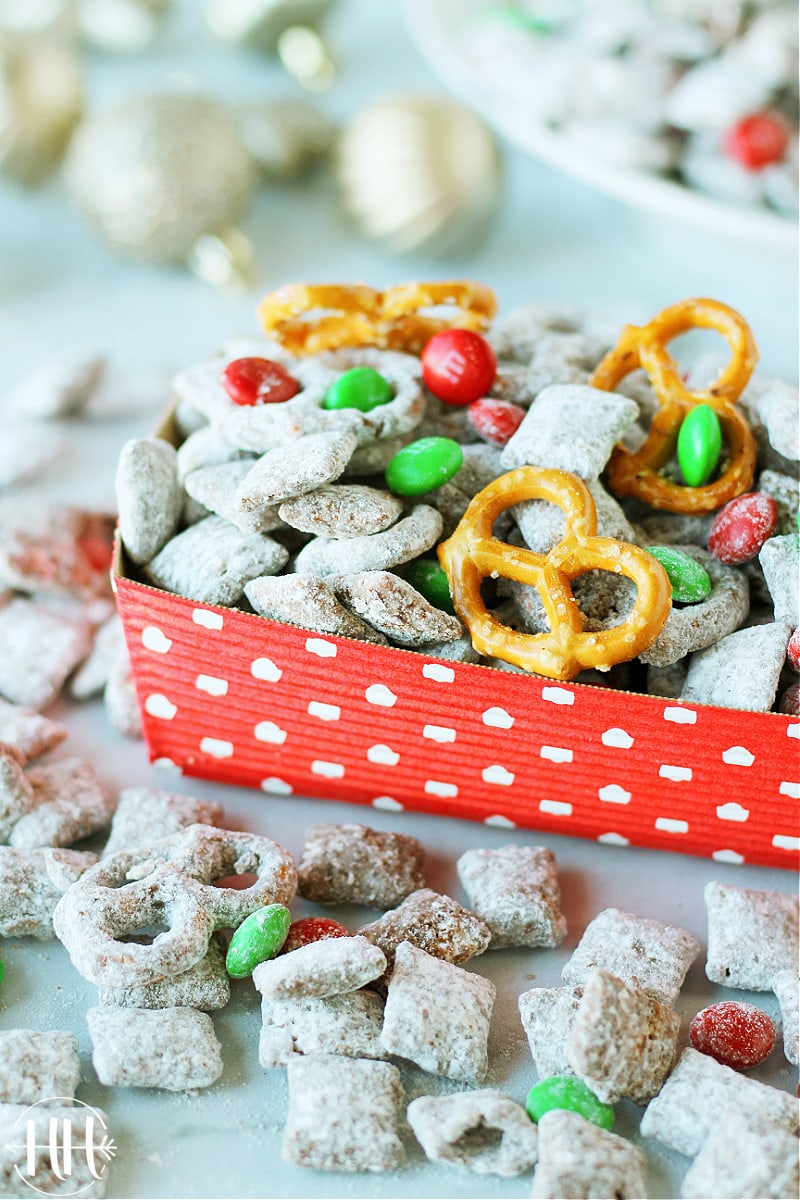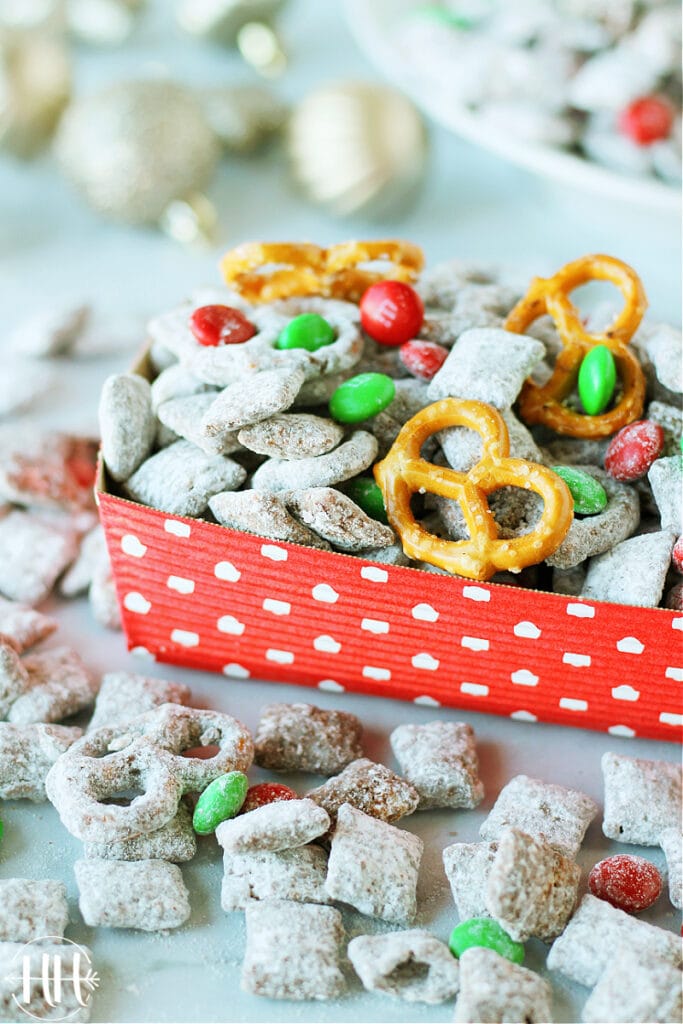 The M&Ms are optional because I cannot find dairy and soy free candy coated chocolate for the life of me!
Plus, Ryan prefers this Allergy Friendly Reindeer Chow without the candies. The kids and I have a different opinion. 😉
Merry Christmas and Happy Eating! Tell me down in the comments what your favorite vegan holiday goodies are.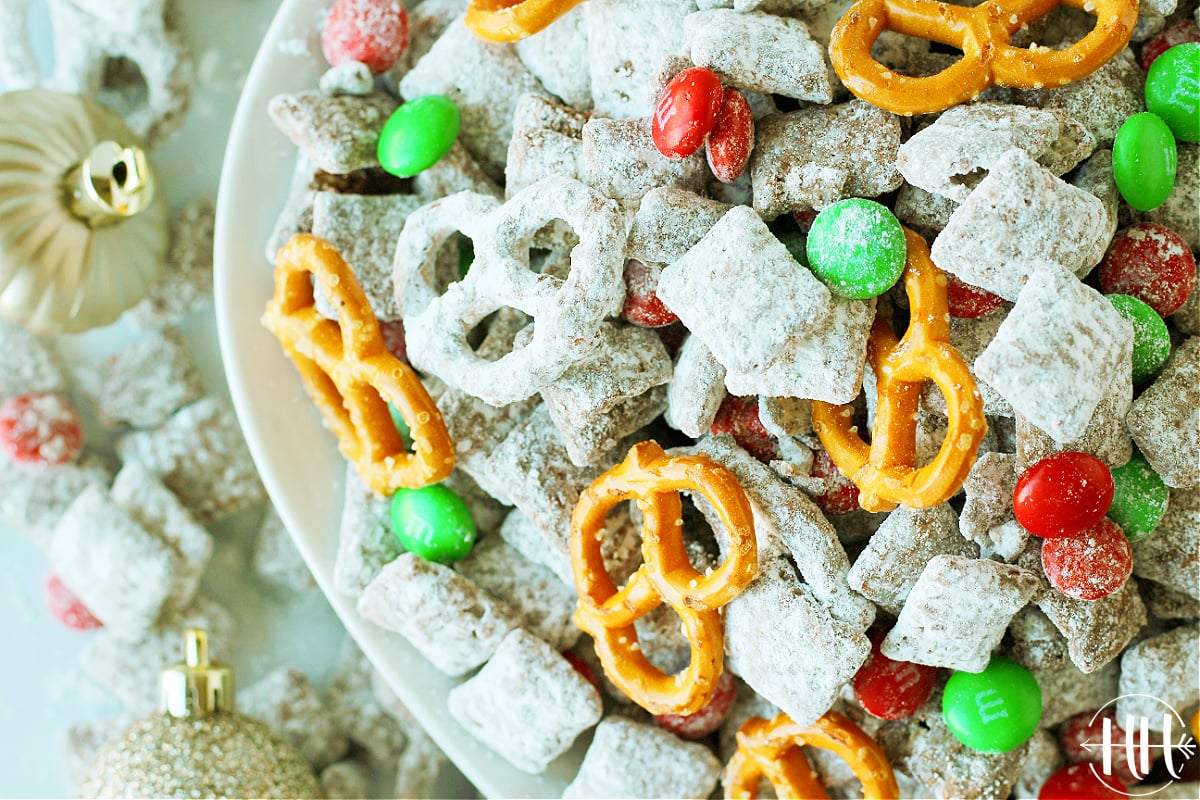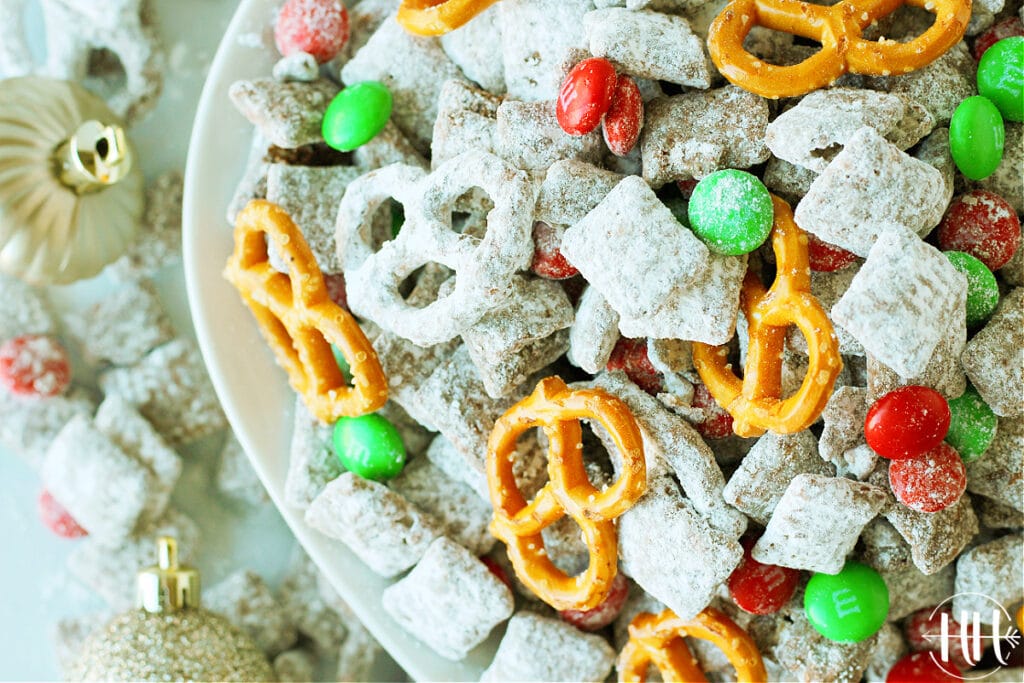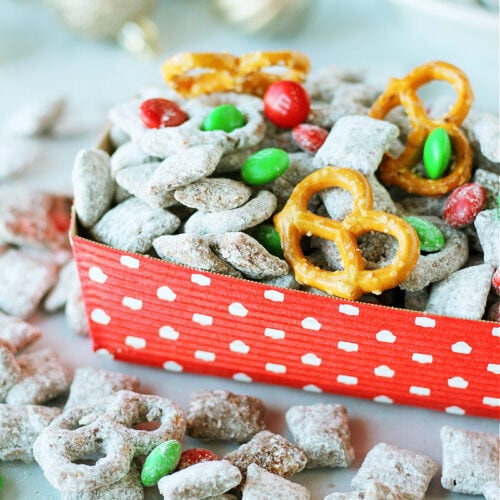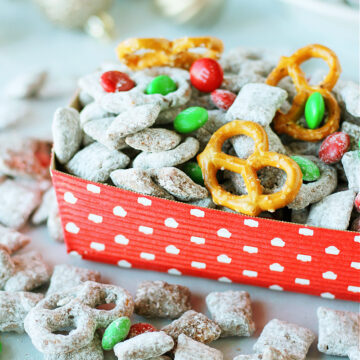 Print Recipe
Allergy Friendly Reindeer Chow
Allergy Friendly Reindeer Chow | This Christmas puppy chow recipe is easy and perfect to give as a gift in a mason jar, set out during the holidays as a snack, or leave for Santa. Use nut free Sunbutter, gluten free and soy free pretzels and Chex cereal, and dairy free dark chocolate chips in this Muddy Buddies Mix. Make this chex mix recipe dessert with twisty pretzels and red & green M&Ms. Holiday treats for kids that use no peanut butter are hard to come by and this one is delicious and fast with 10 min prep!
Equipment
bowl

microwave

wooden spoon

gallon sized plastic bags
Ingredients
8

cups

Rice Chex cereal

2

cups

gluten free Snyders mini pretzels

1

cup

Enjoy Life dark chocolate chips

1/2

cup

Sunbutter

2

Tbsp

olive oil

1

tsp

vanilla extract

2

cups

powdered sugar

1

cup

holiday candy coated chocolates or M&Ms

optional
Instructions
Pour Chex cereal and pretzels into a very large bowl. Set aside. 

In two gallon-sized Ziploc bags, add 1 cup powdered sugar to each bag. Set aside.

In a medium sized glass bowl, add chocolate chips, Sunbutter, and olive oil. Microwave 2 minutes on power setting 5. Stir until combined and the chocolate is completely melted. Stir in the vanilla.

Pour chocolate mixture over cereal and pretzels. Gently mix until cereal and pretzels are coated. 

Pour 1/2 the chocolatey mixture into the two gallon-sized bags. Seal bags and shake until powdered sugar coats all the cereal mixture.

Open each bag and lay the bags on their sides to allow the mixture to cool and dry out a bit. 

When mixture is cool, add candy coated chocolates to each bag. Store in an airtight bags until ready to package for gifts or set out for company to enjoy.
Notes
Add more powdered sugar to the bags if you need more sugar coating after shaking the bags. Depending on the brand of ingredients and measurements, you may need a little more sugar to coat the Reindeer Chow properly.
Use regular peanut butter and chocolate chips, butter for the olive oil, and any kind of Chex cereal if allergies are of no concern.
The M&Ms are optional because I cannot find dairy and soy free candy coated chocolate for the life of me! Plus, Ryan prefers this Reindeer Chow without the candies. The kids and I have a different opinion. 😉