Gluten Frees Chocolate Chip Zucchini Pancakes for the win! These are delicious and and the perfect texture.

Well, it's that time of the year again. Spring! The temperature is warming and a little green is starting to sprout which always gets me in the mood to garden!
Sarah is busy planning her garden in the dead of winter during a blizzard, but that is not the case for me. I need to feel the warmth of the sunshine on my bare arms before I can get excited about it.
Are you wondering what all this gardening talk has to do with Chocolate Chip Zucchini Pancakes?
Let me explain…
Does your freezer look something like this?

Well mine did too up until a few weeks ago. The warmer weather made me realize we have not finished all of our harvest from this past year!
I needed to dig through both our freezers and use up all the produce that had been forgotten about because before we know it we will be harvesting again.
That is how these AMAZING Chocolate Chip Zucchini Pancakes were born.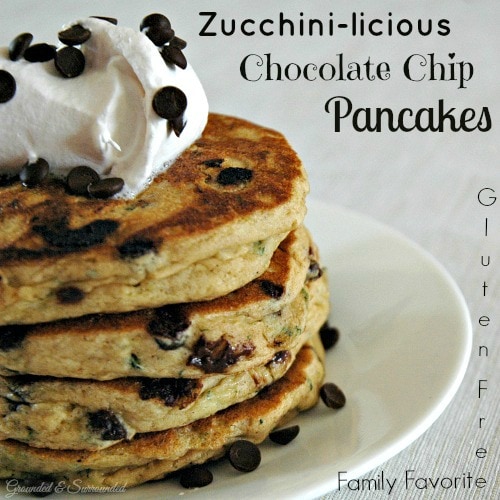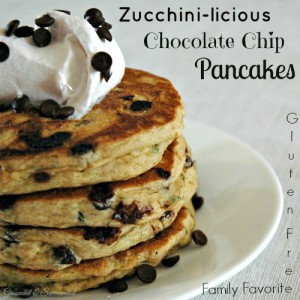 Once I began to search through our freezers I found the mother-load! Shredded zucchini, pureed pumpkin, chopped onion, sweet corn, diced jalapenos, chopped rhubarb, and sliced apples.
Typically, when I save our produce in the freezer I measure it out and label the baggie. It was so simple to pull out the baggie marked "1 Cup shredded zucchini", thaw it, wring out the excess water, and throw it in our pancake batter recipe!

Zucchini is so special because of it's versatility!
You can use it in stir-fry, omelets, or salads, and then turn right around use it in sweet treats like breads, cookies, or muffins!
Your pancake batter will be lost and sad without this special ingredient from here on out! I used our gluten free flour blend, but regular flour would work just as well.
Visit HappiHomemade's Pinterest Account
You don't have to add chocolate chips to your pancakes, however, it is recommended.
Chocolate makes everything better so I thought, "why not?".
I happened to have a fun topping on hand too, TruWhip.
It is like Cool Whip, but without all the mystery ingredients.
If you haven't tried TruWhip you really need to! We like the taste WAY better and they now carry it at larger grocery stores.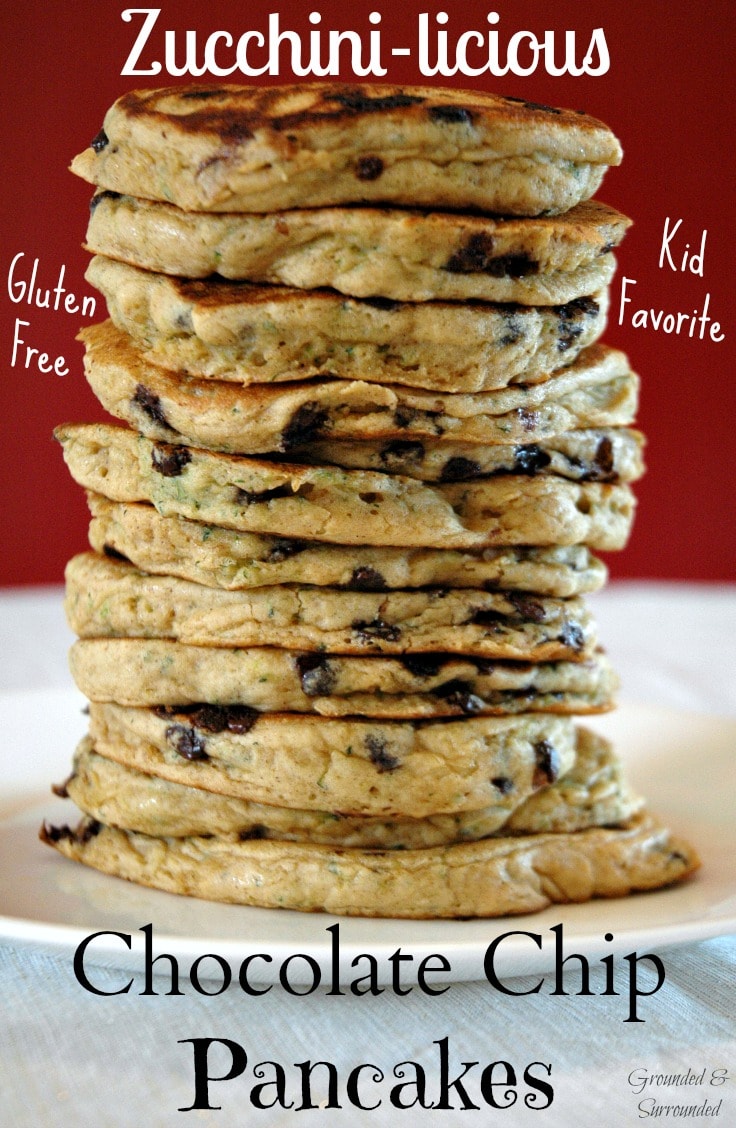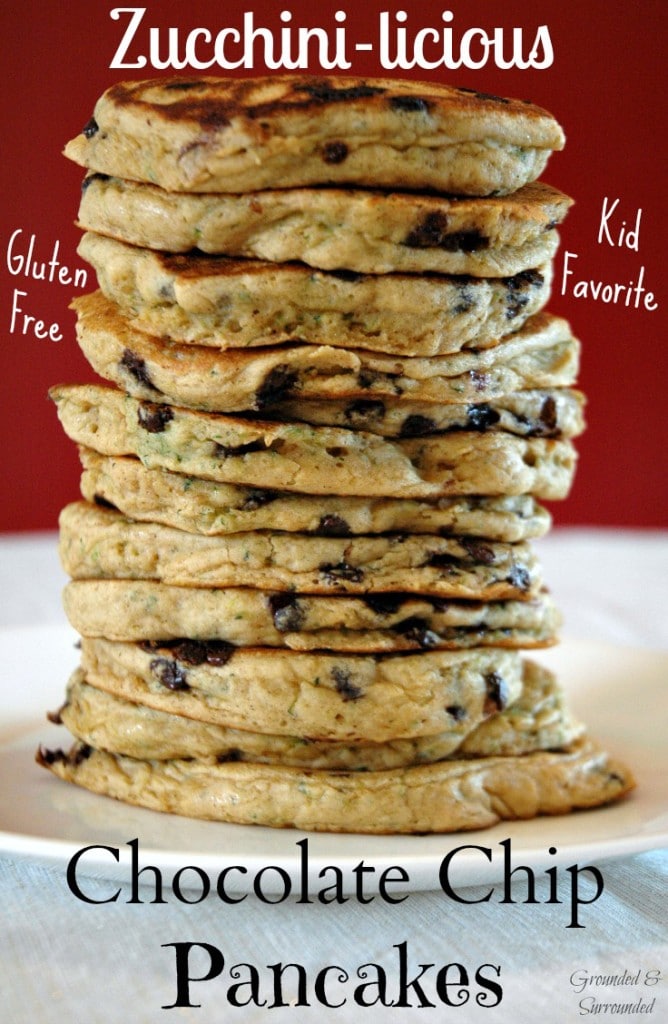 So now you have the complete story of how the Zucchini Chocolate Chip Pancakes were created!
Enjoy this Chocolate Chip Zucchini Pancakes recipe and remember to share your stories with us in the comments section.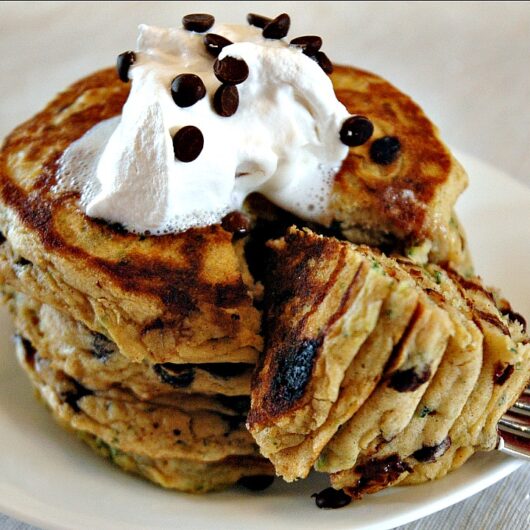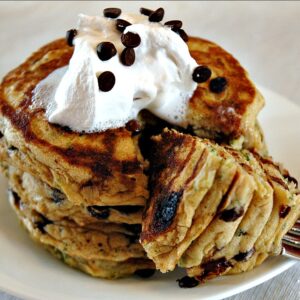 Print Recipe
Chocolate Chip Zucchini Pancakes
Chocolate Chip Zucchini Pancakes: Zucchini has never tasted better! Pancakes will never be the same after you have made these beauties. They are the perfect gluten-free breakfast, snack, or dessert! A healthy splurge never hurt anyone!
Equipment
1 large bowl

1 whisk

1 large frying pan
Ingredients
1-1 1/2

cups

finely shredded zucchini

2

cups

Flour (I used our gluten-free flour blend)

G&S GF Flour Blend

2

Tbsp

sugar

(I used this coconut sugar instead of white sugar)

1/2

tsp

ground cinnamon

1/4

tsp

ground nutmeg

1/4

tsp

sea salt

1 1/2

tsp

baking powder

1

tsp

baking soda

2

eggs

1

tsp

vanilla extract

1 1/2

cups

milk (soured with 1 Tbsp lemon juice)

2

Tbsp

melted butter or melted coconut oil

1/2

cup

dark chocolate chips or mini chips
Instructions
Finely shred zucchini or thaw out your frozen zucchini and place on a kitchen towel. Let sit while you prepare the batter.

Whisk together flour, sugar, cinnamon, nutmeg, salt, baking powder, and baking soda in a large bowl.

In a separate bowl, combine eggs, vanilla, soured milk, and melted butter.

Pour wet ingredients into the dry and mix just until incorporated. Don't over mix. The batter will be lumpy.

Dry shredded zucchini with towel removing as much moisture as possible. Add it to the batter along with the chocolate chips.

Heat your pan to low-medium heat. Spray with non-stick cooking spray.

Use a 1/4 cup measuring cup to pour batter onto pan. Cook until brown on one side and flip over. Be careful to not under bake. Turn down your heat and cook slower if pancakes are browning too quickly and the centers are gooey.

Serve with your favorite syrup, melted coconut butter, whipped cream, or fruit compote!
Notes
We used gluten-free flour, but wheat flour will work just as well.
Any variety of milk will do. We used cow milk, but almond is my preferred choice!