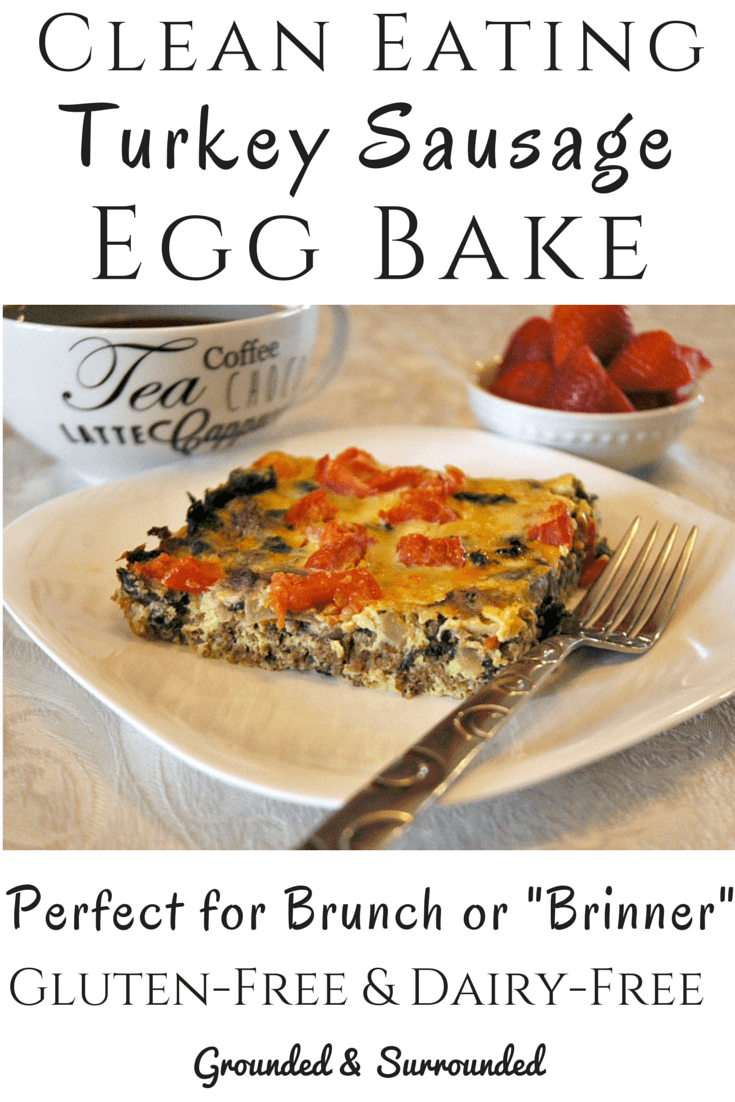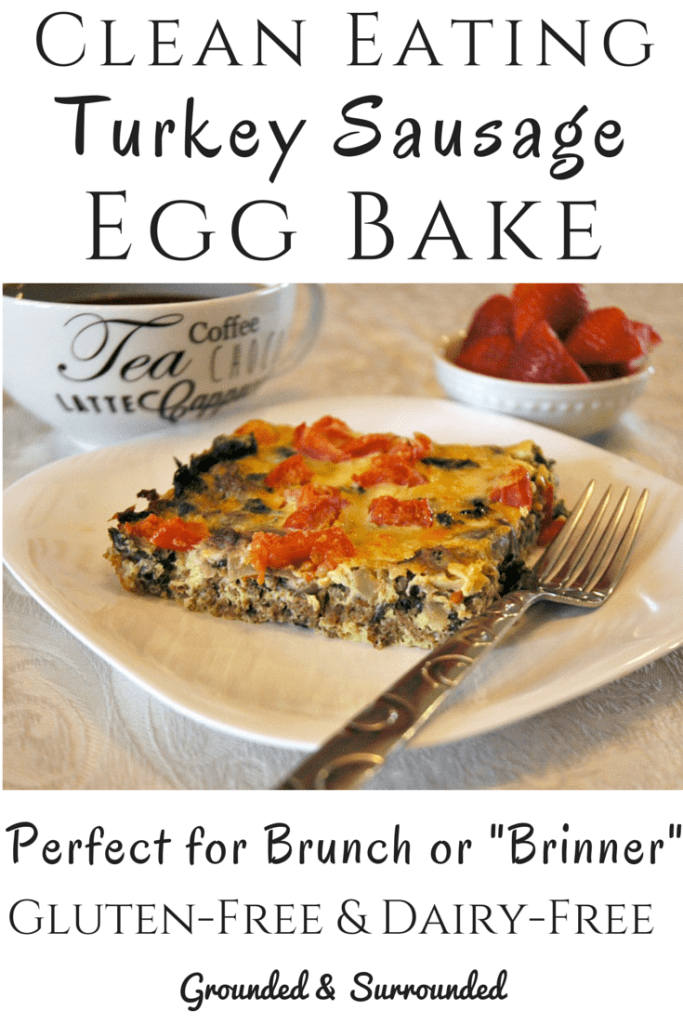 News flash! I love egg bakes.
I look forward to making them, eating them, and well, eating them again. Ha!
This Clean Eating Turkey Sausage Egg Casserole is sure to win you over with its huge flavor and simple ingredients.
In my previous food life, I would have never thought an egg bake without cheddar cheese, bread, and a condensed cream of something soup would be a dish I would look forward to.
However, over the years I have weaned myself, yes, I said weaned, off of eating so much cheese.
Cheese was my homeboy!
Uncle Jon can attest to this and will gladly share his story of me and cheese at any time with you. #embarrassing
This dish is so good, you will not even miss the usual bread, cheese, and condensed soups found in most egg bakes.
Plus, your body will thank you for fueling it with nutritious ingredients!
The HUGE flavor in this healthy egg bake are surprising considering the healthy and simple ingredients.
The spicy turkey sausage and other seasonings pair well with with farm fresh eggs if you can get your hands on some.
I chose to refrigerate this dish overnight and pull it out in the morning to bake. However, you can prepare the entire casserole and bake it right away if you want.
Feel free to substitute different vegetables, spices, or use plain ground turkey sausage. Like I said, egg dishes are incredibly versatile and do well when you need to substitute the ingredients you have on hand!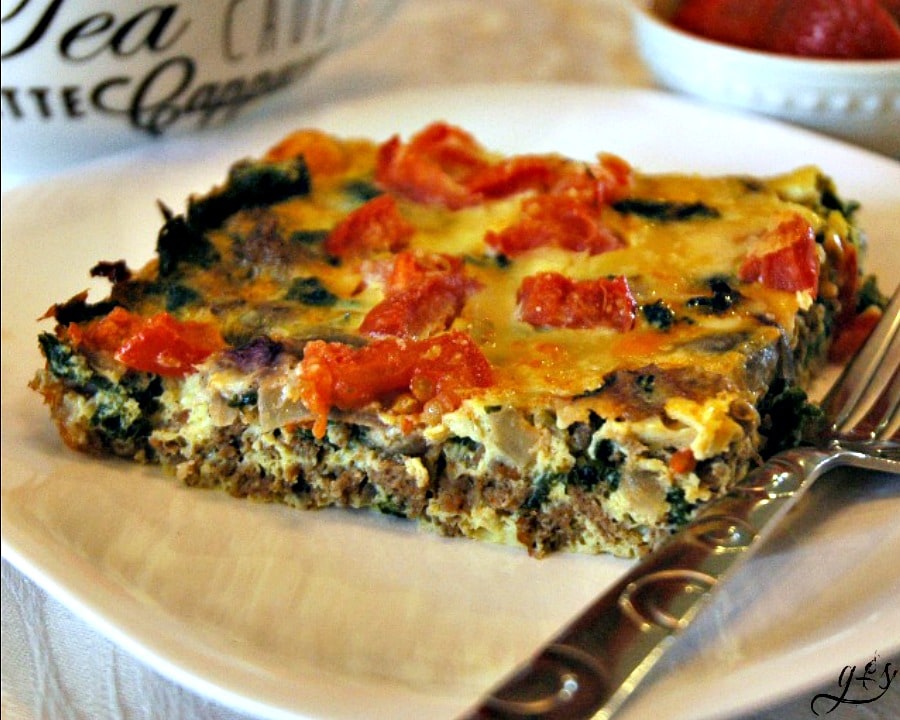 This Clean Eating Turkey Sausage Egg Casserole makes 6 large portions. I ate mine with a side of fruit and coffee.
Of course, the 9×13 pan you bake it in can be divided into 9-12 smaller portions.
If I was feeding a crowd, I would pair it with this amazing fresh fruit salad and homemade coffee syrups.
Let's get you this Turkey Sausage Egg Casserole recipe!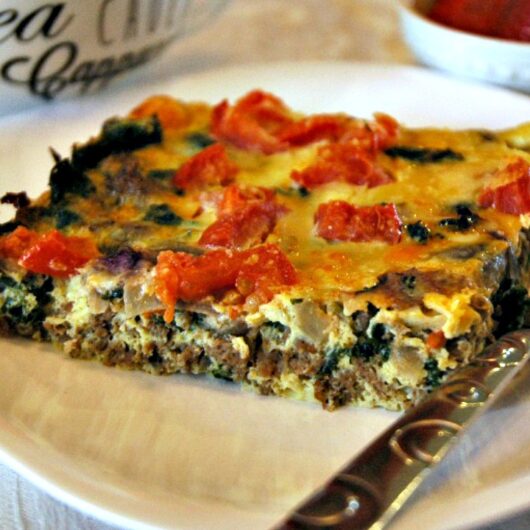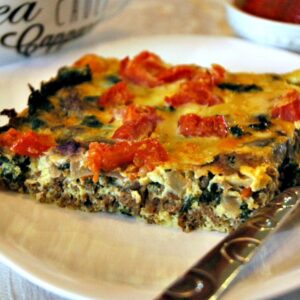 Print Recipe
Clean Eating Turkey Sausage Egg Casserole
Healthy and clean eating breakfast dishes ROCK. Not only is this dish filling, but it is gluten-free and SO flavorful! Don't let the simple ingredients fool you, it is delicious. You can prepare this easy casserole the night before and let it hang out in the fridge until morning or bake it right away. Cut it into 6 huge portions to eat for breakfast all week or 9-12 slices to feed a crowd at brunch.
Servings:
6
large portions
Ingredients
1

lb

Hot Turkey breakfast ground sausage

8

eggs

1/2

cup

almond milk

1

red onion, chopped

3

kale leaves, destemmed and chopped

1

tsp

sea salt

1/2

tsp

black pepper

1/2

tsp

garlic powder

1/16

tsp

cayenne powder

2

roma tomatoes, diced

1/4

cup

Parmesan Cheese, grated
Instructions
Lightly spray a 9x13 glass pan with non-stick cooking spray. Set aside.

Brown turkey sausage and break up into small pieces as you cook it. After the sausage is browned, remove from pan (leave the drippings in pan) and place in the bottom of the 9x13 glass pan.

In the same saute pan you cooked the sausage, add the chopped onions and saute in pan drippings until just tender. Add in the chopped kale and wilt for about 2 minutes. Season generously with salt and pepper.

Add the veggies on top of the browned sausage in the 9x13 pan.

In a medium sized bowl, whisk together the eggs, almond milk, salt, pepper, garlic powder, and cayenne.

Pour egg mixture over veggies and meat in glass pan.

Top with diced tomatoes. Sprinkle with salt for added flavor.

Now add the last ingredient, Parmesan cheese! Sprinkle over the entire pan. Cover and refrigerate overnight or put right into a 400 degree oven. Bake for 40 minutes or until the top is puffy and slightly browned. Be careful to not undercook. There is nothing worse than a runny egg bake 😉 Enjoy!