Are you looking for a new pasta dish? This Amatriciana Sauce and Linguine will knock your socks off with it's flavor.
Pasta is not a typical meal in our home, but we love this recipe! It's similar to spaghetti…sorta. You know, without the meat and spaghetti sauce. 😉
If you love pasta, a spicy tomato sauce, AND bacon you will quickly fall in love with this Amatriciana Sauce and Linguine.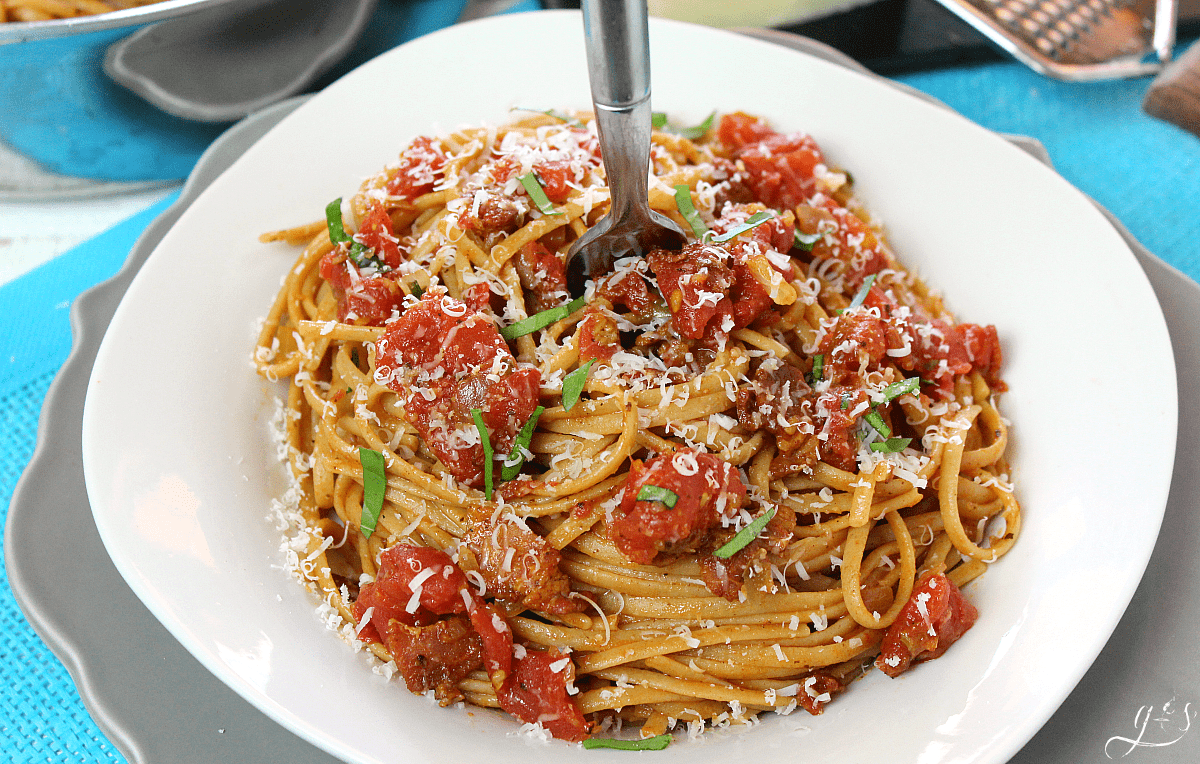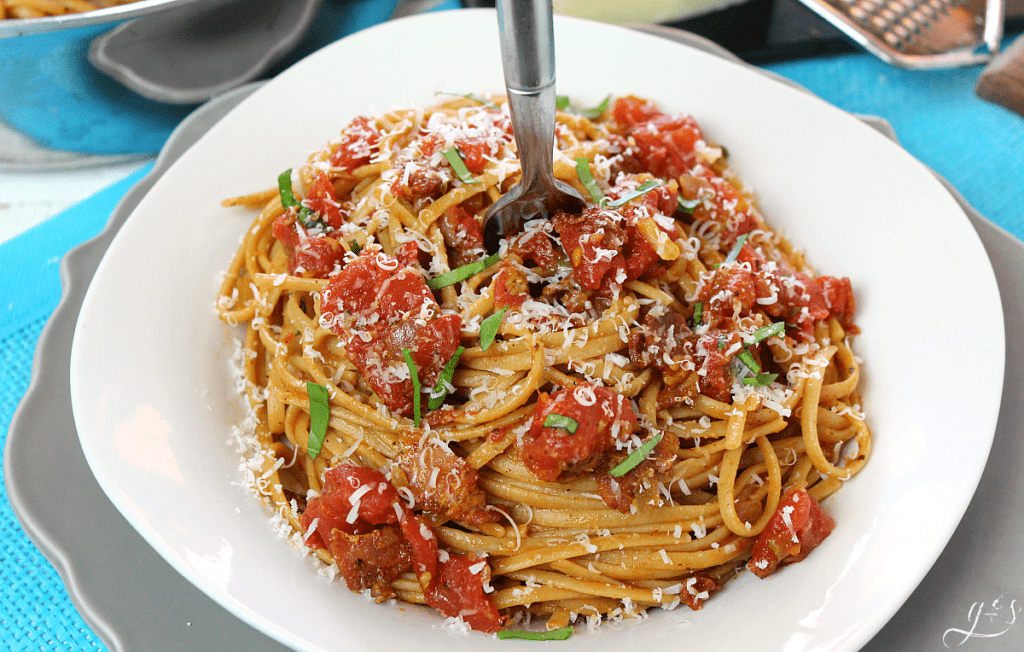 I have been making this easy meal for years, yet cannot remember where I first learned about it. I watched Rachael Ray almost every day back then so more than likely she made it on her show. Plus, like many of her recipes it is quick and simple to prepare.
This recipe is light, yet hearty. I know. How can that be?
Well the pasta sauce is not heavy, but tastes hearty because of the chunky tomatoes and bacon.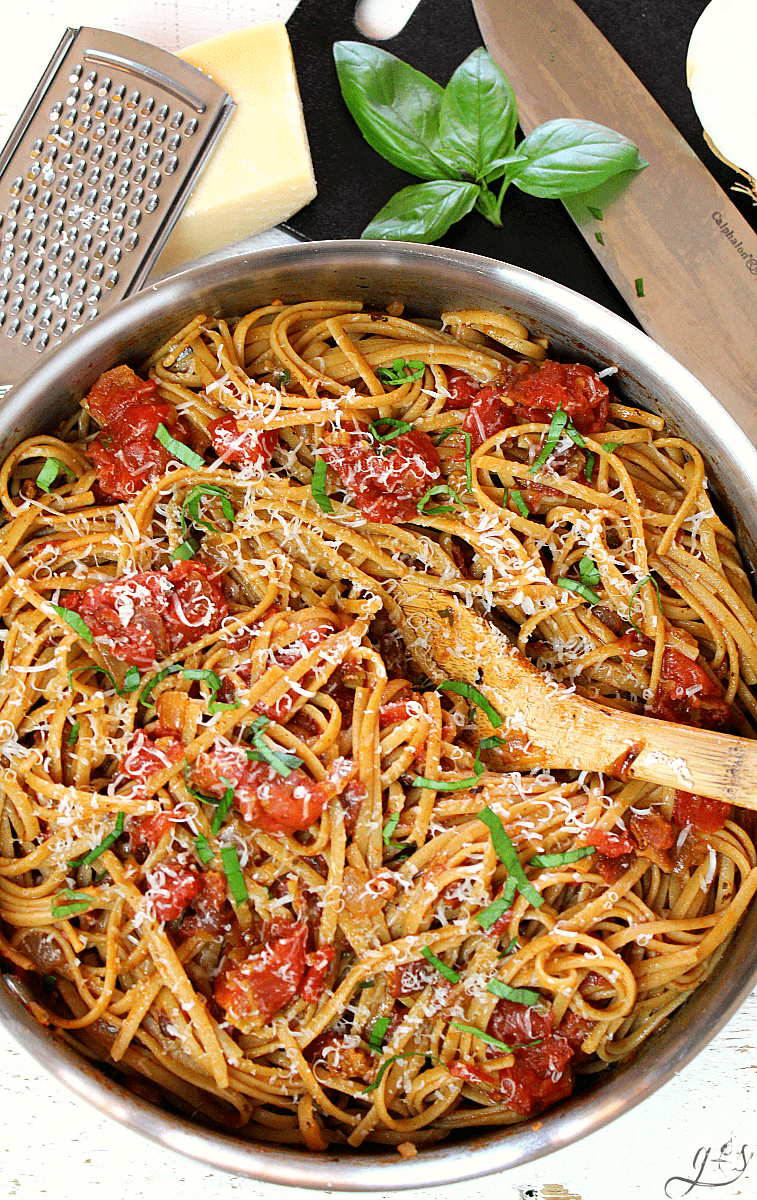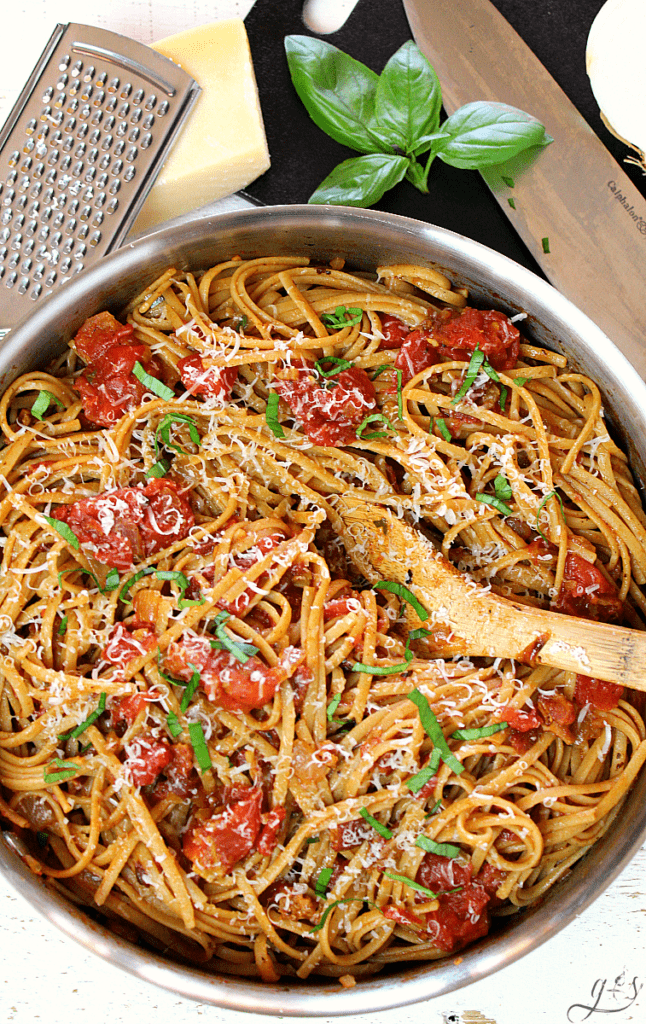 Amatriciana sauce originated in Rome and typically uses cured pork, Pecorino Romano, and white wine. I use cans of stewed tomatoes and break up the tomatoes with a wooden spoon.
Some Amatriciana recipes use cans of whole tomatoes and you can crush them by hand or put them in the blender for a smoother sauce. I prefer more texture in this sauce than a silky smooth one.
While my recipe strays a little from tradition it is just as delicious!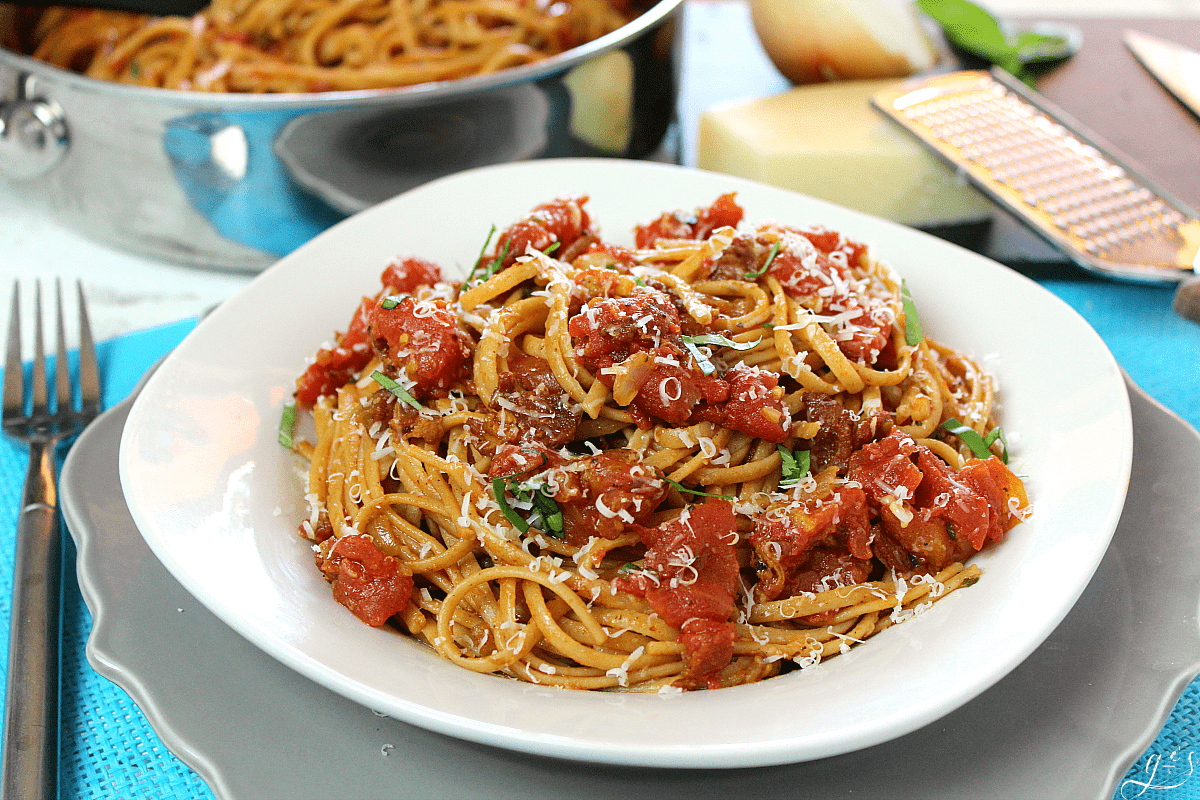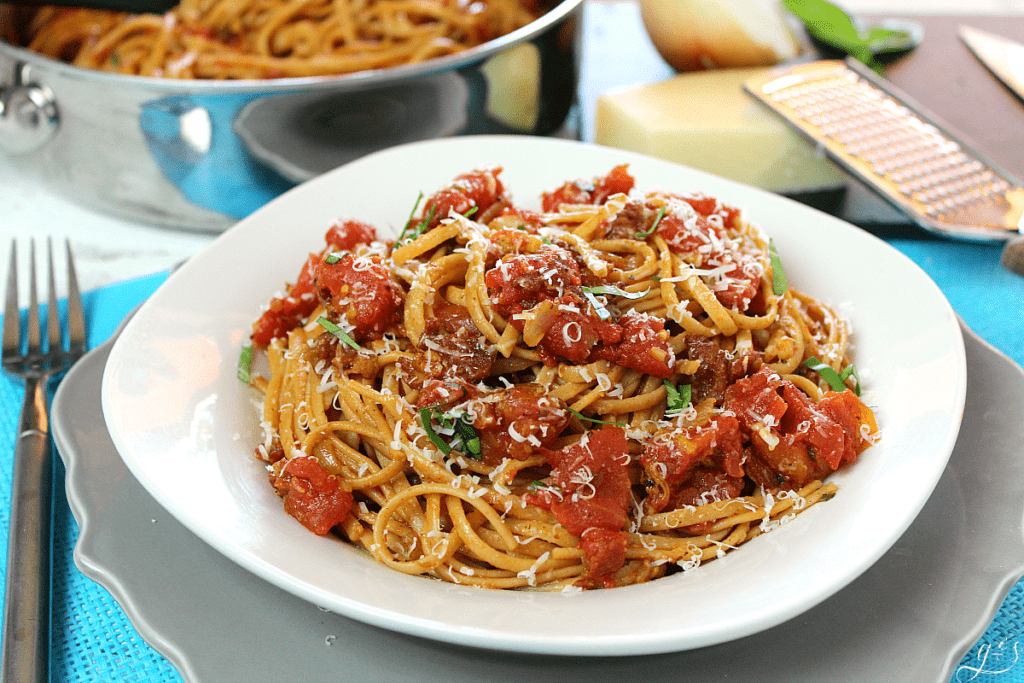 To make the dish lighter, use spaghetti squash or sauteed veggies in place of the linguine. If you are a pasta connoisseur and love tradition, try bucatini a thick spaghetti noodle with a hole in the middle. However, any pasta will do.
Amatriciana is my love language. #pasta #bacon #healthy
Click To Tweet
When serving top with freshly shredded Parmesan cheese and additional basil.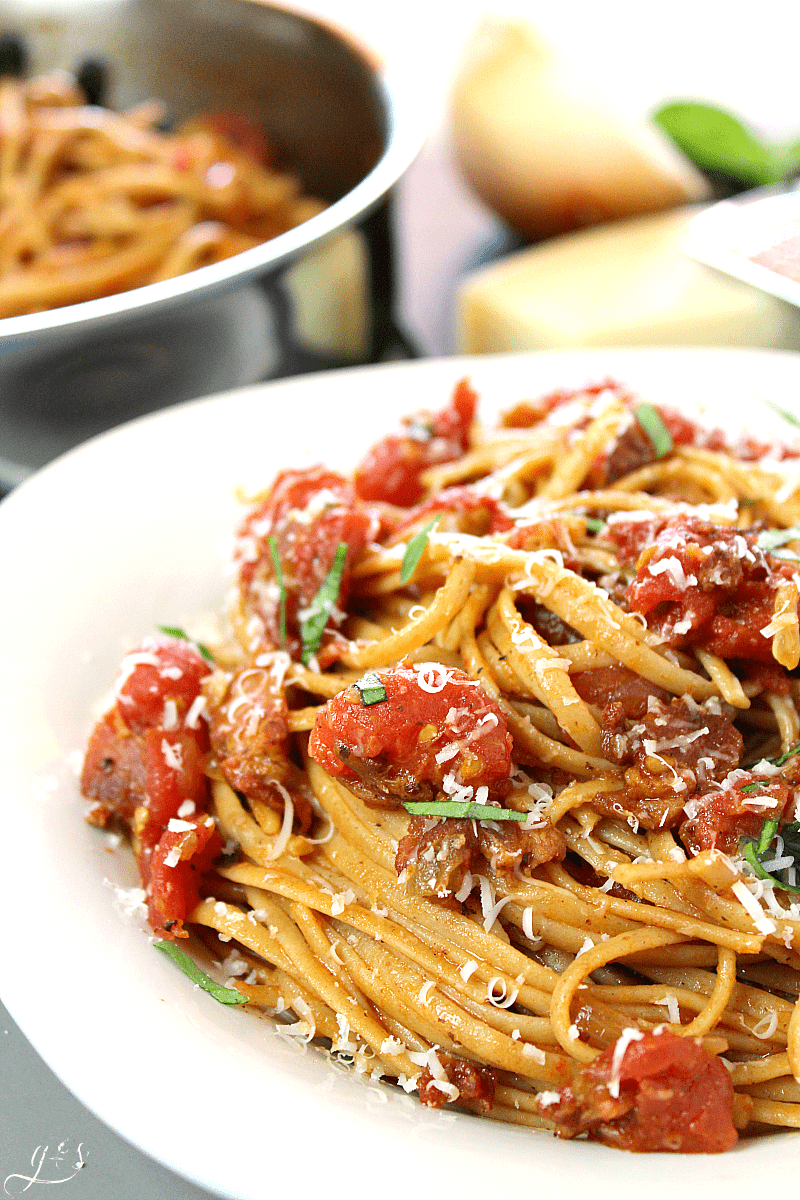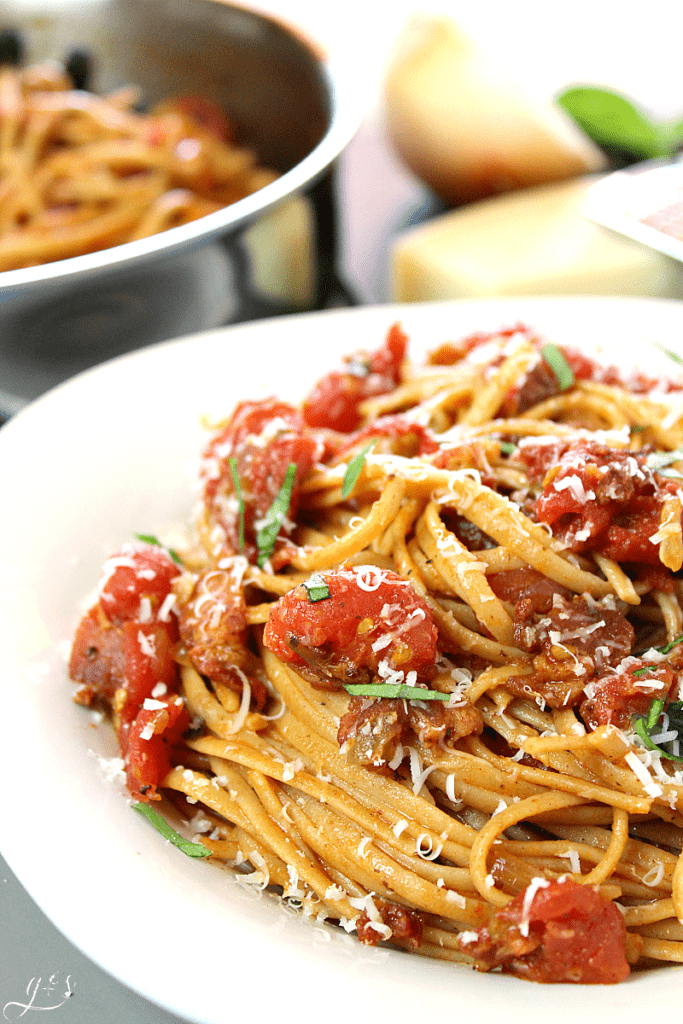 For the recipe, simple ingredient list, and steps (with photos!) check out Living Well Spending Less. Ruth so kindly posted this yummy recipe on her website a few months ago. If you are looking for practical solutions for everyday overwhelm please check out her site!