I don't know about your kids, but mine could live life with quesadillas as their only meal option.
These Pico de Gallo Chicken Quesadillas are they're favorite!
Just put those cheesy triangles on a plate and they will love you forever.
Oh, and don't forget salsa for the little lady and guac for the young man. 😉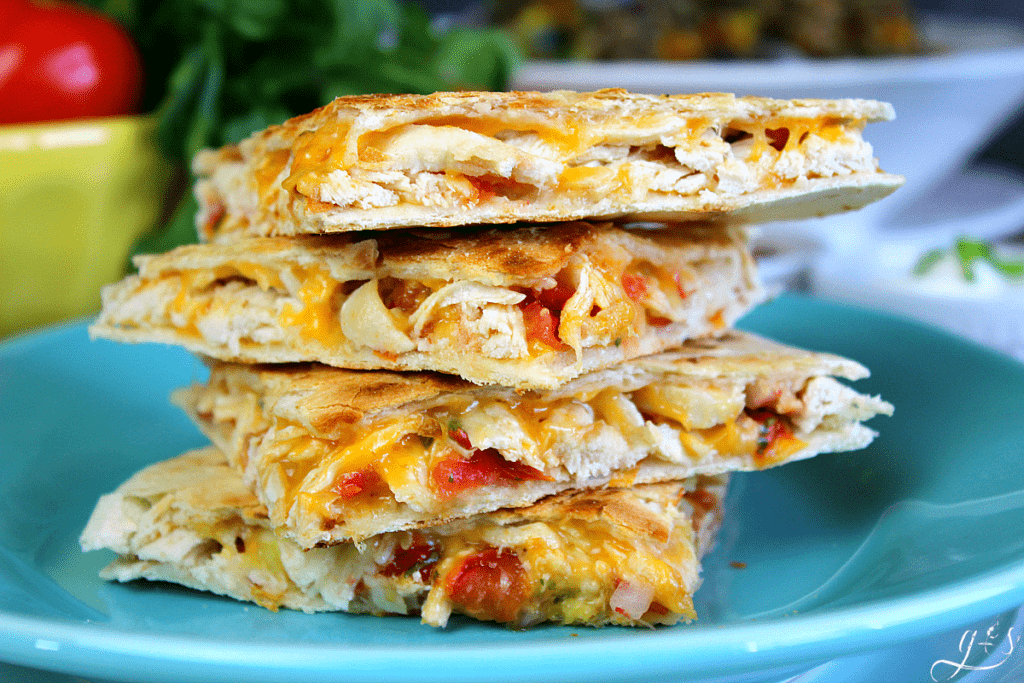 These 4 Ingredient Pico de Gallo Chicken Quesadillas were created out of a last minute dinner we hosted. I had just enough time to wrap my mind around what food I would prepare and head to the grocery store.
Quesadillas sounded like a simple and delicious option and I knew our guests would enjoy them. The next choice would be what protein to add to the cheese and tortillas.
Because how to you know what to put in a quesadilla? The answer is simple…ANYTHING!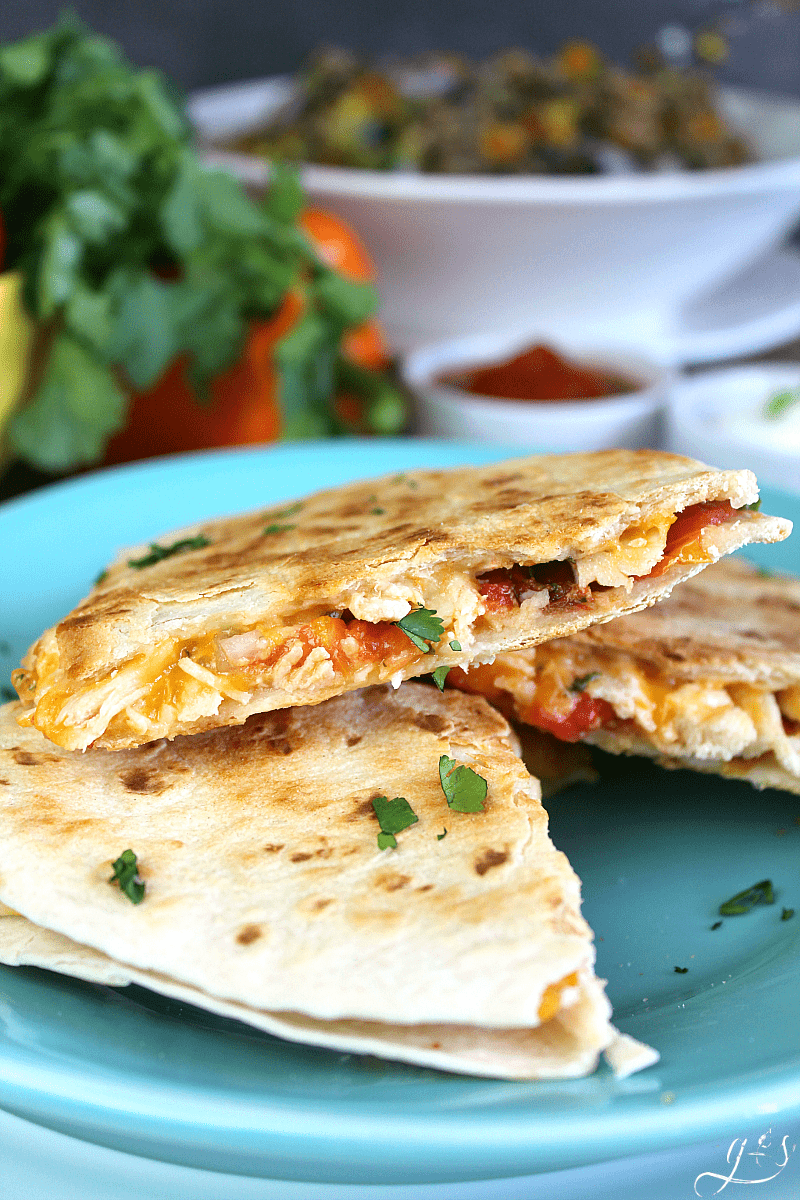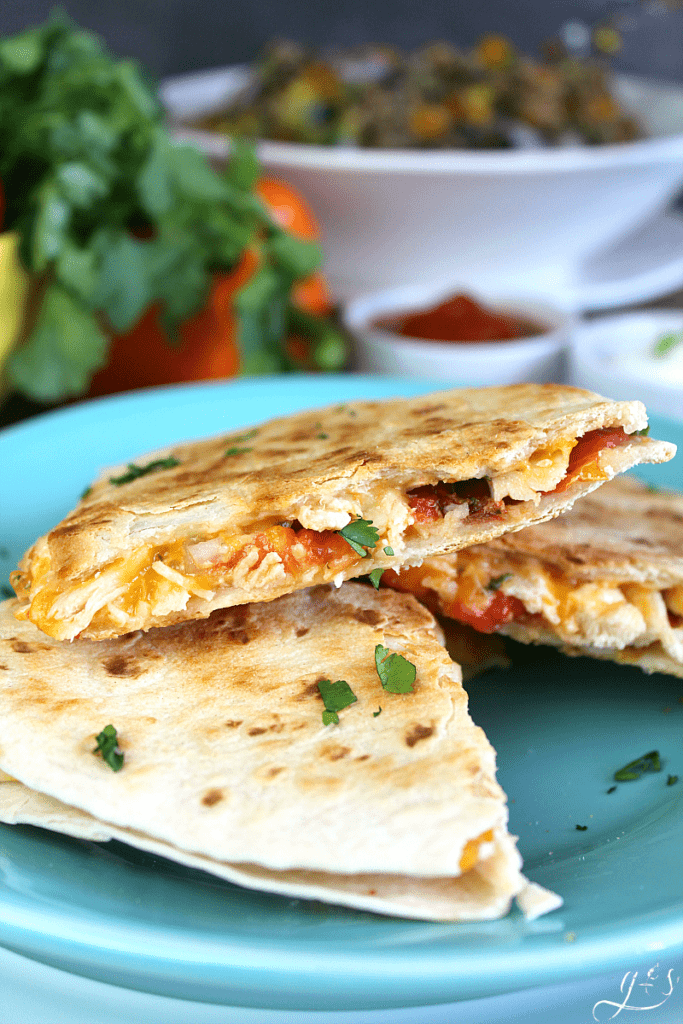 For these I chose, shredded chicken with a salsa. But not just any salsa, a homemade pico because you all know the premade stuff is crazy expensive.
Some other great options are leftover sloppy joe mix. I know, crazy! But trust me is it tasty. We also like to add leftover taco meat and beans from Taco Night.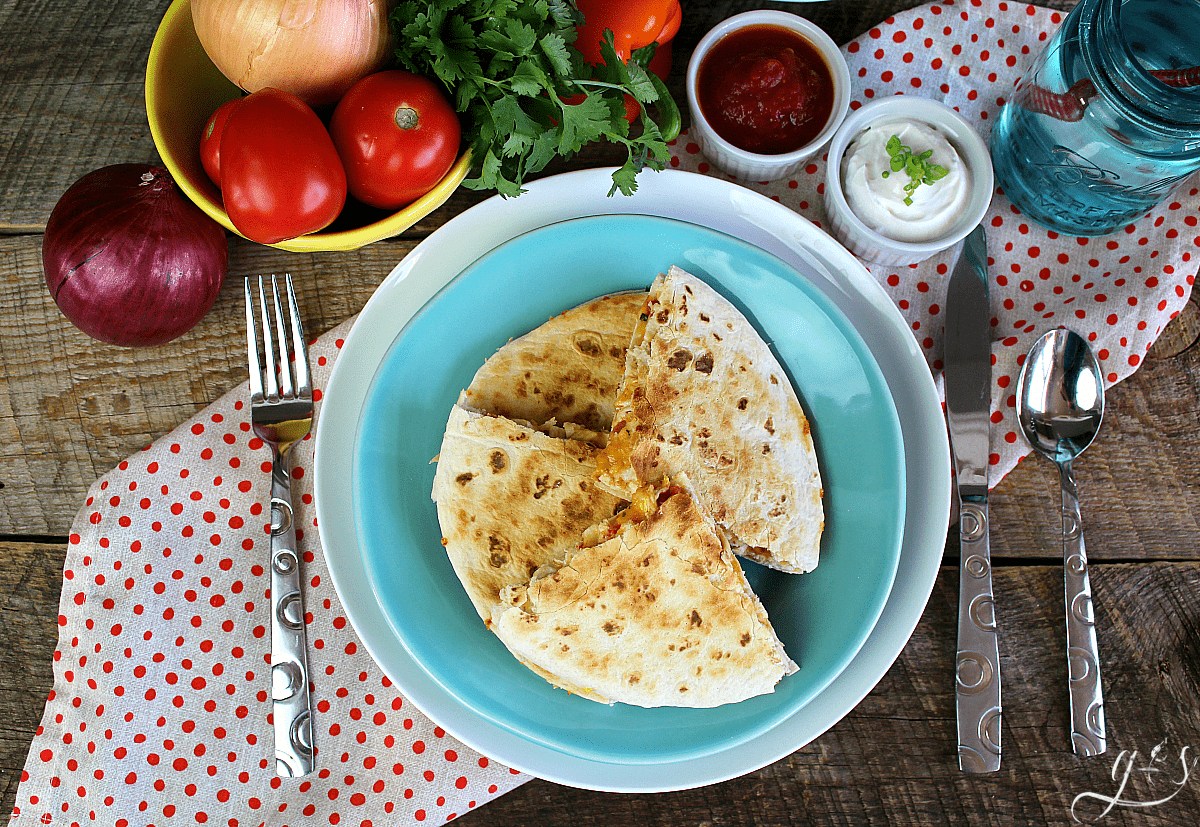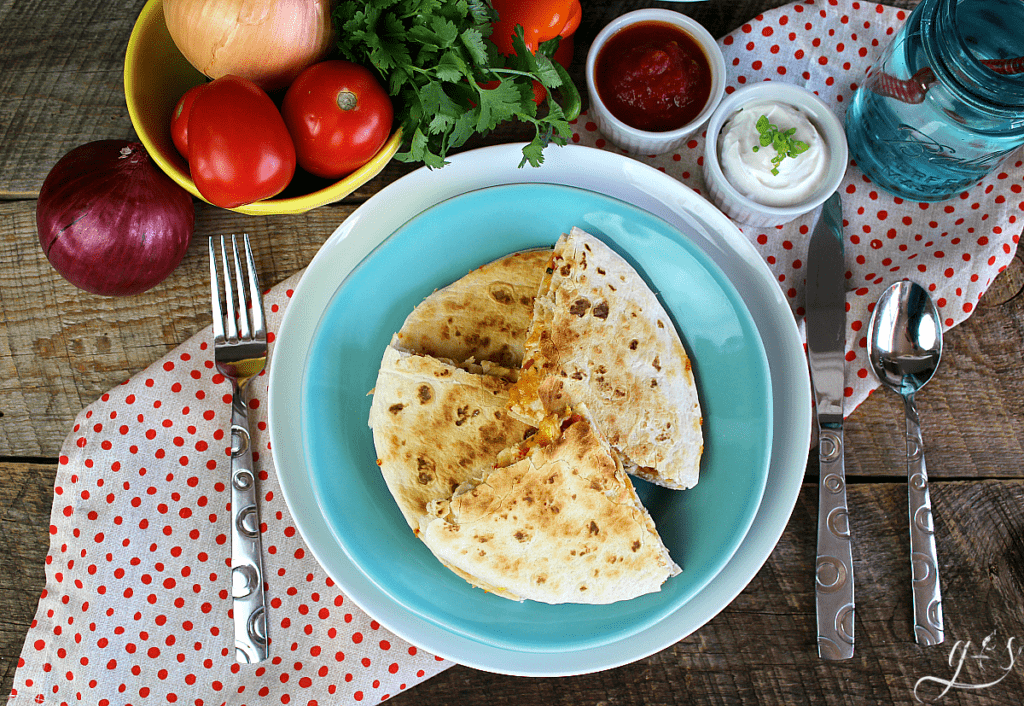 Along with the quesadillas I threw together a Southwest inspired quinoa salad with ingredients my kitchen so graciously had on hand. 🙂
The salad had tons of sauteed veggies, tri-color quinoa, and a few simple spices. YUMMO!
4 Ingredient Chicken & Pico de Gallo Quesadillas #dinner #sammisrecipes
Click To Tweet
Both the quinoa and this quesadilla recipe would be absolutely perfect for a quick family night meal or to feed guests like I did. To make it easy, pick up a rotisserie chicken and shred it at home as well as a premade pico de gallo. I know I was giving the premade a hard time, but it really is convenient!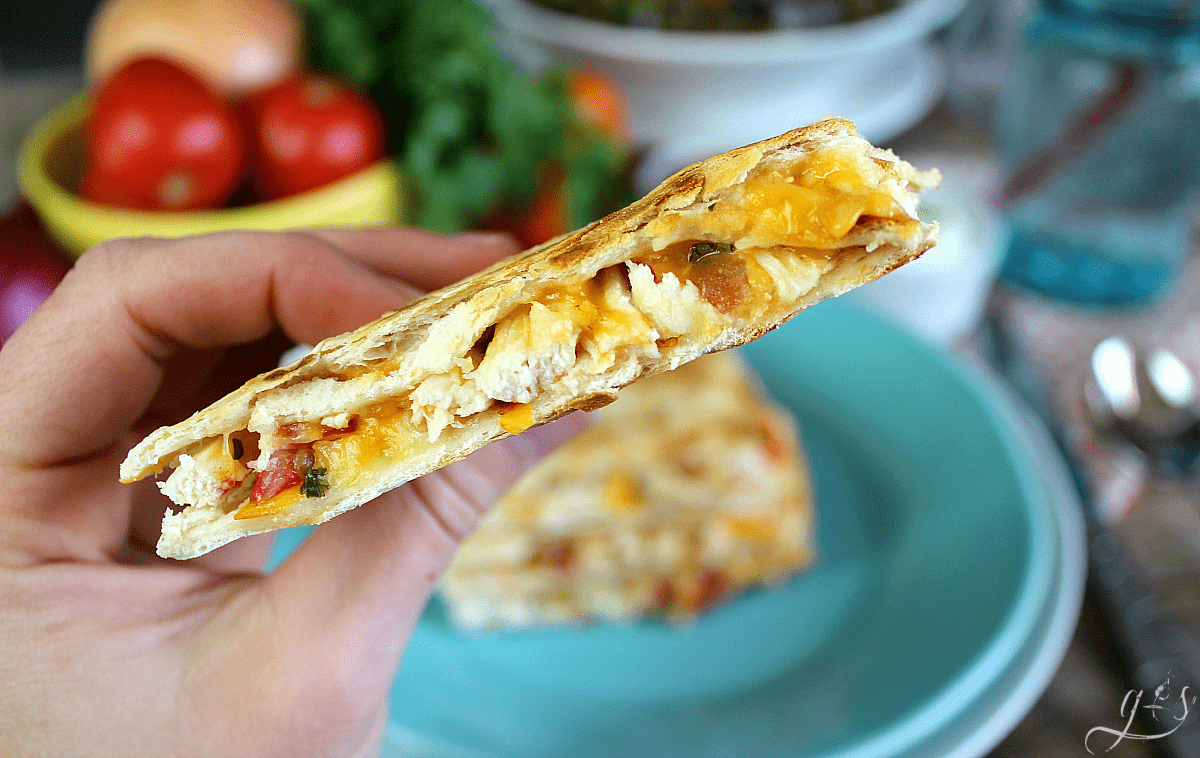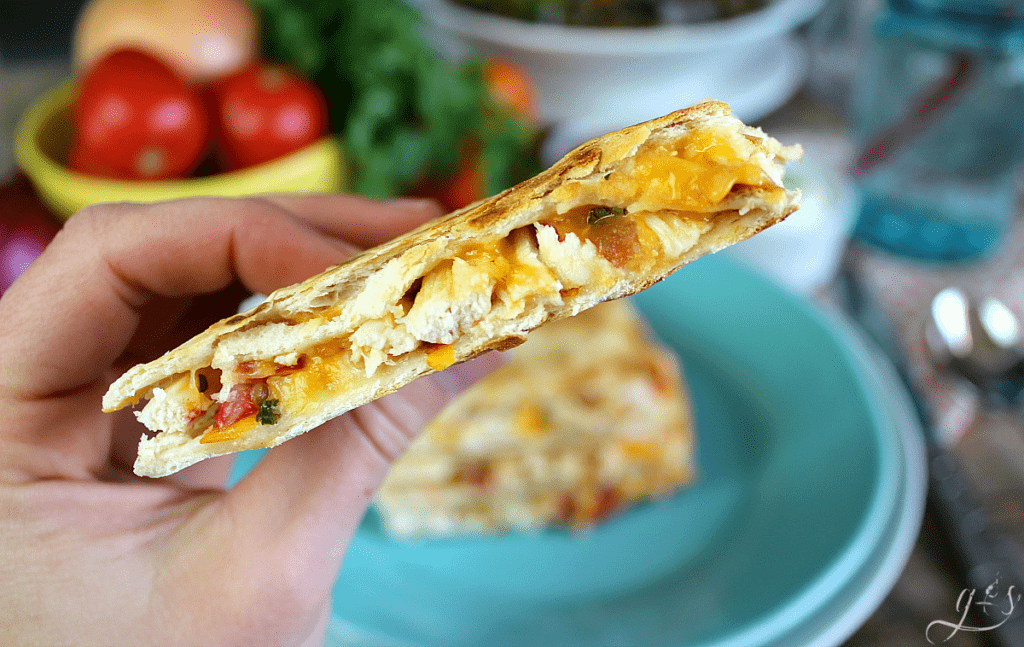 When serving these 4 ingredient beauties give a choice of salsa, sour cream or plain Greek yogurt, and ALWAYS guacamole.
I mean what is Mexican cuisine without guac?!
—>Insert my shameless plug for the WORLD'S GREATEST Guacamole recipe E.V.E.R.! <—End of shameless plug
Anywho…enjoy these easy and flavorful quesadillas! Until next time… 🙂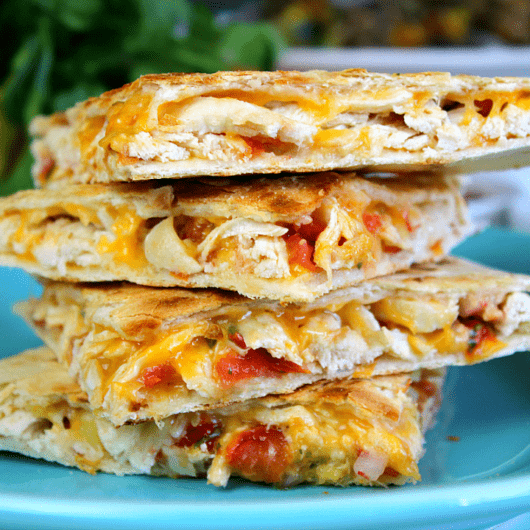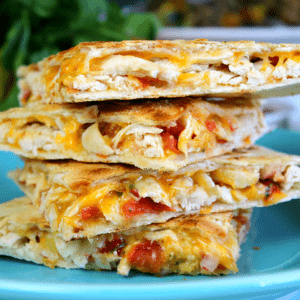 Print Recipe
Chicken and Pico de Gallo Quesadillas
Did someone say only 4 ingredients and dinner is done?! I'm in! These easy and healthy quesadillas for kids and adults alike will satisfy all of your Mexican cravings. Use whole wheat tortillas, shredded cheese, a rotisserie chicken, and homemade or store-bought pico de gallo to make it easy. Serve with salsa, guacamole, and sour cream (or plain Greek yogurt).
Equipment
large flat skillet

spatula
Ingredients
8

tortillas

16

oz

bag of shredded cheese

2-3

cups

shredded chicken

2

cups

pico de gallo
Instructions
Heat a large skillet over medium heat.

Place tortilla on skillet. Then place a thin layer of cheese (1/2 cup) over tortilla followed by about 1/2-3/4 cup shredded chicken, about 1/2 cup pico de gallo (drained), and another thin layer (1/2 cup) of cheese. Lastly, place 2nd tortilla on top.

Cook until bottom tortilla is slightly and browned cheese layer is melted. Then carefully flip quesadilla and wait until the 2nd tortilla is browned and cheese is melted.

Remove from heat and with a pizza cutter slice into 4 pieces. Repeat steps with remaining 3 quesadilla ingredients.

Serve with salsa, sour cream (or plain Greek yogurt), and guacamole.
Notes
***Use your own judgement regarding how much cheese, chicken, and pico to put on each quesadilla! The measurements are just estimates and I make each quesadilla different every time I do it. How's that for giving you accurate instructions?! Needless to say, there is no wrong way to make these. They will always taste ahhhhmazing!! Enjoy!