French Toast. Yum.
Granola. Yes please.
Vegan French Toast Granola. Where has this delicious combo been all my life?!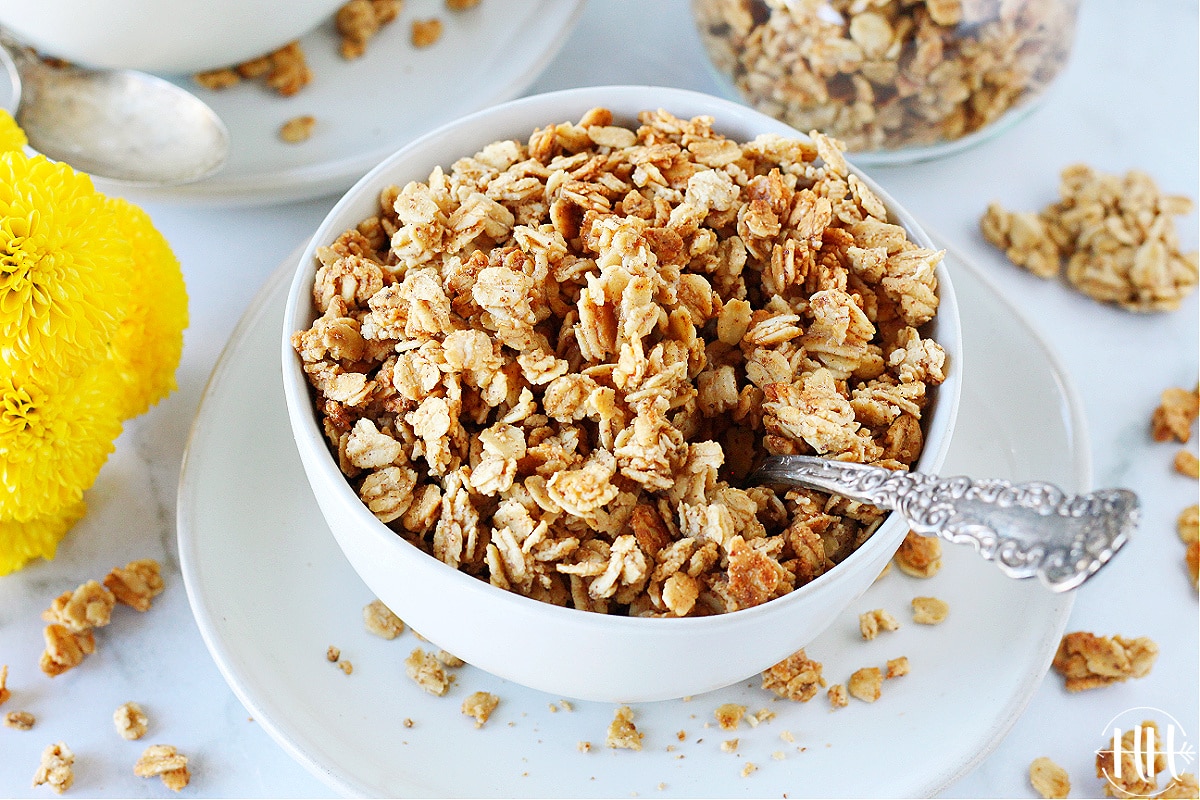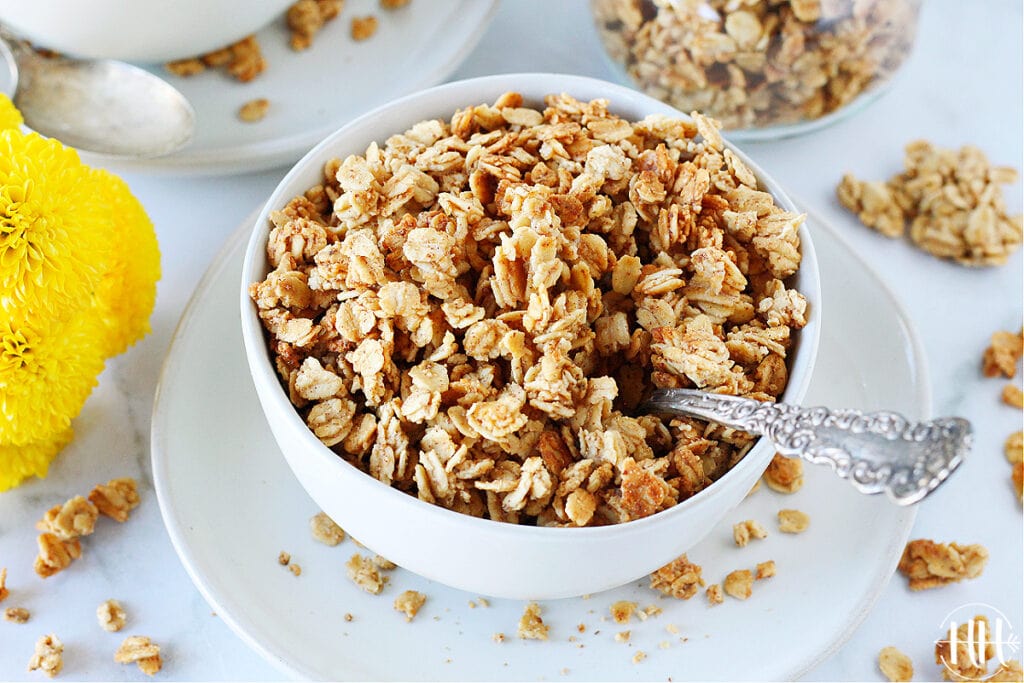 I have a very similar recipe you may have seen years ago, BUT I have simplified it by omitting a few ingredients and speeding up the baking time!
The previous recipe used almond pulp along with old fashioned oats. It was awesome to create a recipe to use the discard from homemade almond milk.
However, I haven't made my own almond milk in years so I felt the recipe needed to be updated.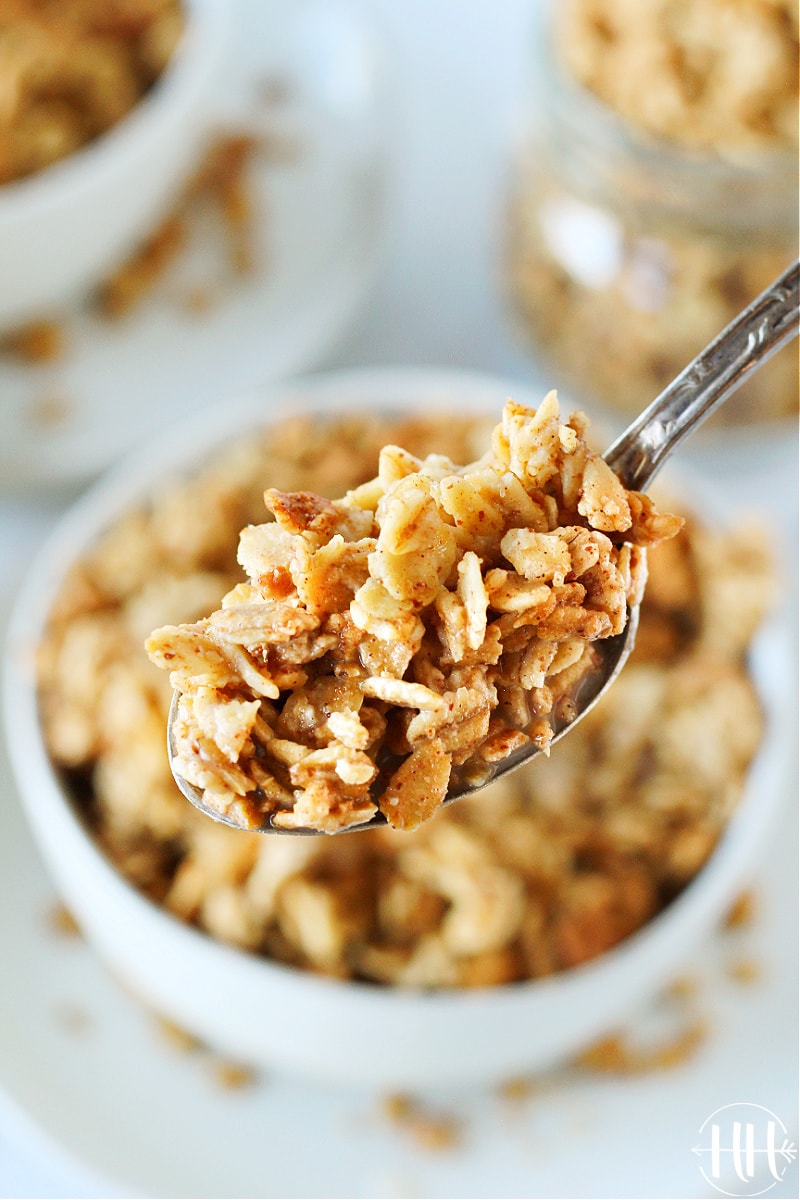 The closest I have come to making my own almond or cashew milk is from Joi.
They sell jars of "nutbase" that make 27 cups of almond or cashew milk.
The jars are filled with only the nut which has been ground down into a very thick butter. One to two tablespoons of the butter or nutbase is then blended with water for 30 seconds and kept in the fridge for the week.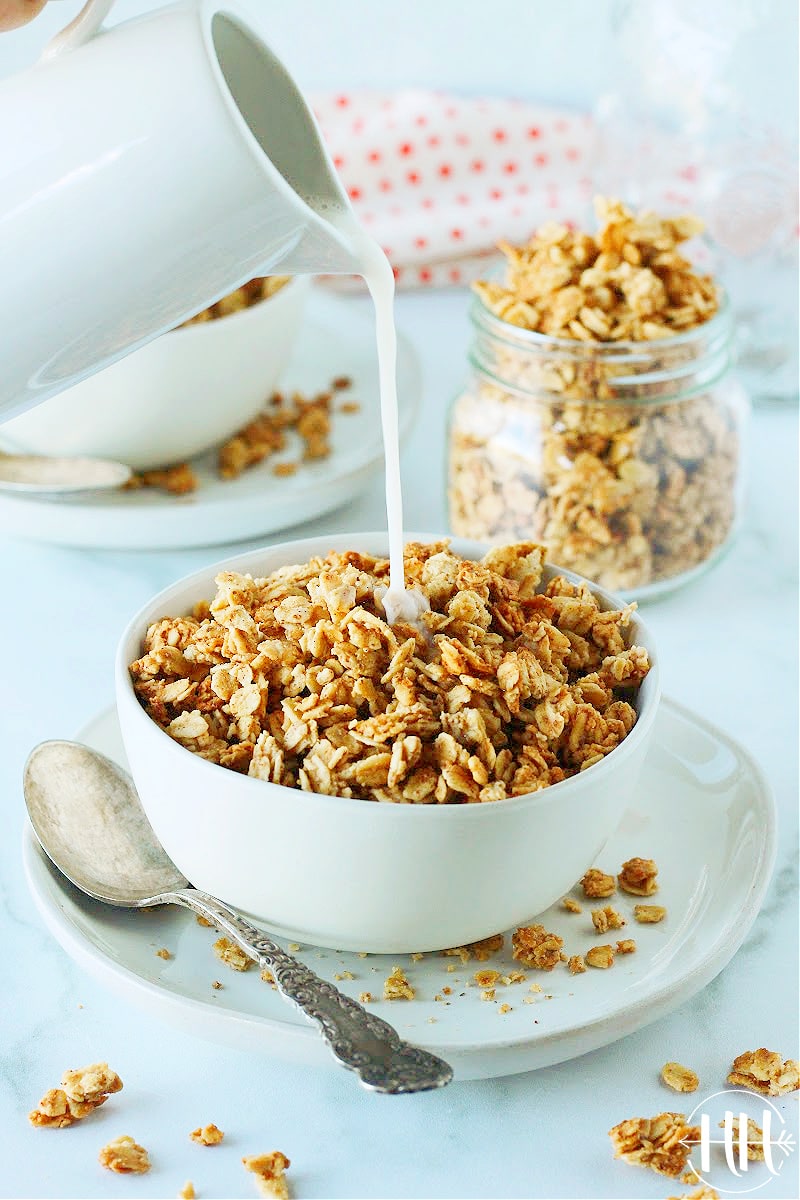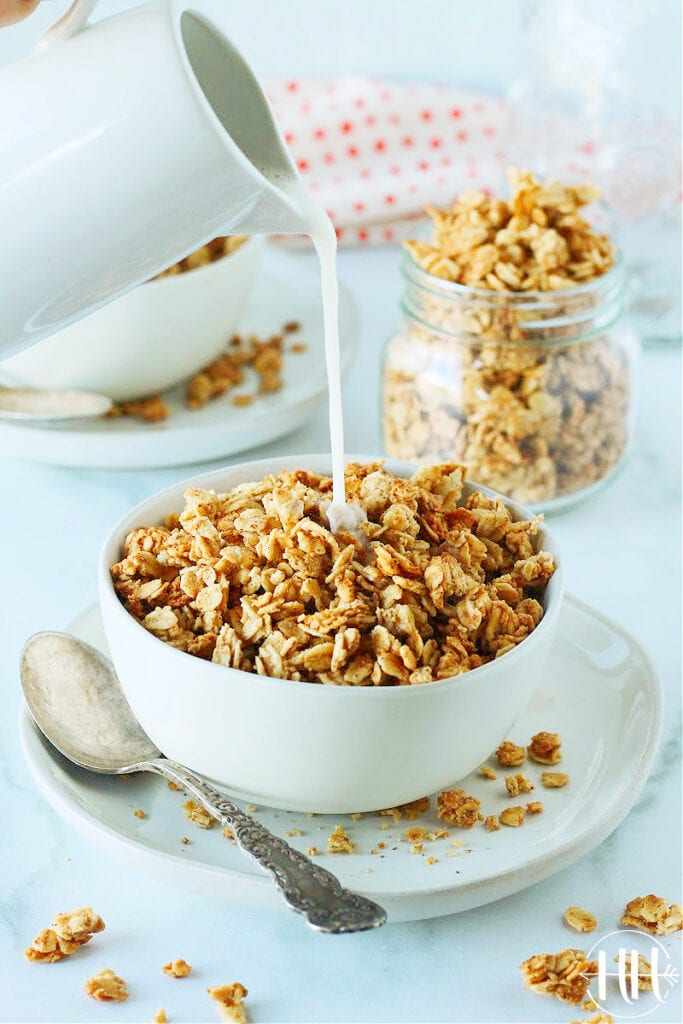 Joi products are shelf stable for years and are perfect when you want a glass of fresh almond milk. It is really creamy and frothy!
Plus, there are no additives or fillers like in standard nut milks.
I totally recommend their plant based product if you are building a doomsday staff or just like fresh almond milk each week without additives.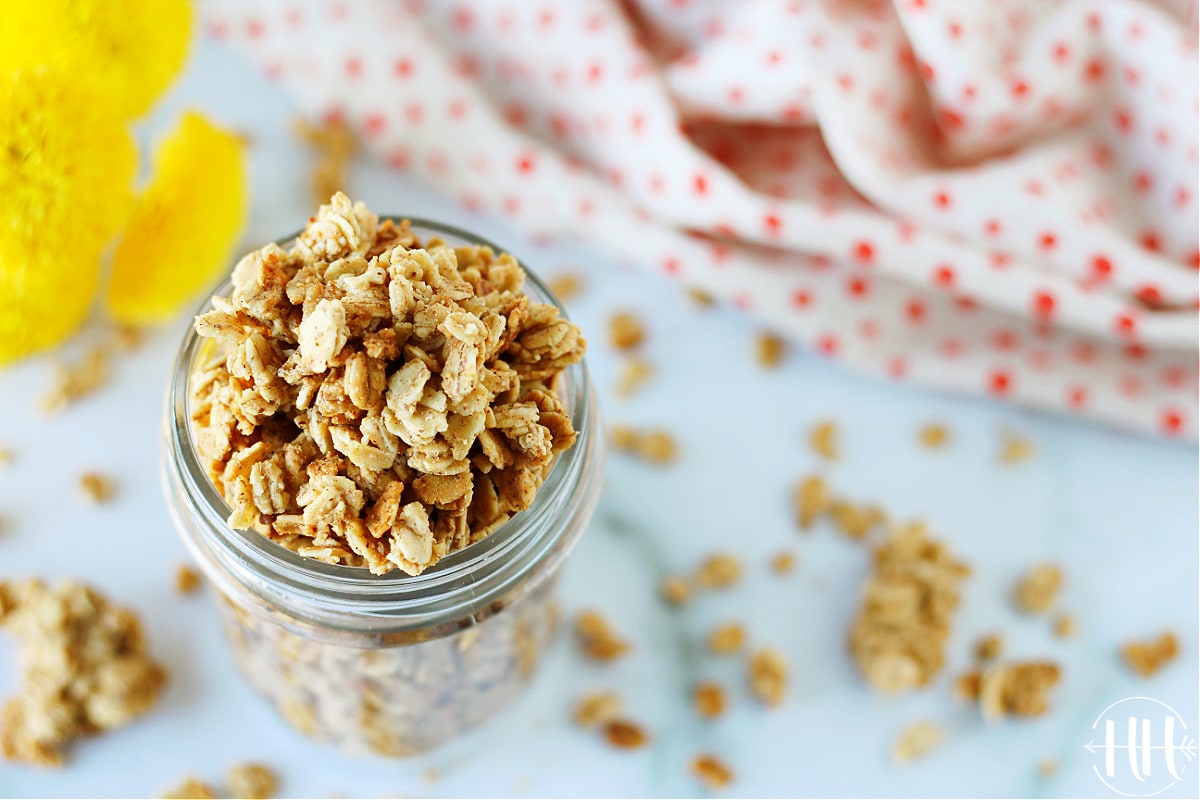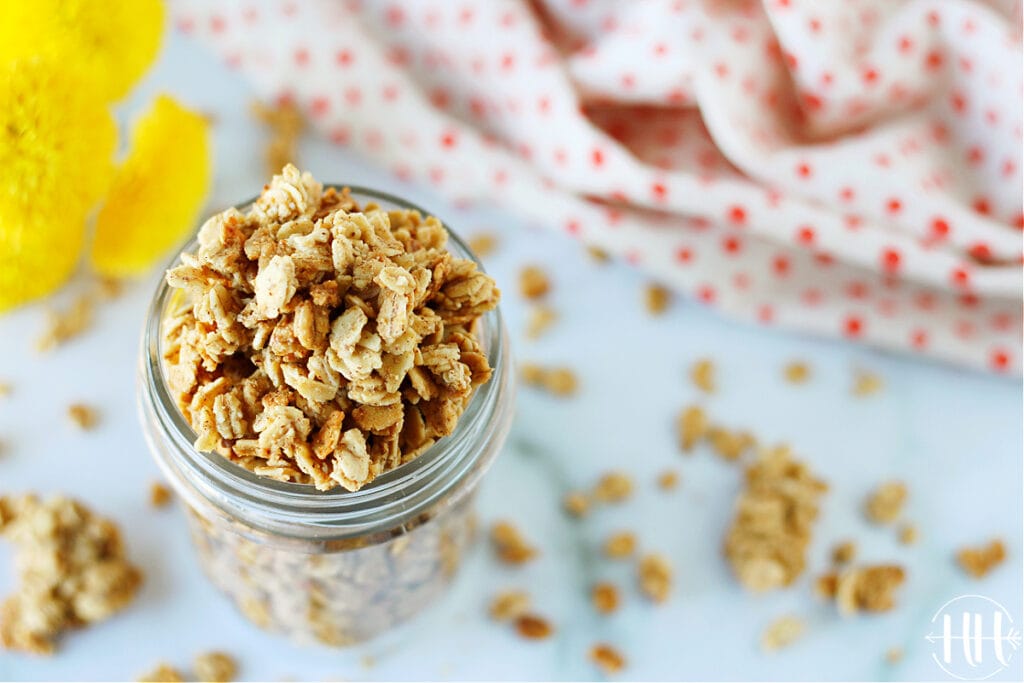 This dairy free granola gives all the fall vibes with it's maple and cinnamon flavors! We eat it all year long, but I especially love it during autumn. Plus, anything that tastes like French toast is a winner in my book.
Vegan French Toast Granola Ingredient List:
• 4 cups old fashioned oatmeal
• 1/4 cup coconut oil, melted
• 1/2 cup maple syrup
• 1/4 cup almond butter or any nut butter
• 1 tsp vanilla extract
• 1 tsp maple extract
• 1/2 tsp cinnamon
• 1/4 tsp salt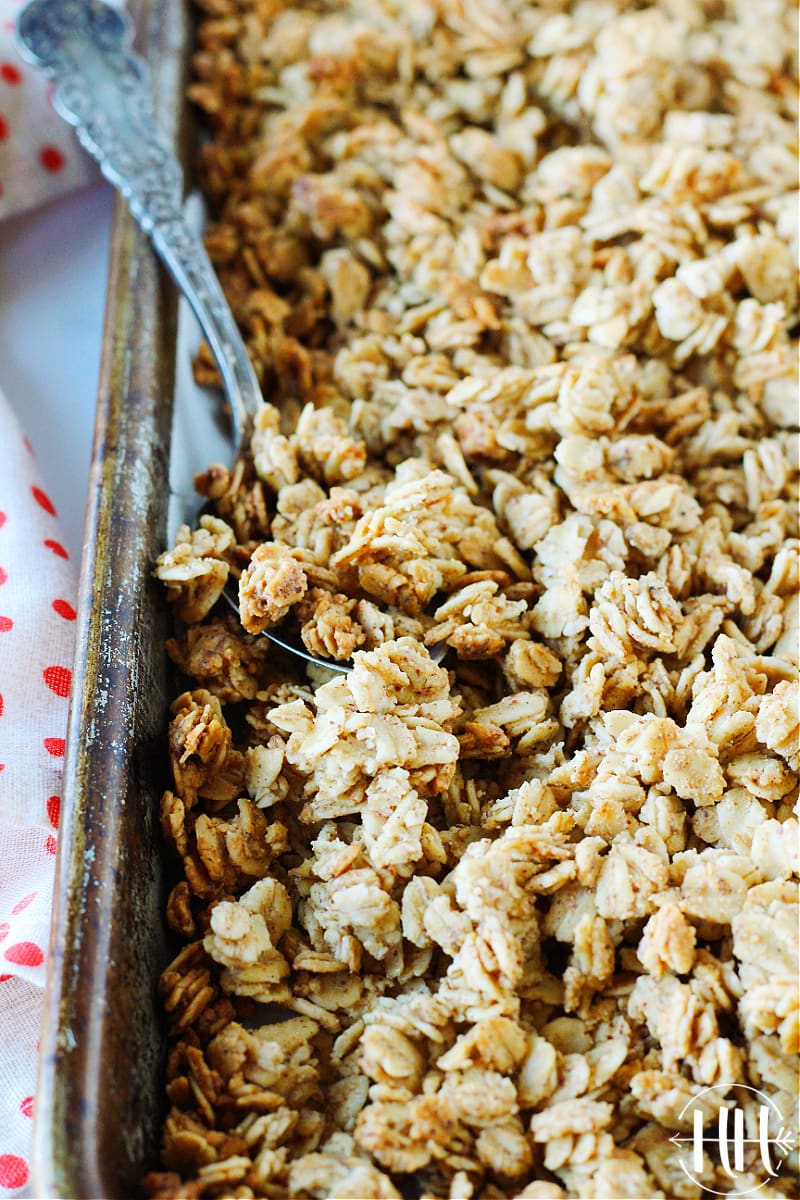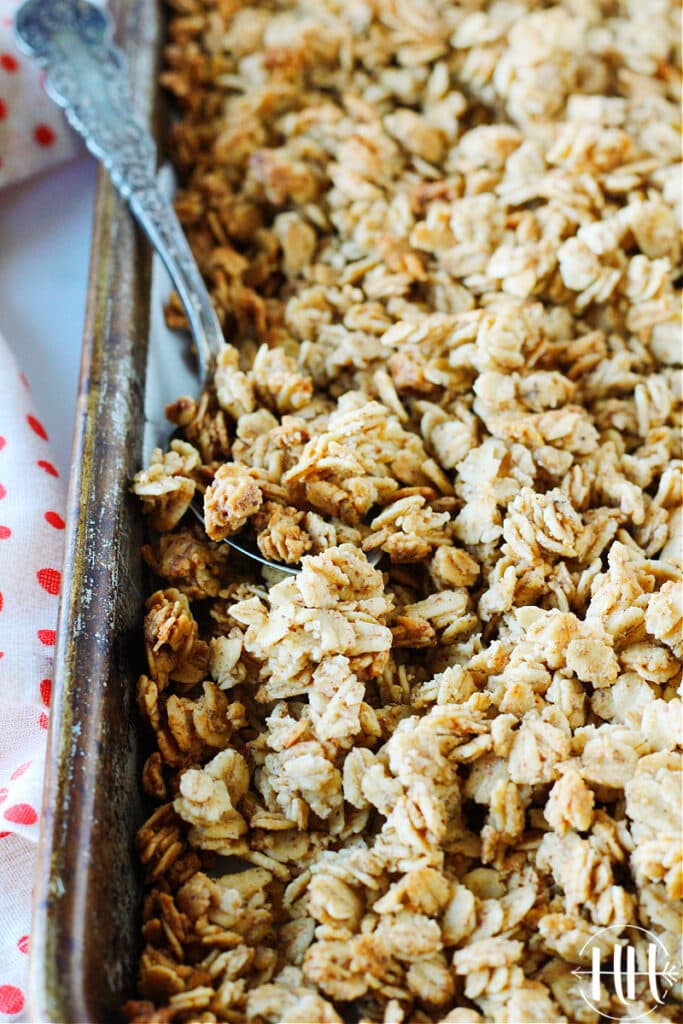 I have recently learned that buying organic oats is a good idea because oats grown in the United States can contain glyphosate which is an herbicide linked to cancer.
So buying organic oats can help decrease the exposure to this herbicide.
Thrive Market is where I have been purchasing my organic oats and they taste amazing! Once we know better we can do better. 🙂 Click here to save 30% on your first order with them! It feels like Christmas each month when our order arrives as we do a monthly shipment. You can also just place an order here and there without a commitment to order each month.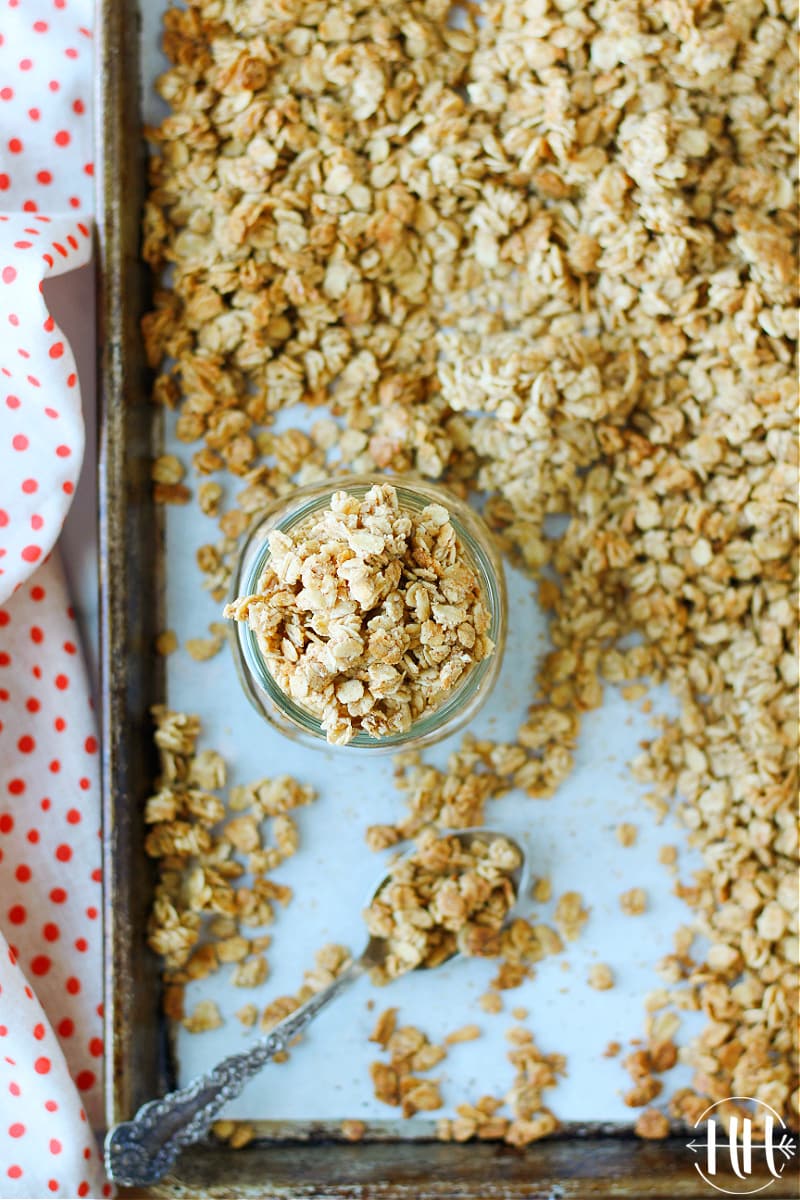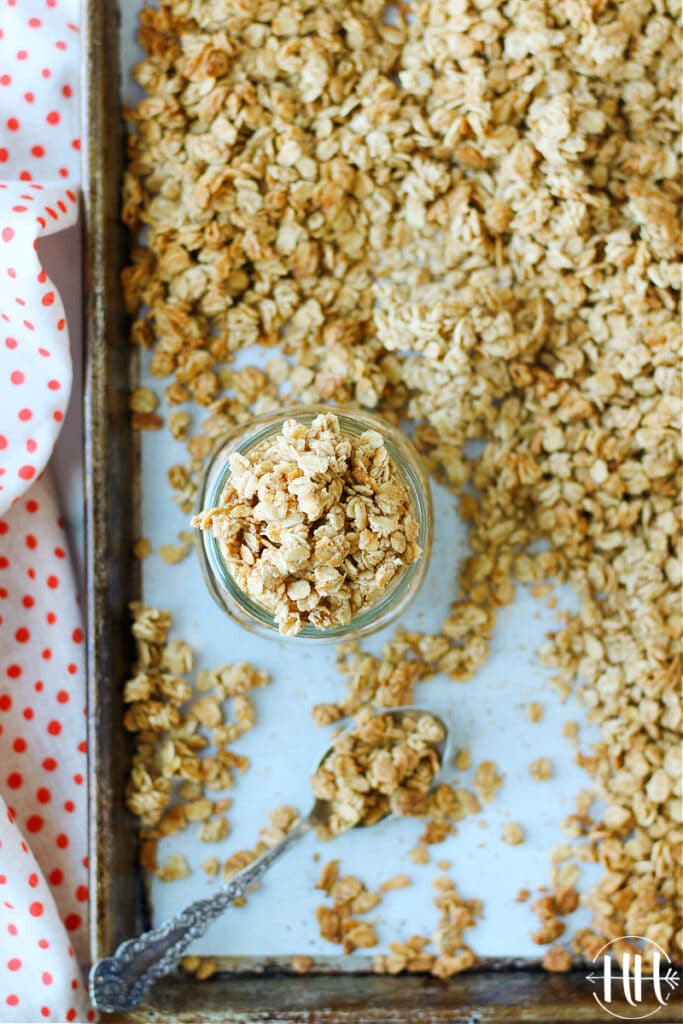 Okay, I have have taken too many detours in this post. Ha! Back to the recipe!
We often eat this gluten free granola as a snack or for breakfast. For a snack, we just eat it straight up out of the jar. When the fam enjoys it for breakfast, we pour a whole lot of almond milk in it.
You can also use this Vegan French Toast Granola as a yogurt or smoothie topping!
One last thing, be prepared for the heavenly aroma coming from you oven while this yummy recipe bakes. 🙂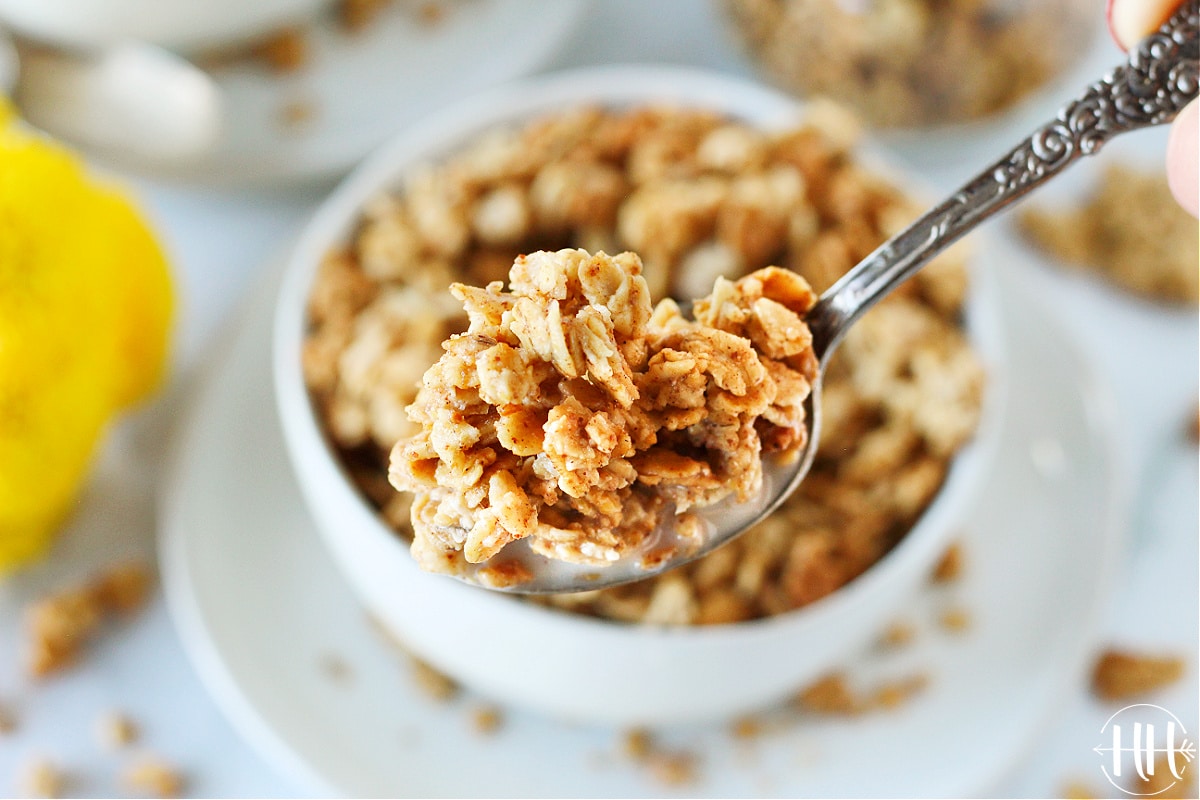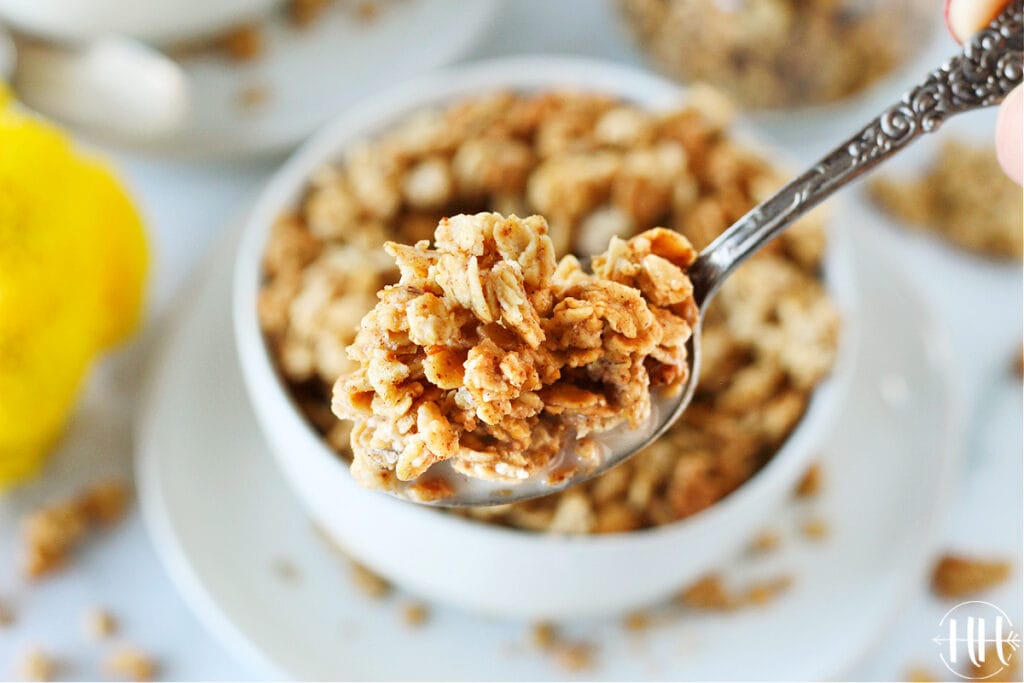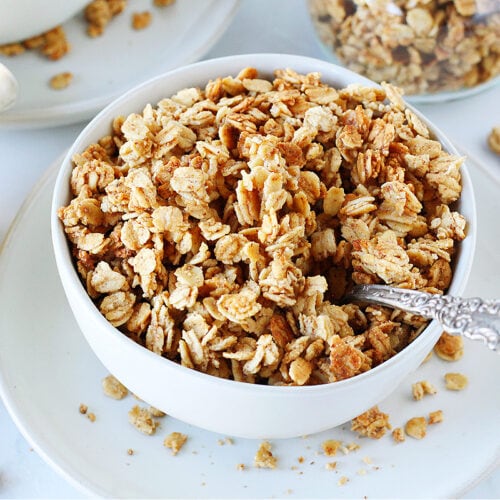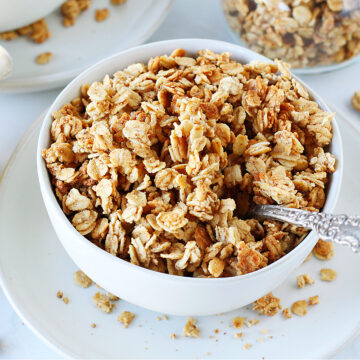 Print Recipe
Vegan French Toast Granola
If you love French toast and homemade granola you will love this healthy and easy breakfast recipe. It's dairy free, gluten free, and plant based. Use organic oats, maple syrup, coconut oil, nut butter, vanilla extract, maple extract, and cinnamon. This granola recipe will give you all the fall vibes! Yay cozy autumn weather! Use this vegan breakfast recipe to top Greek or coconut milk yogurt, a banana split or as a clean eating cereal option with almond milk!
Equipment
medium sized bowl

whisk

baking sheet
Ingredients
4

cups

old fashioned oatmeal

organic is best (see post for reasoning)

1/2

cup

pure maple syrup

1/4

cup

coconut oil, melted

1/4

cup

almond butter or any nut butter

1

tsp

vanilla extract

1

tsp

maple extract

1/2

tsp

cinnamon powder

1/4

tsp

sea salt
Instructions
Preheat oven to 350°F. Line a baking sheet with parchment paper and set aside.

In a medium-sized bowl, whisk everything together except the oats.

**If your maple syrup is cold you may need to place your bowl of ingredients in the microwave for 30 seconds to one minute until everything comes to room temperature and mixes well.**

Add oats the wet mixture and combine well.

Pour the coated oats onto a baking sheet lined with parchment paper and spread out evenly.

Bake for 20 min then stir granola so the edges do not burn. Set timer for another 10 min and bake until edges are browned. The granola in the middle of the pan will not be as browned as the edges and that's okay. The granola will continue to bake while cooling on the pan.

I do not stir the granola and let it cool completely on the sheet pan. Once it's cooled, you will have chunks of granola that have hardened together though this granola is softer than most, which I prefer!

Store in an airtight container.