Taco night will never be the same because this vegan Roasted Corn and Cucumber Salsa is a game changer.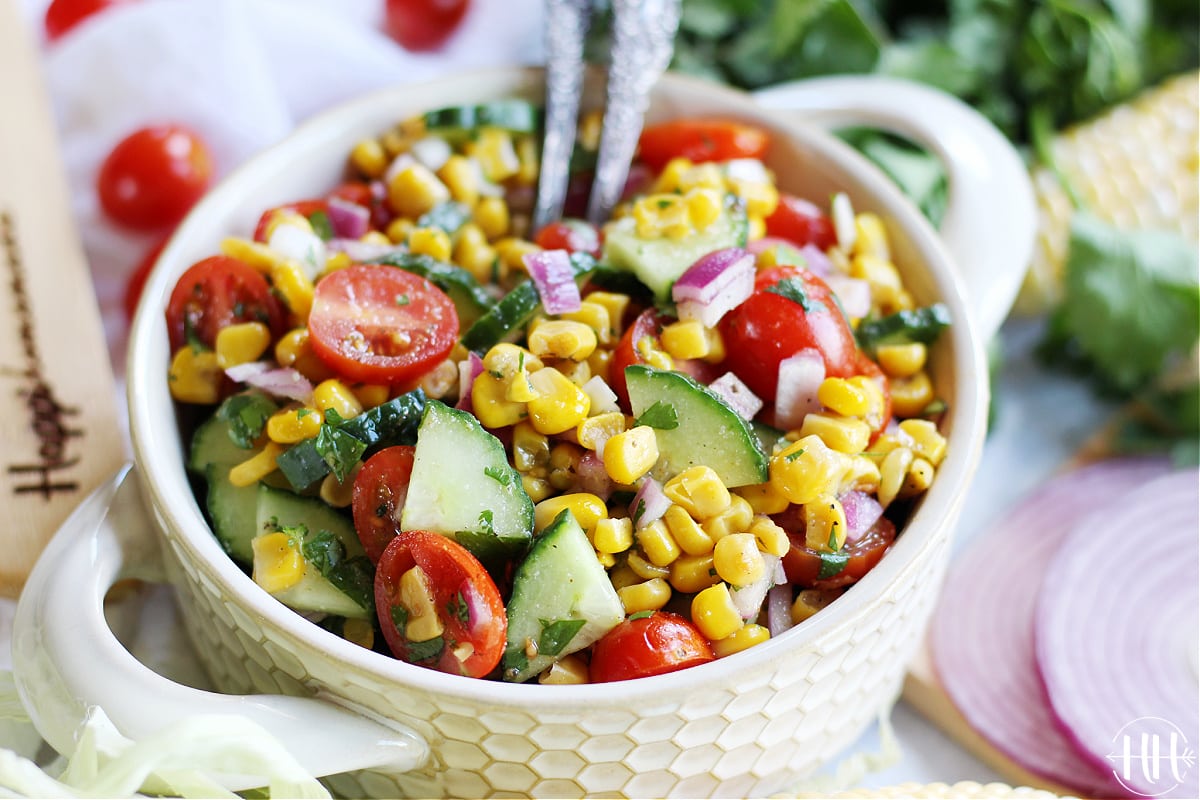 The first time I made this vegetarian Mexican side dish slash healthy topping slash eat it with a spoon recipe was when we had neighbors over for tostadas.
So in truth…tostada night may not be the best first date choice. Ha!
This was the first time we had them over and tostadas are ahhhhmazingly delicious but can be cumbersome to eat.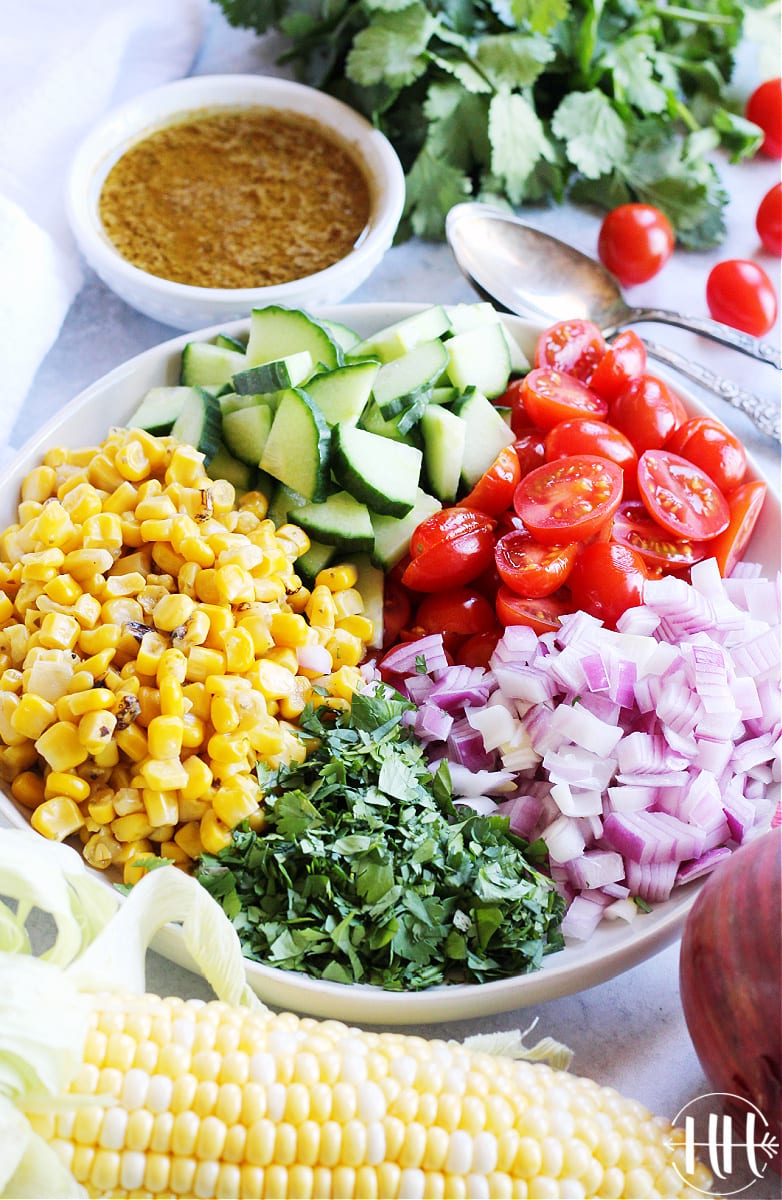 Of course, if we didn't pile ALL.THE.TOPPINGS. so high, enter this Roasted Corn and Cucumber Salsa, the meal may have been been a little less messy. 😉
But messy food is the best food, right?!
Since enjoying this delightful salsa on tostadas we made it again for taco night and then shared it with Ryan's work family for their shredded pork taco fiesta. It was a hit!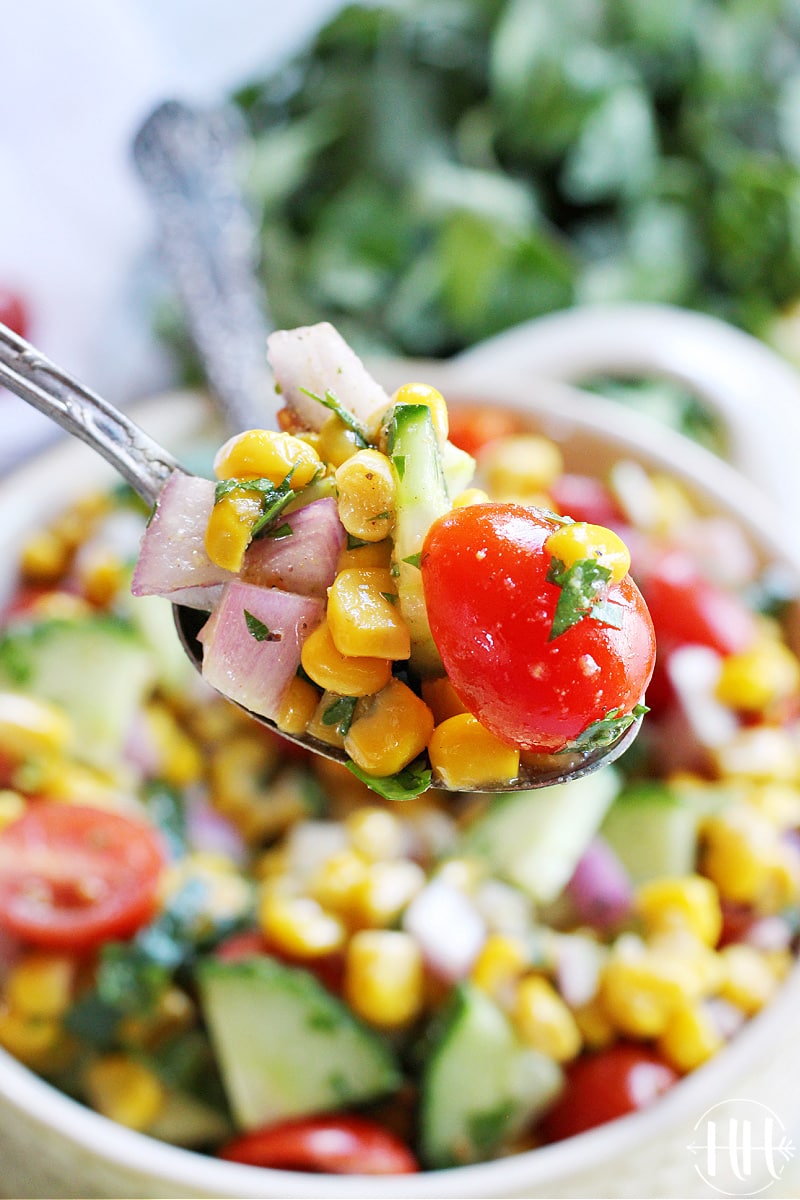 This dairy free and gluten free Roasted Corn and Cucumber Salsa pairs well with all proteins – fish, beef, chicken, pork, shrimp, beans, anything. For real!
You will literally be eating spoonfuls of this while making it. You know, for the sake of taste testing. 😉
And if I don't eat it with a spoon, I dip tortilla chips in it.
Like OMGosh, it's the yummiest salsa with blue corn tortilla chips. It must be the combo of colors and flavors, my heart and tummy are so happy while eating it.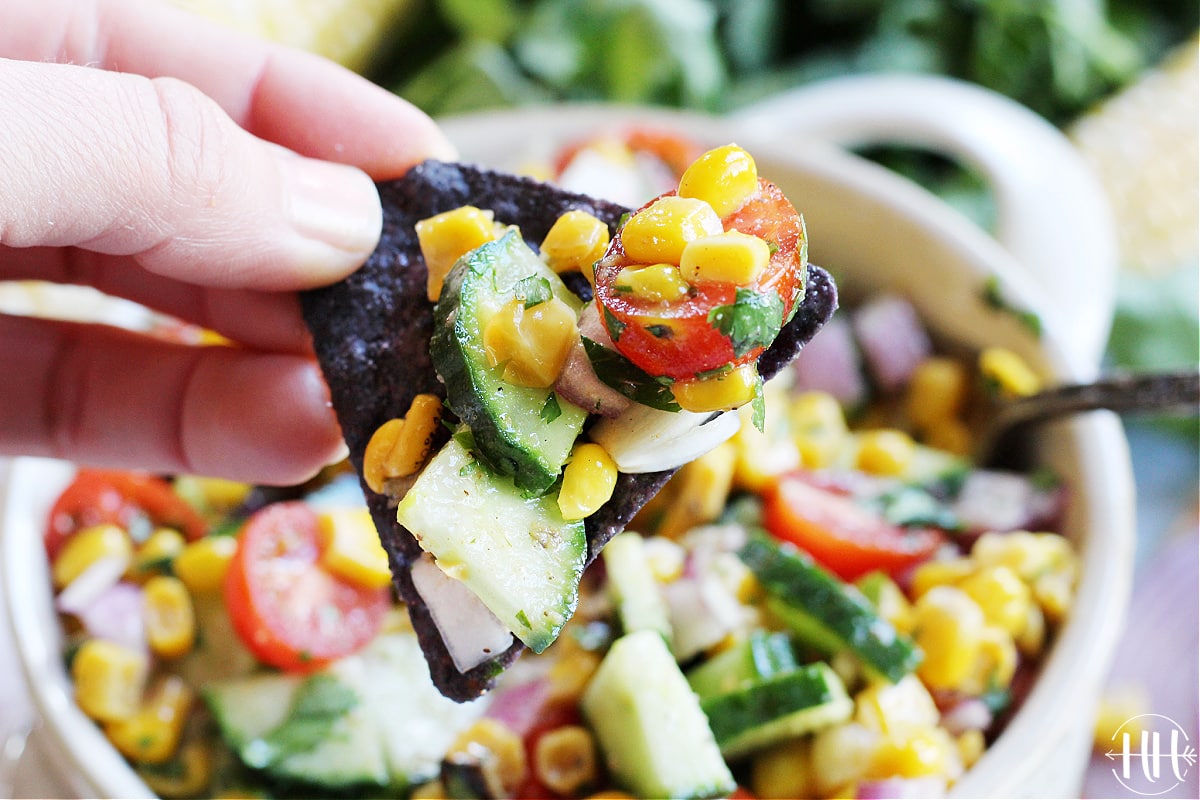 Ingredients Needed:
1 cup cherry tomatoes, halved
1/2 cup red onion, diced
1 cup English cucumber, diced (use a regular cucumber if need be)
1/4 cup cilantro, minced
1- 15oz can of roasted corn, drained (use fresh if you have it!)
• 1 Tbsp extra virgin olive oil
• 3 Tbsp lime juice
• 3/4 tsp garlic powder
• 3/4 tsp ground cumin powder
• 1/2 tsp salt and 1/4 tsp pepper to taste
I like to use an English cucumber because they have smaller seeds and are less watery. However, a regular cucumber will work well too.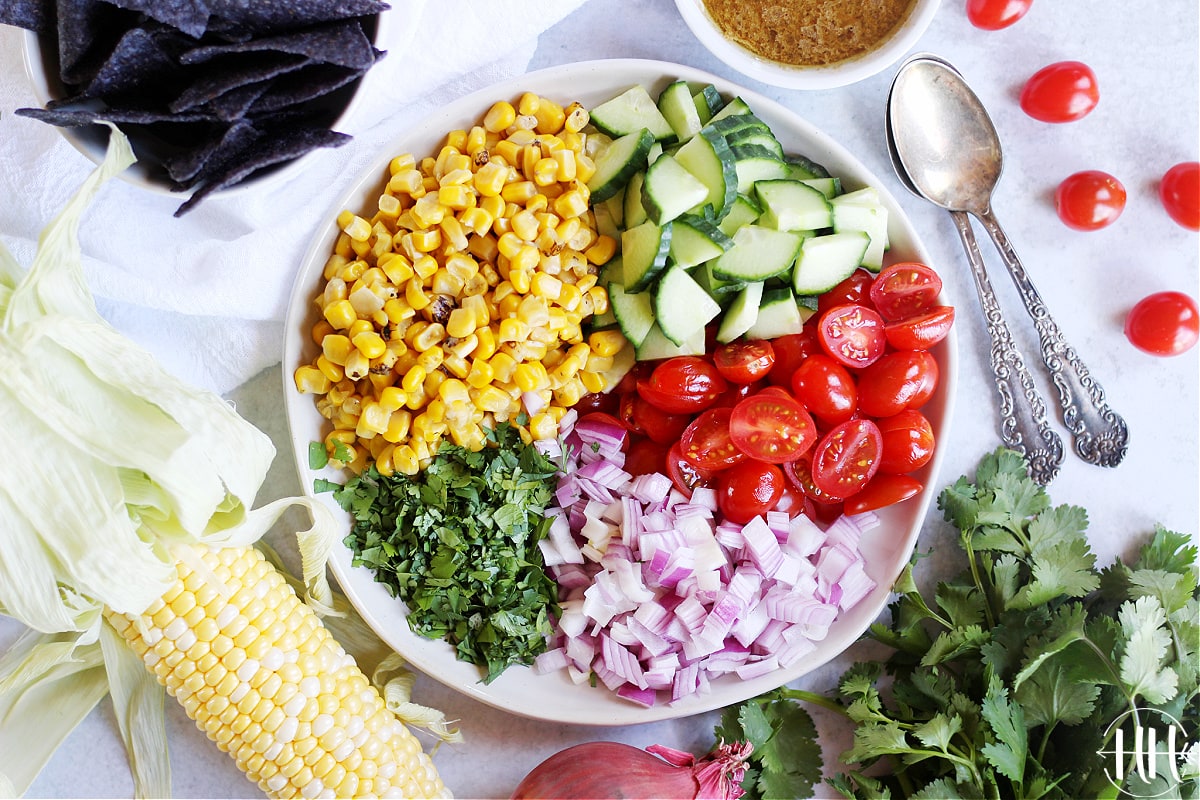 As you can see from the ingredient list, I use a can of roasted corn.
BY ALL MEANS, roast your own ears of corn if you have them.
We are so hopeful that our garden will produce tons of sweet corn this year (along with all the other ingredients!) and we will definitely be roasting up earns of corn for this clean eating recipe. But you know, I am all about simplicity and I typically have all the other ingredients on hand. Fresh sweet corn is not typically something I have though, so canned it is!
Plus, if you are short on time or just lazy like me buy the canned.

It's fine.

You're still a force to be reckoned with if you take a shortcut sometimes.

(I'm writing it out because sometimes I need to remember it too! Muah! <3 )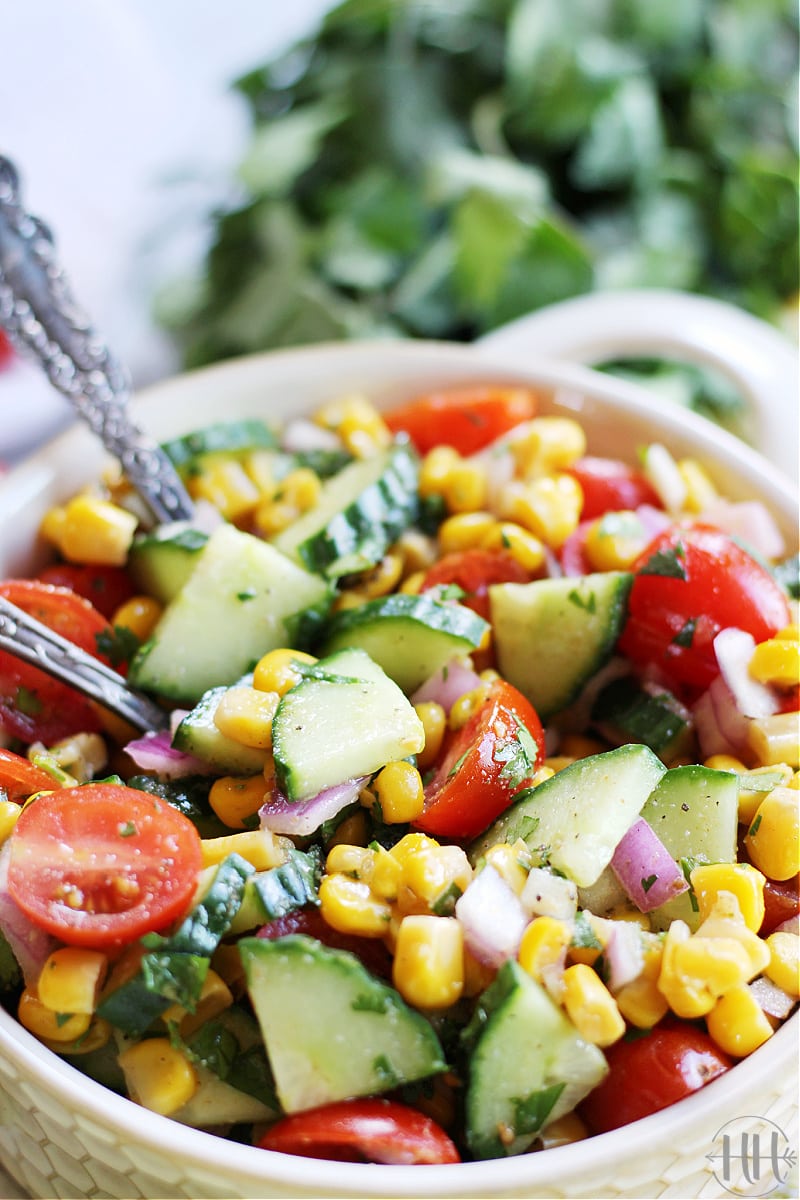 Alright, on to this Roasted Corn and Cucumber Salsa recipe!
Roasted Corn and Cucumber Salsa
The BEST Roasted Corn & Cucumber Salsa | This easy vegan, dairy free, gluten free, and super colorful salsa can be a dip for tortilla chips, on tacos, burritos, and tostadas. Use canned roasted corn kernals or fresh sweet corn with tomatoes, cucumber, red onion, and cilantro. Clean eating appetizers, vegetarian side dishes, and healthy salad toppings are all the rage and this corn salsa recipe can be all 3! This corn cucumber tomato salsa comes together in less than 20 minutes. Woot woot!
Equipment
cutting board

knife

large bowl

spoon
Ingredients
Veggies
1

cup

cherry tomatoes, halved

1/2

cup

red onion, diced

1

cup

English cucumber, slices cut in 1/4s

use regular cucumber if need be

1/4

cup

cilantro, minced

15

oz

canned roasted corn, drained

use fresh corn and roast it yourself if that's your jam
Dressing
3

Tbsp

lime juice

1

Tbsp

extra virgin olive oil

3/4

tsp

garlic powder

3/4

tsp

cumin powder

1/2

tsp

salt

1/4

tsp

black pepper
Instructions
Add all chopped veggies (tomato, cucumber, onion, drained corn, and cilantro to a large bowl.

In a smaller bowl, whisk together all dressing ingredients.

Pour dressing over veggies and gently mix until combined.

Serve immediately or store in the fridge until ready to eat. (Can be made in advance. After 24 hours it gets a little soggy but still tastes great!)