Did I mention I am a sucker for casseroles? Love them. All. Of. Them. 😉
What do you think about a Gluten Free Cheeseburger Casserole topped with tater tots?
Ya, I thought that would peak your interest!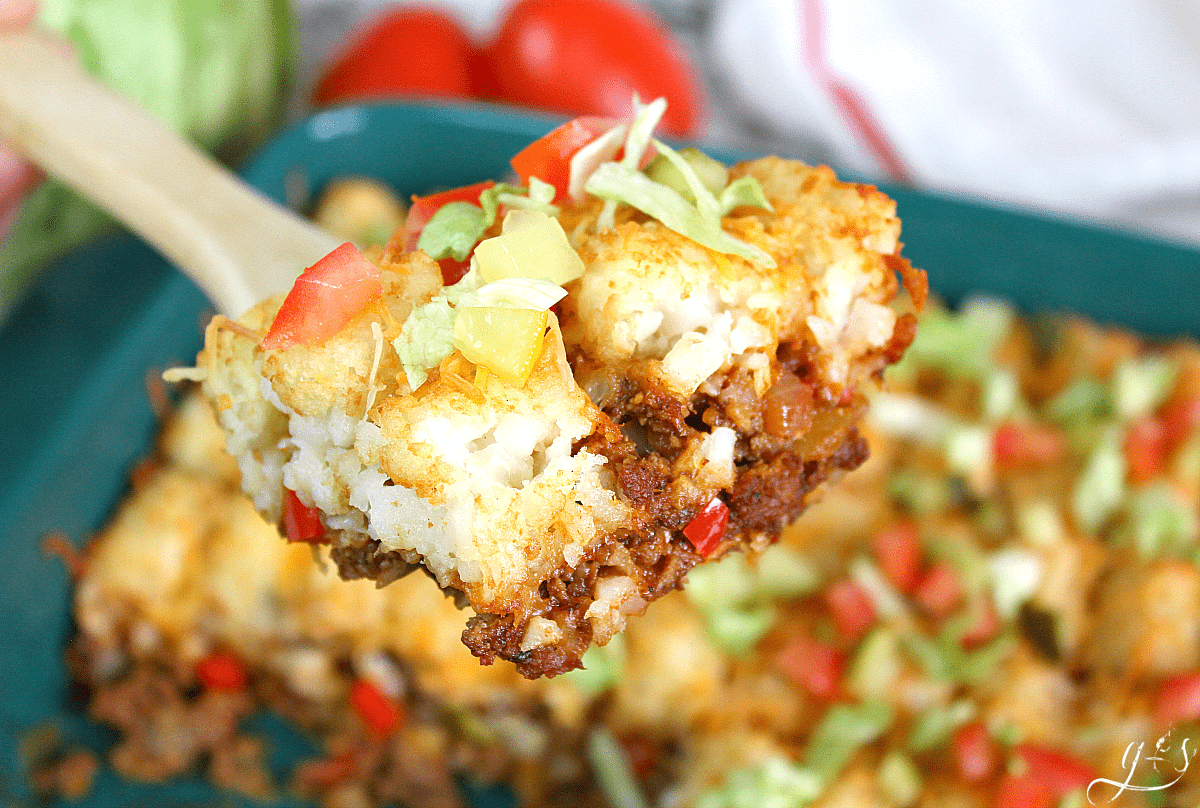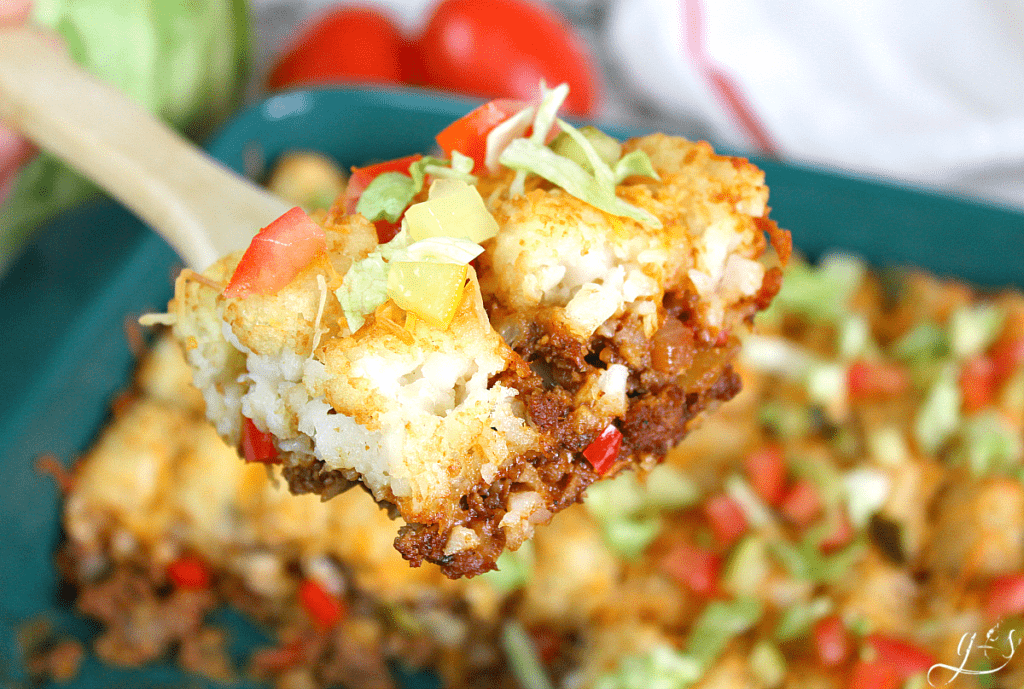 This Gluten Free Cheeseburger Casserole may remind you of another tater tot casserole here at HappiHomemade, but the taste is completely different. Tasty and filling, but different in flavor!
You will love that the ingredient list is super short, but the flavors are big. This recipe has all the components of cheeseburgers and fries minus the bun. See ya later, bread!
But say a big hello to the tater tots which happen to be gluten-free and, obviously, delicious!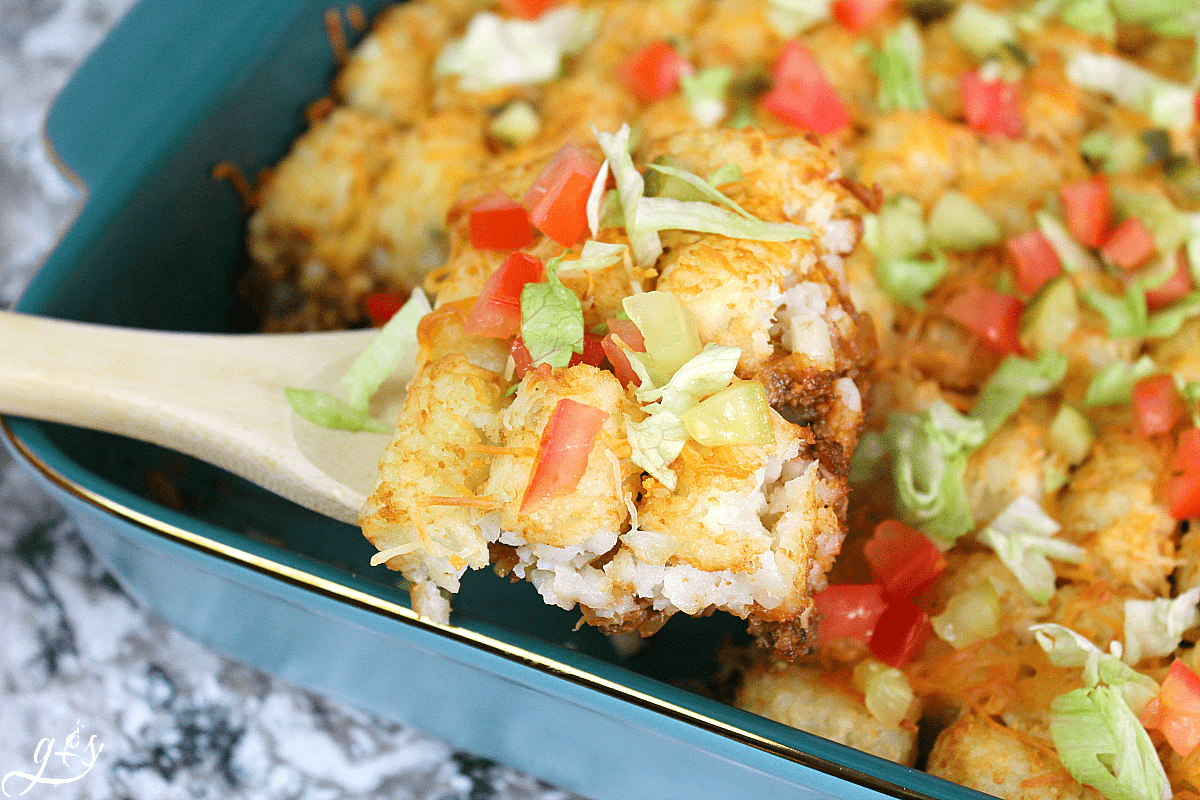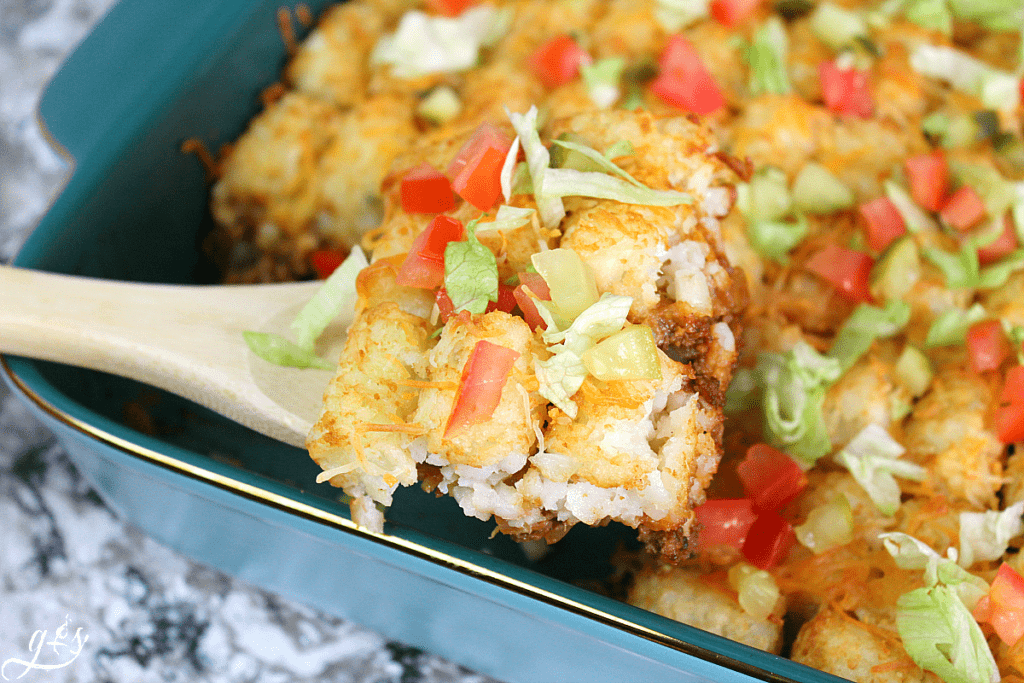 We usually have ground venison or buffalo in the freezer so that is what I used, but beef or turkey work well too. If you are using game meat, add 2 Tbsp of rendered bacon fat or butter to boost the flavor in this gluten free casserole and add in a little fat for flavor as game meat is very lean.
If you have never rendered bacon, it's SUPER easy. To render means to "cook the fat out of."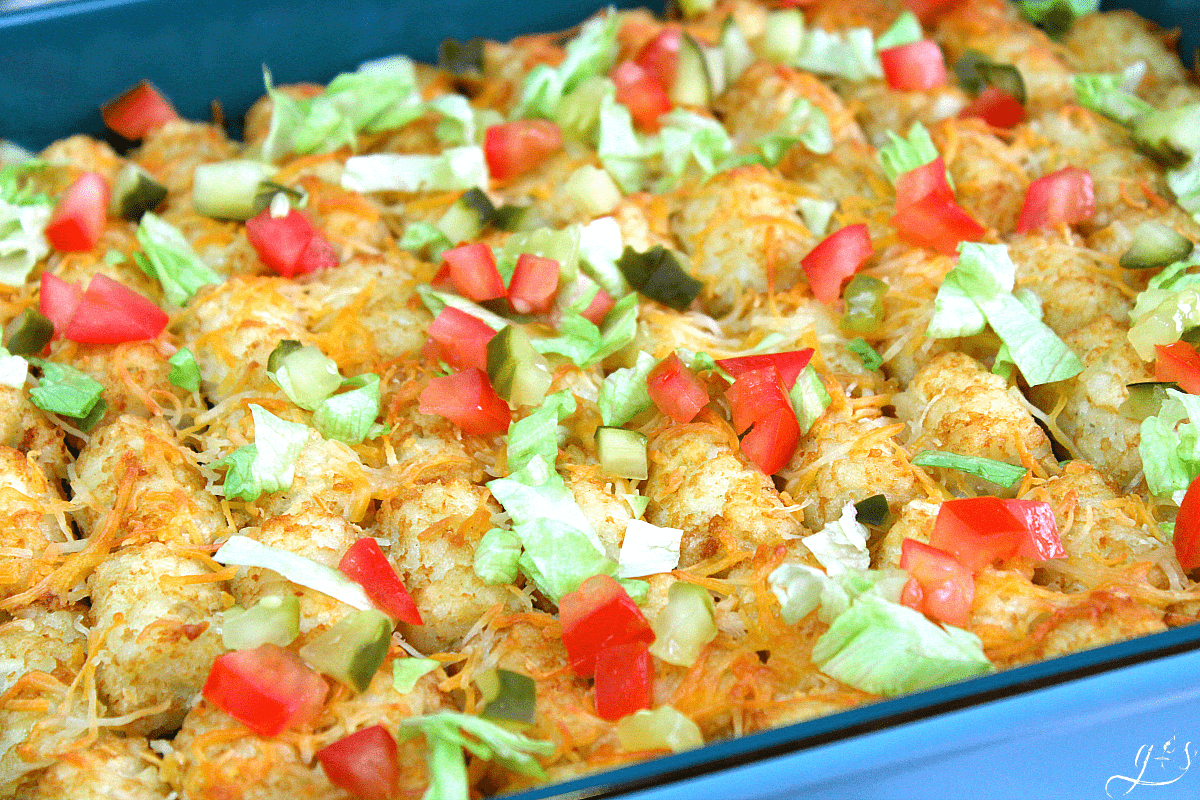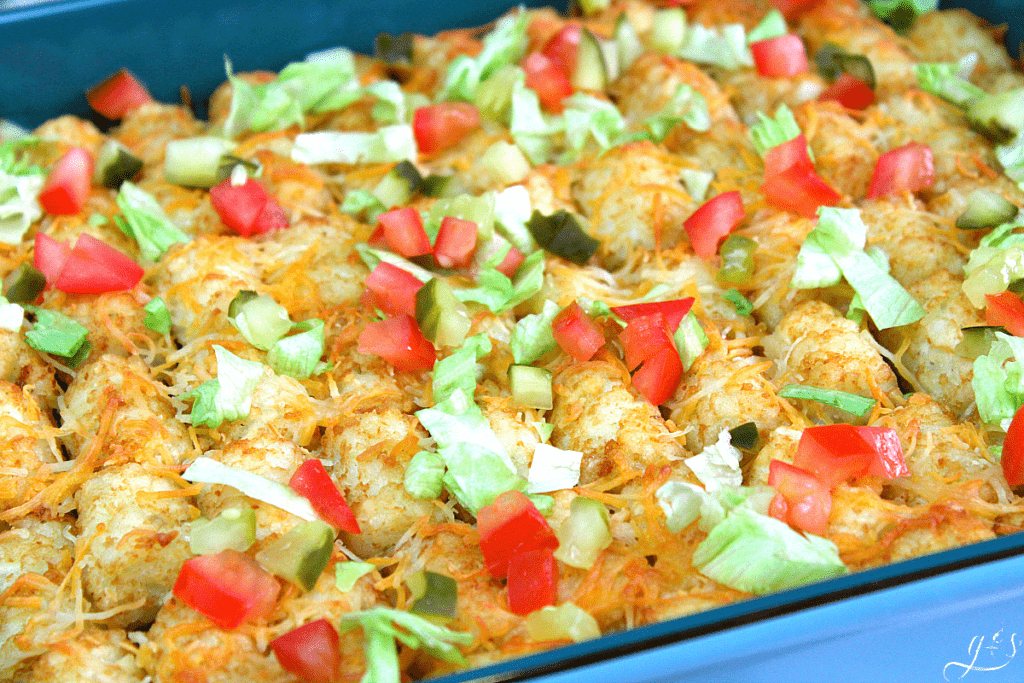 I bake or broil bacon in the oven on a baking sheet covered in foil. When the bacon is done, I remove it from the pan and pour the bacon fat into a small glass jar with a lid and store it in the fridge to use as flavoring in meat dishes, to fry eggs, or saute veggies.
The possibilities are endless!
This gluten free cheeseburger casserole was so fun to create for many reasons, but using a few new kitchen gadgets certainly helped! My friend, Nikol, let me borrow some of her Pampered Chef products and boy was it fun to use some new knives, cutting boards, spatulas, and pans. I don't think I use anything more than these particular tools when making dinner!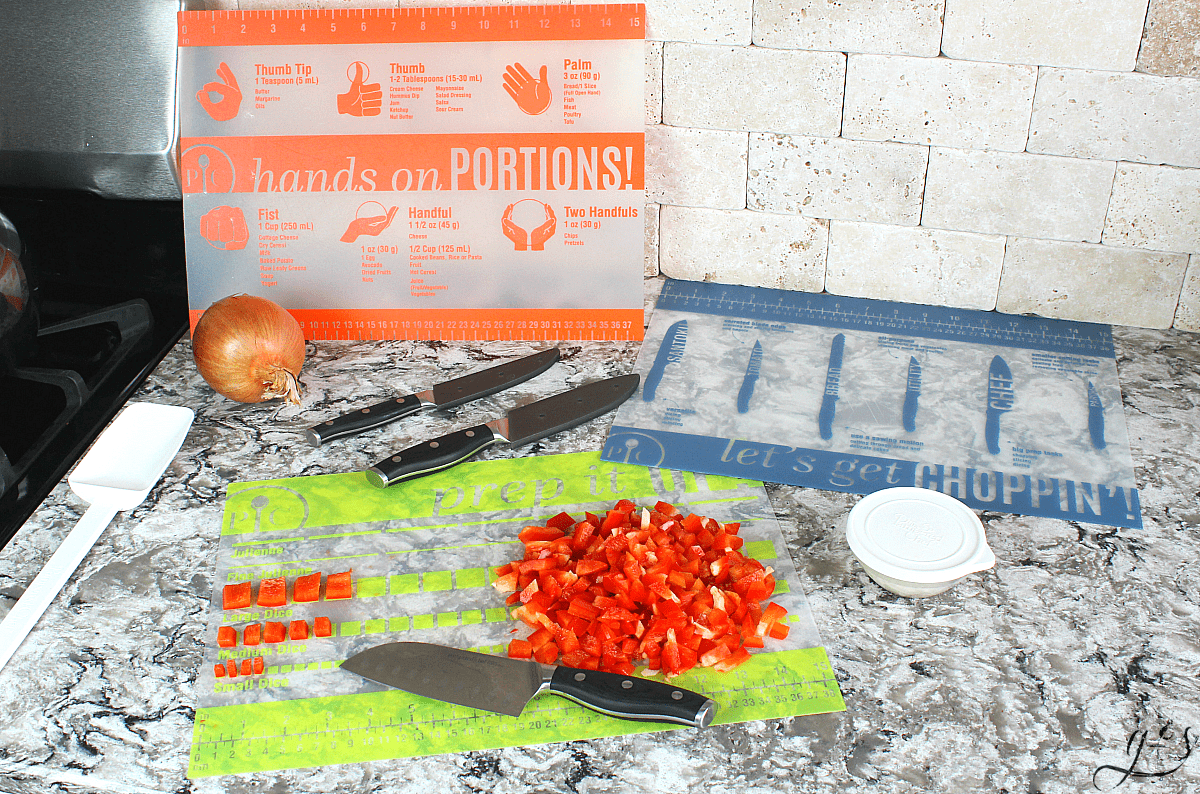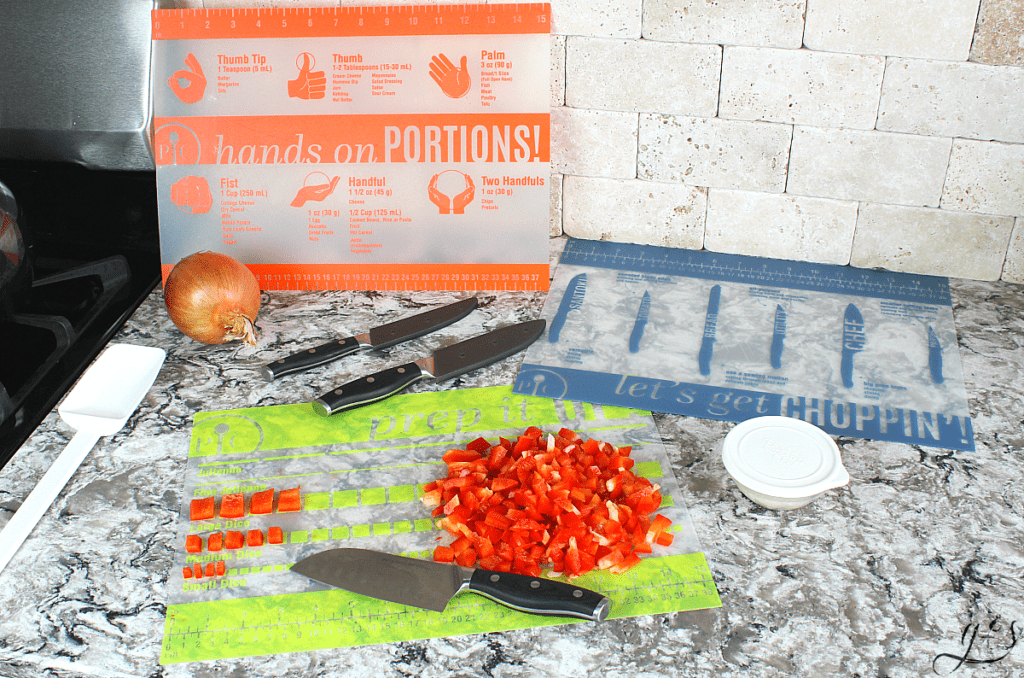 This Flexible Cutting Mat Set is awesome! I loved the educational information about knife skills and cute prep techniques. The flexible material of the mats lets you funnel ingredients right into your pan. Pretty snazzy if you ask me!
And those knives…WOW!
They were super sharp and super precise when cutting. I especially loved the 5″ Santoku Knife for dicing the red bell pepper and onion.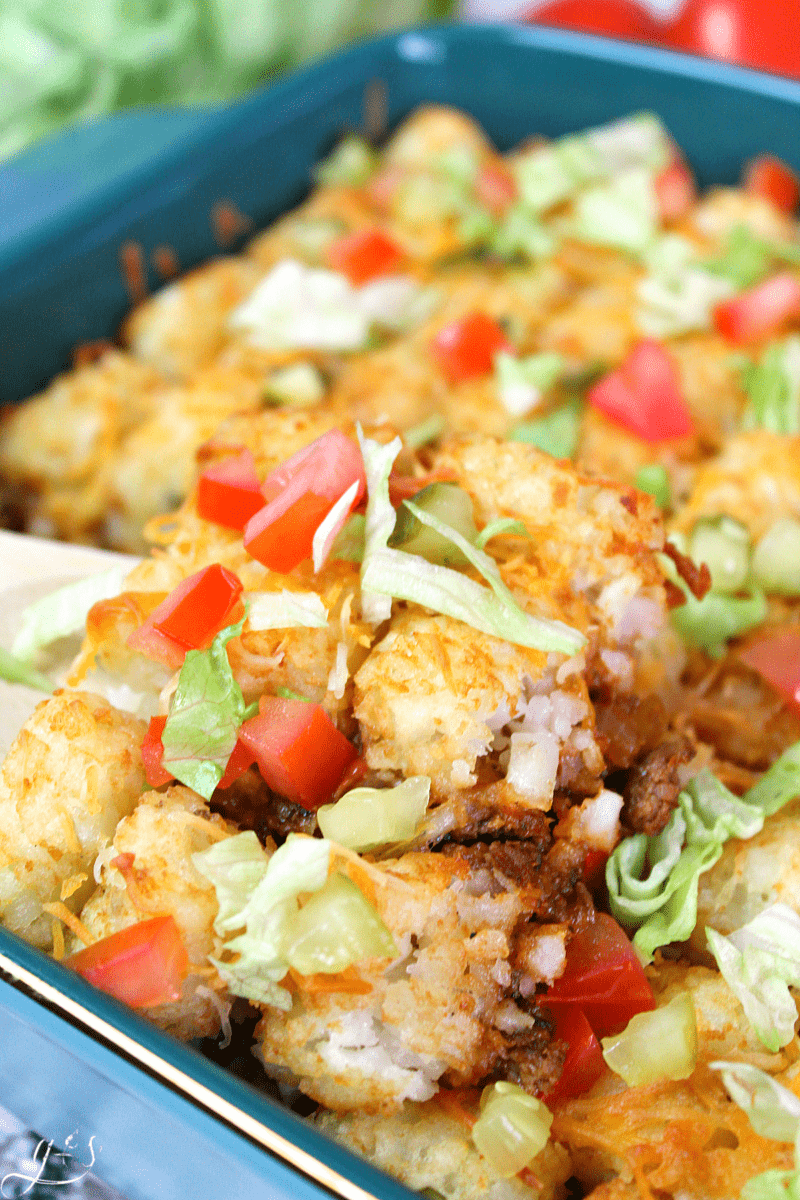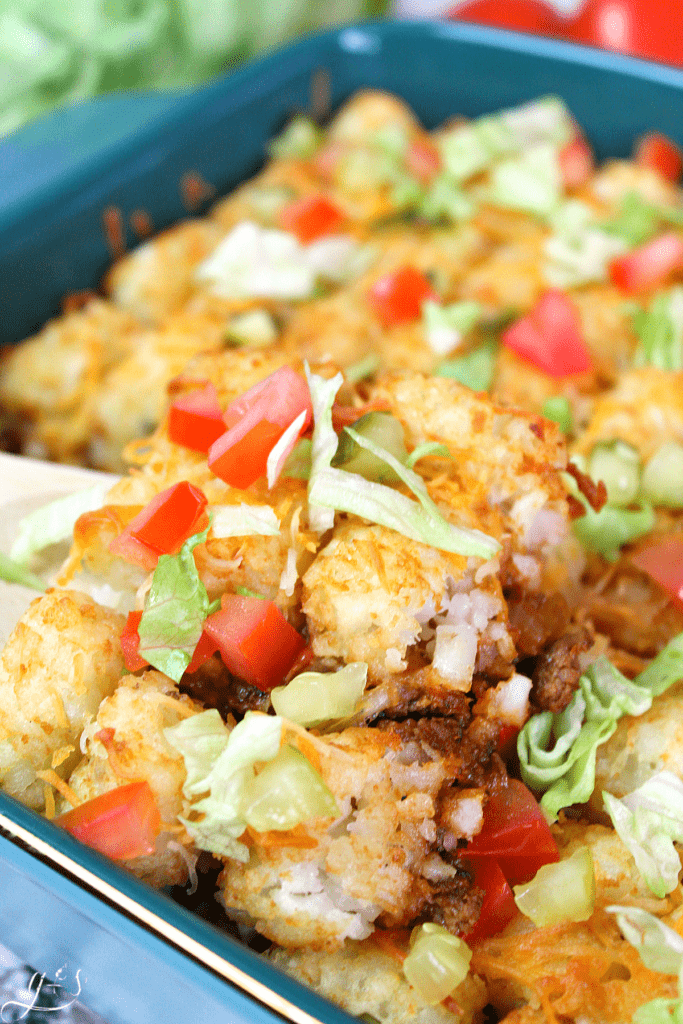 If you are in need of some new kitchen items, please consider Pampered Chef products. I have been adding their products to my kitchen collection for years now and love every single item.
Trust me, their products stand the test of time, look fabulous, and are really comfortable and easy to use!
Okay without further adieu, let's get you the details for this Gluten Free Cheeseburger Casserole!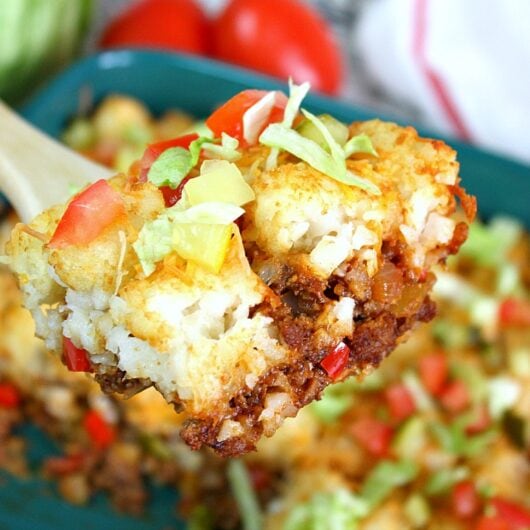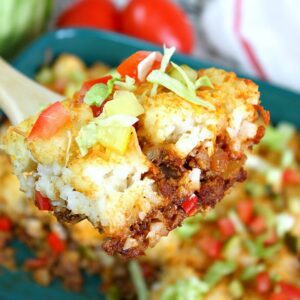 Print Recipe
Gluten-Free Cheeseburger Casserole
This homemade recipe makes the perfect family dinner! Healthy, gluten free, and tater tots-well hello delicious! You can make this in one pot like Hamburger Helper or use a 9x13 pan. All the flavors of a Cheese burger without the bun (low carb). Use any ground meat of choice, turkey, beef, venison, or buffalo. Add a little bacon fat for flavor and serve with pickles, lettuce, and tomatoes.
Equipment
dutch oven

wooden spoon

cutting board

knife
Ingredients
1

lb

ground meat (turkey, beef, venison, buffalo)

2

Tbsp

bacon renderings or butter, optional

1

onion, diced

1

red bell pepper, diced

1

tsp

garlic powder or 2 garlic cloves, minced

1

tsp

salt

1/2

tsp

black pepper

1/2

cup

ketchup

1

Tbsp

yellow mustard

1

Tbsp

Worcestershire sauce

2

cups

shredded cheese, divided

32

oz

bag of frozen tater tots
Instructions
Brown meat in large pan with bacon renderings or butter if you are using game meat. Otherwise, ground beef usually has enough fat in it for flavor.

After the meat is browned, add in diced onion and diced bell pepper. Saute for 5-7 minutes over medium heat until veggies are softened.

Preheat oven to 400F and spray a 9x13 pan with non-stick cooking spray. Set aside.

To the pan of meat, add in garlic powder, salt, black pepper, ketchup, mustard, Worcestershire sauce, and 1 cup shredded cheese. Mix well.

Pour the cheesy meat mixture into greased pan. Top with frozen tater tots arranged in a single layer. Sprinkled tater tots with remaining 1 cup of shredded cheese. Bake at 400F for 30-35 minutes or until tater tots and cheese are browned.

Remove from oven and let cool for 10 minutes. Serve topped with dill pickle slices, diced tomatoes, and shredded lettuce.
Notes
*If you use a dutch oven or another "stovetop to oven safe pan" you can eliminate the greased 9x13 pan and just use the dutch oven you brown your meat in to put in the oven. Leave the meat in the dutch oven and top with tater tots. Bake the same amount of time. If I am in a rush I don't bother with the 9x13 pan, but I do prefer to use the 9x13 pan because there is a better ratio of meat to tater tots. I'm all about the tots. The more the better. 😉 But then dishes. Uggghhh, sometimes it's nice to not have to wash 1 more pan!