Sometimes new recipes happen out of necessity.
Like when Wal-Mart is out of one of the two main ingredients for a recipe you NEED to make NOW.
But, hey, thanks Wallyworld for helping me create this delicious Kale and Broccoli Slaw Salad!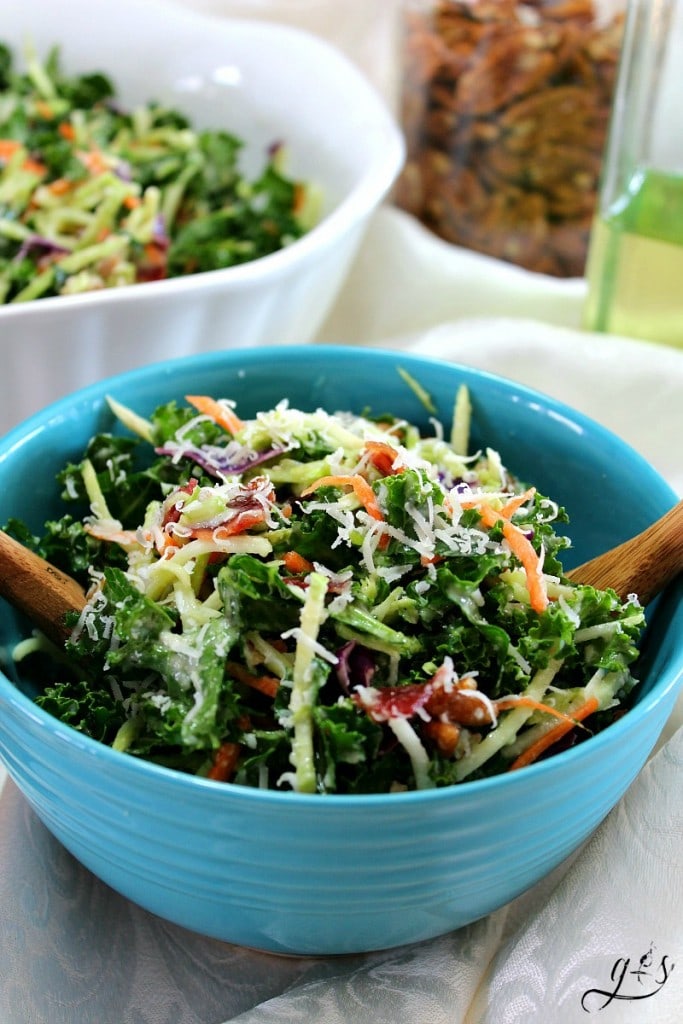 I had the intention of making a salad with fresh brussels sprouts for our Christmas dinner at my in-laws. But to my surprise, my grocery store was out.
You might be thinking, what about frozen brussels sprouts? Well, unfortunately they don't work so well in a raw salad.
So I had to think fast. I decided to reach for a bag of trusty broccoli slaw, one of my favorite types of salad bases. Curious what broccoli slaw looks like? You will find it hiding in your produce department next to the bags of prepackaged salad and coleslaw mixes.
This salad exceeded all of my expectations. The textures stay crisp and flavors delicious even after days in the fridge.
Not only is this salad healthy and considered a "Slim" recipe here at G&S, it is truly satisfying. Eating hearty greens (kale) and healthy fats (extra virgin olive oil & pecans) can't be beat when hunger strikes!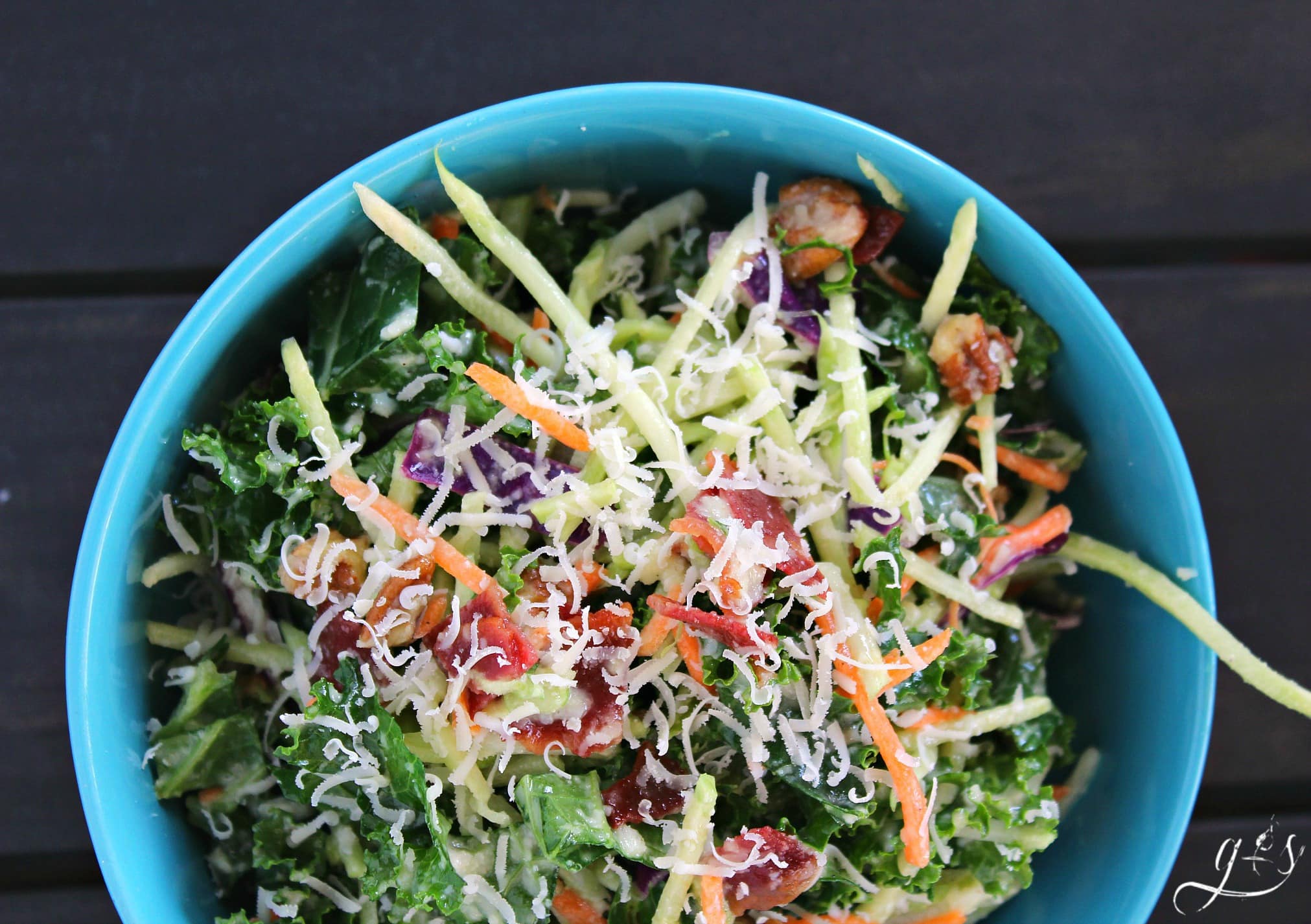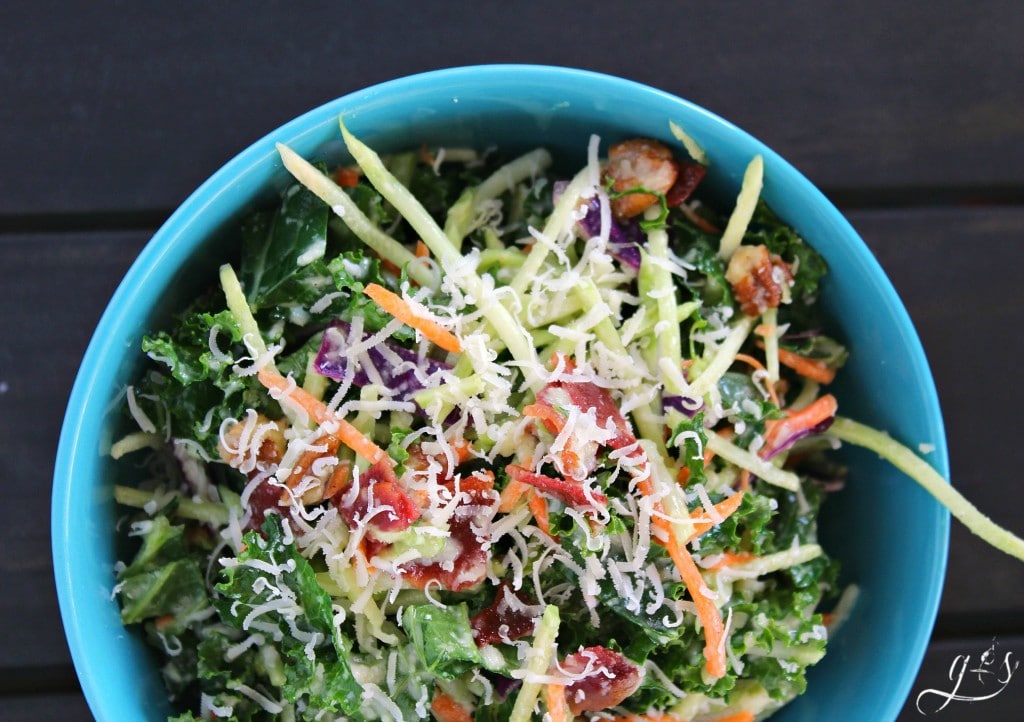 You will love the tangy dressing! Using fresh onion and lemon juice add a certain "zing" to this recipe. I added honey too as I like a touch of sweetness somewhere in my  salads.
Don't forget to top it off with the freshly grated Parmesan.  This ingredient takes this Kale and Broccoli Slaw Salad over the top!

I debated about adding in some dried cranberries for color and contrasting flavor.  If you decided to do that, be sure to let me know how it turns out in the comments.
Oh, and don't forget to save this recipe on Pinterest, because you are definitely going to want to make it this summer when the hot weather returns!
You can easily pin the graphic below to your "Clean Eating" or "Healthy Recipes" board on Pinterest by clicking the PIN IT button that appears when you scroll over the graphic.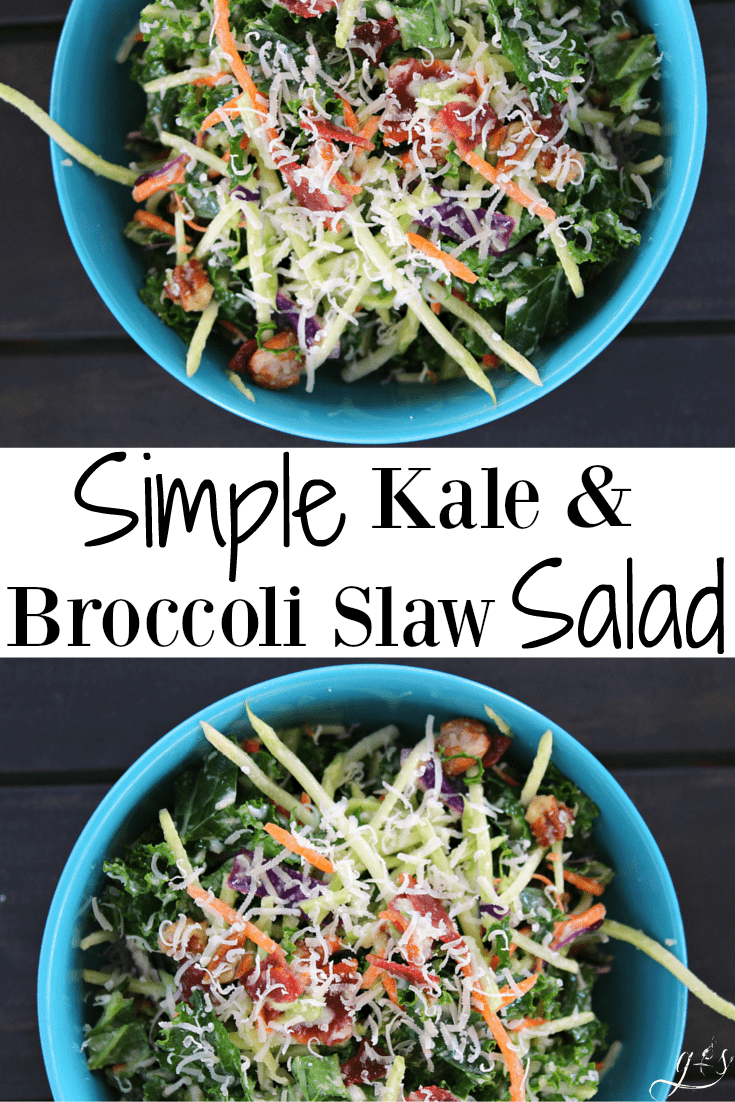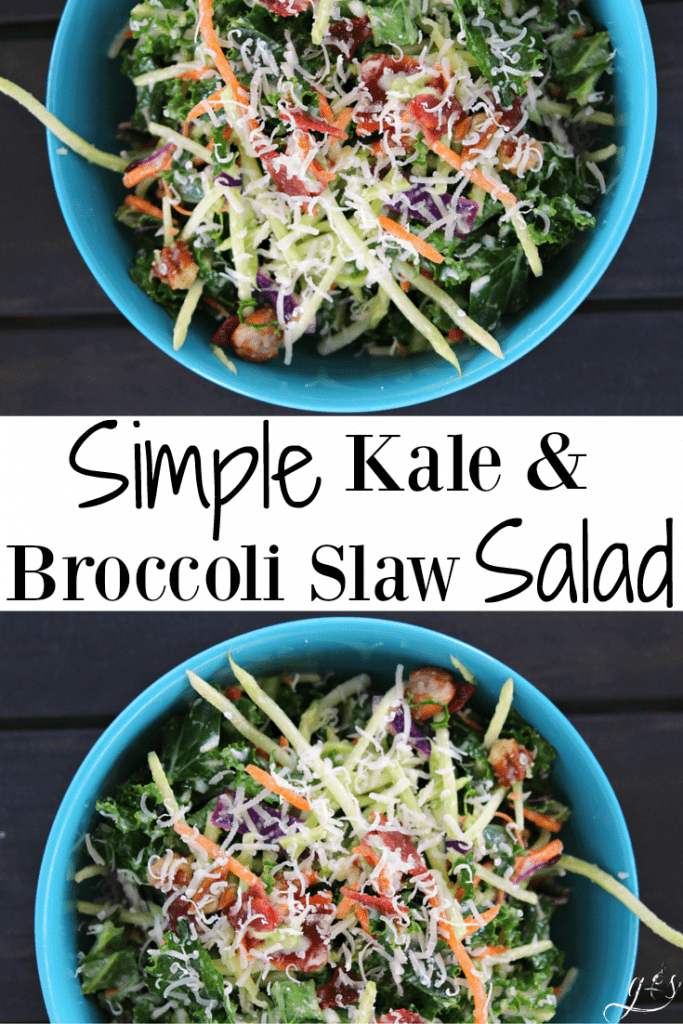 One last bit of advice, chop the kale into small bite-sized pieces, as I think the salad tastes better that way.
When the pieces are too big, the ratio of broccoli, pecans and bacon is off. And that my friends is a tragedy in my book.
Dramatic much? 😉
Speaking of books, have you downloaded your FREE copy of our Salad E-book? It features an "Anatomy of a Salad" to help you create your own delicious salads and 14 other unique salad recipes we have lovingly created!
Have you ever had a time where you were in a pinch and needed to improvise with a recipe? I would love to hear about your experience in the comments below.
Here are a few other recipes I picked just for YOU:
For More "Salad-Spiration" Follow us on Pinterest: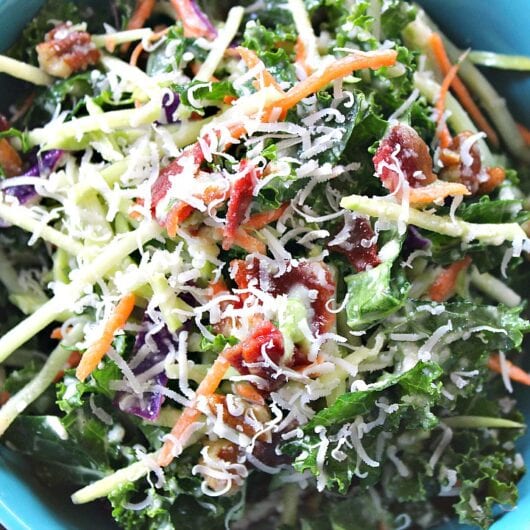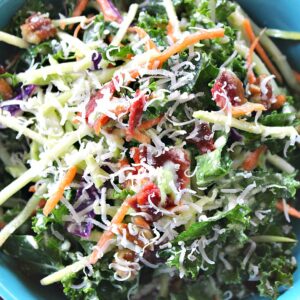 Print Recipe
Kale and Broccoli Slaw Salad
This healthy and easy salad is the perfect addition to any meal! Clean eating and gluten-free can be delicious! This salad is packed with whole foods such as kale, broccoli, pecans, and turkey bacon. Perfect as a light lunch or even a meatless Monday dinner option! This is the best kale and broccoli slaw combination yet! Find more salads like this at groundedandsurrounded.com
Ingredients
Dressing
1/4

cup

diced onion

1/4

cup

extra virgin olive oil

2

Tbsp

lemon juice

1

Tbsp

dijon mustard

1

Tbsp

honey

1/4

tsp

garlic powder

1/4

tsp

sea salt

a pinch black pepper
Salad
4

cups, packed

kale, thinly sliced/chopped

1

12 oz bag

broccoli slaw mix

(available at most supermarkets)

3-4

slices

cooked turkey bacon, chopped

1/2

cup

chopped pecans

1/4

cup

Parmesan cheese, finely grated
Instructions
Combine all dressing ingredients in a Magic Bullet or blender and blend until smooth.

Mix all salad ingredients in a large bowl. Pour dressing over the top and toss salad until all ingredients are distributed throughout. Let favors mingle in fridge until you are ready to serve or eat immediately.
Notes
This salad lasts and lasts in the fridge without any changes to the consistency. It is the perfect salad to make on Sunday and enjoy the entire week with a protein of choice!
To add another layer of flavor, roast and salt the pecans. I do this by heating a small frying pan over very high heat and then add a little coconut oil to the pan. Once the oil has just barely started to smoke, I remove from the burner and add in the pecans and a dash of sea salt. Stir the pecans a few times. You will know they are done when you can smell them.
Recipe adapted from this Kale and Brussels Sprouts Salad by Sugar and Grace.