My husband's favorite dessert is bread pudding.
He LOVES it.
This 5 Ingredient Bread Pudding is no exception.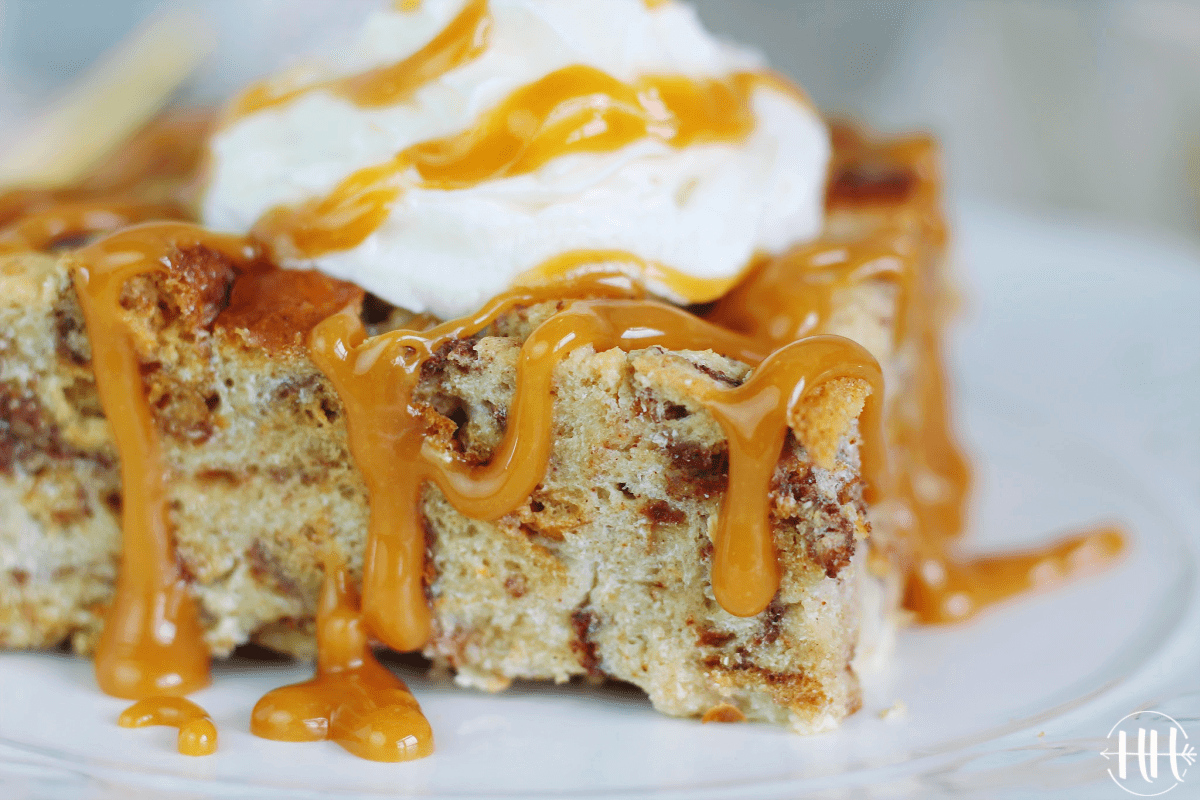 This recipe was born out of a need for a simple dessert for Ruth at Living Well Spending Less. She prefers to post recipes that use five ingredients or less.
Challenge accepted! 😉
To be fair, this bread pudding actually only uses 3 ingredients. It's the delightful homemade caramel sauce that uses the other two.
I now what you must be thinking, "There's not enough ingredients. It will be bland." Yada yada yada.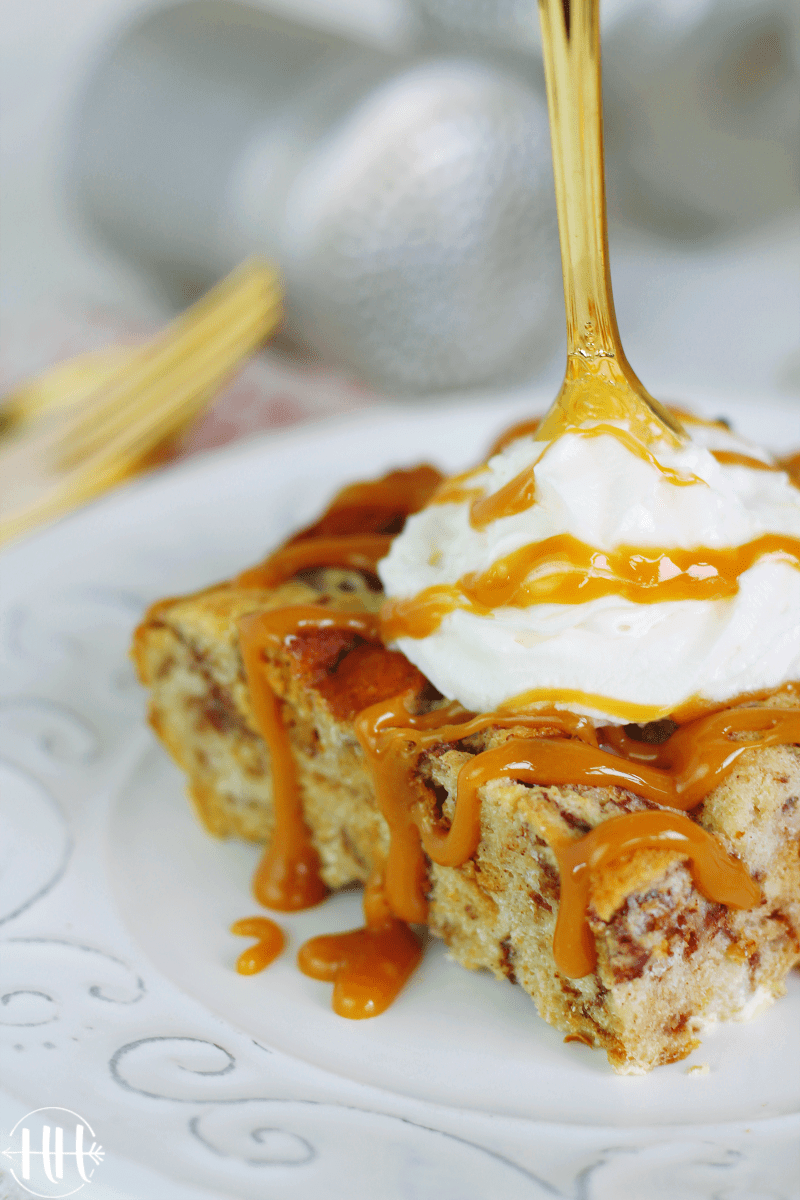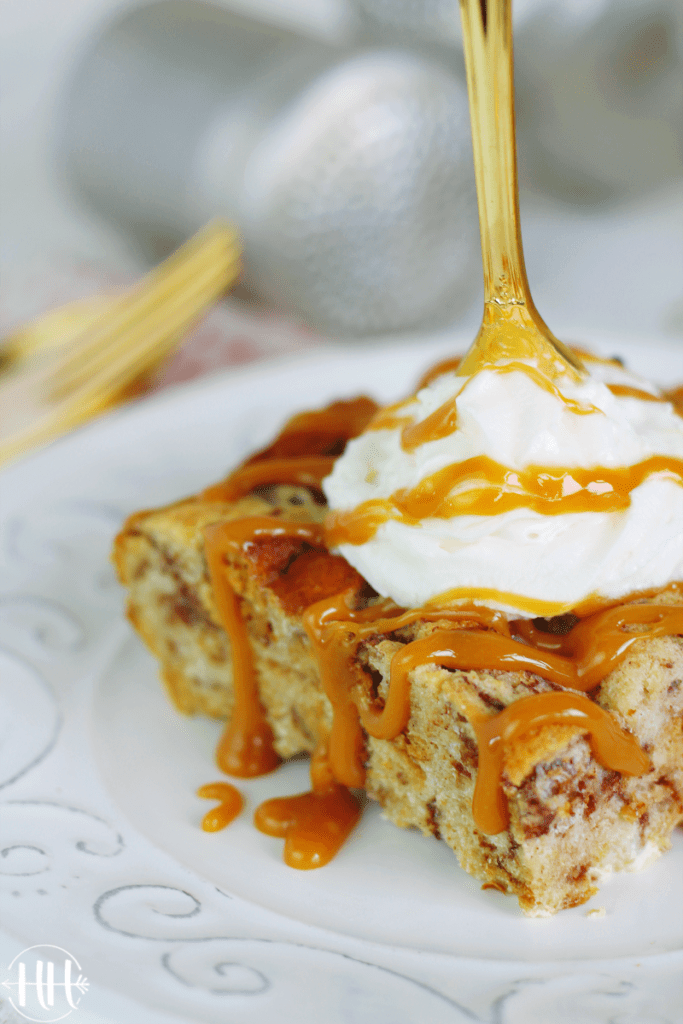 I can assure you this dessert is packed with all the delightful flavors or vanilla, cinnamon, and caramel.
I used a loaf of cinnamon swirl bread that was so fragrant with cinnamon that I thought I may eat the whole loaf before I even prepped this recipe. Ha!
Fun little fact: I think I could eat cinnamon straight of a spoon if someone dared me…and like it! Ha!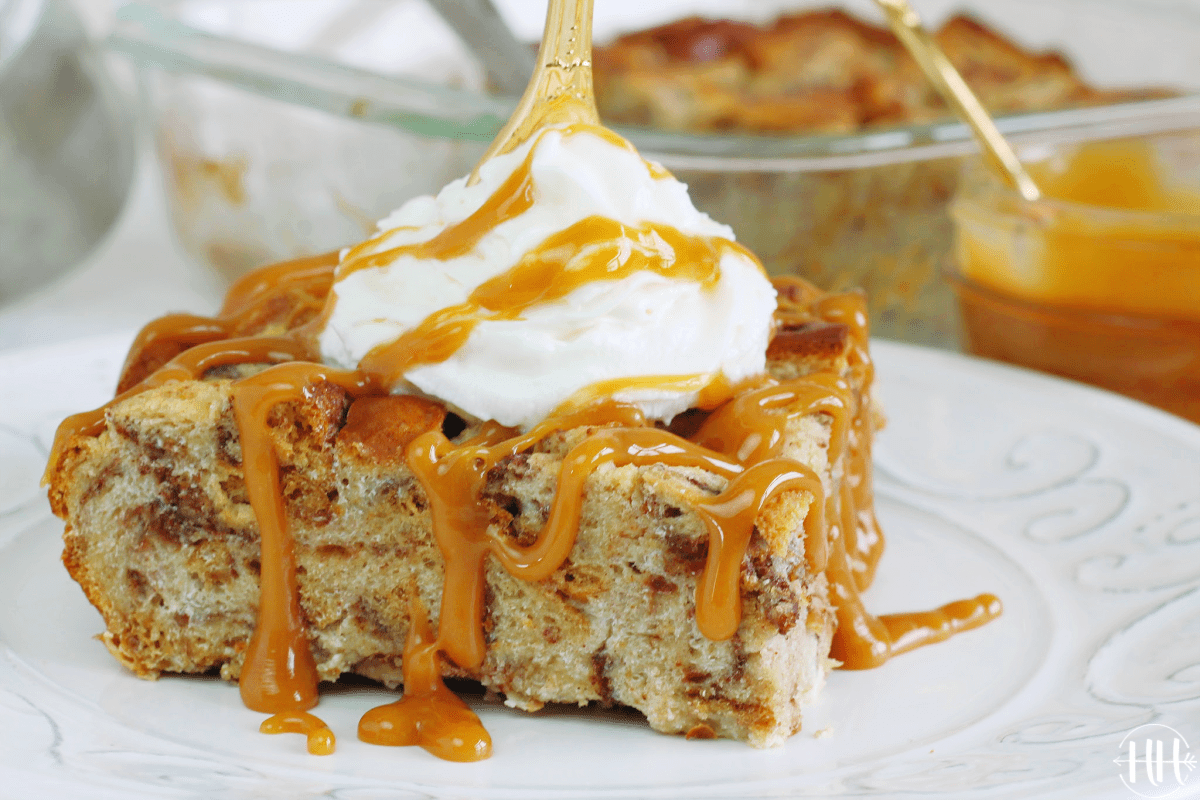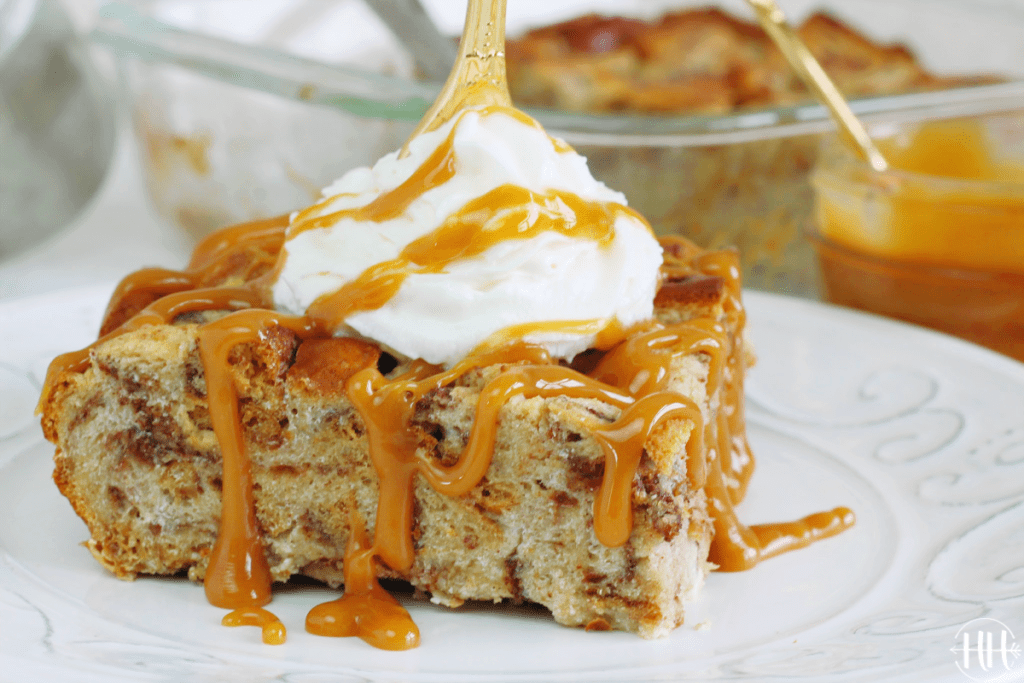 The other star of the show is the vanilla creamer! Mix the creamer with a few eggs and viola you have the creamiest custard sauce to soak the bread cubes in.
That's it! No spices or extracts are needed in this bread pudding, trust me.
The caramel sauce is a simple combination of soft caramel candies and evaporated milk.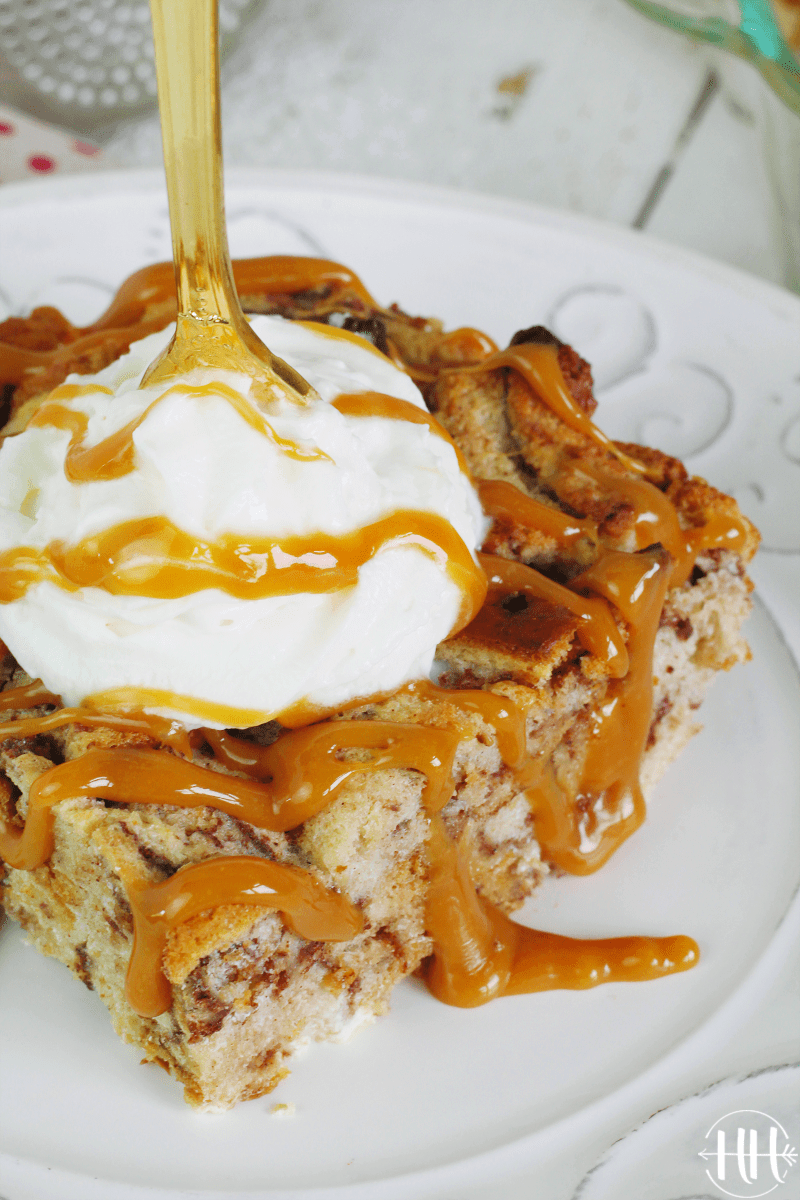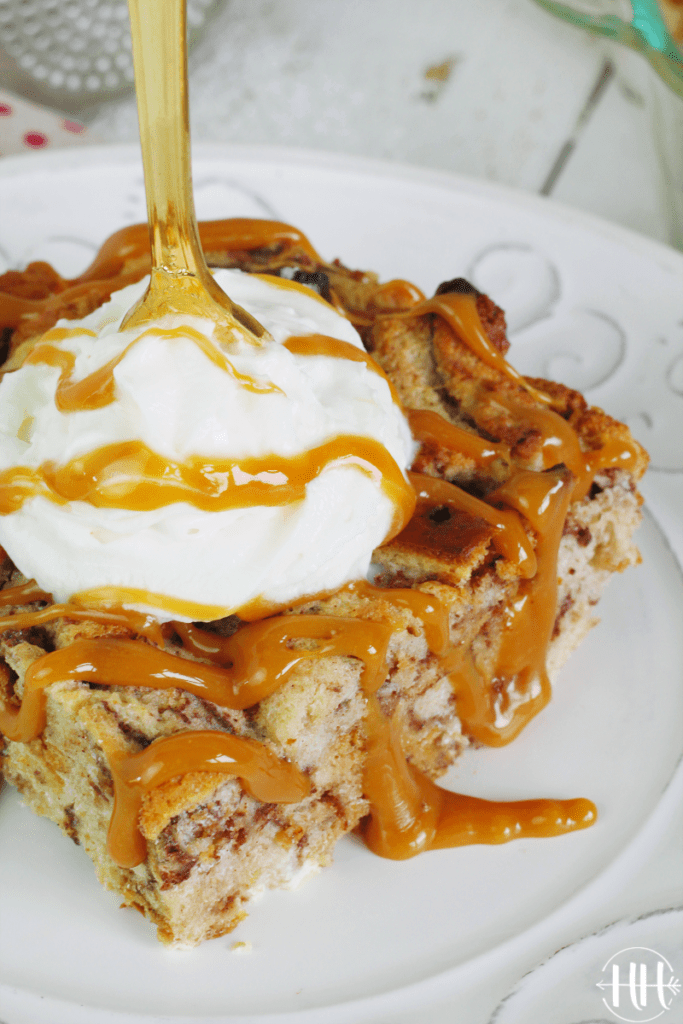 When I serve this 5 Ingredient Bread Pudding I always encourage guests to add a generous scoop of vanilla bean ice cream because that is obviously the best way to eat anything- a la mode.
If you ask me we should have every meal a la mode. 🙂
Whipped cream is a great option too!
If you are serving a crowd larger than 6, I would double the recipe and bake in a 9×13 pan. The original recipe can bake in an 8×8 dish.
Okay, that's enough of me gushing over this simple and fun 5 Ingredient Bread Pudding recipe!
Let's get you all the details.
As always, I owe a BIG thank you to Ruth at Living Well Spending Less for sharing this recipe with her readers.