This Creamy Tomato Basil Soup is everything you could ask for and more with it's fresh taste, creamy texture, and incredible flavors!
Well Campbell's soup has done it again.
While watching television the other night, a commercial was shown of an absolutely delicious melty oooey-gooey grilled cheese sandwich being dipped in their canned tomato soup.
All of us watching quickly decided we were all craving grilled cheese and tomato soup!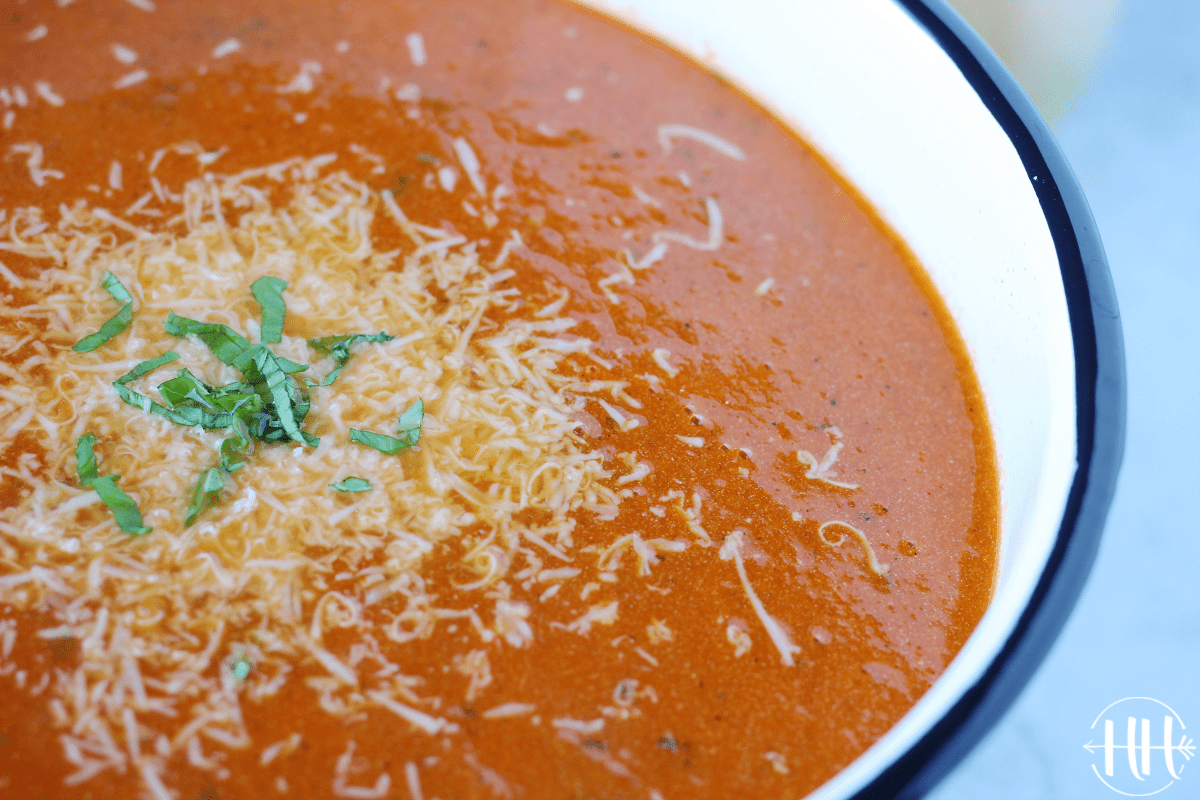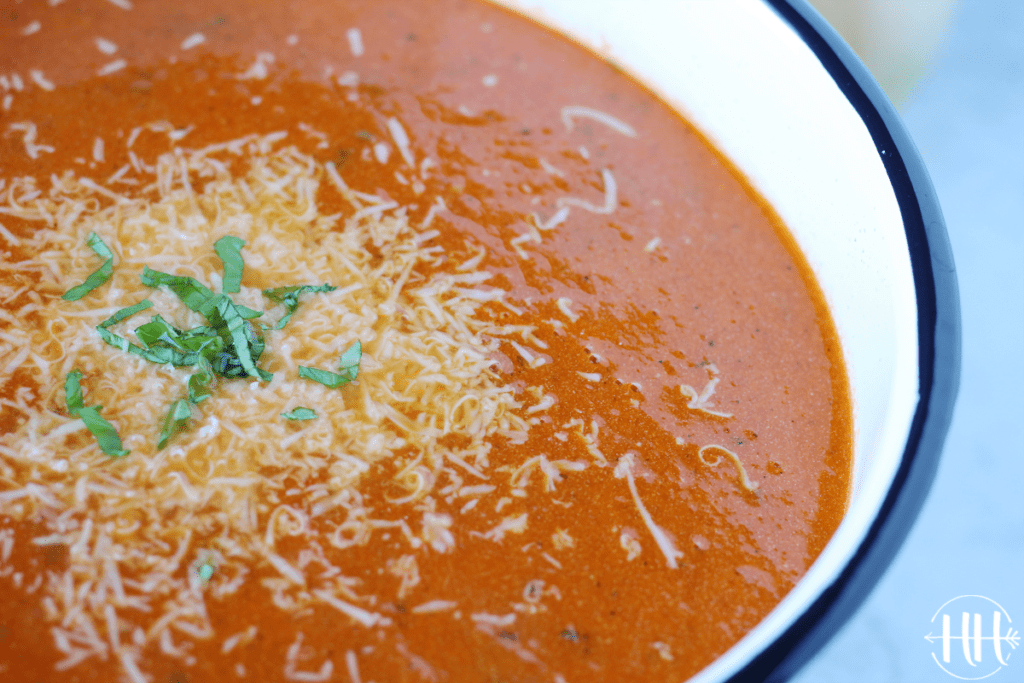 That mouth watering commercial quickly reminded me of a simple soup I had experimented with last year. Of course, the recipe has sat on my phone/computer/recipe folder for months and months waiting for me to photograph it. 🙂
This Creamy Tomato Basil Soup uses canned whole tomatoes and fire roasted tomatoes.
You can use fresh too if you have them! Just blanch the tomatoes and remove the skin.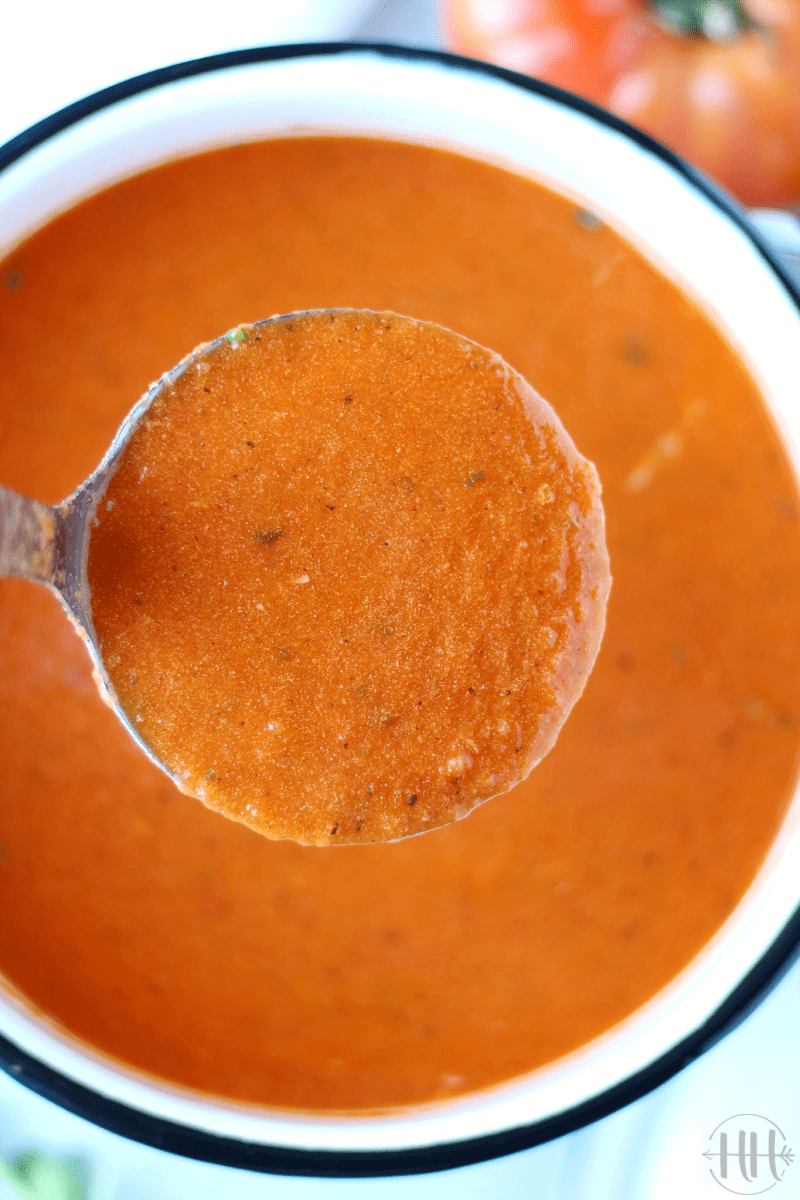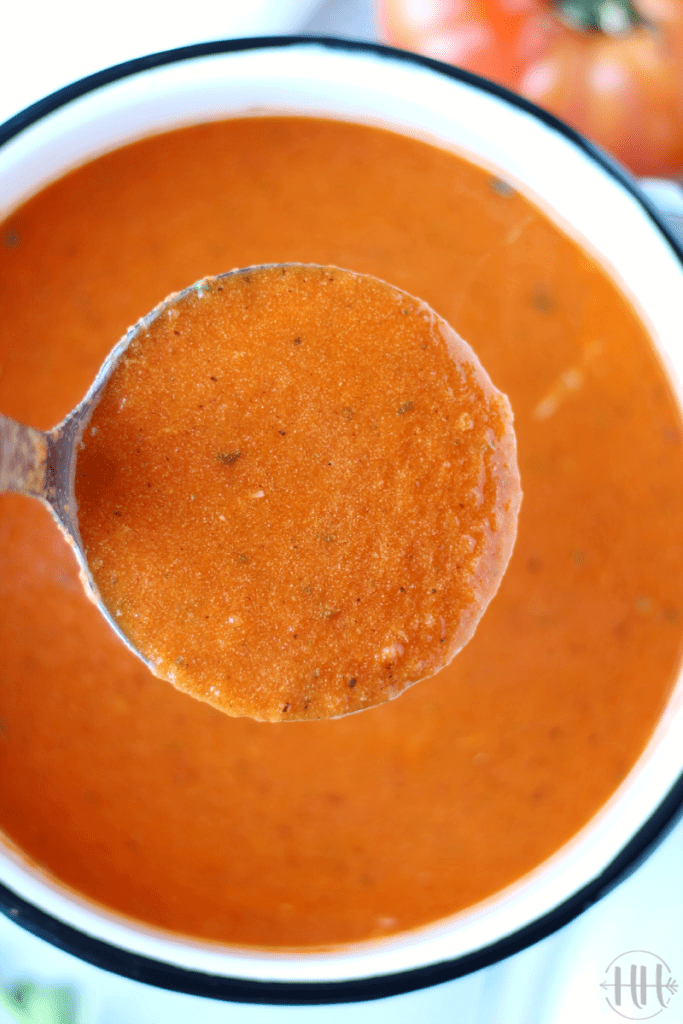 Creamy Tomato Basil Soup Ingredients
4 Tbsp butter
1 large onion chopped
3 oz tomato paste
4 cups chicken stock (LOVE Kettle & Fire bone broth in this soup! "HappiHomemade" saves you 20%)
28 oz can whole tomatoes
28 oz can fire roasted tomatoes
1 tsp garlic powder
1 tsp sea salt
5 large fresh basil leaves finely chopped
1 cup half and half
additional salt to taste
This soup can quickly come together after a busy work day or you can make it ahead of time.
Consequently, this soup keeps well in the fridge if you want to meal prep and prepare this soup days ahead.
We did not end up serving this soup with grilled cheese, but sub sandwiches instead.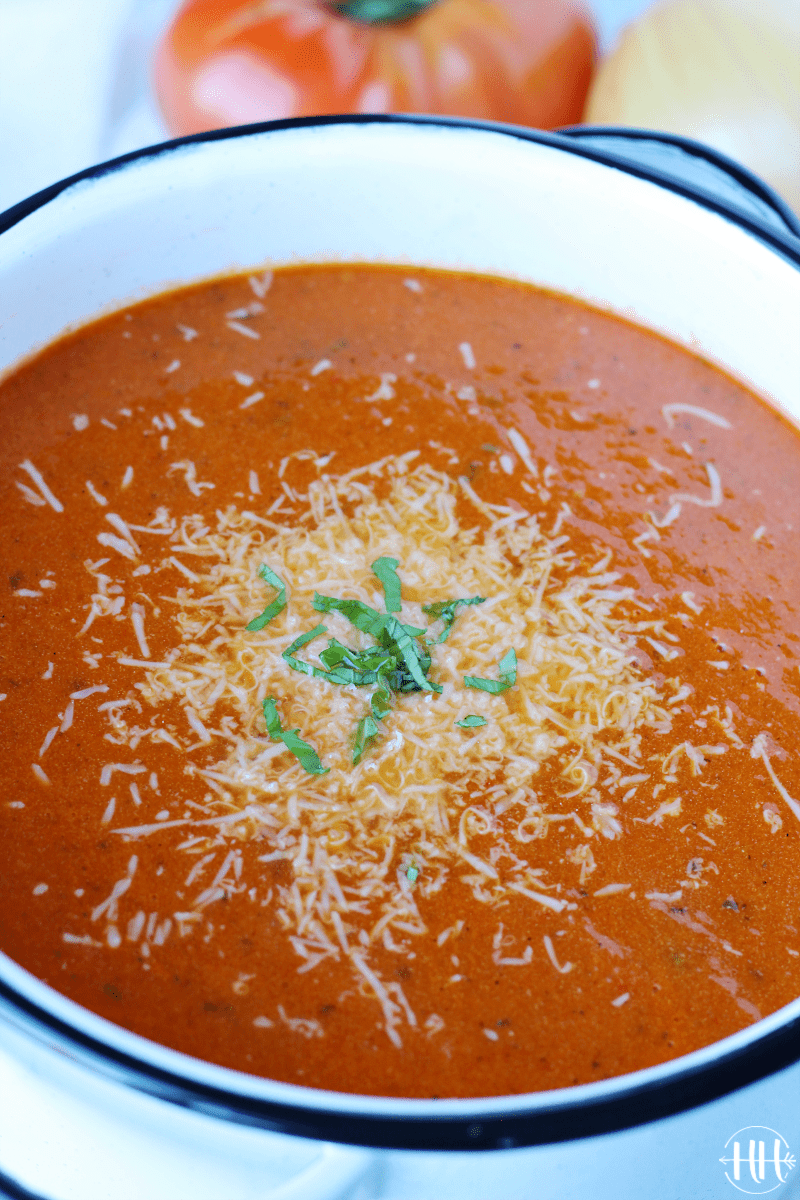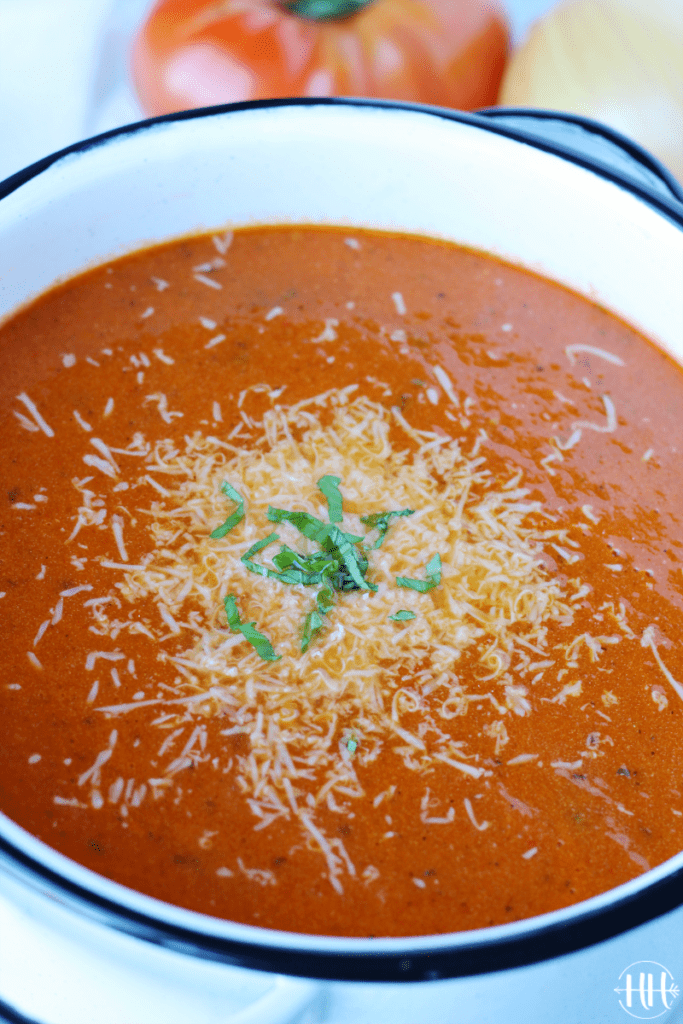 Brady loves to write out a menu, make copies, and then hand them out to each of us. We then circle the items we would like on our sub sandwiches and he makes them.
I have a feeling he may work at Jimmy Johns or something of the like when he is older. 😉
This Creamy Tomato Basil Soup is packed with flavor and makes the house smell so wonderful as it simmers.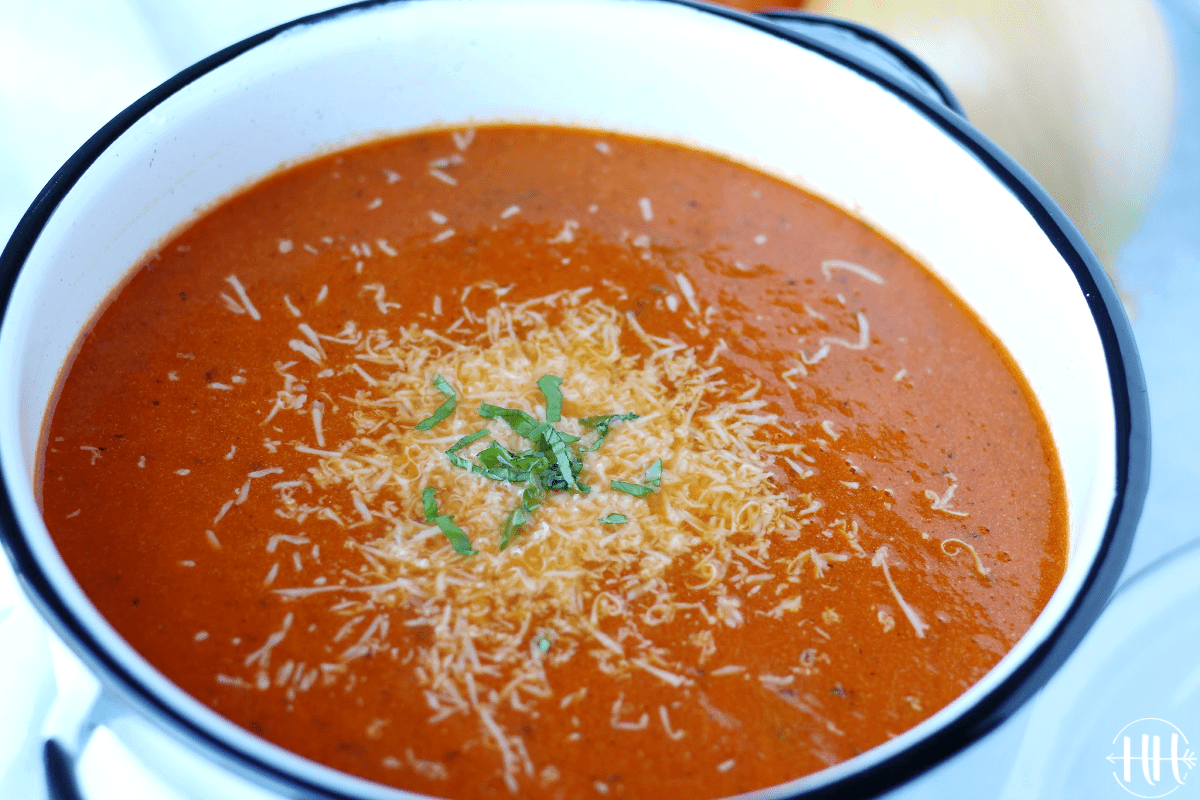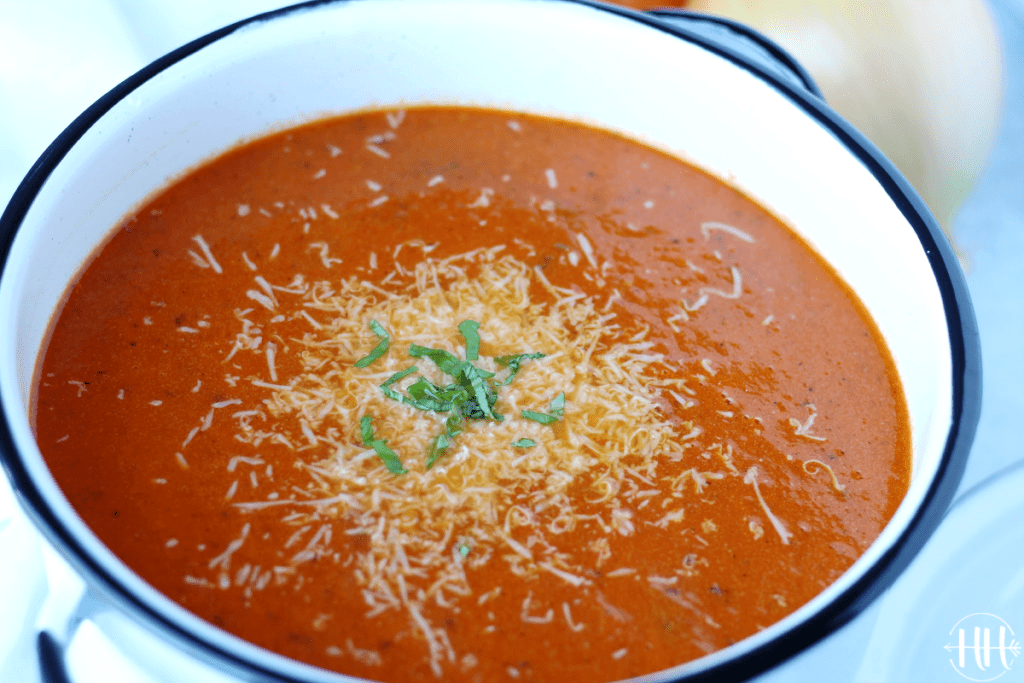 The freshness of the basil is EVERYTHING.
Though this healthy and gluten free recipe uses canned tomatoes, it tastes fresh and comforting on those chilly fall days.
Not that this soup should only be made in the cooler months, it's always soup weather if you ask me!
Summer lunches with fresh soup and grilled cheese are a familiar sight in our house.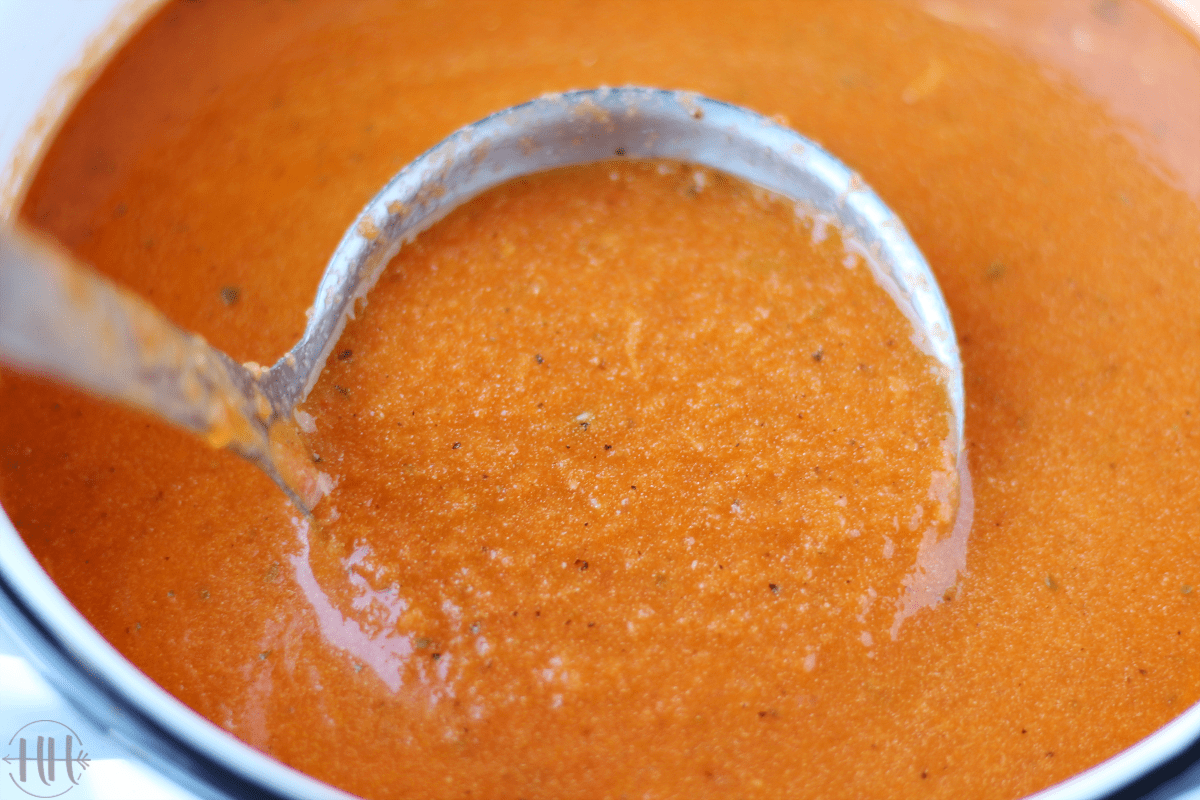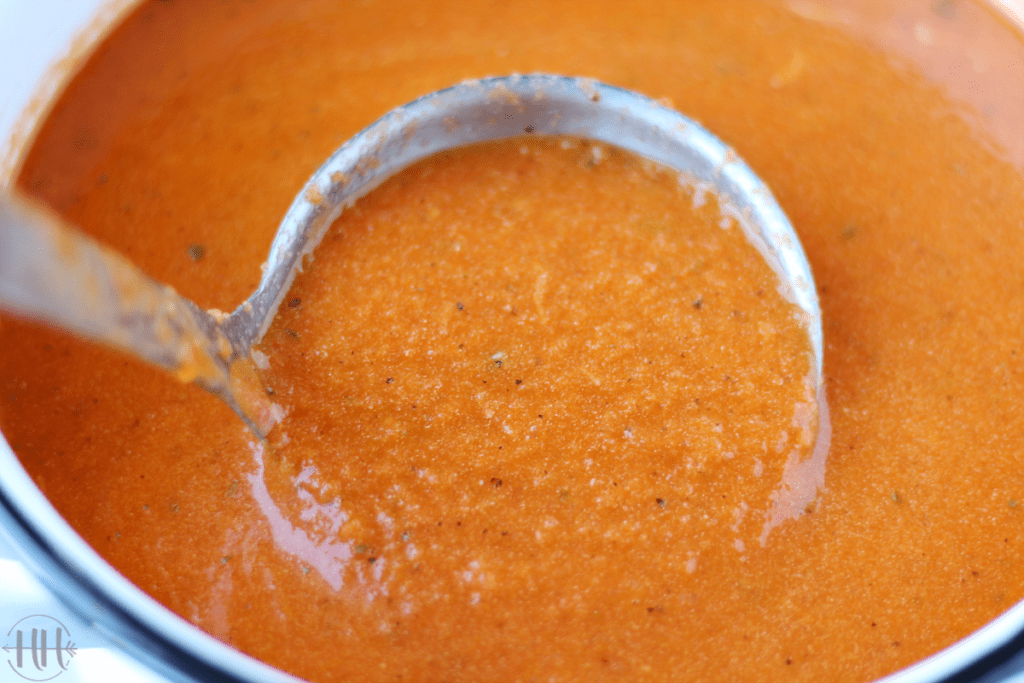 Alright, let's get you the recipe. I am so excited for you to enjoy a warm bowl today!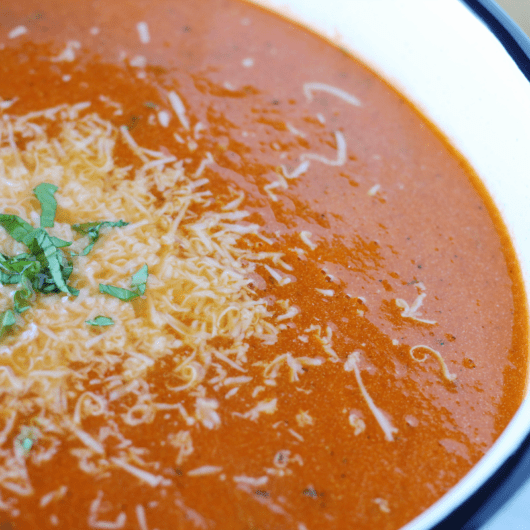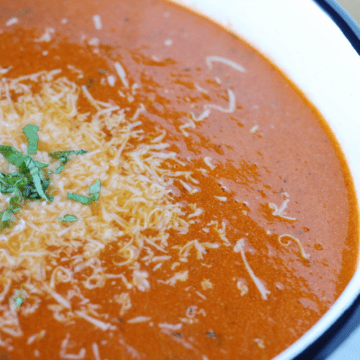 Print Recipe
Creamy Tomato Basil Soup
The BEST Creamy Tomato Basil Soup | This easy homemade recipe is packed full of flavor thanks to the fresh basil, canned fire roasted tomatoes, and half and half. You can use fresh tomatoes if you blanch and peel them. Blend the soup with a stick blender or food processor. Low carb soup recipes like this are quick, simple, and healthy. Don't you just love a fast dinner recipe? Enjoy with a grilled cheese sandwich! 🙂
Equipment
1 large soup pot

1 blender or stick blender
Ingredients
4

Tbsp

butter

1

large onion

chopped

3

oz

tomato paste

4

cups

chicken stock

28

oz

can whole tomatoes

28

oz

can fire roasted tomatoes

1

tsp

garlic powder

1

tsp

sea salt

5

large fresh basil leaves

finely chopped

1

cup

half and half

additional salt

to taste
Instructions
In a soup pot, sauté onions in 4 Tbsp butter over medium heat until translucent. Stir in tomato paste and cook while stirring until it starts to brown about 3-5 minutes.

Pour in 4 cups chicken stock and scrape the bottom of the pot with your wooden spatula to remove any caramelized brown bits (brown bits=flavor!).

Add all cans of tomatoes, including juices, garlic powder and salt. Bring to a boil. Reduce the heat and simmer for 10 minutes, covered. Then turn burner off.

Use an immersion blender to puree the soup right in the pot, or once the soup is not hot*, transfer the soup in batches to a blender or food processor to puree. *Do not ever add hot liquids to a blender or food processor as it will expand and possibly explode all over kitchen. #nightmare

After mixture is pureed, add in chopped basil and half and half. Pulse a few times to incorporate. Add in additional salt to taste. Enjoy!
Notes
This recipe was inspired by Tara at https://unsophisticook.com/tomato-basil-soup/. Be sure to check out the rest of her recipes too! They are delish.