This shop has been compensated by Collective Bias, Inc. and its advertiser. All opinions are mine alone. #VansFoodsWaffles #vansfoods #CollectiveBias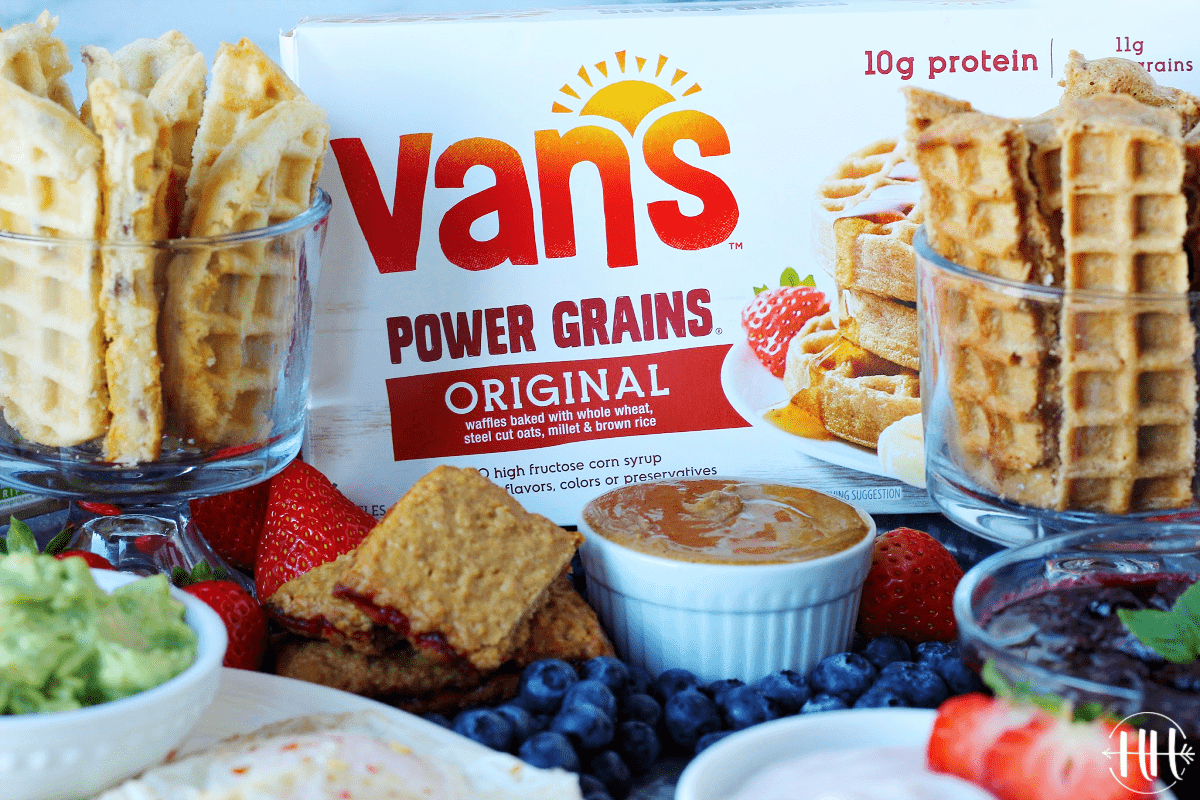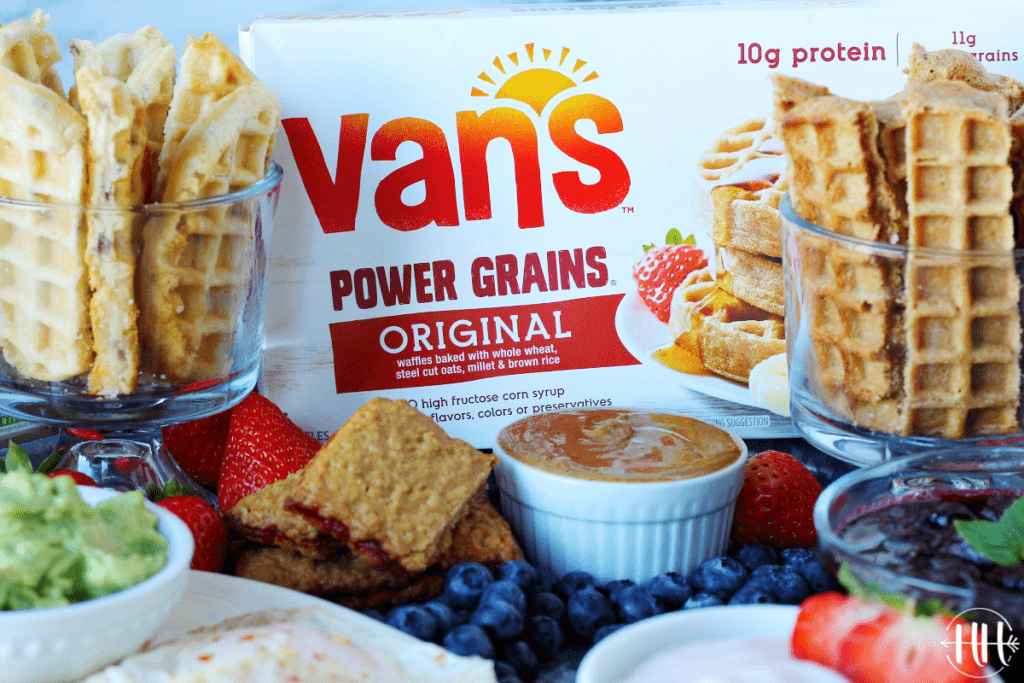 Is it just me or do waffles just make the world a better place?
This Waffle Dippers Board is definitely going to make your world a better place!
Van's® nutritious and delicious waffles paired with sweet and savory dipping options is so easy to create for breakfast, brunch, brinner, or the best snack ever. EVER.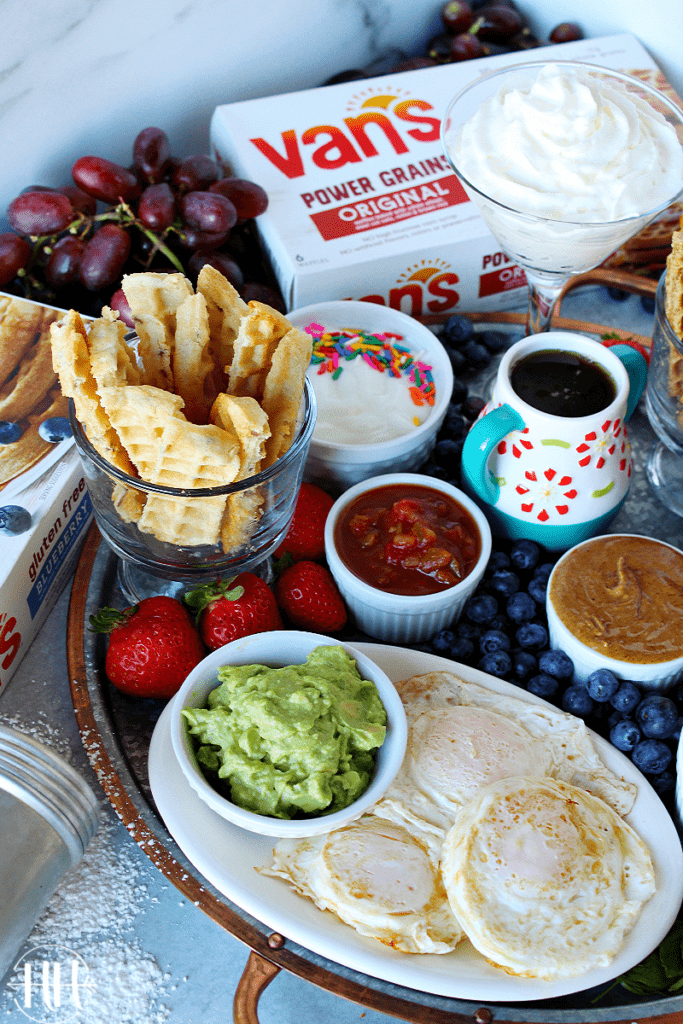 This Waffle Dippers Board is a fun idea for your next birthday party, family get together, or a relaxing weekend at home with your family.
The best part about this meal option besides being absolutely scrumptious is the ability to cater to a variety of needs including- gluten free, dairy free, nut free, etc.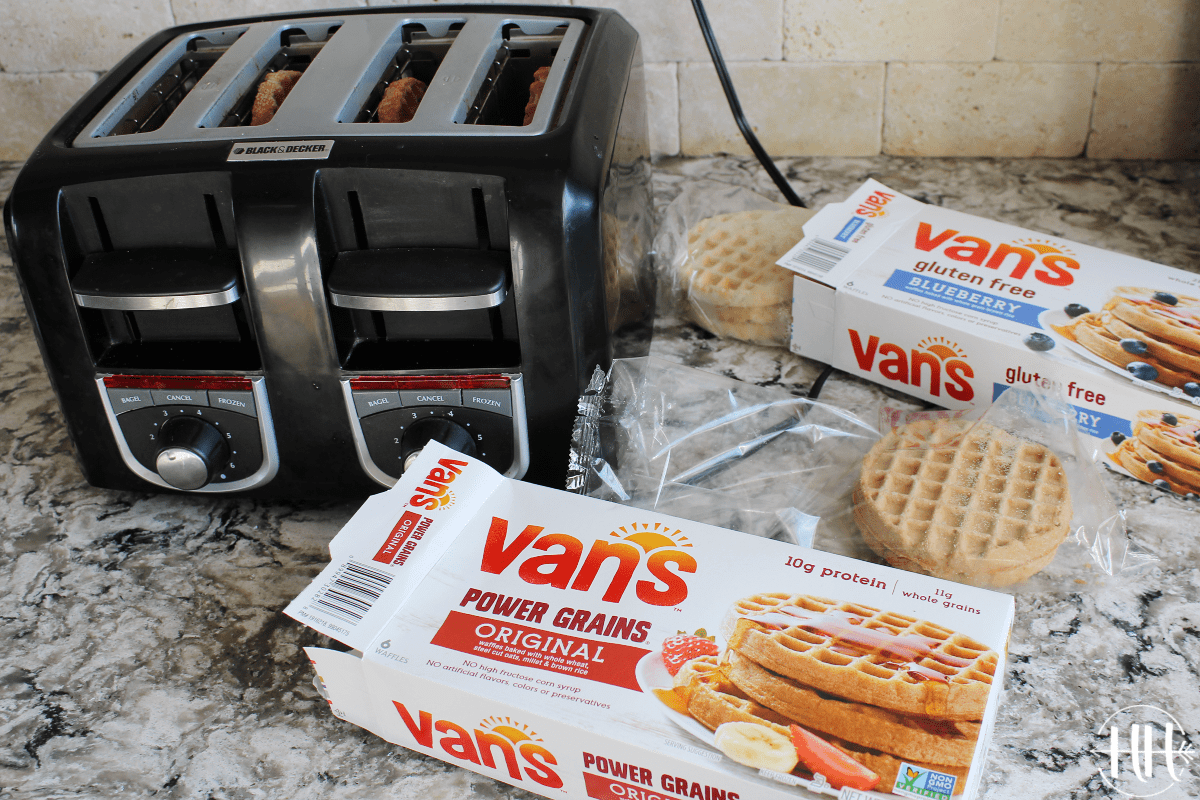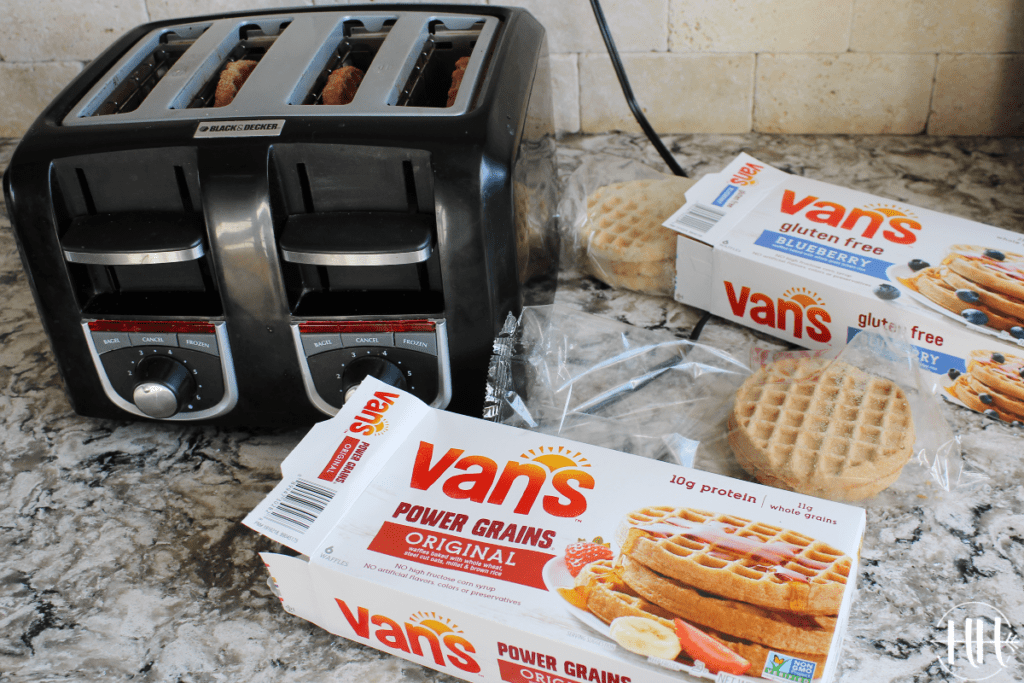 Van's variety of wholesome frozen waffles and snacks fits your lifestyle!
Do you need a snack? Grab their multigrain or gluten free crackers or snack and sandwich bars. Looking for an easy meal option?
Heat up their waffles, use a pizza cutter to cut each waffle into 4 "soldiers" (dippers), and dip those babies in anything your heart desires!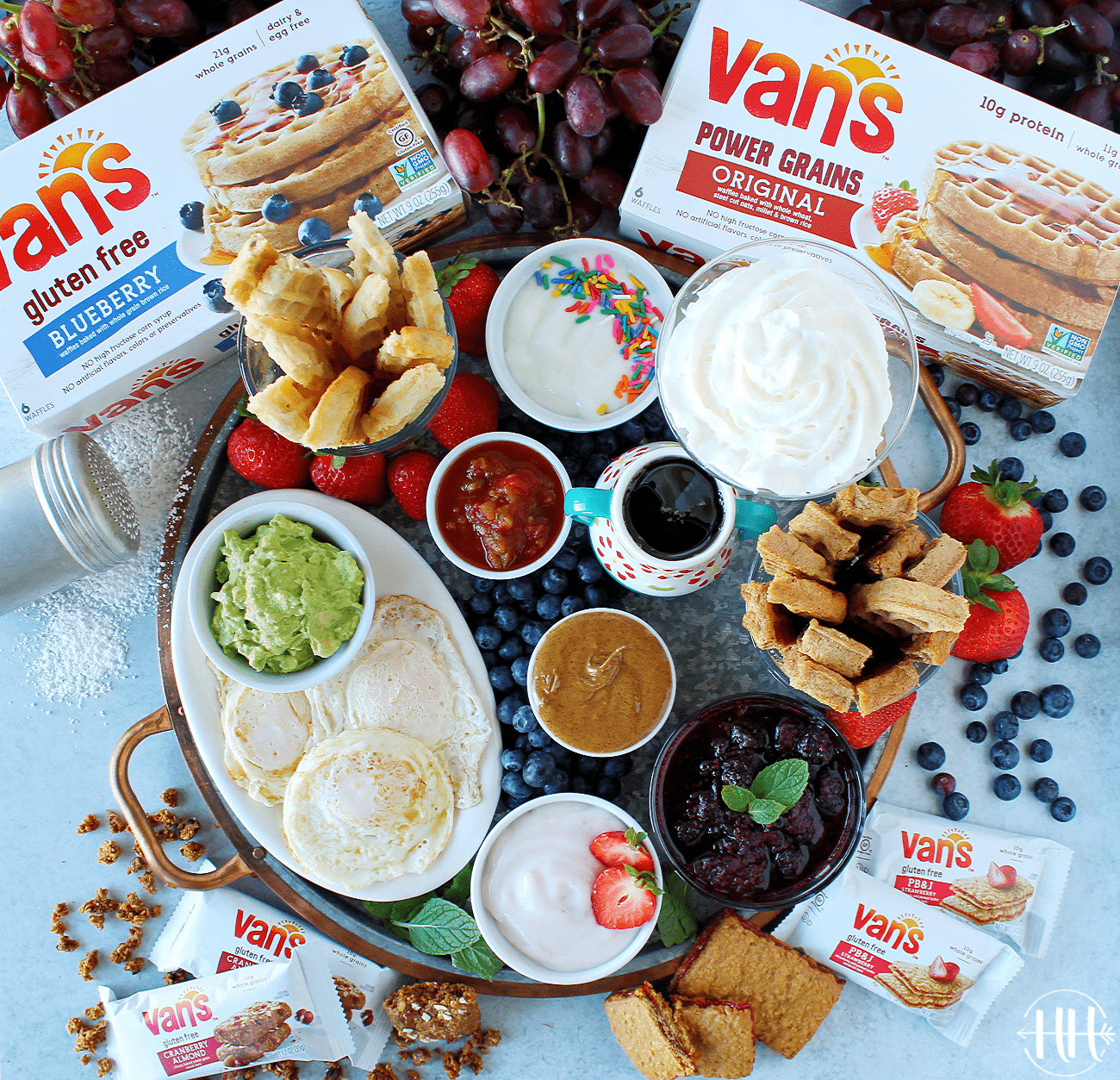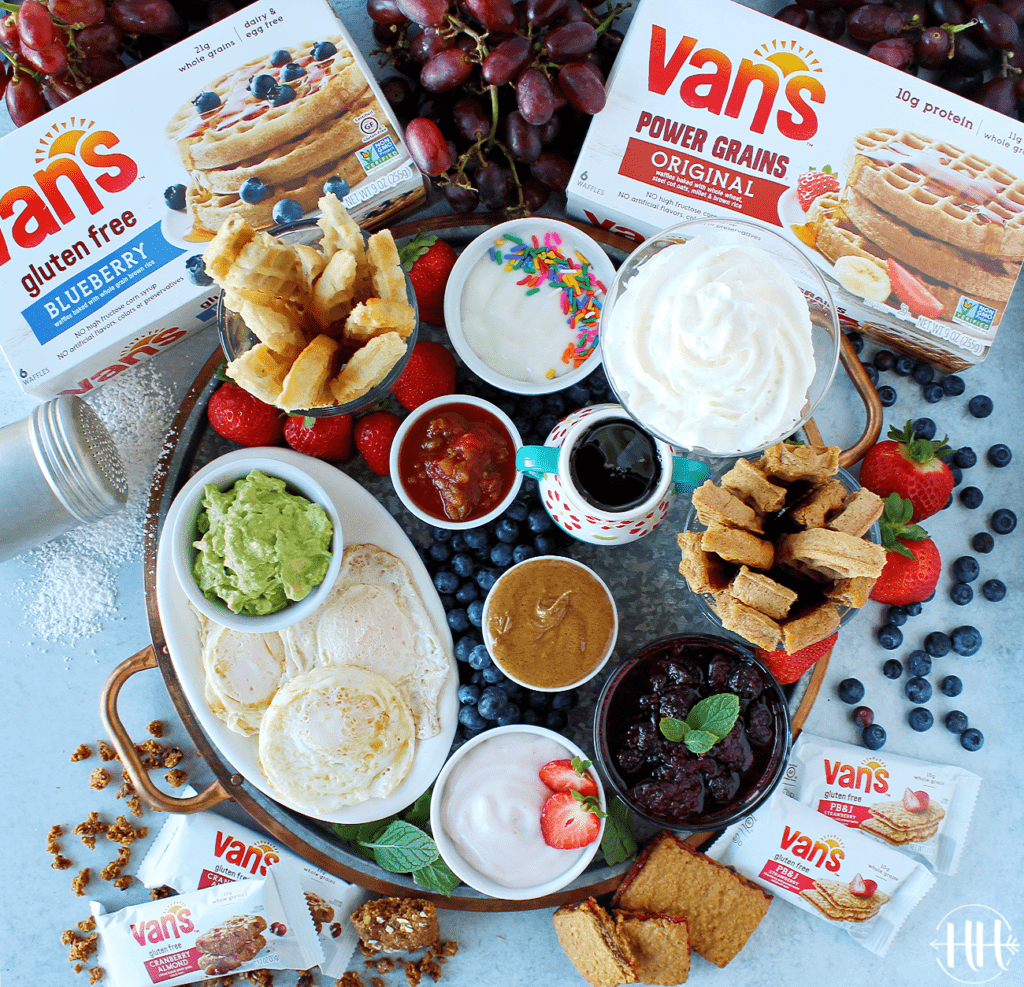 Van's offers whole grain, gluten free, and organic waffles. I used Van's Power Grains® Original Waffles made with hearty cracked red wheat, steel cut oats, millet and brown rice. These will definitely fill you up and power you through your day.
Hello 10-12 grams of protein per serving!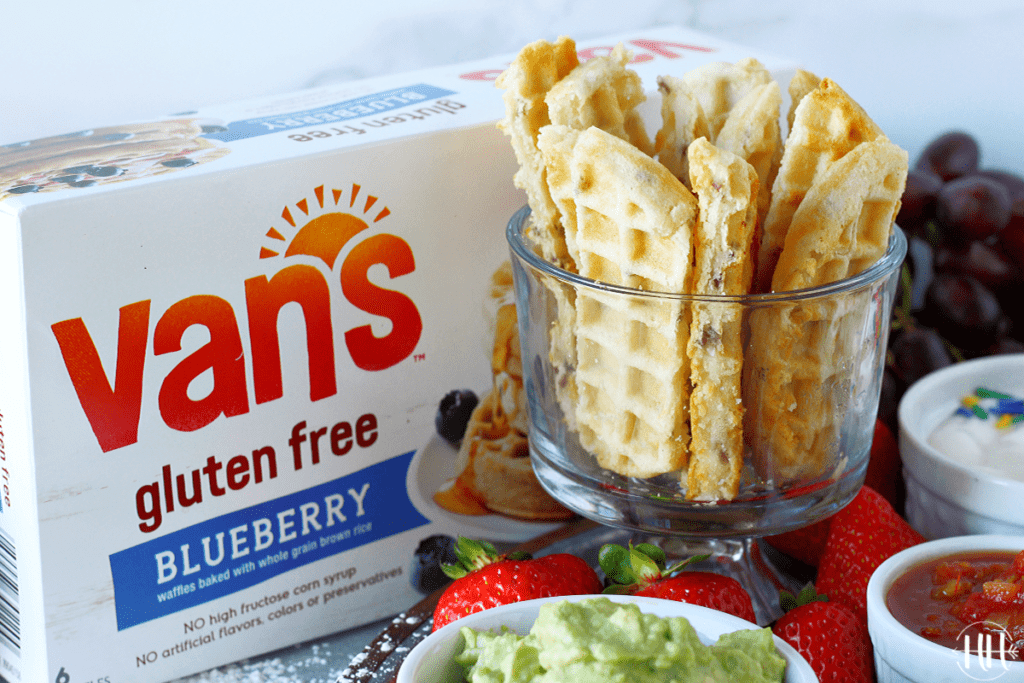 The Gluten Free Blueberry Waffles are literally out of this world. The texture is so light and fluffy with the freshest blueberry taste. Besides being gluten free they are free from dairy, eggs, artificial anything, and are non-GMO project verified. Woot woot!
And what pray tell should you dip these waffle beauties in?
ANYTHING AND EVERYTHING.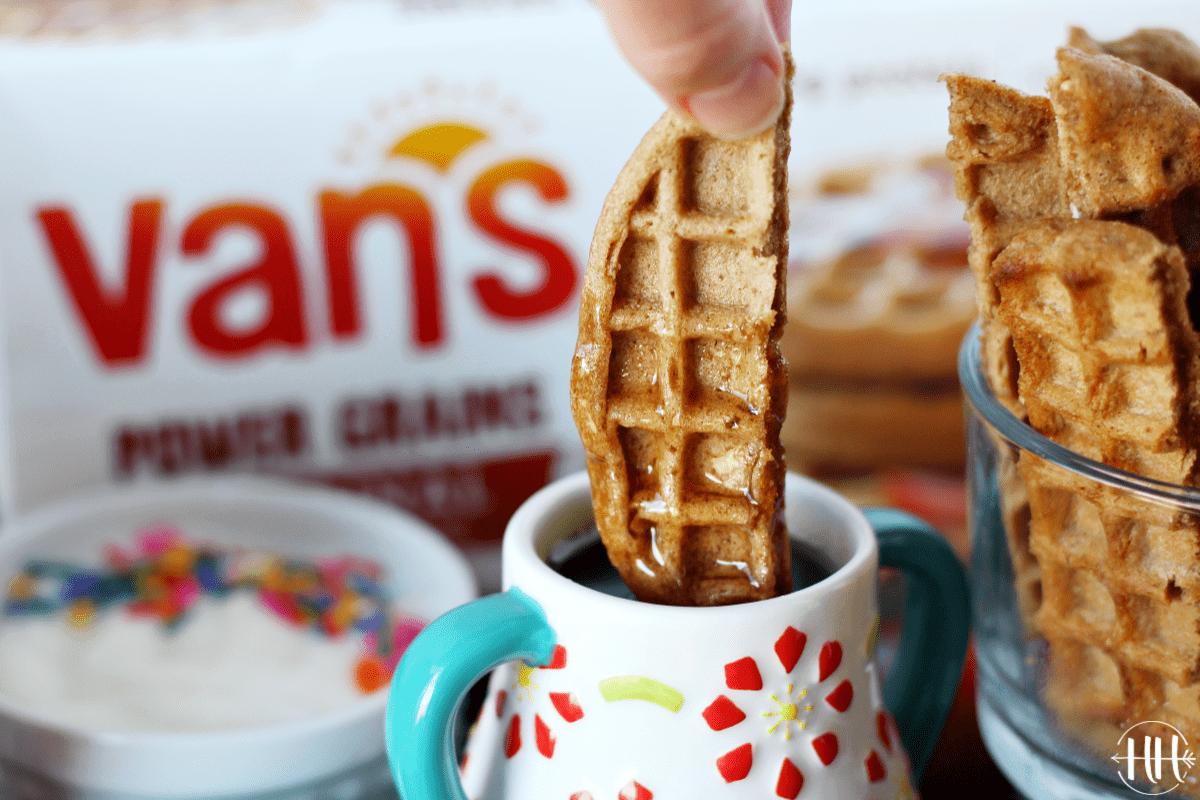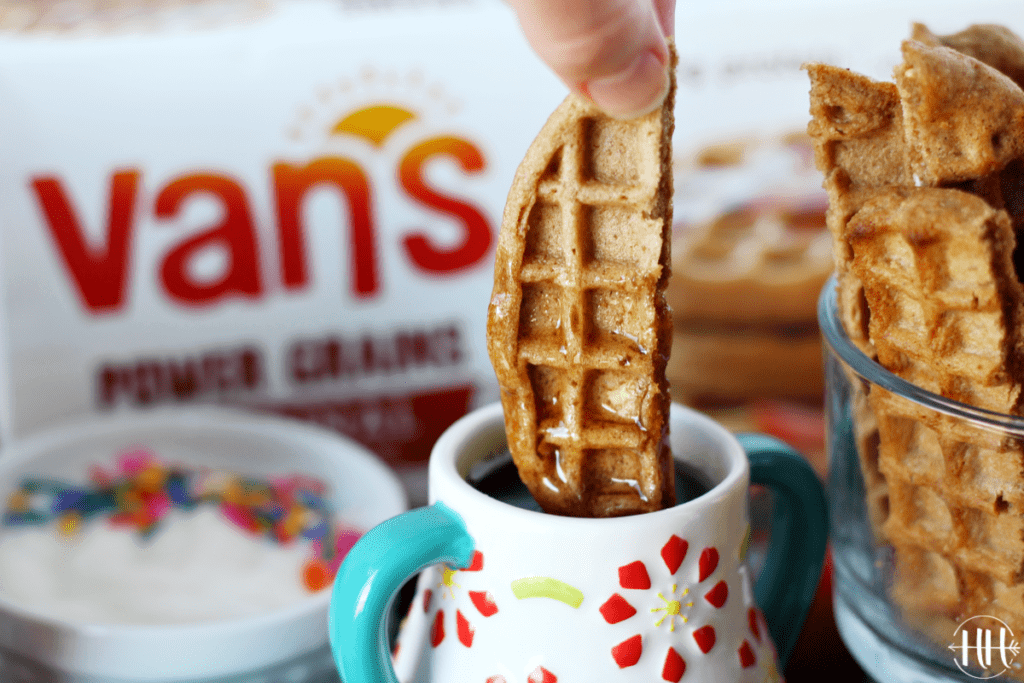 Yogurt (choose several different flavors!)
Nut butter (my favorite!)
Whipped cream
Warm fruit compote
Maple Syrup
Runny yolk eggs
Salsa
Guacamole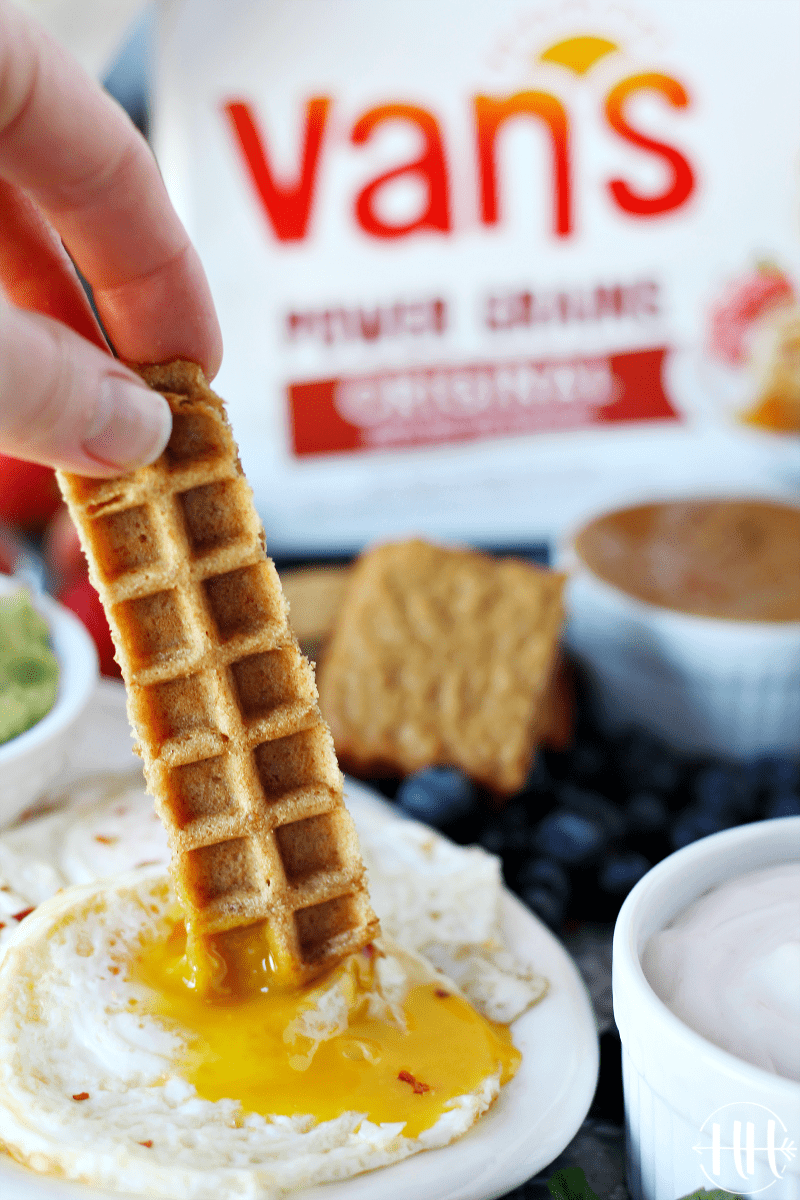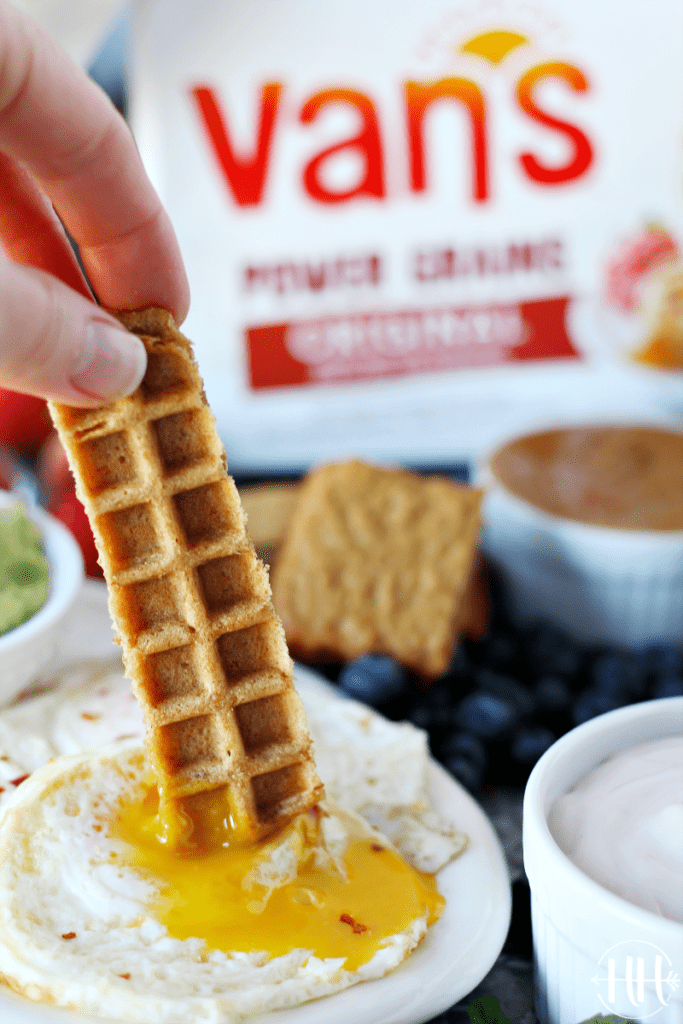 Did you see those fun snack bars ready and waiting to be enjoyed? Use the Gluten Free Cranberry Almond Snack Bars as a dip topping by crumbling the bar and first dipping your waffle dipper in yogurt and then in the crumbled bar. Delicious!
The Gluten Free PB&J Strawberry Sandwich Bars are a perfect addition to the board with 10 grams of whole grams. Who can resist a little PB&J action?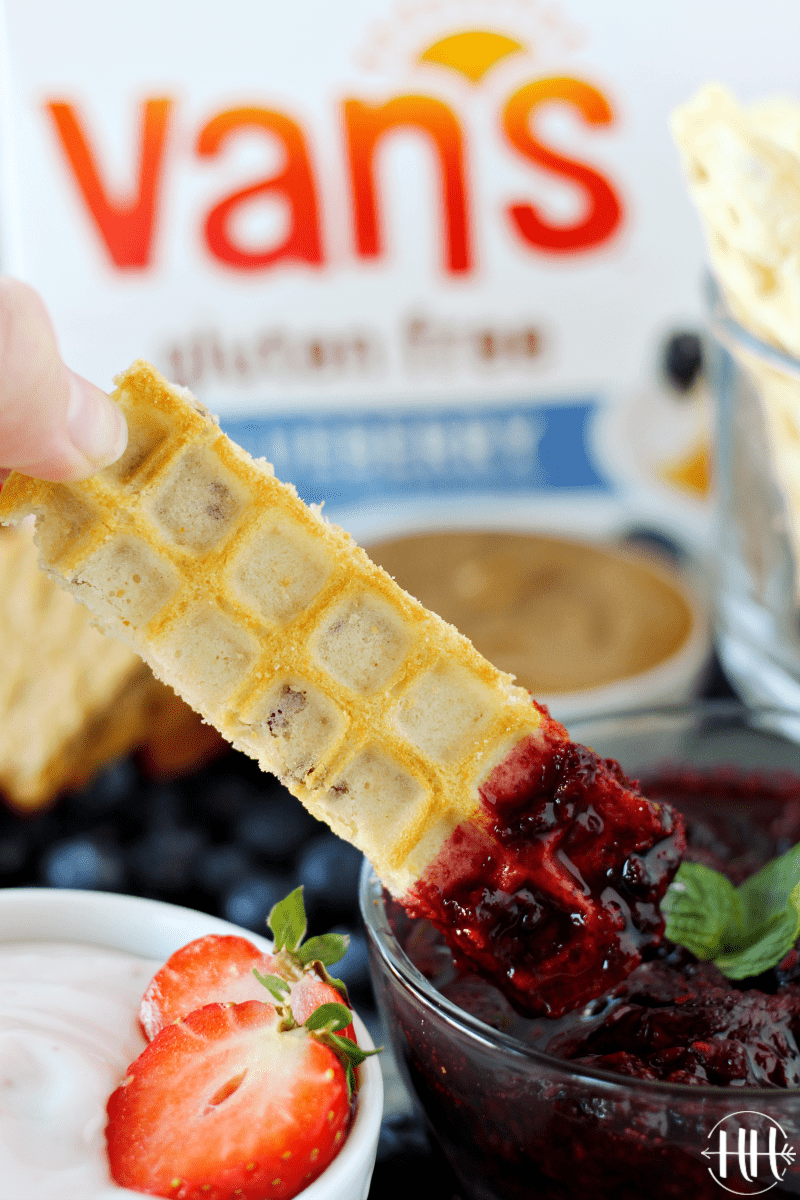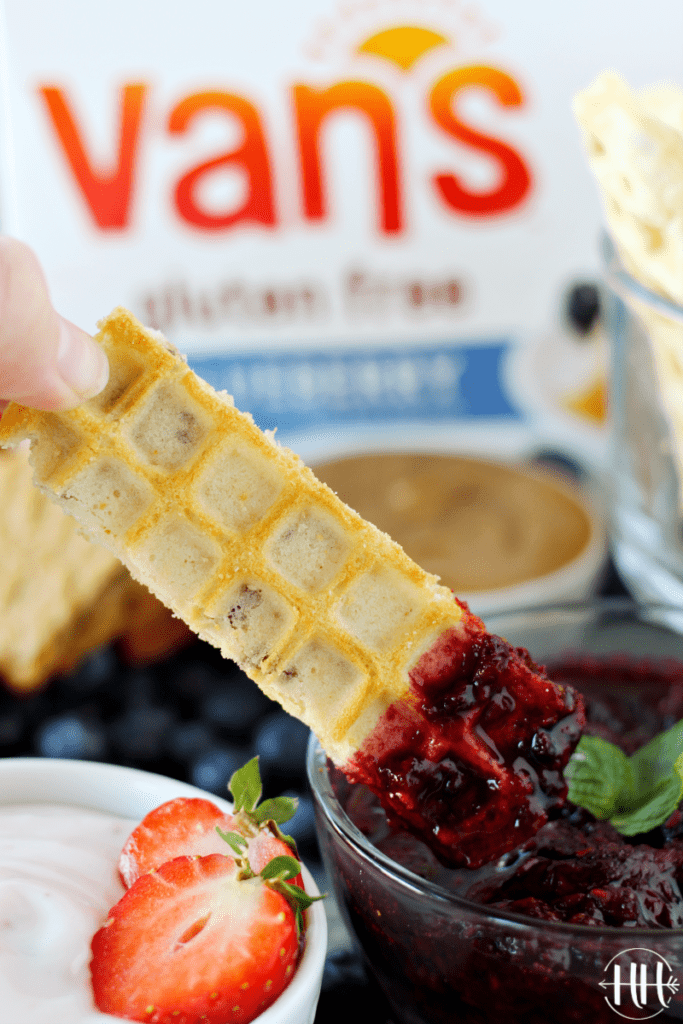 Okay, who's ready to make their world a better place with this Waffle Dippers Board?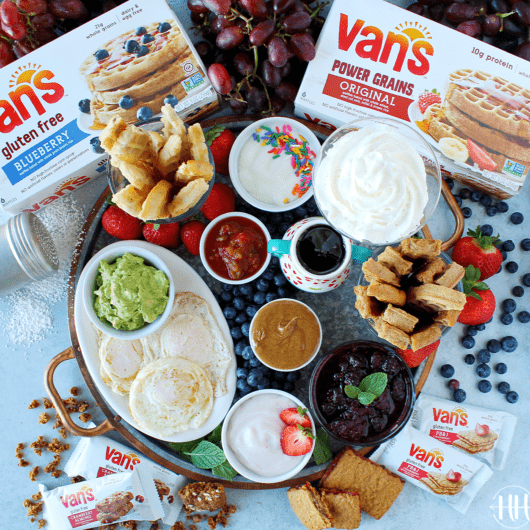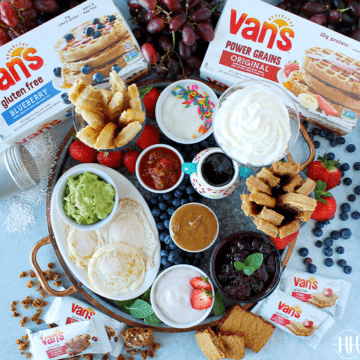 Print Recipe
Waffle Dippers Board
Serve this Waffle Dippers Board at your next kids party, breakfast, or brunch. Van's frozen waffles are nutritious (gluten free, whole grain-protein packed!, and organic options) and easy to make into "soldiers" in this recipe idea. Use a pizza cutter to cut waffles and place on a cookie sheet, tray, or cutting board with sweet and savory dipping options like Greek yogurt, healthy nut butter, maple syrup, fruit compote, homemade whipped cream, ALL the toppings!
Equipment
1 cutting board or baking sheet
Ingredients
2

boxes Van's Power Grains®, Gluten Free or Organic Waffles

1

box Van's Gluten Free PB&J Strawberry Sandwich Bars

1

box Van's Gluten Free Cranberry Almond Snack Bars

6

oz

vanilla yogurt

6

oz

strawberry yogurt

whipped cream

warm fruit compote

nut butter

maple syrup

salsa

fried eggs with runny yolks

fresh fruit

optional
Instructions
Assemble the toppings before you remove the waffles from the freezer to warm in a toaster.
Fruit Compote
In a small saucepan, add 2 cups frozen mixed berries. On medium heat, cook the berries until soft and the juices have reduced (about 10 minutes). Remove from heat and pour into a small bowl. The fruit compote will thicken as it cools.

OR skip this step altogether and use jam!
Runny Yolk Eggs
In a large frying pan, heat over medium heat. Spray pan generously with non-stick cooking spray. Gently add 1 egg to your pan at a time (try not to let them run together) and let the eggs cook until the whites are set. Very carefully, turn the egg over and let the egg cook for 30 seconds longer. Quickly remove the fried egg to a plate. The egg whites should be cooked through and the yolk still runny.
Gluten Free Cranberry Almond Snack Bar
Unwrap a snack bar and crumble into a granola like texture. Place small pieces in a bowl or atop yogurt dip.
Gluten Free PB&J Strawberry Sandwich Bars
Unwrap bars and place on tray.
Remaining Dipping Options
In separate small bowls add the remaining dipping options.
Van's Waffle Dippers
Warm waffles in toaster until hot following instructions on packaging. With a pizza cutter, cut each waffle into 4 strips (dippers).
Assemble Waffle Dippers Board
Lay the waffle sticks (dippers) on a plate or place vertically in a short drinking glass. Place all waffles, dipping options and fresh fruit on a large cutting board, cookie sheet, or food safe tray. Enjoy!